---
---
We're back! 
Performance and personalization enthusiasts, start your engines — Chevrolet is heading back to the SEMA Show. Over a dozen personalized, concept and performance-enhanced production cars, trucks and SUVs will share the floor with the brand's latest accessories, performance parts and crate engines, Nov. 2–5, at the Las Vegas Convention Center.


---
---
FEATURED
Off-roading to the next power.

The Chevy Off-Road Concept is a four-passenger off-roader that's based on a modified Silverado chassis, wears a customized pickup body and is powered by a Chevrolet Performance 6.2L LT4 650-horsepower supercharged crate engine. It rides on a concept, long-travel off-road suspension system, including a four-link rear suspension. Along with a widened, 91-inch track, it contributes to more stable handling and optimal driver control during high-speed off-road driving. The Chevy Off-Road Concept mixes off-the-shelf parts and custom componentry to yield an off-road monster the likes of which have never been seen before.
Chevrolet Performance and Hoonigan partner for the first time.

Chevrolet would like to welcome Hoonigan — a leading automotive and racing brand, with a dedicated and passionate fan base of performance-enhancement fanatics. Never afraid to go big, bold and brash, their exploits can be seen across YouTube three times a week, building new projects at their shop Tire Slayer Studios, and, of course, at the track — where the Hoonigans tend to spend their free time. Which is why they're a perfect partner for Chevy Performance at SEMA.
---
For the first time ever, Chevrolet has partnered with Hoonigan to put a high-performance spin on a 1988 third-generation Camaro Two-Door Sport, using Chevrolet Performance parts. This concept features the new ZZ632/1000† — the largest, most powerful Chevy Performance crate engine ever produced, with 1,004 horsepower and 876 lb.-ft. of torque on 93-octane gasoline. The resulting creation, which you can see being built in the Hoonigan YouTube series, is a powerhouse display of gearhead innovation and attitude that only Hoonigan can bring to this Chevy Performance classic.

Follow the Build

---
Trailering the Hoonigan Camaro calls for the strongest, most capable Silverado HD ever: the 3500 HD High Country. It has the capability you've come to expect from Silverado HD, with the available Duramax® 6.6L Turbo-Diesel V8 engine with 445 horsepower and 910 lb.-ft. of torque. And its imposing presence makes a statement with concept 17-inch Black aluminum wheels and head-turning complementary livery and accessories, giving it a uniquely Hoonigan look.
ZZ632/1000: the most powerful Chevy crate engine ever.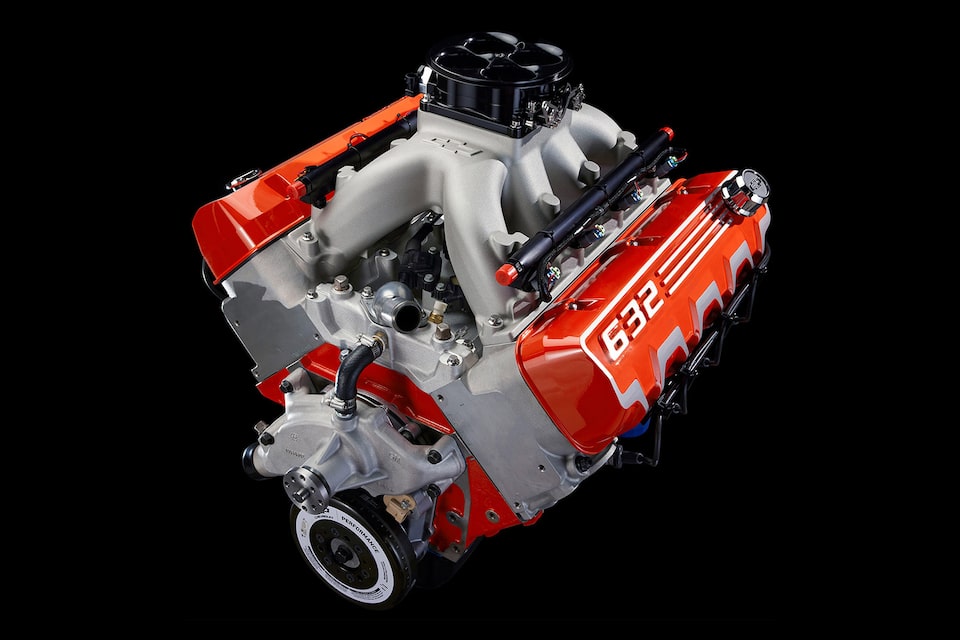 ZZ632/1000: the most powerful Chevy crate engine ever.
Simply put, the all-new ZZ632/1000† is the largest, most powerful Big-Block crate engine ever manufactured by Chevrolet Performance. This massive, naturally aspirated 632-cubic-inch V8 delivers 1,004 horsepower with 876 lb.-ft. of torque using 93-octane gas straight from the pump. It's been modernized with high-flow aluminum cylinder heads with symmetrical intake ports, ensuring all eight individual cylinders produce similar power. To meet the high-rpm demands of today's performance enthusiast, this technologically advanced Big-Block engine features:
1,004 horsepower with 876 lb.-ft. of torque
All-new RS-X symmetrical port cylinder heads
Cast-iron Tall Deck 632 Bowtie Sportsman block
Hydraulic roller camshaft
449cc intake runners
7,000 rpm capability
Available performance components
CORVETTE
Full-throttle Corvette performance on display.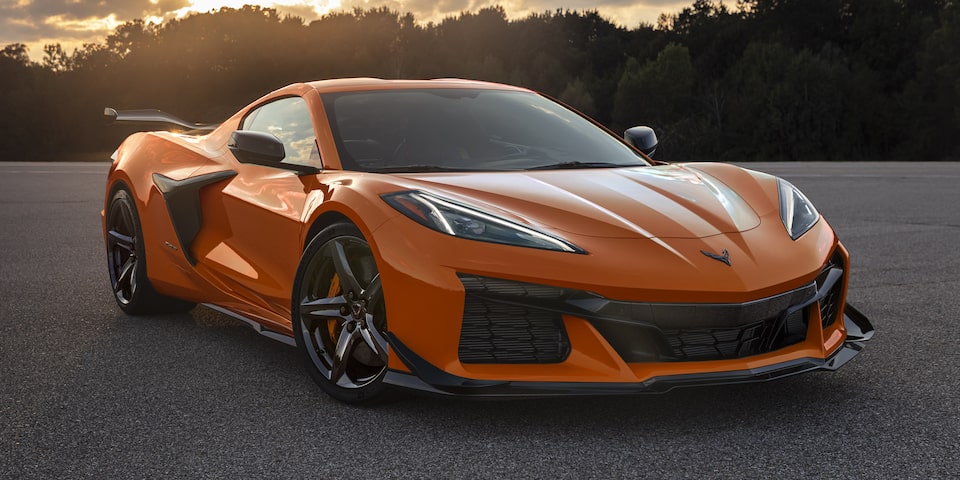 2023 Chevrolet Corvette Z06
Equally at home on the track as it is on the street, the 2023 Corvette Z06 is a precision performance vehicle that features advanced racing technologies and legendary Corvette capability. Based on the C8.R race car, its V8 engine is capable of 670 horsepower and can take you from 0 to 60 in just 2.6 seconds.† It features a flat plane crank, standard ground effects and spoiler, wider wheels and tires, Magnetic Ride Control™ and much more. Dominate the street in the 2023 Z06, the street-legal performance car loaded with racing attitude and innovation.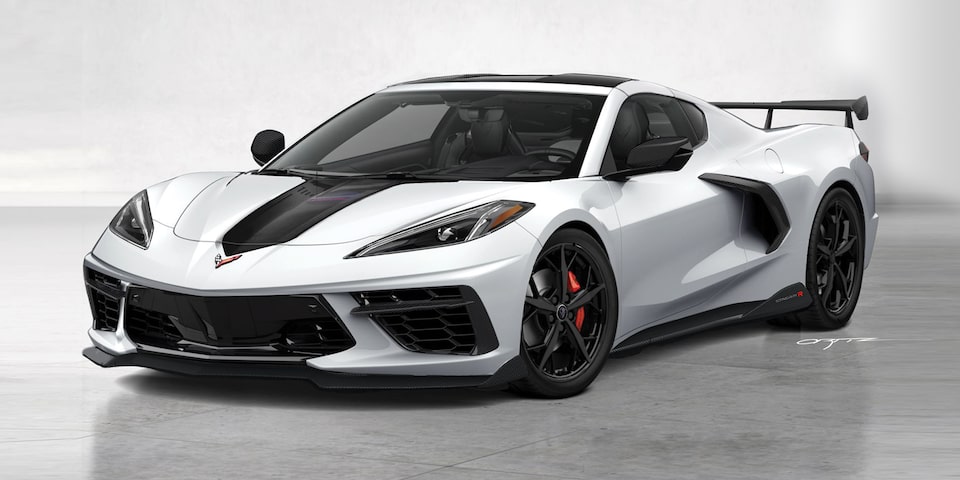 2022 Chevrolet Corvette Stingray with Carbon Fiber Accessories

The Corvette Stingray in Arctic White is a dramatic expression of performance and the power of lightweight Carbon Fiber Accessories from Chevrolet Accessories.† The mid-engine masterpiece features the full Carbon Fiber Accessories portfolio and the bold Stingray R graphics package featuring the Corvette "Jake" logo, giving it racing attitude with a stunning high-tech appearance. This vehicle represents the possibilities of personalization with in-market available accessories.
COPO

COPO power returns.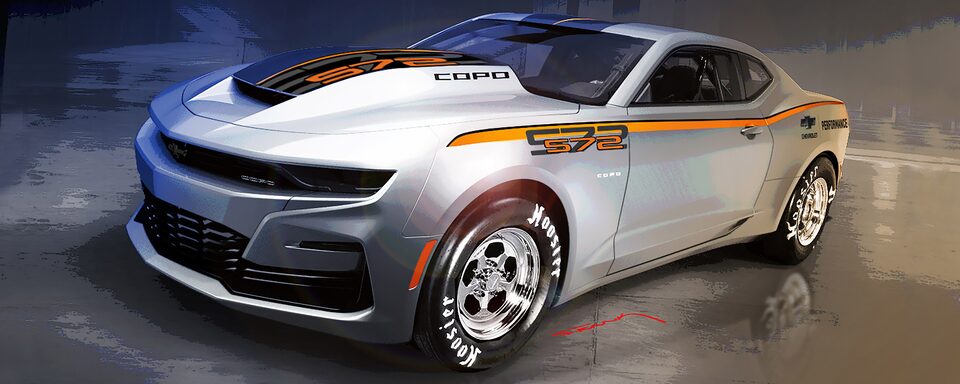 The COPO Camaro returns to help you dominate the drag strip in 2022 with a newly available 572-cubic-inch Big-Block engine. It's also available with LSX-based Small-Block engines — a supercharged 350-cubic-inch V8 with a 580 horsepower NHRA rating and a naturally aspirated 427-cubic-inch V8 with an NHRA-rated 470 horsepower. All are paired with an ATI Racing Products TH400 3-speed automatic transmission. This time out, there are no production limits and orders will be filled on a first-come, first-served basis.

ZR2

Off-roading is on with ZR2.

---
The first-ever Silverado ZR2 at SEMA would much rather be maneuvering through the extreme terrain in the surrounding Las Vegas desert. The ZR2 screams off-road capable with its wide-planted stance, aggressive approach and departure angles, wheel opening moldings and integrated skid plates. Its capability matches its rugged appearance with a standard 6.2L V8 engine with 10-speed automatic transmission, front and rear e-lockers and suspension upgrades, including Multimatic DSSV™ spool-valve dampers. And with a spacious and refined interior, tackling any terrain — on or off-road — is a joy in the Silverado ZR2.

Explore Silverado
---
The 2022 Chevrolet Colorado ZR2 Extreme Off-Road truck takes the rugged off-road capability to extremes with the full lineup of true factory off-road racing parts. This truck is powered by a standard 3.6L V6 with 308 horsepower and 275 lb.-ft. of torque and features Chevrolet Performance Long Travel Multimatic™ DSSV shocks to let you master terrain such as rock crawling or high-speed desert running. The outcome from decades of off-road racing expertise, these trucks are developed by engineers and racers as passionate about performance as you are. The Colorado ZR2 is built with standard front and rear electronic locking differentials, enabling you to take your off-road game to the next level.

Learn More 
OVERLANDING CONCEPT

Make your getaways in a Z71.

---
Based on the latest generation of Tahoe, this Overlanding Concept is equipped with Four-Corner Air Ride Adaptive Suspension, 18-inch concept beadlock wheels, 33-inch tires, a High Country 80-inch premium tent by Freespirit Recreation and an Off-Road Recovery Kit, making it well-suited for life on the road or trail. It has an aggressive off-road personality with exterior appointments like fender flairs by Air Design, and a 5.3L Cat-Back™ exhaust upgrade with Black chrome tips by Borla®. It has a comfortable and spacious Tahoe interior, making it the perfect home on the road for your adventures.

Explore Tahoe Accessories

---
It's an overlander's dream, combining the off-road capability of the Chevrolet Trail Boss Package with accessory bed products to help you get the most out of your adventure. The Colorado Z71 Trail Boss Package features the Chevrolet Performance 1-inch front leveling kit, underbody skid plates, Red recovery hooks† and 17-inch ZR2 spec Black accessory wheels that have what it takes to power you through your outdoor and off-road adventures. There's also ample space to fit camping gear, hauling equipment, tools and more for your weekend getaways.
Explore Colorado Accessories

STREET STYLE

Style runs the streets.

---
The largest, most advanced Suburban ever is bringing expressive street style with it. A perfect fit for a night on the Strip, this concept uses standard Four-Corner Air Ride Adaptive Suspension to lower its stance. Available Chevrolet Accessories including Black mirror caps and badges, an all-new Black grille with Chevrolet script and a matte Black hood decal let you go all in on style. This build features concept 24-inch custom-cut, polished billet aluminum wheels and an available Chevrolet Performance Brembo® brake upgrade system to complete the look.

Explore Suburban

---
This dark and intriguing concept elevates the legendary elegance of Silverado High Country with bold blackout accessories and tasteful interior appointments. From its Black grille inserts and 20-inch Black wheels to its Black exhaust bezels, this vehicle has style that shines through the dark. And with available Chevrolet Accessories, you can personalize one yourself and own the night.
Explore Silverado
Energizing an icon.

Introduced in 1965, Project X — a 1957 Chevy Bel Air 210 — is a legendary hot rod that has served as a test bed for numerous engine combinations, suspension setups and drivetrain enhancements over the years. For SEMA 2021, Chevrolet Performance continues its tradition of innovation by electrifying this iconic vehicle with the next iteration of the Electric Connect & Cruise Package, featuring a 340-horsepower eCrate propulsion system. The resulting build is a zero-emissions highly-efficient package that embodies the possibilities of easy aftermarket vehicle electrification.

Learn More
DESIGN AWARDS

2021 Chevy SEMA Design Awards

These annual awards provide the most talented car builders in the industry with an opportunity to be recognized for showcasing Chevrolet products with thoughtful styling and elite craftsmanship. The winning vehicles are hand selected by Chevrolet designers at the show.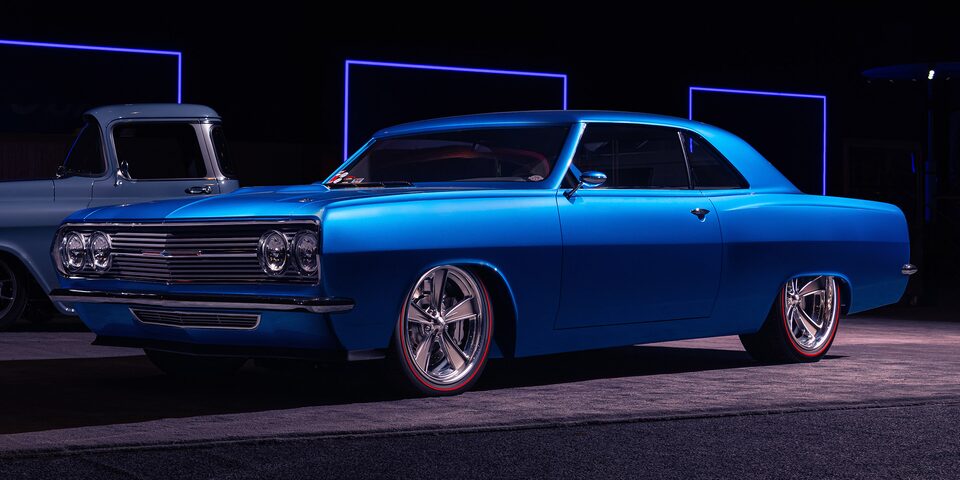 Chevy SEMA Car of the Year

1965 Chevrolet Chevelle built by Mike Goldman Customs.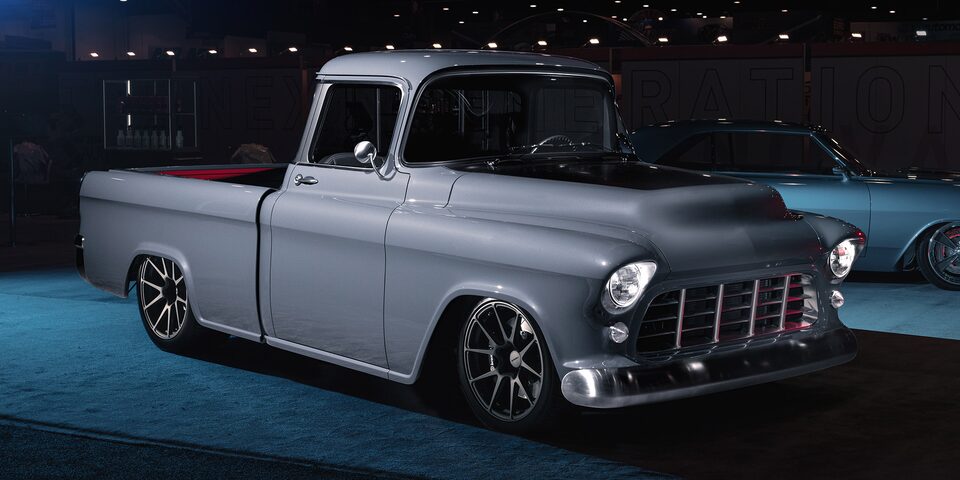 Chevy SEMA Truck of the Year

1955 Chevrolet Cameo Truck built by Mike Goldman Customs.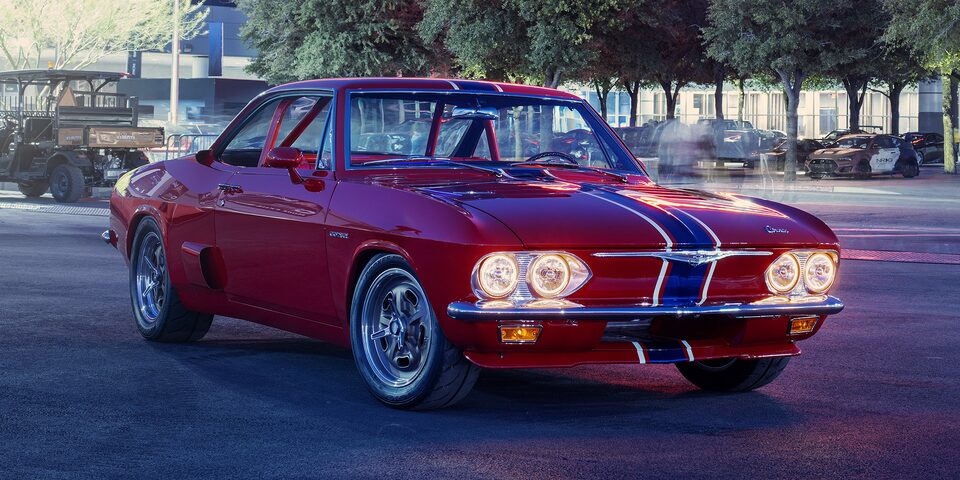 Innovative Use of Technology

1965 Chevrolet Corvair built by Lonnie's Place.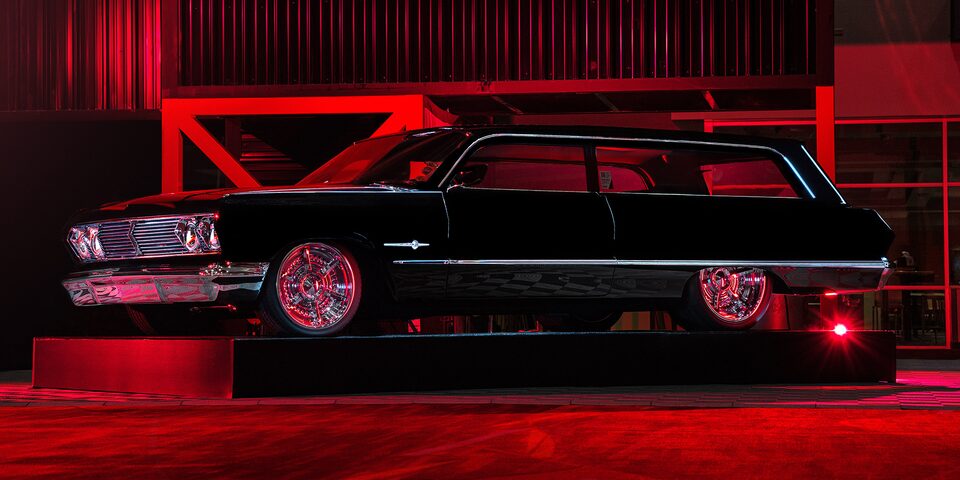 Designer's Choice
1963 Chevrolet Impala 2 door wagon built by Show Cars Automotive.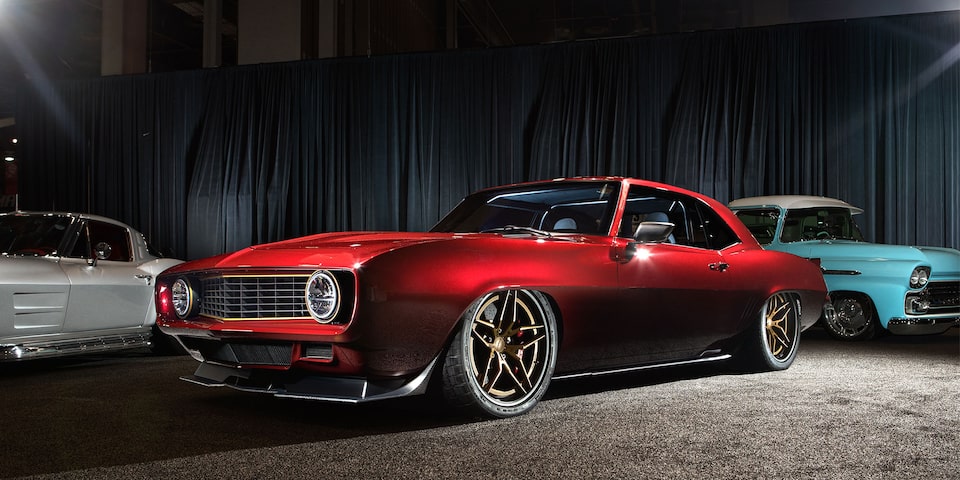 Register your build for the 2021 Chevy Design Awards.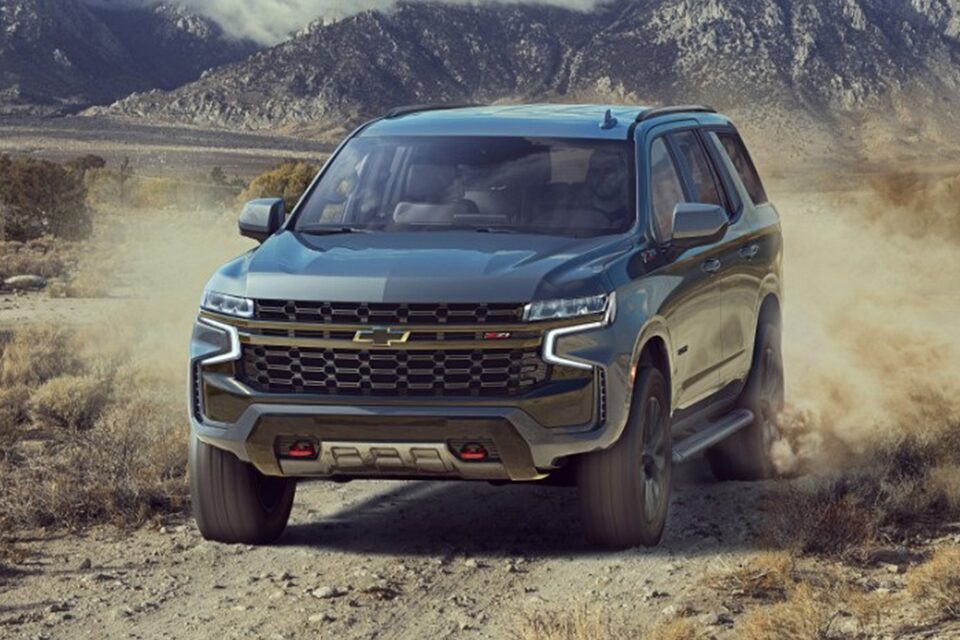 Want to really get under the hood?

Get more in-depth information on the vehicles you'll see at SEMA and the parts and custom accessories that are designed, engineered, tested and backed by Chevrolet.

Follow all the action.
Connect with Chevy Performance for the most up-to-date news and announcements from the 2021 SEMA show.

---
---