Don't wait until it's too late

The cold of winter and the heat of summer can wear on auto batteries over time, so it's a good idea drop in to your local Chevrolet dealership for a battery inspection. Should you need a new battery, Chevrolet proudly offers a wide range of ACDelco† auto batteries for the best combination of longevity, power, and price.

Current Service Offers
Discover great offers from the experts at Chevy Certified Service.
Shop the GM Parts Store

Did you know you can now buy GM Genuine Parts or ACDelco parts straight from the source? The GM Parts Store is your one-stop shop for OEM parts online, designed for your vehicle and built to last. Buy the right parts for your vehicle from the comfort of home.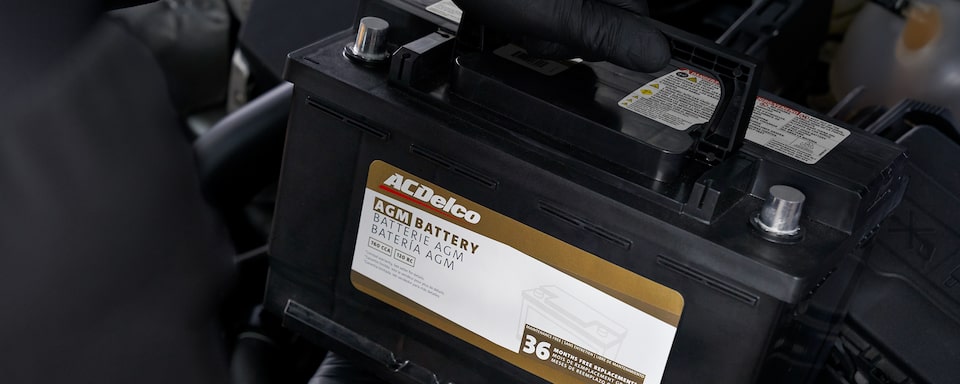 Choosing the right battery 
Your vehicle requires a specific battery that's the right size, has the correct reserve capacity and produces the necessary cold cranking amps to start up the engine. Consult your Owner's Manual to choose the right battery for your car, truck, or SUV.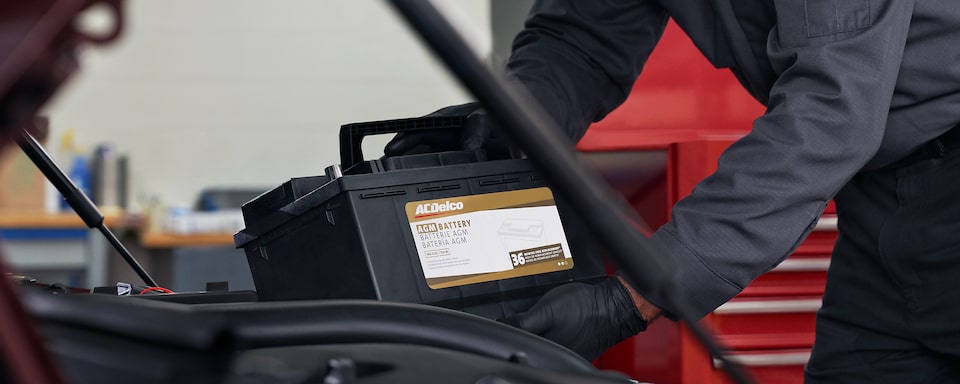 What should you consider when buying a battery?

ACDelco recommends the right balance of Cold Cranking Amps (CCA) and Reserve Capacity (RC). Select a battery that has the right amount of CCA and as much RC as you can.

---
---
Testing your battery

Bring your vehicle to the Certified Service experts and they'll test your battery to ensure all systems are working properly. If your battery needs replacing, the Service experts can help you find the right battery for your vehicle.

BATTERY FAQs
A: There are numerous reasons why a vehicle won't start. If it's related to the battery, the starter will generally not crank the engine. This is the telltale "click, click, click" when you turn the key. This could be an alternator not charging the battery properly, a loose battery or starter cable, or a battery that needs to be replaced. Because batteries only crank for 3 seconds, in most cases, there may be no "slow crank" warning. That is why it is important to get your battery tested by a Chevrolet Certified Service professional.

A: In most instances, normal driving will recharge the battery unless there is an issue with the vehicle. If your vehicle does not start after driving it, it's recommended that you take your vehicle to your nearest Certified Service experts to have a diagnosis performed.

A: Batteries wear out over time, but there are also issues that impact battery failure, for example, unusual "parasitic drains" such as adding accessories but not properly grounding them, infrequent startup, and discharged batteries freezing at 32 degrees Fahrenheit.

A: ACDelco recommends the right balance of Cold Cranking Amps (CCA) and Reserve Capacity (RC). A higher CCA battery will not start your car faster. This is due to gear reduction starters, lower viscosity oils, fuel injection, etc. The average car cranks no more than 3 seconds and as a result does not need more CCA than what the vehicle manufacturer recommends. With the addition of vehicle electronics, RC is becoming more important. Select a battery that has the right amount of CCA, found in your Owner's Manual and as much RC as you can.

A: The best thing that you can do is have your Certified Service technician perform a conductance test on your battery when you get your oil changed. This helps to monitor the status of the battery and helps prevent you from being in a situation where your vehicle won't start.