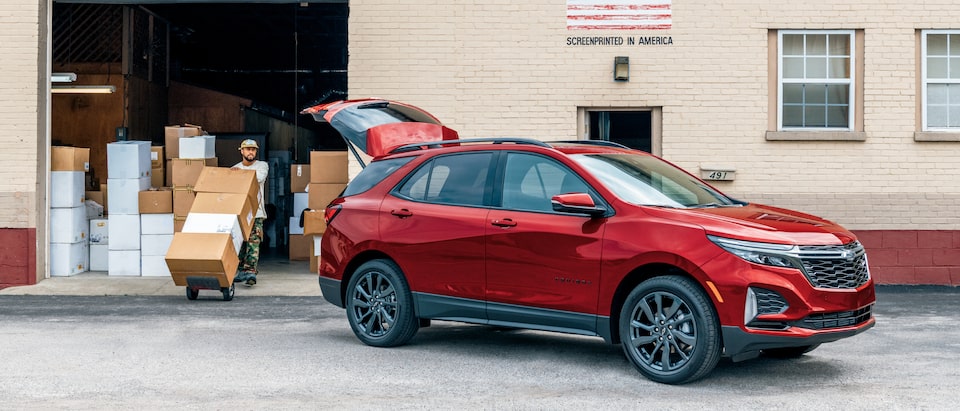 ---
---
2022-05-11 | New Roads Magazine
One Week with an Equinox RS
Brad Frey followed his heart to a dual career as a band tour manager and founder of a fashion brand. We loaned him a 2022 Equinox RS for a week to help him navigate his busy life.
Soon after he finished college with a degree in clinical exercise science, Brad Frey filled out an application for graduate school. It was a big step toward a career in health care, a path both his older brothers had followed. But as he was about to drop the application in the mailbox, he stopped.

"I wasn't following my passion," Frey says. "And in that moment I knew I needed to at least take a shot at doing what I loved.

"I've always loved everything about live music. I was fascinated by all the production that goes on behind the scenes," adds Frey, 32, who grew up skateboarding, following street fashion, and attending punk band shows.
The Details Matter
EQUINOX RS
---
170/203
HORSEPOWER/
LB.-FT. OF
TORQUE
25/30
EPA-ESTIMATED
MPG CITY/HWY†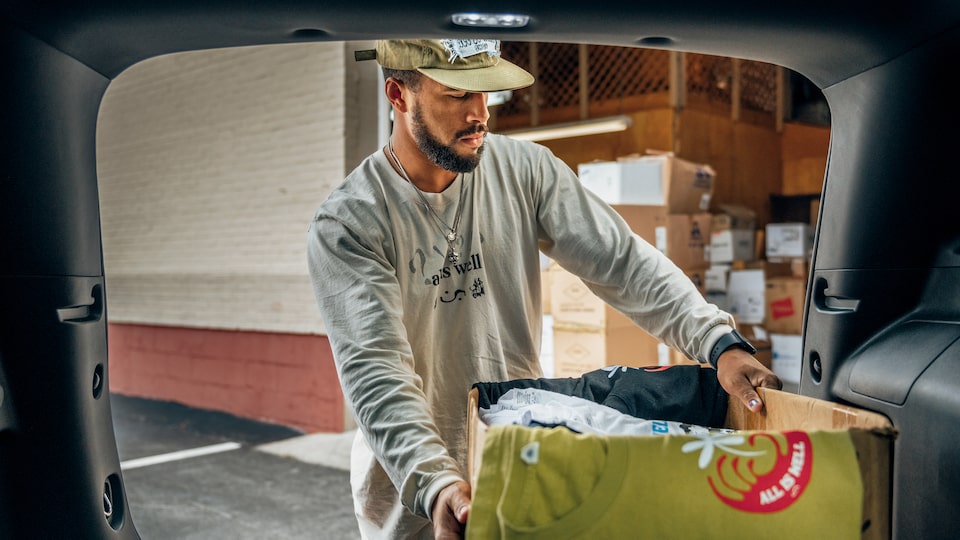 ---
After several years working his way up through the ranks of the live music world, he's now the tour manager for the Nashville-based pop rock group The Band Camino.
One of the up-and-coming groups of 2022, The Band Camino has signed with DBLBLK Records/Elektra, has performed on late-night TV, and is opening for a major country duo on an arena tour of more than 30 U.S. cities.
But Frey is particularly proud of the fashion brand that he launched in the midst of the pandemic, ALL IS WELL. Focused on sustainable materials and equitable collaboration within the creative community, ALL IS WELL "is about positivity and quality product and supporting artisans. It's about bringing people together, not driving them apart," says Frey.
The ALL IS WELL brand was born when the world did not seem well at all. After he was hired as The Band Camino's tour manager in 2019, Frey moved to Nashville and bought a house. In early 2020 the band played the first three shows of the arena tour — a huge opportunity for them — when the pandemic shut everything down.
"The world was a mess; it felt like a very dark time," says Frey, who was also influenced by the death of George Floyd at the hands of a Minneapolis police officer. "But I was weirdly calm. I had income from the e-commerce sites I was running, I had a release of the stress from touring for five years straight, and I had the time, resources, and motivation to start my own brand. I understood that a lot of the world was suffering, but I was able to find light in that dark time and I wanted to spread that light to people who needed it."
---
ALL IS WELL's business model is based on collaboration between Frey and his friends in the creative community, many of whom live in Nashville. When working with an artist, Frey will discuss product design upfront and offer input throughout the process, but he gives major creative credit to his partners. "It's their talent and my hustle," says Frey, who handles the business end of things, including shipping, printing, order fulfillment, and managing the website.
So far, the product line includes garments made of recycled cotton and a small line of leather goods, plus an upcoming hooded sweatshirt designed by Andrew Cook, a Nashville musician who's also a graphic designer.
---
'ALL IS WELL' IS ABOUT POSITIVITY AND QUALITY PRODUCT AND SUPPORTING ARTISANS.
We recently put Frey in a 2022 Chevrolet Equinox RS for a week to see how it could help him run his enterprise.
"I really enjoyed the roominess and comfort of an SUV," says Frey, pointing out that a lot of his time is spent in tight quarters on a tour bus. "Running the ALL IS WELL brand involves a lot of errands and hauling boxes and stuff, and the Equinox has the cargo space I need to handle it. The hidden storage space under the rear cargo floor is especially cool."
---
"I love Apple CarPlay®† and the accessibility it gives you to your phone and music and messages. The [available] AC outlet in the back seat is great; I was able to plug my laptop in to send some work emails."
Frey found the bird's-eye view afforded by Equinox's available HD Surround Vision† to be a great help with parking, and says the available panoramic sunroof "made driving the Equinox feel luxurious while also sporty."
The designer in Frey appreciated the RS edition's sharp, sporty design — "especially the cool details like the red stitching" in the interior.
"The first errand I took the Equinox on was to the hardware store," says Frey. "As I got out of the car in the parking lot, a guy walked up to me just to say he really liked the sporty look and the design of the Equinox. We chatted for a bit and I thought it was cool that the Equinox inspired that sort of positivity.
"It's cool how things are working out," adds Frey. "Once I took that first step toward what I loved to do, as opposed to what was a conventional blueprint, the universe responded and continues to give me opportunities to keep being passionate."
STORY: CHRIS WALTON / PHOTOGRAPHY: ARTURO OLMOS