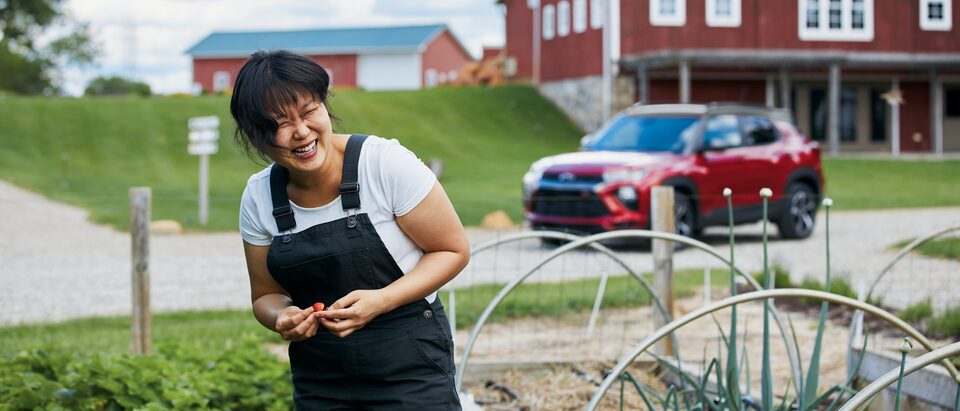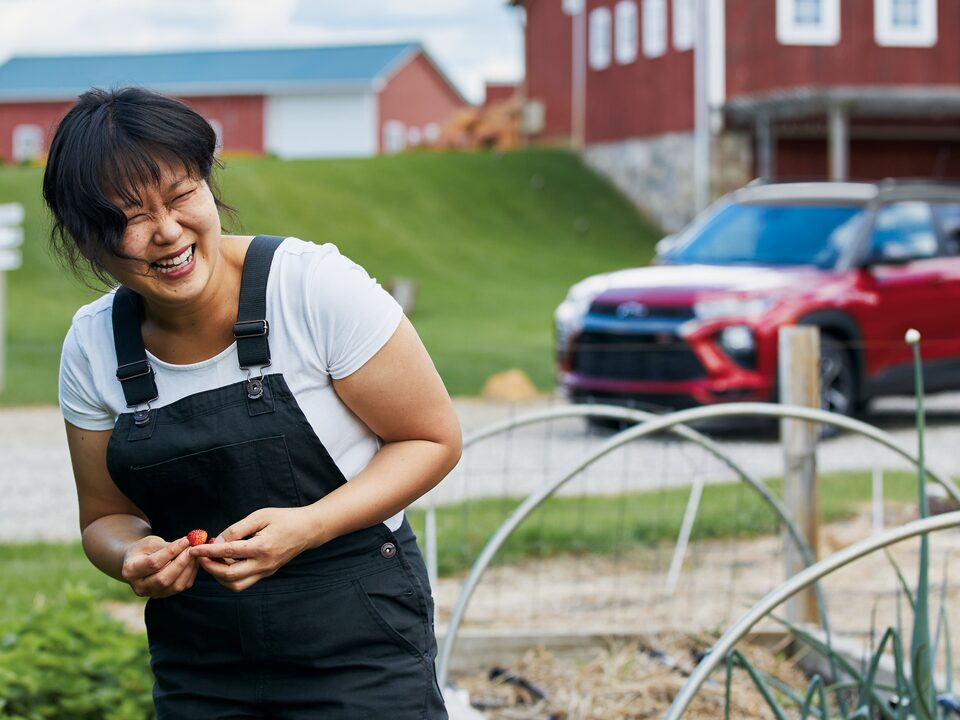 ---
2021-11-03 | New Roads Magazine

One Week with a Trailblazer RS

One Week with a Trailblazer RS

Chef Kim is passionate about sourcing the tastiest in-season produce for her restaurant, in tandem with local growers. We loaned her a 2021 Trailblazer RS to help get from farm to table with ease.

Trying to explain the vision for her restaurant, Miss Kim, can be tricky, so chef and managing partner Ji Hye Kim sums it up in two simple sentences. "I tell people that it's as much a Michigan restaurant as it is a Korean restaurant," she says. "Our food is inspired by Korean grandmothers and by Michigan farmers."
That dedication to fresh, locally sourced produce while respecting her Korean heritage and the home-cooked meals from her youth keeps Chef Kim busy around her home of Ann Arbor, Michigan. "I have to run errands all the time if I want to buy one little ingredient to test a recipe, or if we run out of something," she says.

The Details Matter
---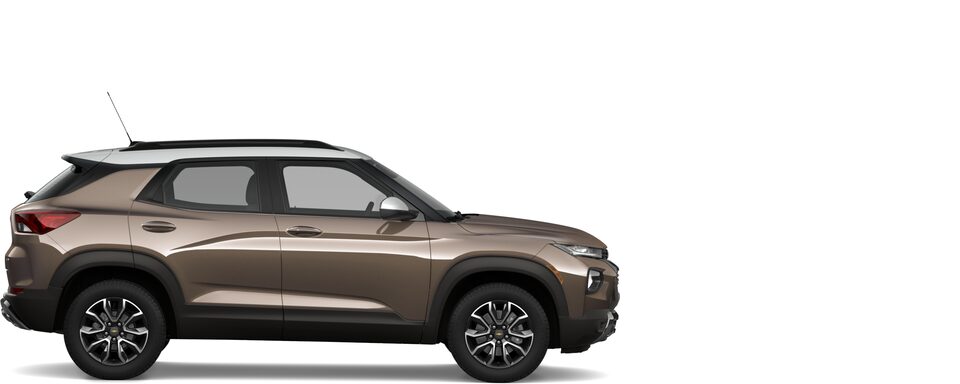 TRAILBLAZER RS
155/174

HORSEPOWER/
LB.-FT.
OF TORQUE

29/33

EPA-EST MPG
CITY/HIGHWAY†

Her efforts have paid off not only in a happy and well-fed clientele — even after a challenging year for restaurants during the pandemic — but also in professional recognition, with Miss Kim named a semifinalist for the 2020 James Beard culinary awards.
While Ann Arbor's 100-year-old farmers market is just blocks from her restaurant, Kim spends plenty of time on the road visiting local food suppliers and farms. Those shopping trips inform Miss Kim's recipes — not the other way around. They also were inspiration for some delectable recipes Kim is sharing with New Roads readers just in time to add a touch of Korean flavor to your holiday table.
"My favorite thing is to walk through the farmers market to see what's in season and what strikes my fancy, and that gets my mind turning on the next item I'm going to put on the menu," she says.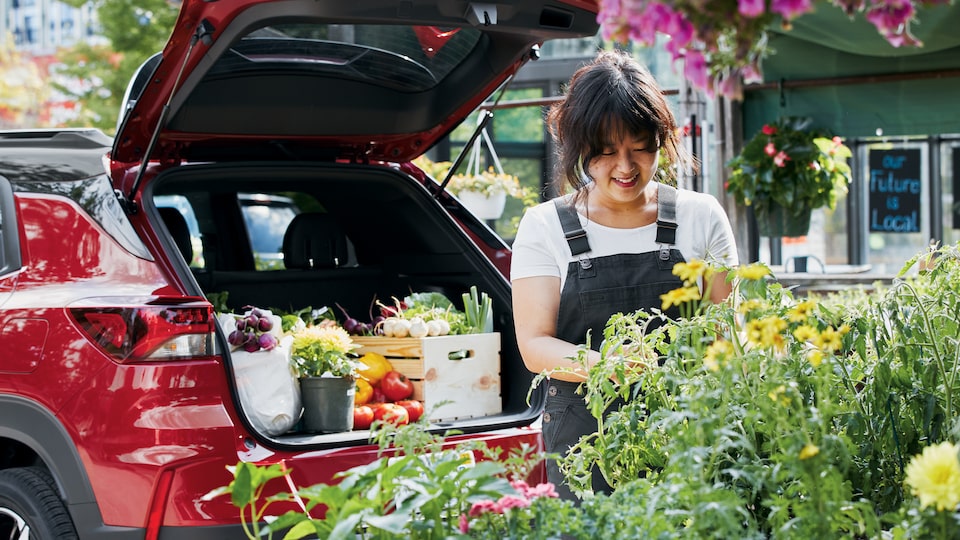 She also shops the nearby Argus Farm Stop, which sells items from more than 200 area farmers. Thanks to her experience and connections with local farmers, Kim says she can often tell which farms the vegetables are from by look, feel, or taste.

Unlike some chefs who began stirring and chopping as soon as they could walk, Kim didn't start cooking until later in life. Growing up in South Korea, Kim says her mother didn't let her in the kitchen: "She's pretty possessive of the kitchen. She's known as the best cook in the family." 

Despite working in restaurants after she moved to New Jersey as a teenager, Kim wasn't bitten by the culinary bug until much later. At dinner parties, she realized that even if the conversation was boring, delicious food kept her attention. Almost on a whim, she decided to leave her corporate career and got a job at Ann Arbor staple Zingerman's Deli. "I took a 90-percent pay cut," Kim says. "That's not hyperbole — I did the math."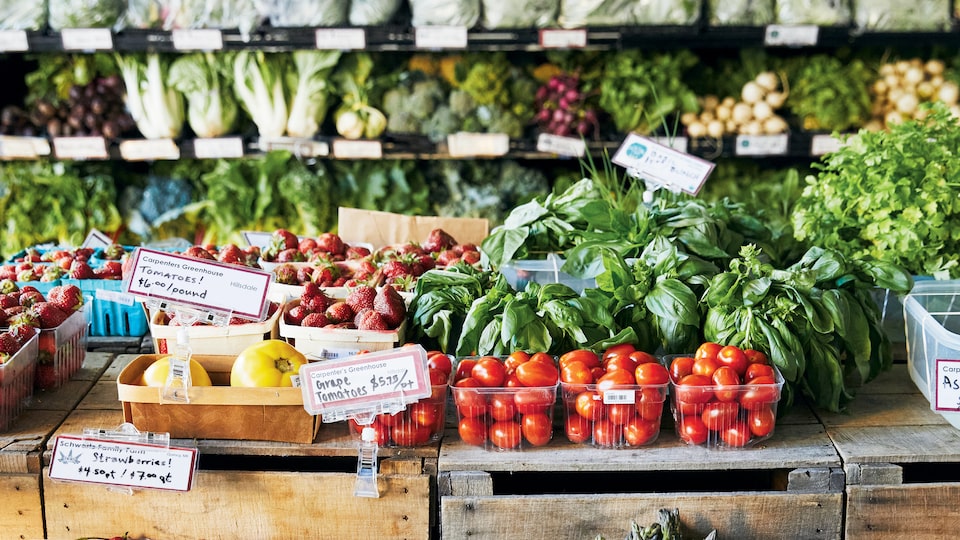 But what she gave up in salary was more than made up for in experiences. Starting off in the bread department and spending some time selling specialty cheeses, she began to build up her culinary skills and know-how in running a kitchen. After a few years, Kim took advantage of Zingerman's entrepreneurship program and, with a partner, opened a local food cart called San Street. It was a lower-risk way for Kim to gain firsthand experience cooking and operating her own business.

With the food cart running from April through October, Kim used winters to intern at restaurants and kitchens around the country. But she credits her most formative cooking experience to spending time overseas at the Rome Sustainable Food Project.

"That's when I saw local farmers bringing in vegetables every day," she recalls. "It played a lot into how I perceive food and work in a restaurant with local farmers, and just being conscious of sustainability."

Returning to the U.S., Kim again worked with Zingerman's to launch Miss Kim. The restaurant has a cute patio outdoors and a cozy interior with tall ceilings and painted-brick walls. Located in Ann Arbor's historic Kerrytown district, it's surrounded by cobblestone streets lined with other independent businesses.

To help this busy chef keep her business humming, we loaned her a 2021 Trailblazer RS for a week of ingredient shopping, delivering finished meals, and everything in between. It turns out the crossover's ample cargo space served up a just-right cocktail of utility for Kim's lifestyle.

"My favorite part is the versatility," says Kim. "Trailblazer's back seat is spacious, so I can give my staff members a ride home, but then I can also easily fold the seats down, and I have a huge cargo area for when I'm catering or transporting ingredients."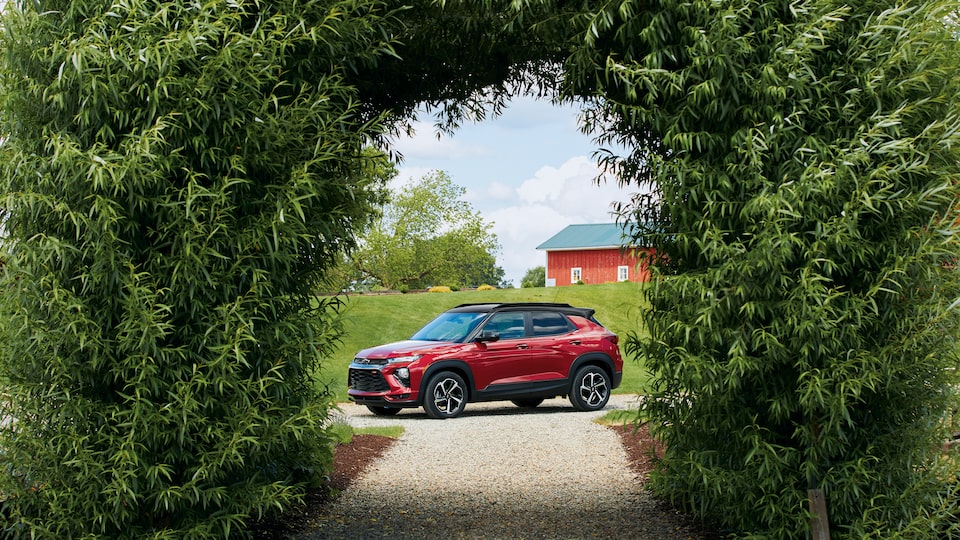 With the busy streets and tight parking spots of the area, Kim especially appreciated the Trailblazer's city-appropriate size and easy maneuverability. "The Trailblazer has a pretty tight turning radius," she says. "It's pretty nimble."

When she had to drive farther to source ingredients or visit other restaurants in nearby areas, Kim appreciated Trailblazer's standard Lane Keep Assist with Lane Departure Warning,† as well as the ability to project the navigation app from her smartphone right to the vehicle's infotainment screen.

"This is the first time I've used Apple CarPlay,®† and I thought it was super helpful," she says. "It was nice to be able to put my phone down and still be able to see directions on the screen."

Plus, Trailblazer's powerful yet fuel-efficient† engine meant she could take less time out of her busy schedule for gas stops: "I've been driving all over for errands, and it's definitely not a gas guzzler."

All told, Trailblazer was a big hit with Kim as she juggled the many demands of running her popular restaurant. "It's sort of the best of both worlds," she says of the SUV, "because I can transport all the cargo that I need for the restaurant, but it's not so big that I find it difficult to drive or to fit into my routine."

STORY: JAKE HOLMES / PHOTOGRAPHER: WINNIE AU