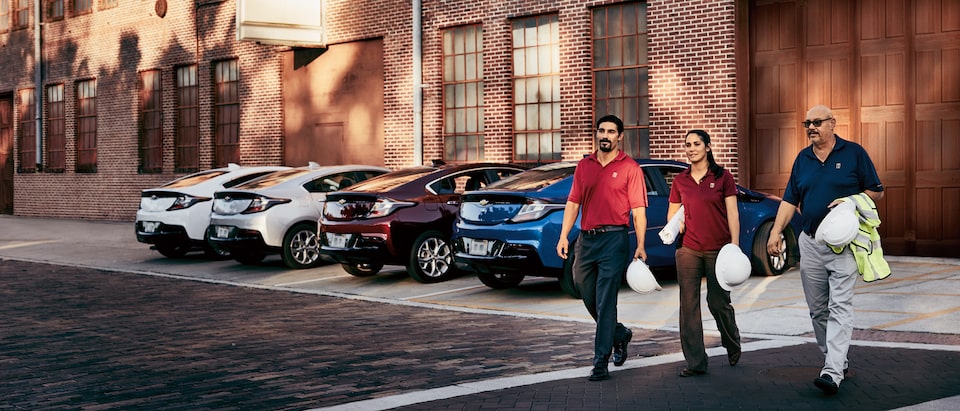 ---
2018-3-1 | Chevy New Roads Magazine

Fleet helps power Orlando contractor's success.

The Chevrolet Volt is known for its range, efficiency, and drivability. But Joe Territo will tell you that owning one is also a smart business investment.
Territo, owner of Territo Electric, an electrical contracting firm in Orlando, converted the fleet of vehicles used by his company's project managers to Volts in 2012, and he hasn't looked back. The cars, he says, are comfortable and stylish and offer impressive performance and efficiency†.
"We used to drive pickup trucks, because that's what construction people did," Territo says. "We decided to change that and went with electric vehicles. We looked at other types of vehicles—hydrogen and other things. But I have to be honest—I drove a Volt and it's completely different. The performance of the car was surprising to me; electric cars are very responsive. It's a fun car to drive, and it handles very well."
Territo graduated from the University of Michigan in 1979 with a degree in electrical engineering. He moved to Florida to help build the pavilions at Disney's Epcot. He decided to stay in the Sunshine State, and started his company in 1991. The firm focuses on the design and construction of electrical systems, including specialty controls, high-efficiency lighting, data centers, chiller plants, and emergency power distribution.
"We pride ourselves on helping our clients find safe, reliable solutions and environmentally sound solutions," Territo says. "We help them with energy-efficient electrical systems, including lighting, motors, and controls."
Territo's daughter, Anna, is also an electrical engineer who graduated from Duke University with a certificate in energy and the environment in addition to her degree. She joined her father's company after finishing college in 2012 and began nudging her dad to consider electric vehicles. "We talked about if it was worth it," she says. "We looked at the pricing, whether it was the right thing to do."
The company started by purchasing two Volts, and then quickly expanded its fleet. That decision was partially rooted in the Volt's features and style.
"In 2012, they had already incorporated creature comforts that now are more commonplace, like backup cameras," Joe Territo says. "And the cockpit in the Chevy Volt is very stylish."
Territo says his nine project managers all spend their work days in the vehicles, often logging many dozens of miles as they drive from one work site to the next. The vehicle's combination of electric battery and internal combustion engine is key to its utility for employees who log a lot of distance, he says.
It changed driving habits—you want to conserve battery and get the most range that you can out of the vehicle.

"We have no range anxiety," Territo says. "Infrastructure is always an issue you have to be concerned about—where are you going to charge the cars? With the Chevy Volt, you don't have to worry about that because you can always fall back on gas."
That balance between the two systems is especially appealing in a state like Florida, Anna Territo says.
"In Florida, we have hurricanes," she says. "I really like the Volt in a hurricane situation. If my power is out, I still have that gas tank."
And, as a young woman who often drives at night, she feels safer with the Volt's battery.
"I'm one of those people who drive until they're nearly out of fuel and then have to stop at a gas station late at night," she says. "That doesn't happen anymore."
Territo's company installed charging stations at the office and at every employee's house so they can easily charge the vehicles at night.
"No one here misses going to the gas station," Territo says. "We found very quickly that our guys love driving electric, so they wanted to drive electric as much as possible. It changed driving habits—you want to conserve battery and get the most range that you can out of the vehicle. So stopping and accelerating changed."
Those small adjustments in driving behavior have paid off; the company's project managers routinely get more than the stated range from the battery. And that helps the company save even more on gas.
In fact, the company's purchase of the Volts has proven to make financial sense.
"When you look at the initial price of the vehicle, the initial cost is higher than, say, a standard pickup truck that would be used for a construction vehicle, especially because we chose to get the Volts outfitted nicely," Territo says. "But the tax incentives helped significantly. And we were trading vehicles that got 15 miles to the gallon for vehicles running electric. Even when they run on gas, the Volts get 30 to 40 miles to the gallon.† That's a significant fuel savings for us.
"Here's the bigger thing: We looked at the total cost of ownership," Territo adds. "There's the savings on fuel costs. But also, the Volts don't require the same amount of oil changes. That was a significant difference. They've had no mechanical problems, so our maintenance costs were very low. We were very pleased with that. So our total cost of ownership was down significantly."
When Territo was contemplating switching the company's vehicle fleet, his intent was to look at a range of different vehicles to explore all options. But after purchasing his first two Volts, he dispensed with that plan.
"I wouldn't consider other options; I think Chevy really did have a better product," he says. "The price was quite a leap of faith. But financially it was a good move. We're very pleased with our decision."
Joe Territo's favorite things about the Chevy Volt

Performance: "It was surprising to me. Electric cars are very responsive—your acceleration is immediate. It's a fun car to drive, and it handles very well."
Styling: "The cockpit in the Chevy Volt is very stylish. The instrumentation and the way it's set up, the features, the creature comforts—we like it better than all the other electric vehicles we tried."
Convenience: "It's so much more convenient to plug your car in at night. But there's still a level of comfort because you know you can fill up at any gas station and won't get stranded anywhere."
STORY: ALEXA STANARD/PHOTOGRAPHY: ROBERT ADAMO

2018 VOLT
POWERTRAIN
Voltec Electric Drive Unit and 1.5L Gas-Powered Electric Generator for Extended Range
BATTERY RANGE
EPA-estimated up to 53 miles†
POWER
149 hp, 294 lb.-ft. of torque (extended range electric drive)