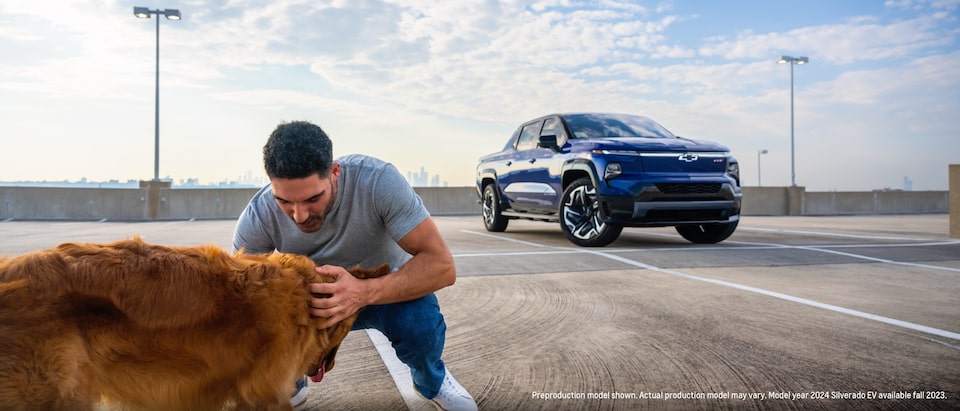 2022-11-21 | New Roads Magazine
Chevrolet Is Charged Up
This is no longer about the future. It's about what Chevrolet is doing right now with design, technology, and creative thinking. It's time to talk electric. And everyone's invited to the conversation.
The upside of change is it presents opportunity. Look no further than the expanding production and adoption of electric vehicles arriving with new features and new technologies. But to truly take advantage of the opportunity, EVs can't be exclusive toys reserved for the fortunate few. They need to be versatile, functional, and affordable. They need to be electrifying for all.
Enter Chevrolet.
You know the Bolt EV.† You've seen the Bolt EUV† and been introduced to Silverado EV, arriving fall 2023. Now meet the newest members of the family: Blazer EV (available starting summer 2023), and Equinox EV (arriving starting in fall 2023). The names are familiar, but the vehicles are all-new. Equinox EV, Blazer EV, and Silverado EV are each built atop General Motors' adaptable Ultium battery architecture and designed for the next generation of automotive innovation.
As a group, the Chevrolet EVs will represent an extraordinary depth and breadth of electric options. And each of these vehicles is backed by an expanding infrastructure designed to make charging as easy as plugging in your phone.
---
EVER FORWARD IS WHAT CHEVROLET DOES, WITH STYLE TO MATCH THE MOMENT.
---
Getting here took bold thinkers making big breakthroughs in design, engineering, battery chemistry, and charging solutions. To keep pushing forward means committing $35 billion by 2025 to develop new vehicles and new technologies and to build out battery and vehicle manufacturing, including plants in Tennessee and Ohio and a retooled Factory ZERO assembly plant in Michigan. It means prepping Chevy dealers coast to coast, so they'll continue to be the same valued resource to customers they've been since the beginning, and creating new resources like EVLive.gm.com, built to provide fast answers to your questions about going electric.
And it means constantly growing Ultium Charge 360, GM's charging ecosystem that currently ensures access to more than 134,000 chargers across the U.S. and Canada and includes the available myChevrolet Mobile App,† where you can monitor your vehicle's range and find available charging stations, and it can even help you adjust your route in real time to meet your energy needs.
ELECTRIC INNOVATION: A TIMELINE
You don't build an electric lineup overnight. You build one over decades, and then you keep going. Tap the arrows or swipe to scroll through the Chevy Family of EVs' family tree.

Chevy has been a trendsetter since it was founded in 1911. It launched the Suburban in 1935 (the longest-running automotive nameplate in the country) and the Corvette in 1953. It introduced the legendary small-block V8 in 1955 and began working on electrics in the 1990s. Ever forward is what Chevrolet does, with style to match the moment.
In 1925, GM ran a print ad promising "a car for every purse and purpose." Nearly 100 years later, that ambition remains. Even as lineups expand and technologies advance, Chevrolet maintains its dedication to ensuring there are options for everyone, everywhere.
EVs for All
Whoever you are, wherever you're going, whatever you do, Chevy will have an electric vehicle for you.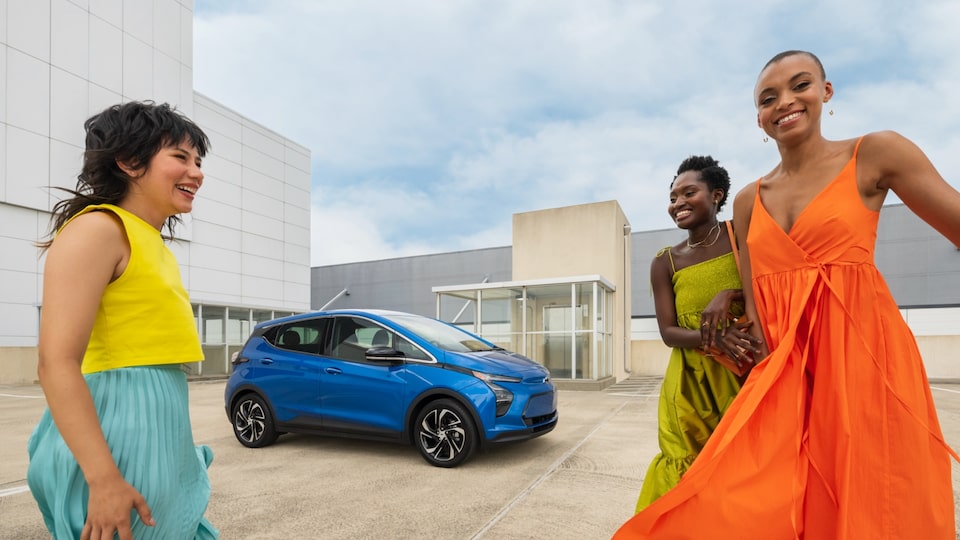 BOLT EV: DYNAMIC AND PRACTICAL
Fresh off last year's redesign, the 2023 Chevrolet Bolt EV continues to deliver on its promise of affordability and practicality. From a modern design to cavernous cargo space, the Bolt EV is the perfect companion for your commute — and any other trip after you clock out. And thanks to nearly instant torque and Sport Mode, getting behind the wheel of the Bolt EV is as fun as ever.
The Features
---
Range
EPA-estimated 259 miles† on a full charge
Max Cargo Volume
57.0 cubic feet†
Don't Miss
10.2-inch diagonal color touch-screen
SILVERADO EV RST: VERSATILE AND AGILE

Available fall 2023.
The Ultium-based Silverado EV RST retains the styling and uncompromised capability you're accustomed to on Silverado. Hauling is no problem thanks to an available 10,000-pound towing capacity,† and together the Multi-Flex Midgate and Multi-Flex Tailgate open to fit items as long as 10 feet, 10 inches. You'll ride in comfort with the Four-Corner Air Ride Adaptive Suspension, which automatically adjusts the suspension to the road conditions and even lets you adjust the Silverado EV's height.

The Features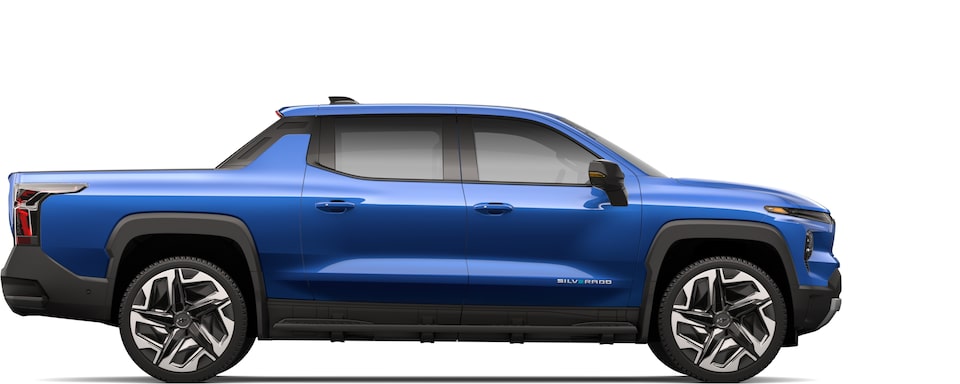 ---
Available Range
GM-estimated up to 400 miles† on a full charge
Available Power
754 horsepower†
Don't Miss
Available 24-inch aluminum wheels
EQUINOX EV: CONFIDENT AND CAPABLE

Equinox EV 2RS available starting fall 2023; full lineup available starting spring 2024.
One of Chevy's most popular models is reimagined atop the Ultium Platform. The Equinox EV offers an athletic appearance, walk-up lighting, LT and RS trims, a spacious cabin, and ample cargo room. An available 17.7-inch diagonal driver-centric touch-screen flows seamlessly into the 11-inch diagonal Driver Information Center. And Equinox EV offers up to 300 miles† of GM-estimated available range, and DC Fast Charging capability.

The Features
---
Available Range
GM-estimated up to 300 miles† on a full charge
Available Tech
Super Cruise™ Driver Assistance Technology†
Don't Miss
Available 17.7-inch diagonal display screen
BLAZER EV: STYLE AND PERFORMANCE

Blazer EV available starting summer 2023; SS available fall 2023.
The first Blazer EV pulls into the picture with athleticism and style, marked by a low and wide stance and sharply angled and aggressive lines across the grille. With an SS model, the Blazer EV becomes the first electric Chevy to wear the performance badge, and it has the numbers to back up the talk. The SS, in Wide Open Watts, features an all-wheel-drive powertrain offering 557 horsepower and GM-estimated 0-to-60 in under four seconds.†

The Features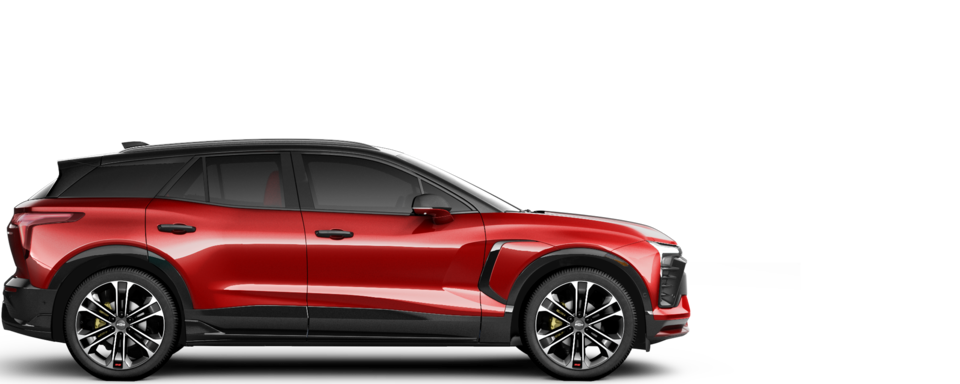 ---
Available Range
GM-estimated up to 320 miles† on a full charge
Available Performance
GM-estimated 0-to-60 in under 4 seconds† in Wide Open Watts on SS
Don't Miss
Available 17.7-inch diagonal display screen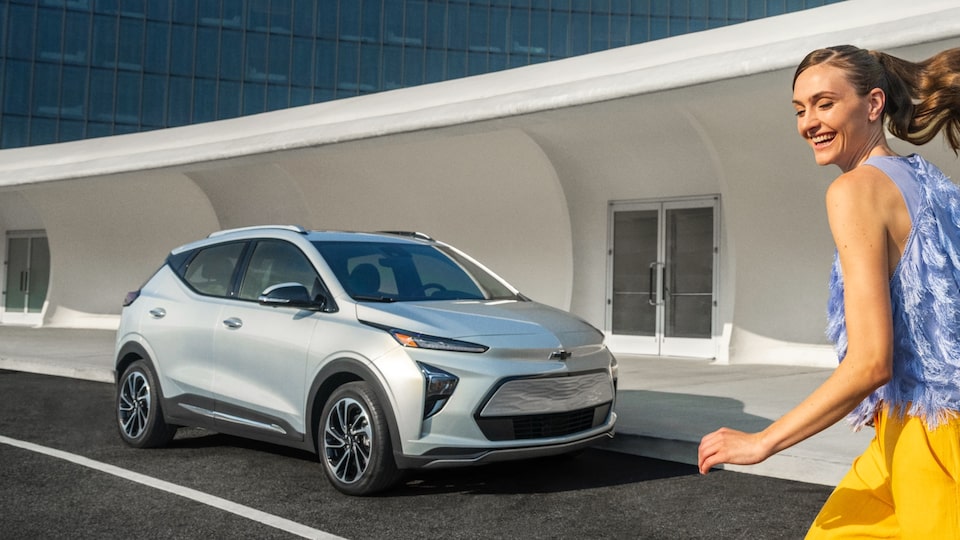 BOLT EUV: SPACIOUS AND VERSATILE

The Bolt EUV takes the best of the Bolt EV and adds more space and features. The SUV-like proportions of the Bolt EUV provide ample cargo space and rear-seat leg room (a roomy 39.1 inches). And passengers will ride even easier knowing Chevy Safety Assist† comes standard. Behind the wheel, you can enjoy available Super Cruise™ Driver Assistance Technology† for compatible roads.

The Features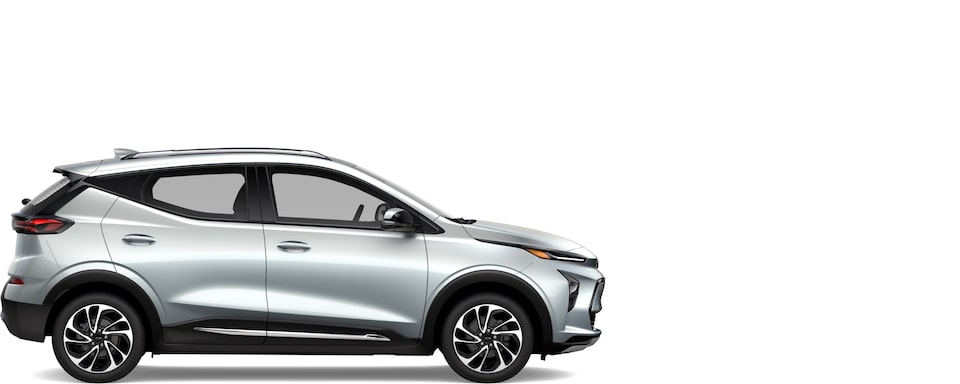 ---
Range
EPA-estimated 247 miles† on a full charge
Don't Miss
Available Super Cruise Driver Assistance Technology†
STORY: RYAN WHITE / PHOTOGRAPHY: DAVE HILL