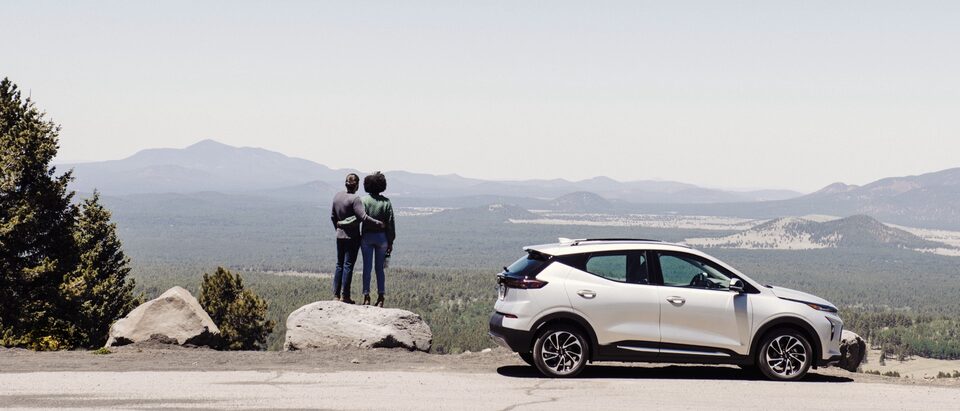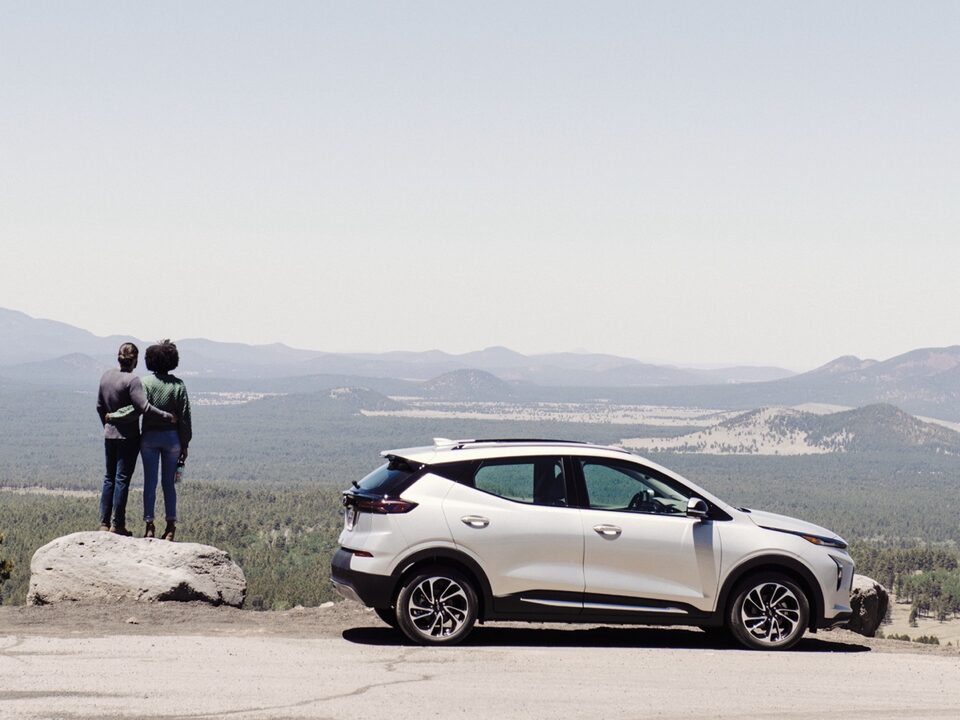 ---
2022-09-27 | New Roads Magazine
High Tech in the High West
More people are moving to smaller, vibrant, high-tech cities like Flagstaff, Arizona, that offer endless outdoor adventures and also make it easier to own and drive zero-tailpipe-emission electric vehicles.

The majestic mountains, deep green forest, and cobalt sky suggest you've arrived somewhere special. Your first breath of crisp, pine-scented air confirms it.

Welcome to Flagstaff, which is not the hot desert you'd expect to find in Arizona.

This small mountain town — a gateway to the Grand Canyon along with several other national forests, monuments, and parks — sits just south of the San Francisco Peaks at an elevation of 7,000 feet, surrounded by the largest contiguous ponderosa pine forest in the world.
The Details Matter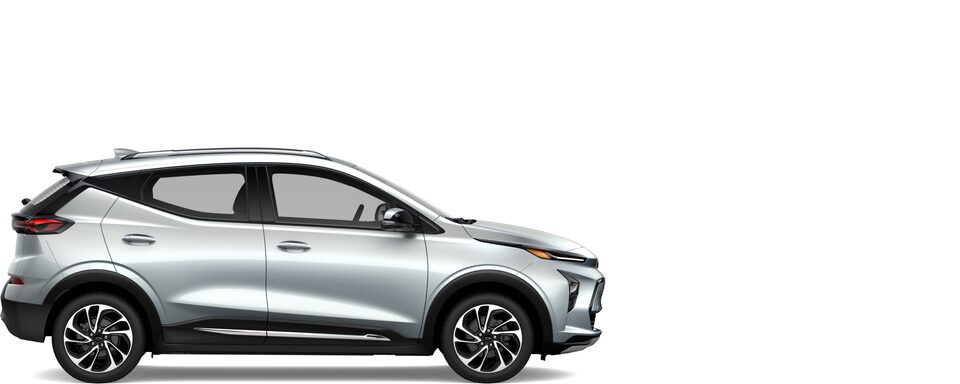 BOLT EUV
---
247 MILES
EPA-EST. RANGE
WITH A FULL
CHARGE†

Protecting this natural environment is something residents of Flagstaff take seriously. And we couldn't think of a better way to explore it than in the zero-emission 2022 Bolt EUV, a more spacious version of Chevrolet's popular Bolt EV. With an EPA-estimated range of 247 miles on a full charge,† the Bolt EUV makes it possible to make multiple sightseeing detours without stopping to recharge.

Discovering communities close to nature became popular during the pandemic, which also has prompted people to rethink where they live. For many people, smaller communities held appeal. Remote workers have been calling Flagstaff home for a while, however, thanks to its quality of life and endless outdoor recreational opportunities.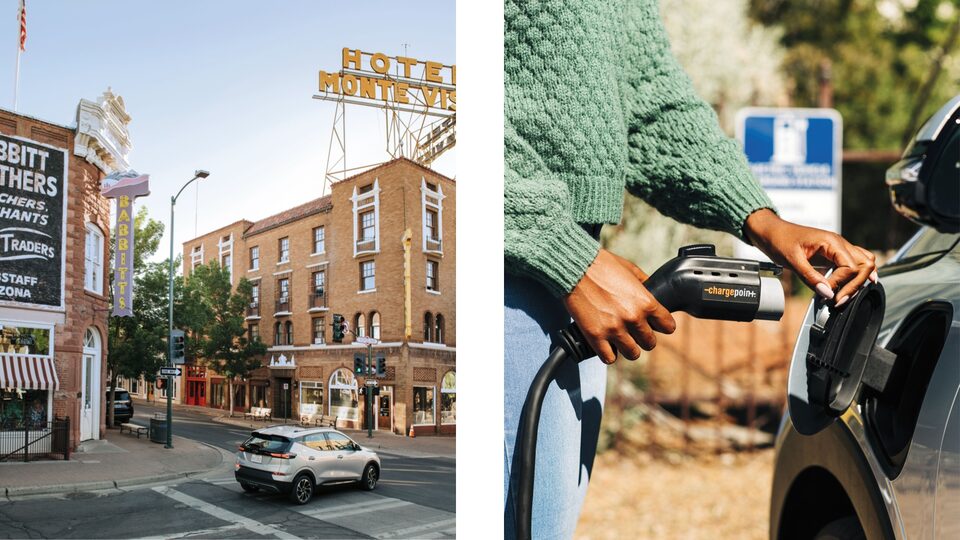 "You can mountain bike on your lunch break on world-renowned trails. Where else can you do that?" asks Gail Jackson, who heads a regional economic development organization based here. "If you like to be outside and in nature, this is where you want to be."

Our tour began downtown, a lively place filled with boutiques, forest-to-table restaurants, great coffee shops, and historic landmarks that evoke the town's pioneering past. These include the Hotel Monte Vista, which has been catering to the rich and famous since 1927, and Babbitt's, a general store built in 1888 that now outfits people for back­country adventures.

From there, it was less than a 30-minute drive to the Arizona Snowbowl ski resort (elevation 9,500 feet), located on Arizona's tallest mountain, Humphreys Peak.

Hiking opportunities are plentiful along the way, and the Aspen Corner trails offer a way to stretch your legs and take in the stunning alpine scenery. Another stellar display can be had by riding the ski resort's gondola, which reaches a summit elevation of 11,500 feet and gives a bird's-eye view of the region's vast beauty.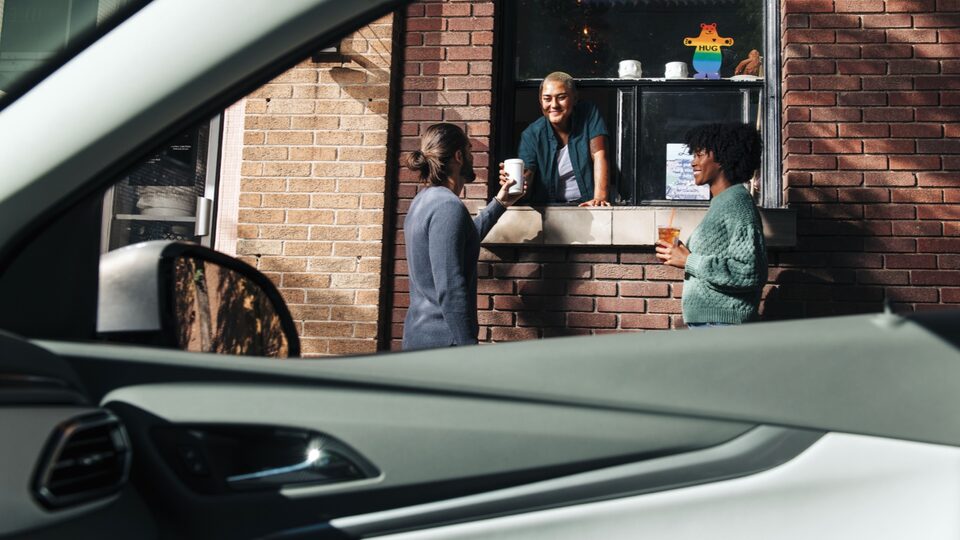 Driving back down the mountain in the Bolt EUV, we actually gained range by simply pulling and holding the Regen on Demand† paddle on the steering wheel, which slows the vehicle and stores energy back into the battery. The Bolt EUV also captures energy when you use One-Pedal Driving,† which lets you speed up and slow down using only the accelerator pedal.

And when traveling on certain roads to or from the Flagstaff area, you can take advantage of the Bolt EUV's available Super CruiseTM hands-free driver assistance technology,† which uses cameras, sensors, and map data on more than 200,000 miles of compatible roads in the U.S. and Canada to help make for a less stressful and more comfortable journey.
A City of Scientific Discovery
At night, the sky over Flagstaff takes the starring role. Named the first International Dark Sky City, the town limits nighttime lighting to reduce light pollution. This makes for some incredible stargazing and ensures astronomers, like those working at Lowell Observatory, can conduct their celestial research. Located on the western edge of town, the observatory is well known. The dwarf planet Pluto was discovered here, and visitors can explore the cosmos through its high-powered telescopes.
For its size, a surprising amount of scientific study takes place in Flagstaff. Being a college town helps: Northern Arizona University, whose 20,000 students add a youthful vibe to the city, is a hub for world-class research. Flagstaff is also home to government research stations and high-tech bioscience and manufacturing companies. Its business incubator and accelerator program is aptly named Moonshot.
 
A City Committed to Sustainability
Another source of pride for the city: environmental sustainability. Flagstaff is a Pledge for the Wild city, which means it supports responsible tourism and encourages people to donate after using trails to help keep them beautiful. It also aims to become carbon-neutral by 2030. Encouraging the use of zero-tailpipe-emission vehicles is key to meeting this goal. As such, the city is transitioning its fleet to electric vehicles (EVs) and is making it easier for residents and visitors to drive EVs here.

Partnering with the local electric utility, Flagstaff installed four free Level 2 EV charging stations at city hall, with another 14 free stations planned for the airport, library, and rec center. Charging stations can be found at local businesses and hotels and on the university campus, and the city is working with builders to spec them into new developments.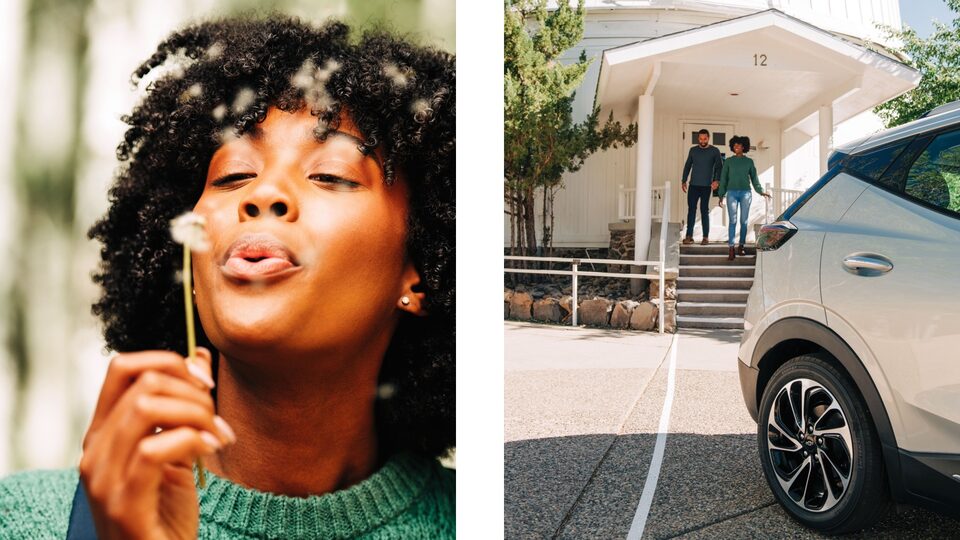 More communities around the country are growing their EV infrastructure. As of March 2021, 25 states had at least 1,000 non-residential EV charging units for public and private use, according to the U.S. Department of Energy.

General Motors, which plans to launch 30 new EVs globally and invest $35 billion in EV and autonomous vehicles through 2025, is working with major charging networks to make 60,000 EV charging points across the U.S. and Canada accessible to Chevrolet EV drivers through the myChevrolet mobile app.†

Flagstaff is one of several cities that offer incentives to buy an EV, with EV buyers getting back a portion of the local sales tax. The city offers an additional $250 credit to those who earn less than $50,000 a year, and it also is exploring EV share programs and collective purchasing initiatives.

"Equity is a really big piece of our climate action work," says Nicole Antonopoulos, who heads the City of Flagstaff's sustainability initiative. "We want to ensure that the most vulnerable members of our community have fair access to all the advantages of our actions, and they're not going to bear the burden of the cost or miss out on any of the opportunities of the work that we're doing."
Far from sleepy, these vibrant college towns in the Mountain West offer four-season adventure and are EV-friendly to boot.

STORY: ANNE NAGRO / PHOTOGRAPHY: JOSÉ MANDOJANA