2022-12-09 | New Roads Magazine
Silverado EV Comes into View
After revealing the Silverado EV in January, Chevy has been hard at work to be sure future customers will have the best possible ownership experience with the only electric pickup worthy of the Silverado name.
Beginning with its keynote unveiling at CES in January 2022 and the subsequent Super Bowl LVI ad that reimagined one of the most iconic opening sequences in TV history, the Silverado EV, arriving in fall 2023, has been building excitement and momentum. So much momentum, in fact, that to take it along for a good, long drive, you'd need a Silverado EV.
"We purposefully decided to build an all-new vehicle, an all-new truck from the ground up," says Nichole Kraatz, chief engineer for battery-electric trucks. "It's so important for full-size truck customers to be able to tow, haul, and do everything they can do in a traditional pickup truck." That includes getting an available GM-estimated 400 miles† of range on a full charge, Kraatz says.
When the Silverado EV First-Edition RST arrives, it will offer the kind of capability drivers expect from a truck with the Silverado name: GM-estimated 754 horsepower† and 785 pound-feet of torque† in Wide Open Watts mode, and GM-estimated 10,000 pounds of towing capacity.† This power and capability is enabled by the groundbreaking Ultium battery platform, which also allowed engineers to hit that range number Kraatz mentioned.
So the baseline was set at the beginning of the year. As 2022 progressed, the emphasis was on continued behind-the-scenes work by designers and engineers as well as other more public tasks to prepare for the truck's arrival. Those included readying Factory ZERO, the Michigan plant where the Silverado EV will be built,† and preparing the electric infrastructure that not only will welcome Silverado EV owners but will also benefit owners of any of the vehicles in Chevy's expanded family of EVs.
Out of the public eye, those designers and engineers have been busy perfecting all the important details. The vast majority of people who reserved the Silverado EV said they'll use it for towing, so Chevy's team has been hard at work to ensure customers will have the towing capabilities they've come to expect.
---
IT'S SO IMPORTANT FOR FULL-SIZE TRUCK CUSTOMERS TO BE ABLE TO DO EVERYTHING THEY CAN DO IN A TRADITIONAL PICKUP TRUCK.
---
NICHOLE KRAATZ
---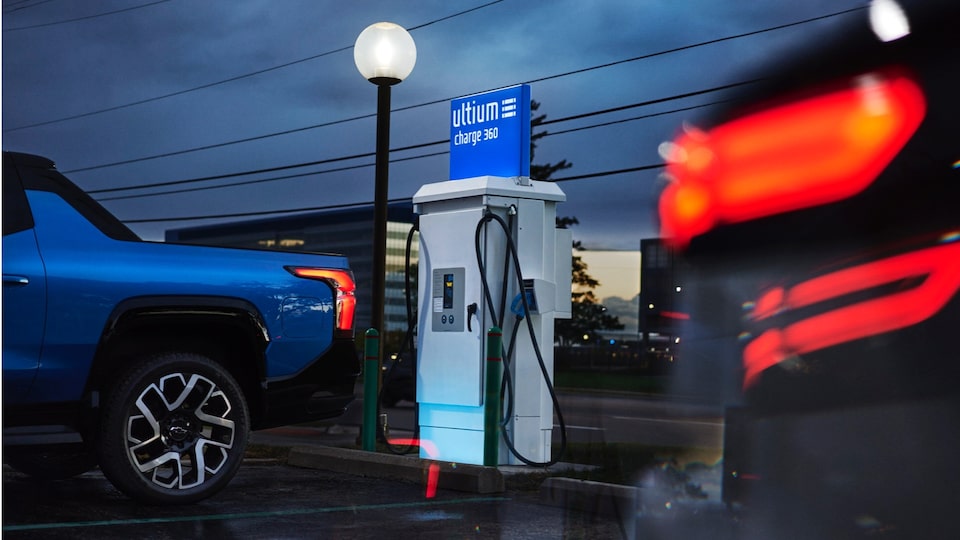 Preparing for wider EV adoption in the coming years, Chevy and GM continued to build out the important support systems owners will need to make going electric easy. With an GM Energy accessory charging unit, you'll be able to move power between your properly equipped Silverado EV and your home to keep your lights on for up to 21 days† in the event of a power outage.
In 2021, GM announced a $750 million investment in charging infrastructure and introduced Ultium Charge 360, a charging ecosystem designed to make electric vehicle charging a seamless experience. In 2022, the work of expanding the charging network continued; Chevy EV owners now have access to more than 134,000 chargers. The available myChevrolet Mobile App† has features to let you view your vehicle's range and find available charging stations, and it can even help you adjust your route in real time to meet your energy needs. Thanks to Plug and Charge, a service that allows you to simply plug your Silverado EV into a public charger and start charging, there's no need to even swipe a credit card. After a one-time activation in the myChevrolet app (along with active OnStar Connected Services and an EVgo account), plugging in your vehicle is as easy as plugging in your phone.
---
WE DON'T WANT DRIVERS THINKING ABOUT CHARGING. WE CAN'T JUST TALK THE TALK. WE HAVE TO MAKE IT HAPPEN.
---
DALYA ABOONA
---
GM has also been working with Pilot and Flying J travel centers to install 2,000 fast chargers in 500 locations. And another initiative, the Dealer Community Charging Program, aims to work with GM dealers to place up to 40,000 Level 2 chargers in rural, urban, and suburban communities in the U.S. and Canada. All this work to increase access to charging infrastructure is part of careful planning that has happened alongside vehicle development.

"We don't want drivers thinking about charging," says Dalya Aboona, Global EV Ecosystem & Charging Experience assistant manager. "We can't just talk the talk. We have to make it happen."
Wherever you take your Silverado EV or whatever you need it to do, you'll be covered thanks to the groundwork laid in 2022.
PHOTOGRAPHY: CLINT DAVIS, DAVE HILL