2022-11-21 | New Roads Magazine 
Taking Charge

At home, at work, around town, or out on the open road, Chevrolet is committed to making electric ownership make sense — for everyone. That starts with making range anxiety a thing of the past.
The first step in making electric vehicles for everyone is making the vehicles. The next is to make owning an electric easy. "We want to take away any anxieties associated with electric vehicle charging and how the customer experiences them," says Dalya Aboona, global electric vehicle ecosystem and charging experience assistant manager at GM.

The answer? Easy access to Level 2 home charging, plus Ultium Charge 360 — a charging ecosystem that integrates charging networks, the myChevrolet Mobile App,† and other products and services. That means access to more than 134,000 chargers, as well as the digital tools to seamlessly tap into the power and convenience of that network.
ULTIUM PowerUP CHARGER† PRODUCED BY GM
A Level 2 home charger sold directly by GM and your Chevrolet EV dealer, with base and premium models for different charging needs.

Home Charging
Karla Fausto had her 2020 Chevrolet Bolt EV for more than a year before she decided to upgrade to a Level 2 home charger. "On the days I drive the most, I drive 60 miles total, so Level 1 charging met my needs," she says. "It wasn't a problem for us to string out a cord and have my car plugged in."

Fausto, a Philadelphia-area nurse, does the bulk of her charging at home. However, after driving her Bolt EV, her fiancé decided he wanted to get an electric vehicle as well. With two electrics, simply plugging into the standard wall outlet wouldn't be a practical solution.

An active social media group for Bolt EV owners helped Fausto settle on a Level 2 charger.
The next step was understanding what it took to install the hardware. There, the forums were less helpful. "There's a lot of people who will give you electrical engineer–level knowledge, and then a lot that say, 'All I know is my car drinks electrons,'" she jokes.

As Fausto's story suggests, navigating a relatively new technology can be difficult. Chevrolet and General Motors knew they needed to simplify the home charging process, including installation.
---
MANAGE YOUR ELECTRIC LIFESTYLE
The available myChevrolet Mobile App† has features to let you view your vehicle's range and find available charging stations, and it can even help you adjust your route in real time to meet your energy needs.
Learn more and download the app.
First, eligible customers who purchase or lease a 2022 or 2023 Bolt EV or Bolt EUV can get standard installation of a 240-volt Level 2 charging outlet, installed by Qmerit.† The offer applies to homes that meet the criteria for the standard installation, Alex Patten, GM assistant manager of charging solutions, says. For other owners who do not meet the standard installation requirements, Chevrolet provides a credit of up to $1,000 for a custom installation, plus up to $250 for the proper local or state permits.

If you have purchased a 2022 or 2023 Bolt EV or EUV and it simply isn't possible to install a charger where you live, Chevrolet will provide a $500 credit† to use at EVgo public chargers, a large nationwide network of public fast chargers.
---
IT TAKES TWO SECONDS TO PLUG IT INTO THE WALL. THEN YOU GO TO SLEEP, AND IT'S CHARGED WHEN YOU WAKE UP.
---
KARLA FAUSTO
---
To answer questions before, during, or after a purchase, Chevrolet has added new online resources. "Customers can visit EV Live or reach out to our EV concierge team to have all of their questions answered about home installation," says Patten.

Now that Fausto has had a charger installed in her garage, she loves the convenience of Level 2 home charging. "It takes two seconds to plug it into the wall," she says. "Then you go to sleep, and it's charged when you wake up."
Public Charging, Near or Far
When you need gas, you get gas. Typically, you don't think about where the next station is. Between stops, you hope for as much efficiency as you can get, but it probably isn't something you worry about. Dalya Aboona gets that. "My background is mechanical engineering," she says. "I spent a lot of time working on engines and fuel economy."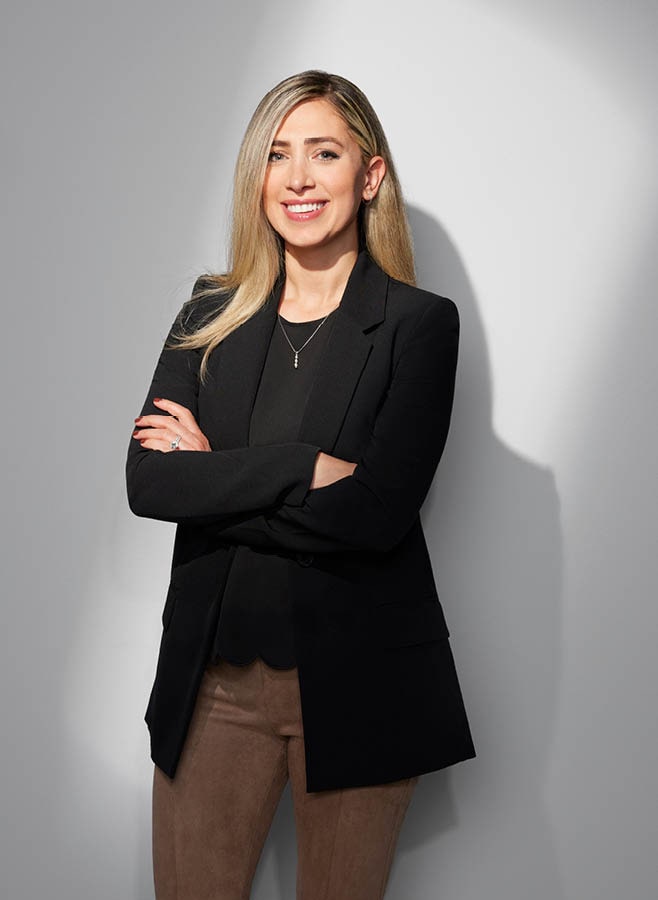 DALYA ABOONA
Global EV Ecosystem & Charging Experience Assistant Manager
Aboona and her team look at the big picture related to removing anxiety about charging, focusing on home, workplace, and public spaces.

Today, Aboona is General Motors' global electric vehicle ecosystem and charging experience assistant manager, where she is part of a dedicated team of over 45 people laser-focused on making electric vehicle ownership an anxiety-free experience — whether you're at work, at home, or on the road. Primarily that means focusing on charging, and especially public charging.

The team's experience suggests the breadth of possibilities as charging infrastructure expands. "We've got a diverse team comprised of business, finance, engineers, marketing, and public policy, all working together to craft the best solution," Aboona says.

In many cases, they're starting where there's nothing to work with. "It's like an empty piece of land," she says. "First the foundation is poured, then the structure, and by the end it's a functional house."
Suddenly, workplaces are installing chargers and networks are being built, which has opened up access to more than 134,000 chargers — and mobile apps make everything make sense.

"We want to make the process seamless for car owners," Aboona says. "Do you think about how you're going to charge your cellphone? No, you just plug it in and it takes care of itself."
Ultium Charge 360 would not be an ecosystem if it only covered your garage. Public charging — when you need it, where you need it — is just as important. And the goal is to make plugging in simple and finding where to plug in easy — whether you are driving around town or traveling across the country. Tap the arrows or swipe to see some of the ways Chevy is working toward that goal.
STORY: RYAN WHITE, COLIN BERESFORD, SHARON SILKE CARTY, AND BRETT BERK / CHARGER AND PORTRAIT: JENNY RISHER