2022-10-18 | New Roads Magazine
One Week with a Tahoe RST
Kira Reid and Carlos Aragon turned their hardships into a passion when they created Reach for the Stars, a nonprofit that uses astronomy to inspire, uplift, and improve mental health. We loaned the couple a 2022 Chevy Tahoe for a week to help support their ambitious mission.
In his sixth year in the U.S. Air Force, Carlos Aragon suffered a traumatic injury while serving as an aerospace maintenance journeyman and crew chief. He was forced to take a medical retirement from his passion. Around the same time, Kira Reid, a decorated Air Force combat-wounded veteran, had been forced to take a medical discharge after more than 11 years as a technical sergeant and intel analyst. She was struggling to take care of herself and help her kids.
The Details Matter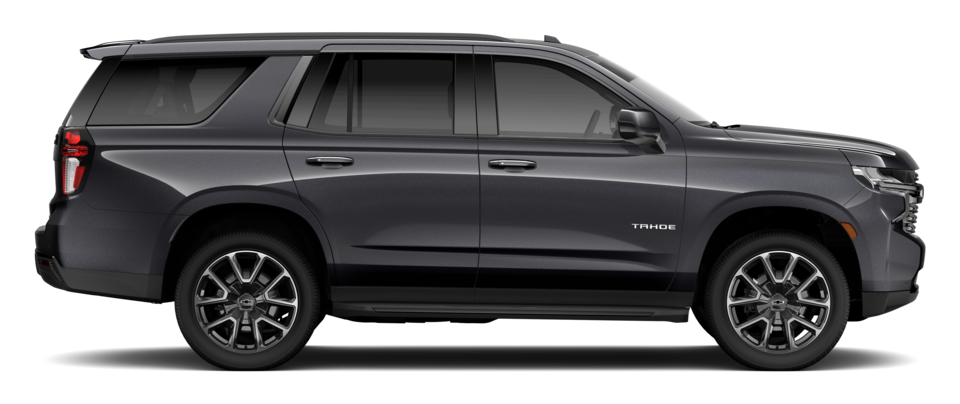 TAHOE RST
---
3.0L
DURAMAX TURBO-DIESEL ENGINE AVAIL.
21/28
EPA-ESTIMATED MPG CITY/HWY (2WD WITH 3.0L TURBO-DIESEL)
At their lowest points, Aragon and Reid found themselves sitting together in a class at a Veterans Administration clinic where they had each sought treatment for alcohol/prescription drug dependency and addiction.

What followed were brighter days, starrier nights, and a plan to help others. It began with a $40 telescope they had bought as a toy for their sons. They set it up in their backyard and realized they could see Jupiter.

"You could actually see Jupiter's moons and cloud bands. It blew me away," says Aragon, 31. "I spent hours trying to find other things, and my problems, stresses, and anxiety — all of those feelings — went away. I knew I wanted to share that same feeling with other people."
In 2019, Reid and Aragon bought a larger telescope and set it up in a grocery store parking lot to display the night sky to the community. It was a hit! In 2020, they launched Reach for the Stars in Vail, Arizona.

"Youth come in with mental illness, trauma, anxiety, or just excitement about getting involved," the 37-year-old Reid says. "Our mission is to use stargazing as an alternative coping mechanism and astronomy exploration to help ignite a passion for STEM, get youth excited about a career, and for them to volunteer."
---
OUR MISSION IS TO USE STARGAZING AS AN ALTERNATIVE COPING MECHANISM AND ASTRONOMY EXPLORATION TO HELP IGNITE A PASSION FOR STEM, GET YOUTH EXCITED ABOUT A CAREER, AND FOR THEM TO VOLUNTEER.

---
KIRA REID
---
The group's ultimate goal is to build a community observatory and learning center so they can expand operations. "We are the only nonprofit in the U.S. that combines astronomy with mental health," says Aragon, who is the CEO of Reach for the Stars.

Since its launch two years ago, the nonprofit has held more than 50 community events and engaged more than 10,000 people. It has also provided individual lessons for more than 90 stargazers. The organization and its numerous youth volunteers also distribute food boxes to those in need. Adult volunteers help deliver meals to those who are homebound.
Reid's and Aragon's 10- and 19-year-old sons also help. "They are so proud of how far I've come," Reid says. "They know you can make a mistake and get back up."

We loaned the couple a 2022 Chevy Tahoe for a week to see how it could help accomplish their personal and philanthropic goals, and they put it to work right away.

"We went on a short trip to Flagstaff to haul our son's college stuff — a dresser and other items — back home," Reid says. "It was very practical. There's a lot of storage, and the drive itself was luxurious, smooth, and easy."
Reid, who suffers from chronic pain, says the available heated driver and front passenger seats† were game changers: "The seats heat all the way up your back."

"The passenger comfort is just as good as the driver comfort," Aragon says. "The back seats have their own entertainment and climate control. This is so important!"

But comfort isn't just for people. They used the Tahoe to haul tables, chairs, and 20 very expensive and delicate telescopes to a Reach for the Stars event. "When you're driving over a bumpy road, you don't know how calibrated they will be when you arrive," Reid says. "But the Tahoe has a smooth ride. It was great to know what you put in the vehicle will not be bumped around."
Moreover, the available 110-volt, three-pronged outlet in the Tahoe's cargo area allowed Reid and Aragon to power all of Reach for the Stars' gear and leave the generator at home. That cargo area also came in handy when delivering food to those in need. They were able to load more into the Tahoe — and keep it out of the hot Arizona sun — than they could in their usual pickup truck.
Aragon also appreciated the Tahoe's standard and available safety features, such as the Rear Cross Traffic Alert† and Lane Change Alert with Side Blind Zone Alert.† "You can see so much. And there are a ton of active-assist towing features that are huge time savers," he says.
Most of all, Aragon was floored by the available 3.0-liter Turbo-​Diesel engine that makes the Tahoe the most fuel-efficient large SUV in its class.† "We drove it all week and still had fuel left over," he says. "To not have to fill up the tank all week was huge."

The 2022 Tahoe is the "ultimate family, ultimate small business, and ultimate road trip vehicle," Aragon says. "The kids keep asking us to order one," Reid adds.
STORY: LESLIE D. GREEN / PHOTOGRAPHY & VIDEO: ARTURO OLMOS