---
Reign supreme

When torque is king, choose factor-engineered Big-Block power from Chevrolet Performance.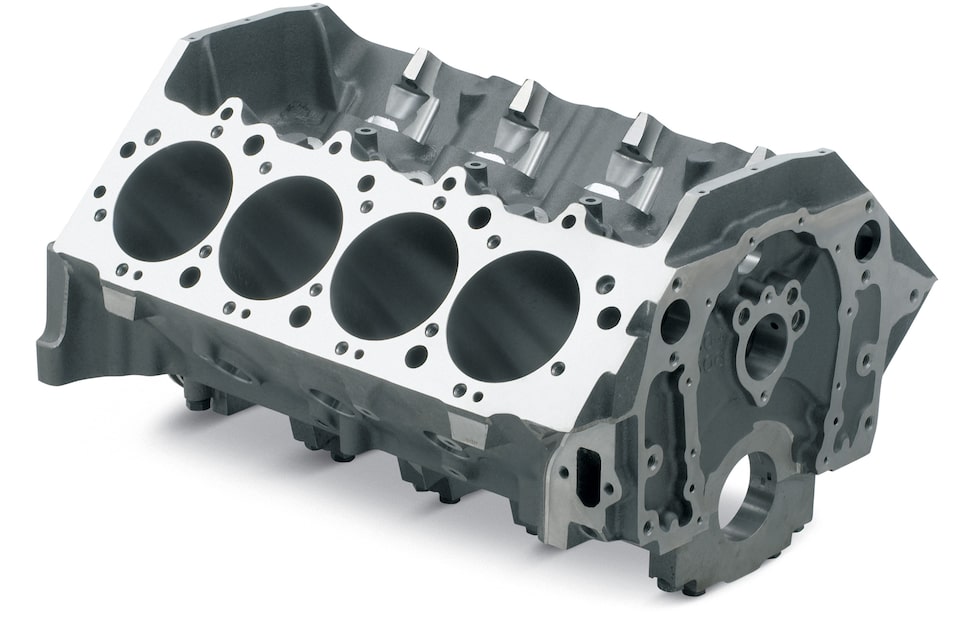 PRODUCTION-BASED BLOCKS

The classic Big-Block production engine was introduced in 1965. Cylinder-block casting combines traditional Big-Block heritage and modern production techniques for 21st-century performance.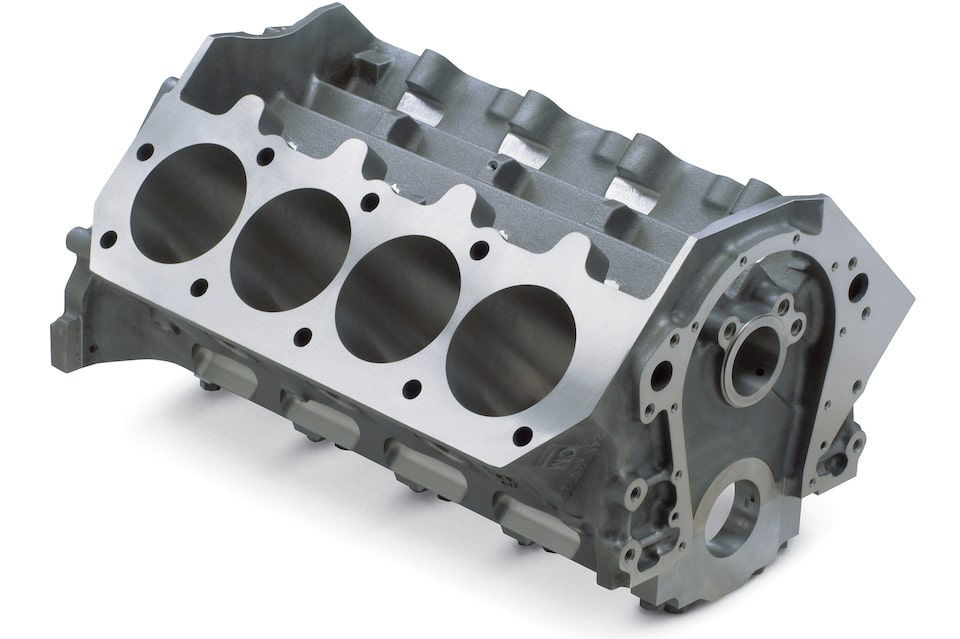 BOWTIE SPORTSMAN BLOCKS

Born from a full line of high-quality, precision-machined components based on performance-proven GM designs, a Bowtie Sportsman block packs big power and long-lasting reliability ideal for drag racers and street machines.
Available in short-deck (9.800") or tall-deck (10.200") configurations
Blocks have clearance for 4,500" tolerance
CNC-machined to +/- .005" tolerance
Siamese cylinder bores
Bore finishers are ready to bore to size
Machined for mechanical fuel pump
Machined for hydraulic roller and flat tappets
Nodular iron 4-bolt main caps splayed 16-degrees on the three center mains
Priority main oiling system
Blocks with a 1-piece Rear Main Seal use the 6-bolt, Gen VI-style front cover (P/N 10230954) and Gen VI-style oil pan
Blocks with a 2-piece Rear Main Seal use the 10-bolt, Mark IV-style front cover and Mark IV-style oil pan

ZL1 ALUMINUM BIG-BLOCK

Built from premium materials and precision machined to blueprinted specifications, this fabled aluminum 427-cubic-inch Big-Block lets mere mortals experience the raw horsepower and tremendous torque of the ZL1.

356- T6M Aluminum block
Standard deck height (9.800")
4.300" maximum bore
4.240" finished bore
4.375" maximum stroke
Siamese cylinder walls
Centrifugally spun cast-iron cylinder sleeves
Steel 4-bolt main caps splayed 16° on the three center mains (dowel located)
Provision for hydraulic roller camshafts
AN O-ring oil and water plugs
Tested to 650 horsepower
CAST-IRON BOWTIE RACE BLOCKS

With thick deck surfaces and splayed 4-bolt steel bearing caps, a cast-iron Bowtie Race Block is the starting point for drag racers looking for custom-machined performance.

Precision CNC-machining means +/- 0.005" tolerances
Blocks are available in short deck (9.800") or tall deck (10.200")
A sonic bore check data sheet is provided with each block
Siamese cylinder bores
Improved cooling around number-1 cylinder
Accepts Mark IV or Gen V, VI cylinder heads
Use Gen V head gaskets with Mark IV and Gen V cylinder heads
Use Gen VI head gaskets with Gen VI cylinder heads
Requires Mark IV design 2-piece rear main seal oil pans
Requires Mark IV design crankshafts
Can use Mark IV and Gen V, VI camshafts, timing sets, lifters and timing cover (aftermarket belt-drive timing covers may require clearancing)
Blind-tapped head bolt holes; extra inner head bolt bosses provided
4-bolt SAE 8620 main caps splayed 16° on the three center mains
Priority main oiling wet-sump system
Provisions for dry-sump oil line provided
Honed camshaft and crankshaft bores
0.842" lifter bores (maximum 1.06") may be relocated
Distributor gear clearance at bottom of number-8 cylinder bore should be checked
Machined mechanical fuel pump pad
BIG-BLOCK DRCE BLOCKS

Specifically designed with 500-cubic-inch Pro Stock engines in mind, the DRCE (Drag Racing Competition Engine) family of Big-Blocks is the foundation of many Pro Stock drag-racing engines.

CNC-machined to +/- 0.005" tolerance
Siamese cylinder bores with 4.900" spacing
No lifter bosses, solid bar can be drilled as required
No head-bolt holes
Numbers two and four main bearing bulkheads moved 0.060"
Bellhousing bolt pattern accommodates Chevy and Pontiac/Olds transmissions
Uses Big-Block Chevrolet crank, camshaft, balancer, flywheel and water pump
Requires camshaft with distributor gear behind rear bearing
Priority main oiling dry-sump system
Dual starter mounting locations
Front-engine mounts only
Each block is supplied with sonic test data sheet
CYLINDER BLOCK COMPONENTS
  
Learn More
FRONT COVER, TIMING POINTERS, FUEL PUMP BLOCK-OFF PLATE

Learn More