---
BIG-BLOCKS VALVE COVERS

Top off your high-performance Big-Block with a pair of Chevrolet Performance valve covers. These precision-fit valve covers come in a variety of finishes and colors and are made out of die-cast aluminum or heavy-gauge stamped steel. Quality construction methods help provide good sealing and low chance of leakage from deflection caused by overtightened fasteners. Competition valve covers are designed to clear taller valvetrains.

NOTE: Valve covers are sold in pairs unless otherwise specified.

---
19421390

VALVE COVERS – ORANGE WITH "632"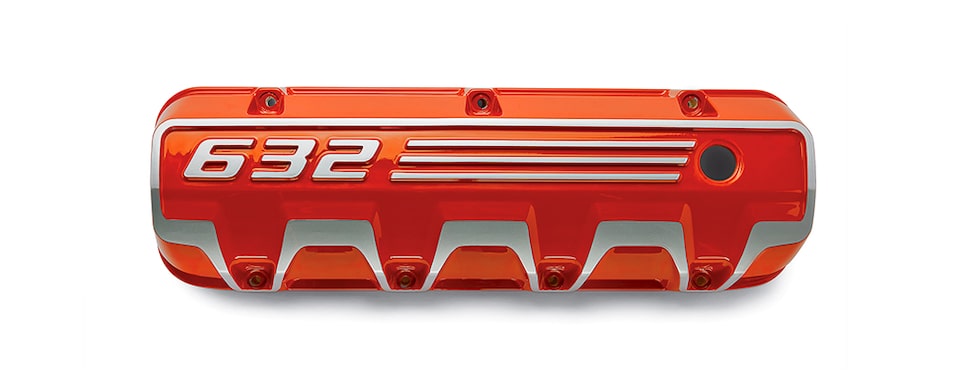 Used on the ZZ632 crate engine and can be used on all Big-Block cylinder heads
Cast aluminum construction with integrated oil fill on one cover and a breather outlet on the other
Chevy Orange finish with raised and machined "632" logo and fins
Includes 2 covers and 2 grommets

NOTE: Requires push-in oil cap P/N 12341993, breather P/N 25534355 and breather tube P/N 88962074, which incorporates a baffle in the tube.

---
19421388

VALVE COVERS – BLACK WITH "502"

Similar to cover design P/N 19421390 above, but with black finish and "502" logo

Can be used on all Big-Block engines
---
19421392

VALVE COVERS – ORANGE WITH "CHEVROLET BOWTIE"
Similar to cover design P/N 19421390 above, but with the Chevrolet Bowtie logo

Can be used on all Big-Block cylinder heads

---
19421393

VALVE COVERS – BLACK WITH "CHEVROLET BOWTIE"

Similar to cover design P/N 19421390 above, but with black finish and Chevrolet Bowtie logo

Can be used on all Big-Block cylinder heads

---
12342093

SHORT CHROME BOWTIE VALVE COVERS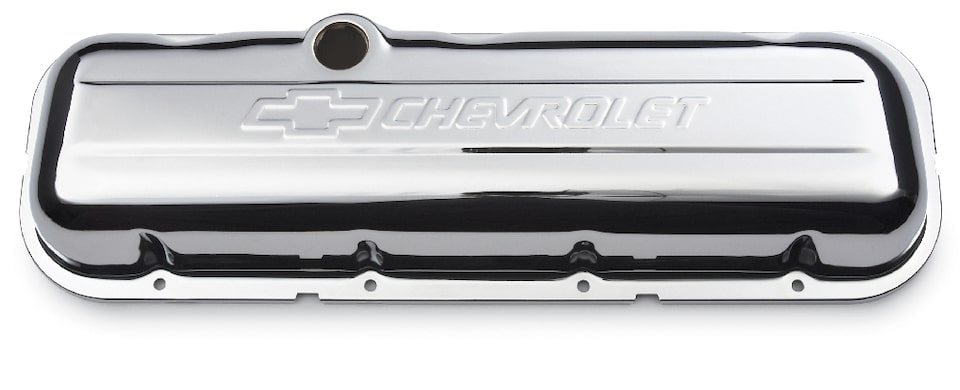 Show-quality covers embossed with the famous Bowtie logo and Chevrolet name
Standard height, for use with MY 1965-1994 engines
May not clear brake booster on some Corvette models
---
12495488

CUSTOM ALUMINUM VALVE COVERS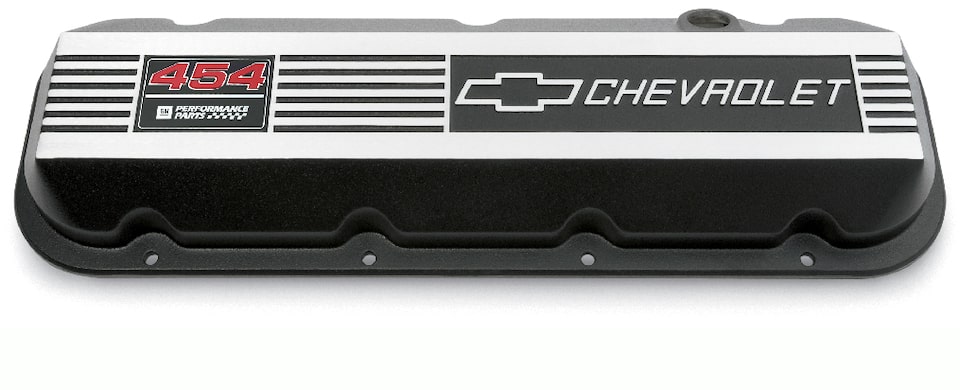 Die-cast aluminum valve covers are black with a brushed aluminum finish on top revealing the Chevrolet name and Bowtie logo
Can be finished with a custom engine designation badge, not included
For use on MY 1965-1994 engines
Includes 2 covers, 1 grommet P/N 10198941, 1 grommet P/N 10198949, oil cap P/N 15681150, and 14 retaining bolts
---
12371244

ALUMINUM COMPETITION-DESIGN VALVE COVERS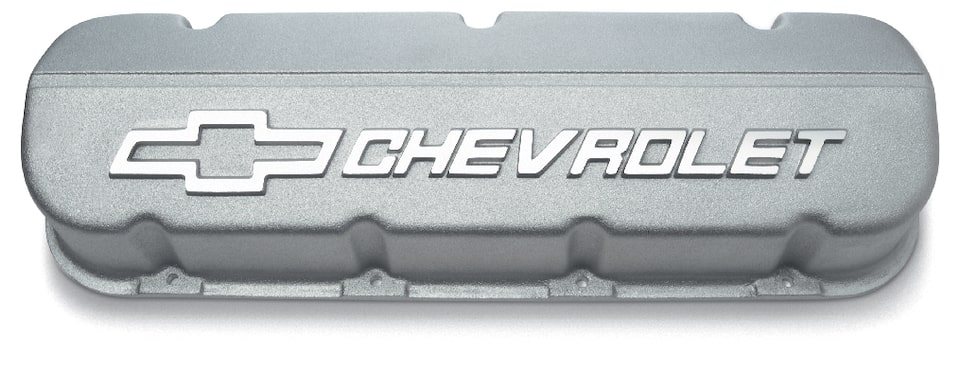 Display the Chevrolet name and Bowtie logo in natural aluminum finish, or paint to match engine or vehicle color
No holes for PCV or oil fill, but bosses for drilling them
Can be used on most Big-Block Chevrolet cylinder heads
Use P/N 12370836 for single replacement part
Use with valve cover gasket P/N 14085759
---
25534323

ALUMINUM COMPETITION-DESIGN VALVE COVERS, BLACK POWDER-COAT

Display the Chevrolet name and Bowtie logo in black powder-coated covers
No holes for PCV or oil fill but bosses for drilling them
Can be used on most Big-Block Chevrolet cylinder heads
Use with valve cover gasket P/N 14085759
---
25534374

ALUMINUM COMPETITION-DESIGN VALVE COVERS, ORANGE POWDER-COAT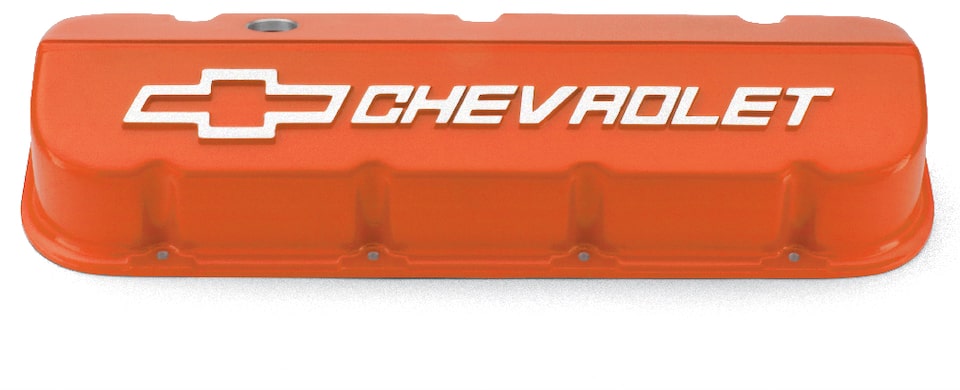 Display the Chevrolet name and Bowtie logo in orange powder-coated covers
One hole on each cover for PCV or oil fill
Can be used on most Big-Block Chevrolet cylinder heads
Use with valve cover gasket P/N 14085759
---
12499200

VALVE COVERS, "572 CHEVROLET"

Used on all 572-cubic-inch crate engines and can be used on most Big-Blocks
Cast aluminum with "572 Chevrolet" as part of the casting
One cover has oil fill and breather holes and the second cover has the breather hole only
Requires push-in oil cap P/N 12341993, breather P/N 25534355, and breather tube P/N 88962074 that incorporates a baffle in the tube
---
19202588

VALVE COVERS, "427 CHEVROLET," NATURAL APPEARANCE

Natural finish
Used on the Anniversary Edition 427 crate engine
Can be used on any Big-Block engine

---
19202589

VALVE COVERS, "427 CHEVROLET," BLACK POWDER-COAT

Used on the ZZ427/480 crate engine
Can be used on any Big-Block engine