---
Go with the airflow

Chevrolet Performance cylinders are tested for excellence for durable performance on street or strip.

LS FAMILY PRODUCTION AND C5R ALUMINUM CYLINDER HEADS

Great cylinder-head airflow has been a key enabler of the LS-Series' exceptional performance. Chevrolet Performance delivers those power-building attributes to you with a range of production-style aluminum heads — from the LS6 heads for smaller-displacement engines to LS7 style heads for 427-inch-and-larger combinations, our aluminum heads benefit from Chevrolet Performance's extensive research and development program, providing airflow.

---
Manufactured from 319-T5 aluminum alloy
High-efficiency combustion chambers
Symmetrical intake and exhaust ports
Angled spark plugs (14 mm; 5/8" hex; 3/4" reach; taper-seat plugs)
15° valve angle (except C5R and LS7)

Bolt-down-type rocker arms (except LSX-DR, LSX-CT)
Center-bolt valve cover hold-downs
Fits Gen III and Gen IV Small-Blocks only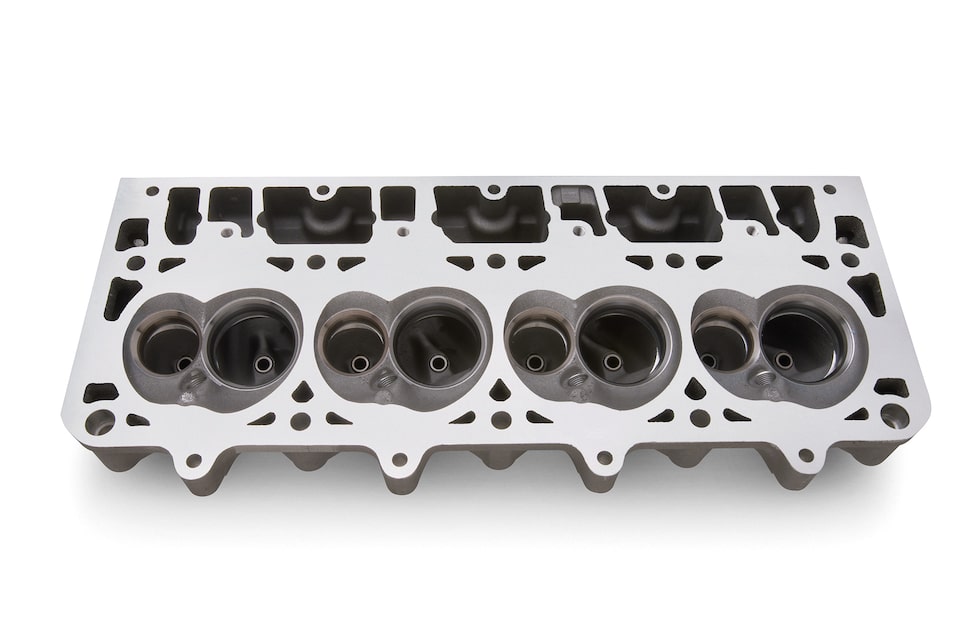 LSX CYLINDER HEADS

Extending the performance range of the LSX platform are Chevrolet Performance's six-bolt LSX cylinder heads. Many are capable of flowing more than 400 cfm, and their six-bolts-per-cylinder clamping design gives them excellent strength. Explore your horsepower-building potential with LSX heads.

---
Uses 11mm (10) and 8mm (13) head bolts (not included)
Accommodates production valvetrain components (except for Drag Race and Circle Track heads)
Includes premium beehive-type valve springs (except for Drag Race and Circle Track heads)

Extra material cast in the port areas to accommodate professional porting
Valve guides for 8mm valve stems, except DR & CT