---
FUNCTIONALLY DESIGNED, PERFORMANCE PROVEN

Corvette is a triumph of design, engineering and passion for performance – it was born on the track. With amplified breaking, cornering and looks, Chevrolet Performance has a lineup of parts tuned for Corvette. These parts are engineered to meet high standards and match the distinct driving feel of this legendary sports car.

Get the peace of mind that comes from using genuine Chevrolet Performance Parts. Only Chevrolet Performance gives you the advantage of parts that were designed, engineered, tested and backed by Chevrolet. Click on part numbers for warranty statement. Only available through your Chevrolet Dealer.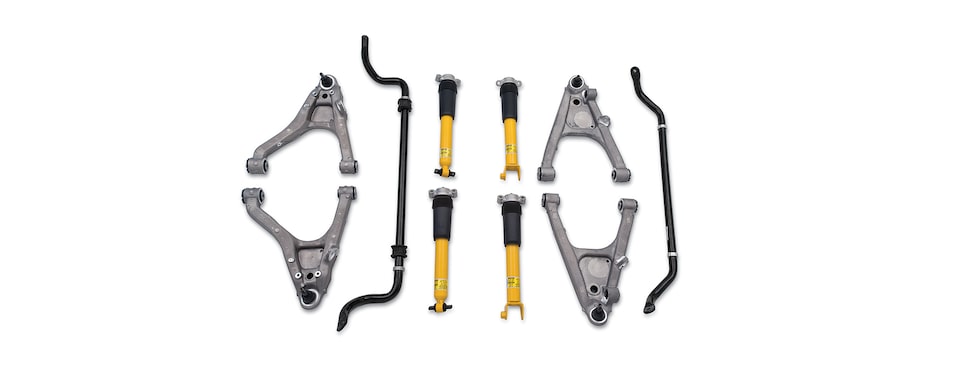 ---
RACE-READY SUSPENSION

This Suspension Package was developed to improve the on-track handling capabilities of the Corvette Stingray, including Z51-equipped models. Developed for racing, the Corvette Track Suspension Kit has been tuned with all-new stabilizer bars, lower control arms with stiffer handling bushings, and track-optimized passive shocks. Roll stiffness has been increased (40 percent front, 20 percent rear). This kit is homologated for SCCA's Touring 1 Class and is designed to maintain eligibility for most club racing sanctioning bodies.

PART NO. 23336064

---
SOMETHING TO GRAVITATE TOWARD

Continuous on-track and street development combined with the pursuit of perfection have pushed our Corvette engineers to develop updated tuning strategies and algorithms for existing Magnetic Selective Ride Control (MRC)-equipped Corvettes. Each calibration is independently tuned for its respective chassis; updates Tour, Sport, and Track modes; and includes independent compression and rebound calibration for front and rear dampers, allowing for precise control of heave, pitch, and roll under a wide variety of situations to fine-tune the vehicle's response. Corvette Magnetic Ride Suspension calibration upgrades improve ride quality and handling feel and have been rigorously verified and tested, ensuring all chassis systems work together seamlessly. You will enjoy increased performance while maintaining your vehicle's warranty.

Corvette Magnetic Ride Suspension calibration upgrades:

---
Model Year
Trim Level

Suspension RPO

---
PARTS INTENDED FOR COMPETITION USE ONLY.
Click for more details.
PARTS INTENDED FOR COMPETITION USE ONLY.
Click for more details.
---
UNDERBODY STRENGTH 
Developed for the Corvette Z06, these carbon-fiber underbody braces are about 17 percent lighter than the aluminum braces on the Corvette Stingray, while maintaining original overall torsional stiffness. They are a direct replacement for the standard braces and fit all C7 Corvettes (Z06 and non-Z06).

PART NO. 23385708