---
Upgrades to enhance capability on the street or track

The Gen 5 Camaro offers great performance capability, with special models including the 1LE, ZL1 and Z/28 earning the label of "legendary." Chevrolet Performance has worked to make the most-popular performance parts from the hottest models available to all Camaro enthusiasts, giving Camaro V-6 and SS owners the tools to build strong pulling, harder-cornering and quicker-stopping performance on the street or track. From the comprehensive Z/28 suspension kit to the ZL1 driveline package and brakes – along with shifters, cylinder heads, fuel system upgrades and even aerodynamic aids – we've got the components you need to transform your performance-hungry Gen 5 Camaro. Better still, all of Chevrolet Performance's Gen 5 Camaro components are the factory-engineered and validated components used on the production models, so you know they'll fit, perform and hold up with the confidence you can't get with other aftermarket parts. Check out our extensive and unmatched collection and take your Camaro's capability to the next level!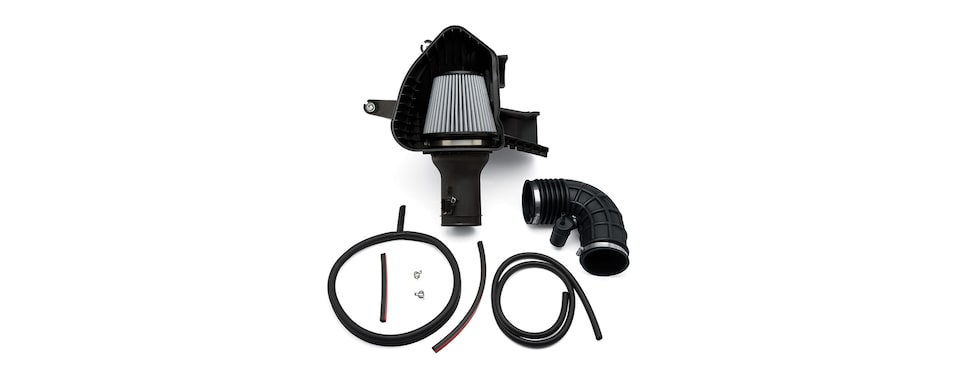 ---
HELP YOUR ENGINE  BREATHE EASY

A unique open air box intake system is used with the Z/28's LS7 engine, featuring a replaceable conical air filter, and delivers the highest airflow performance of any production Camaro filter system. The air cleaner seals around the bottom of the hood, helping reduce the chance recirculated hot air will be drawn into the engine. The Z/28 air intake provides up to a 51% reduction in air restriction when compared to a standard LS3 equipped Camaro. Includes hardware that supports 1LE and SS PCV systems.
This performance air intake system is intended exclusively for use in competition vehicles that will only be driving on a track or off-road course. When installed, the performance air intake may cause your vehicle to no longer be emissions compliant. As a result, after installing this component, your vehicle should no longer be driven on public roads. In addition, your powertrain warranty will be voided due to the nature of the intended competition use.
NOTE: No calibration support from GM is available. Not recommended for use on L99. Not available for sale in California emissions states.

PART NO. 23454578

---
Subscribe to receive monthly email communications such as news, offers, and more from Chevrolet Performance.

---
---
Visit TheBLOCK.com for a behind-the-scenes look at the world of Chevrolet Performance from an enthusiast's point of view.

---
---
Subscribe to receive monthly email communications such as news, offers, and more from Chevrolet Performance.

---
---
Check out Chevrolet Performance product releases, future car builds, and more.

---