---
STARTERS  
Flywheels with two different diameters are used on Chevrolet Small-Block, Big-Block, and 90° V-6 engines. Large flywheels are 14" in diameter and have 168 teeth on the starter ring gear. Small-diameter flywheels are 12.750" in diameter, with 153 teeth on the ring gear.
This difference in flywheel diameters requires two distinct starter housings. Starter noses used with large-diameter flywheels have two offset bolt holes, while starters for small flywheels have two bolt holes that are parallel to the back of the block. Most Chevy blocks are drilled for both types of starters.  
12361146

Gear reduction starter is designed for 1958-1996 V-8 and all 90° V-6 engines
Compact design provides increased clearance
Weighs only 10.5 pounds and has a gear reduction of 3.75:1
Equipped with a dual bolt pattern for 12.750" (153-tooth) and 14" (168-tooth) flywheels
Housing can be rotated to clear exhaust systems
Includes starter, mounting bolts, shims, gaskets, and electrical connectors

NOTE: Not recommended for competition use.

---
High-Torque Mini Starter – Chrome

Same as starter P/N 12361146, but with a chrome housing

---
Lightweight Starter (Remanufactured)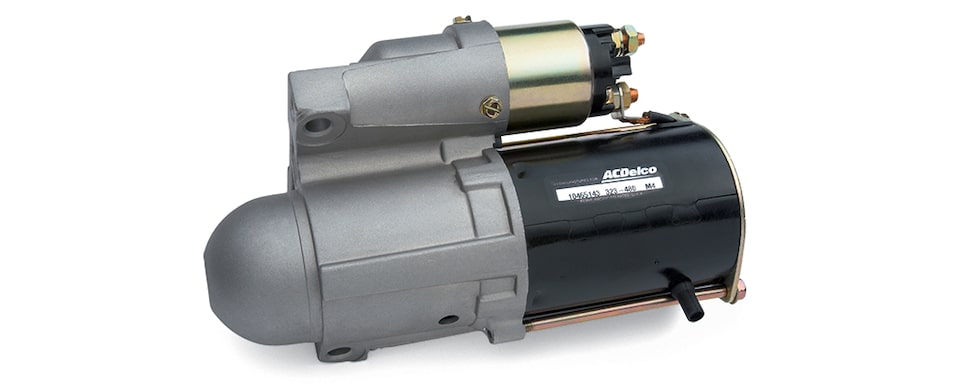 Lightweight high-performance starter was originally used on 1993-1997 Camaros and Firebirds with the LT1 engine
Can be used on any Small-Block or Big-Block engine with a 12.750", 153-tooth flywheel

---
Lightweight Starter – Big-Block and Small-Block

Gear reduction starter can be used on Big-Block and Small-Block engines with a 14", 168-tooth flywheel