Share on
Share on
Visit us at
Visit us at
When Tyler Dahlgren bought his 1966 Chevrolet pickup, he was not expecting it to become the showpiece it is now. But the team at Killer Hot Rods & Customs in Alvarado, Texas, turned the classic into the Truck of the Year winner at the 2022 Texas edition of the C10 Nationals.

The gorgeous red C10  is powered by a Chevrolet Performance LS3 crate engine* and sits on a Roadster Shop SPEC chassis.
Tyler Dahlgren's 1966 Chevrolet C10 was the Truck of the Year winner at the 2022 Texas C10 Nationals.

"You can get in it, turn the key and start and go," Dahlgren said of the engine during this spring's C10 Nationals at Texas Motor Speedway. "I love that and I've had other newer trucks with the LS so I was familiar with the engine. We just decided to go with the new crate engine because you've got a warranty† with it and it's just what we needed."

The team at Killer Hot Rods recommended the now classic power plant making 430 horsepower and 425 lb.-ft. of torque. The 6.2L engine counts among its highlights a cast-aluminum block with six-bolt, cross-bolted main caps, aluminum L92-type rectangular-port cylinder heads and a strong rotating assembly.
The truck features a Chevrolet Performance LS3 crate engine.*

The engine in Dahlgren's truck also features a Concept One Pulley Systems serpentine kit, Billet Specialties valve covers featuring "Chevrolet" in script, and billet valve cover adapters. A Dewitt's aluminum radiator helps keep the power plant cool. Fuel is delivered from a Boyd Welding custom aluminum fuel tank and exhaust gasses are spent through a Flowmaster system which also helps produce a head-turning rumble.

The C10 is a long way from when Dahlgren bought the truck as a three-quarter-ton long bed powered by a Chevy Small-Block engine.
The truck began its life as a long-bed pickup; Killer Hot Rods & Customs was responsible for the overhaul.

Dahlgren is a native of Mobile, Alabama, who now lives in Orange Beach in the state. However, he lived in the Dallas-Fort Worth Metroplex for many years and bought the truck three decades ago after seeing it for sale in the classifieds.

He drove it for a year until it started to overheat and decided it was time to start restoring the truck. He took it apart, stripped the paint and had the body sandblasted, while also obtaining a 454 cu.-in. Big-Block engine and 700R4 transmission. Then, life got in the way and Dahlgren put the project on "the real far back burner."

He stored the truck in his brother's building for 25 years and when it was sold he had to do something with the vehicle.

"I just decided to let the professionals finish it up and basically they started over, which was a good thing," Dahlgren said. "I'm very happy with the way it came out, the look of the truck, and the quality of their work is just amazing. And the quality of the powertrain I'm very happy with."
Today the 1966 C10 sits on a Roadster Shop SPEC chassis.

The engine is mated to a 4L70-E four-speed automatic transmission at the suggestion of the shop and Dahlgren says the powertrain setup fits in the aftermarket chassis "beautifully."

The truck also features a nine-inch rear end that utilizes 3.73 gears and has Wilwood six-piston big brakes all the way around.

"It's pretty basic, nothing real trick or anything," Dahlgren said.

The truck rides on custom Schott Rail eXL wheels coming in at 19 inches in the front and 20 inches in the rear. The Mickey Thompson tires measure 265mm up front and 305mm out back.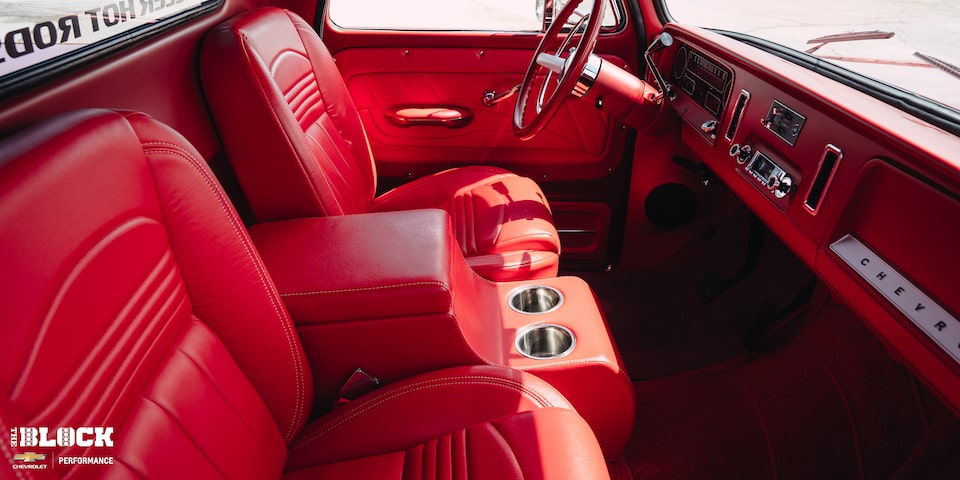 Delgado's Upholstery & Trim Shop handled the gorgeous interior work.

Killer Hot Rods & Customs did all of the work on the truck, including shortening the bed and adding a fresh coat of paint to the originally white vehicle. The paint is a two-stage Toyota/Lexus color called Matador Red.

"I looked at a thousand different red colors and this one I really like," Dahlgren said. "When the sun's out it really looks good."

Delgado's Upholstery & Trim Shop in Mansfield, Texas, was responsible for the red interior, which now includes a variety of creature comforts including a Dakota Digital dash, RestoSound radio, and an air conditioning system featuring an Old Air Products unit and controller, along with Vintage Air vents.
Tyler Dahlgren is a Mobile, Alabama, native who lived in the Dallas-Fort Worth Metroplex for many years. Today he resides in Orange Beach, Alabama.

Dahlgren has been involved with a variety of industries in his life. While living in the Dallas-Fort Worth area he ran a company that manufactured printing equipment along with his brother and his dad. He left that business in the early 2000s and moved to Alabama looking to get closer to the water. He started a business selling and repairing large boat propellers and recently sold it to become fully retired.

He still has many friends and family in the Metroplex and during the C10 Nationals was helping an 80-year-old friend install an LS engine in a Studebaker pickup.

But while Dahlgren is a lifelong General Motors fan, his truck is really the only special classic he's owned. His wife has also been driving Corvettes since the early 1990s and currently has a C7 model.

Dahlgren's experience with modern GM engines is one of the reasons he believes similar LS power was the right choice for his truck.

"I've had Chevy or GMC products for a long time," Dahlgren said. "I'm really happy with the drivetrains now and the LS engines. I've had a huge amount of miles on other vehicles with no problems or trouble at all. So this one is great."

Be sure to keep watching The BLOCK for many more Chevrolet Performance-powered builds from the Texas C10 Nationals.

*Because of their effect on a vehicle's emissions performance, these engines are intended exclusively for use in competition vehicles. These engines are designed and intended for use in vehicles operated exclusively for competition: in racing or organized competition on courses separate from public streets or highways. Installation or use of these engines on a vehicle operated on public streets or highways is likely to violate U.S., Canadian, state and provincial laws and regulations related to motor vehicle emissions.

†Chevrolet Performance Crate Engines include a 24-month or 50,000-mile/80,000-kilometer limited warranty, whichever comes first. See your GM dealer for details.