High-Revving Performance: Inside the CT400
Share on
Share on
Visit us at
Visit us at
Fierce, door-to-door competition is a hallmark of the circle track world. In many places, crate engines make that possible. Among the most popular is the Chevrolet Performance CT400.*

The CT400, or " GM 604" as it is often known based on the part number, can be found on both asphalt and dirt tracks across the country, including under the hood of many pavement Late Models.

Mike Hopkins utilizes a Chevrolet Performance CT400 crate engine in his Chevrolet SS Pro Late Model.

Crate engines are mandated in pavement cars known as Pro Late Models – lightweight, purpose-built race cars which in many ways mirror their fire-breathing Super Late Model cousins. However, in an effort to keep costs down and ensure car counts stay high, crate engines are found throughout the class as opposed to the open engines allowed in Supers.

The North Carolina-based Solid Rock Carriers CARS Tour has become one of the pre-eminent Late Model tours in the United States with its Late Model Stock and Pro Late Model classes. The Pro Late Model division features an option for competitors to use the CT400 straight from the factory, or for engine builders to put their own stamp on the power plant with a few upgrade options.
The straight factory version also receives a weight break to further level the playing field.
The CT400 in Hopkins' car.

Mike Hopkins of Hermon, Maine, is one of the drivers who utilizes the bone-stock factory version. Hopkins won the first two CARS Tour events of the 2023 season at Lucama, North Carolina's Southern National Motorsports Park and historic Hickory (N.C.) Motor Speedway.

"The main reason I bought one is I could race it everywhere," Hopkins says of the engine.
Hopkins races with the CARS Tour, as well as with the Pro All Stars Series (PASS) around the Northeast, among other tracks up and down the East Coast. He can run the engine knowing it is legal without needing to know the ins and outs of every series or track's rules, while often receiving a weight break.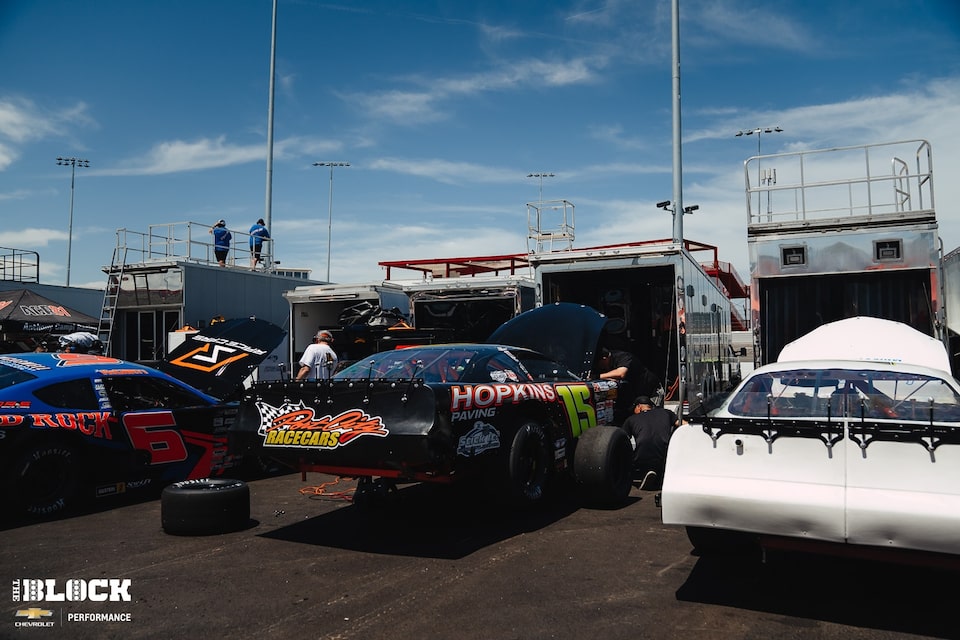 Mike Hopkins (15) has won several races with the CT400.

The CT400 from Chevrolet Performance is built utilizing a cast-iron block with four-bolt main caps, a forged steel crankshaft and aluminum pistons. It also features Fast Burn aluminum cylinder heads with LS-style beehive valve springs for high-rpm performance.

Each one features tamper-proof factory seals and is designed with all-new parts, but is also available at a lower price point than many other options. The CT400 is rated at 404 horsepower and 406 lb.-ft. of torque.
"They're inexpensive and they work well," Hopkins says.
Hopkins notes that he might give up a bit on qualifying on bigger tracks, but the playing field levels quickly once traffic is a factor and a 75-to-150 lap race plays out organically. Hopkins' multiple wins are proof of that.
Plus, in the Northeast, PASS doesn't allow for the same type of upgrades as other series in the country. But many New England tracks are a ⅓-mile or shorter anyway, meaning Hopkins doesn't necessarily need any additional power.
"We go to a lot of places that make it feasible and affordable and I can be competitive with it," he says.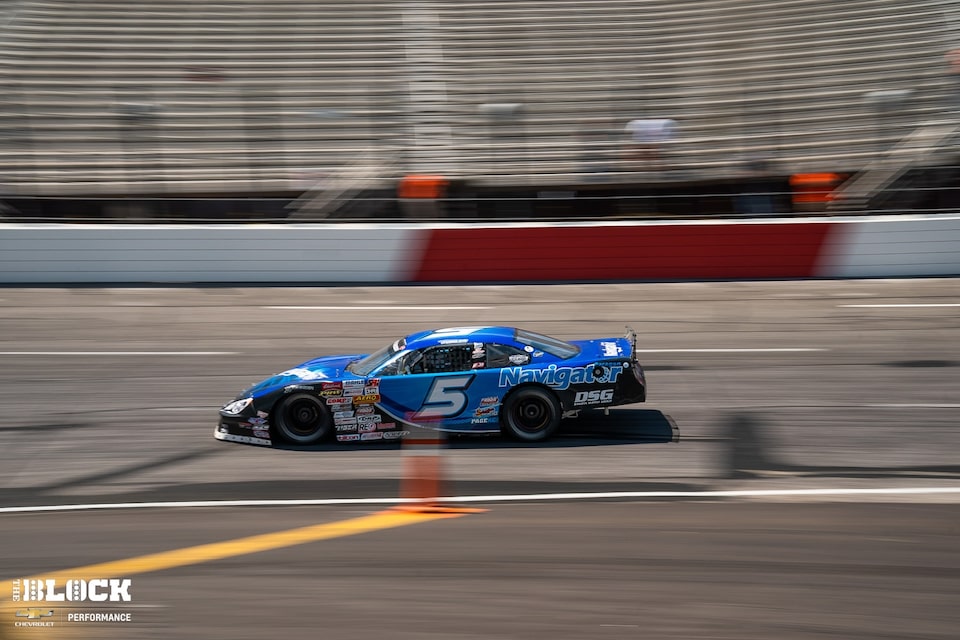 E33 Motorsports uses modified versions of the CT400 in its Pro Late Models.

Other CT400-based crate engines begin life as crates from the factory, but feature some upgrades based on series rules. Many are found in the valvetrain. The engines usually can be refreshed but must retain all manufacturer's specifications, and re-built engines have to utilize seals from a S.E.A.L.-approved list or carry a penalty.
E33 Motorsports in Mooresville, North Carolina, is one such team that takes advantage of its upgrade options, but at heart, the engines in its cars are based on the CT400.
The team has development relationships with several NASCAR operations and its Pro Late Models can run in the CARS Tour, Carolina Pro Late Model Series and others.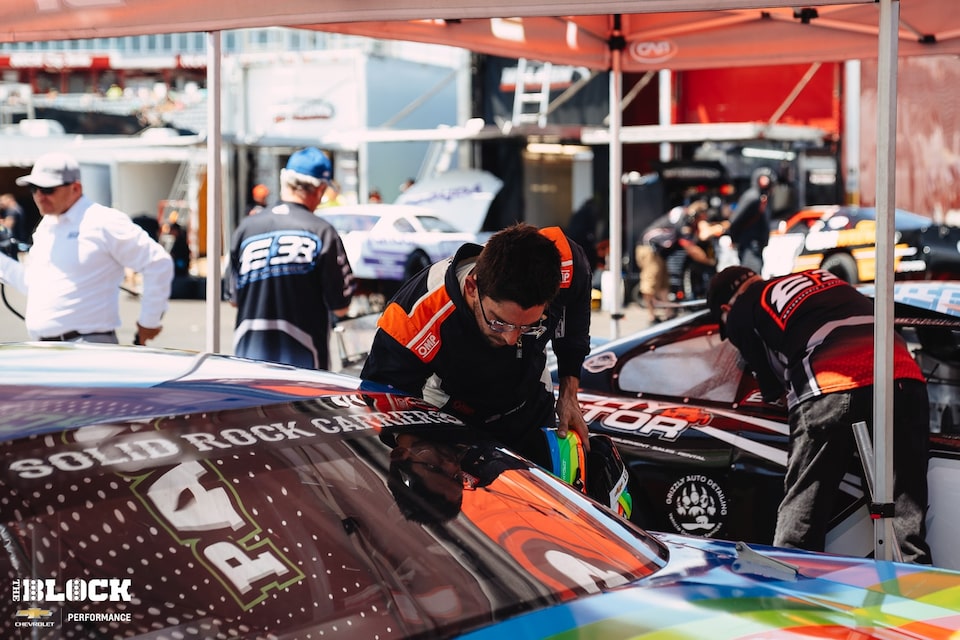 Jordan Taylor got behind the wheel of a Pro Late Model for the first time at North Wilkesboro Speedway.

Corvette Racing stalwart Jordan Taylor was competing in one of the team's Pro Late Models for the first time at North Carolina's North Wilkesboro Speedway in May. He entered the CARS Tour race with E33 Motorsports as his Jeff Gordon-loving alter ego Rodney Sandstorm and finished 20th in his debut driving a Gordon throwback scheme.

Although the experience was totally new for Taylor – from the layout of a race weekend to how the cars drive – his background as a Team Chevy driver provided a unique perspective. He is used to the LT6 V-8 in his mid-engine Corvette C8.R, and could put his Bowtie knowledge to use driving a CT400-based power plant.
"For me, a Chevy's a Chevy," he says. "It's got good torque, it's got good power all the way through the range. On a road course, you're always changing gears to be in the right power band … (On an oval), you're gearing it to run in one gear the whole time and I think this engine fits that. You come into the corner, roll in, you dip really low in the rpm, but you're still in a bunch of torque and a ton of horsepower.
"I feel like it fits this form of racing perfectly. They're obviously super durable engines so you don't have to worry about the little nit-picky things. So I think it's awesome. It's good to have Chevrolet through and through."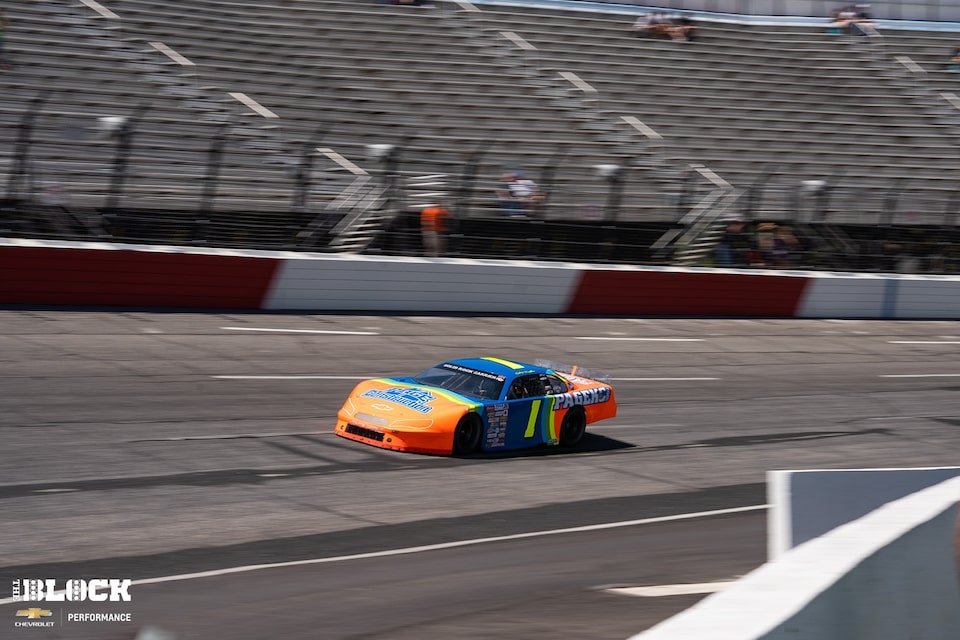 Jordan Taylor, seen here during practice, finished 20th in his Pro Late Model debut.

A gallery of crate engine-powered Pro Late Models practicing at North Wilkesboro is below.


Also, be sure to keep watching The BLOCK for much more circle track racing and all motorsports disciplines.
*Because of its effect on a vehicle's emissions performance, this engine is intended exclusively for use in competition vehicles. This engine is designed and intended for use in vehicles operated exclusively for competition: in racing or organized competition on courses separate from public roads, streets or highways. Installation or use of this engine on a vehicle operated on public roads, streets or highways is likely to violate U.S., Canadian, and state and provincial laws and regulations related to motor vehicle emissions.