Chris Shallcross has been hooked on autocross since the 2012 edition of the Goodguys Summit Nationals in Columbus, Ohio.

That year he made the trip from Delaware with his father, Tom, to attend the massive car show.

Chris Shallcross' LS-powered second-gen Camaro is perfect for autocross.

The younger Shallcross had recently purchased a 1970 Camaro RS, but wasn't sure of the direction he was going with the vehicle. In Columbus he wandered over to the autocross course and met several individuals with classic Chevrolet models like his. He went on some ride-alongs and from there, he decided how he wanted to build his car.

"They're taking me around the track, and I thought it was the coolest thing ever," Chris Shallcross said of the experience during this year's Goodguys Columbus event at the Ohio Expo Center.

Today, his Camaro features a Chevrolet Performance LS376/515 crate engine* that came straight out of the crate from his local Chevrolet dealer.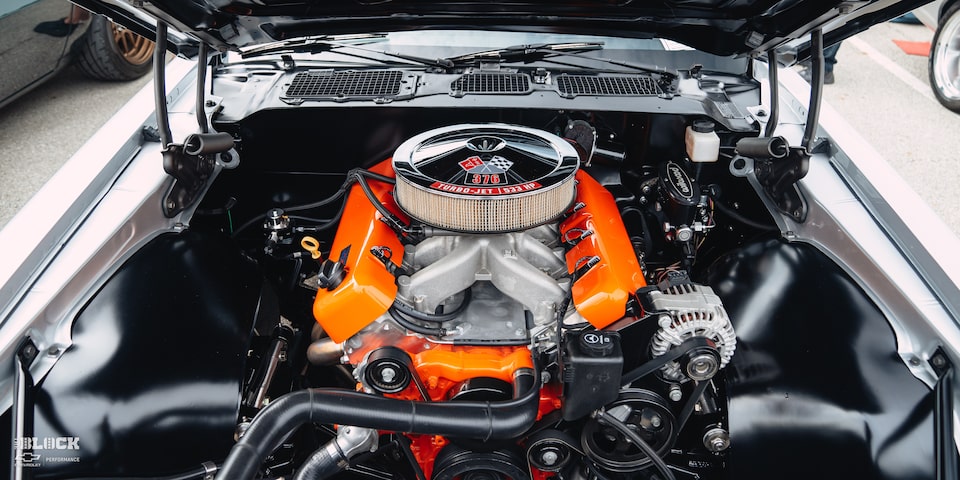 A Chevrolet Performance LS376/515 crate engine* sits under the hood.

After researching LS options on the Chevrolet Performance website, he came across the LS376/515 with its 10.7:1 compression ratio and aggressive, high-lift ASA camshaft. The engine is rated at 533 horsepower and 477 lb.-ft. of torque, and Shallcross thought it was the perfect fit for what he wanted to do in the autocross world.

"I went on YouTube and heard a few of them running and I loved the way it sounded," he said. "So, I just decided if I go that route it's going to be cheaper than having one built by an engine builder, but probably have the same performance. And I get a warranty."†

Shallcross has found the engine provides everything he needs in competition.

"On that track it has all the power I could possibly want at the touch of the pedal," he said.

Shallcross wanted to maintain a vintage style under the hood, so he selected an LS376/515 package that swaps out the plastic LS3 intake manifold for one with carburetor provisions.

He then added a Holley Terminator EFI system and topped the engine with the system's throttle body, which looks much like a traditional carburetor. That way, the car maintains modern electronic fuel injection, but the power plant features a traditional carbureted look.

The engine is mated to a TREMEC TKO 600 five-speed manual transmission.

Nearly five years of work were required to restore the Camaro to show quality.

Shallcross lives in Wilmington, Delaware, and he found the Camaro about two hours south in lower Delaware. Having lived its life in harsh conditions, the car had a variety of rust issues when he bought it.

Shallcross and his father – an accomplished street rod builder, former Chevrolet dealer and racer in the early days of Pro Stock – worked for nearly five years to repair all the rust issues and make the needed modifications until it was a structurally sound car again. The current version even includes entire sections of unibody from Camaros and Firebirds out of west coast junk yards that Shallcross had shipped back east.

The car also utilizes a Detroit Speed hydroformed subframe with rack-and-pinion steering, tubular upper and lower control arms, coilover shocks, sway bar, C6 dropped spindles, one-inch offset engine mounts and a Moser 12-bolt rear end. The Camaro is mini-tubbed in the rear and features BFGoodrich g-Force Sport COMP-2 tires complemented by American Racing Torq-Thrust D wheels.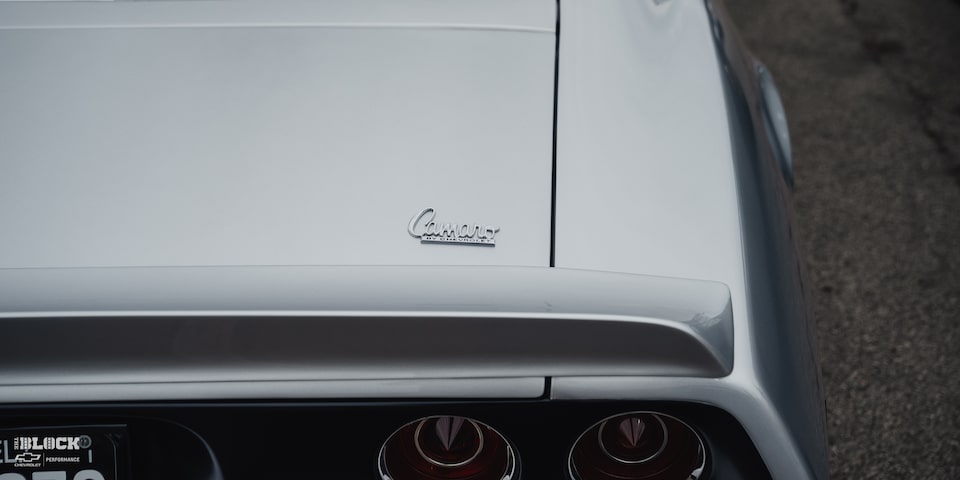 The Silver Ice Metallic paint is a fifth-gen Camaro color.

The Camaro originally came from the famed Ammon R. Smith Auto Company in York, Pennsylvania, which sponsored legendary drag racers Dave Strickler and Bill Jenkins. The vehicle came from the factory with a 350 cu.in. Small-Block engine and a TH350 automatic transmission, and it was painted Mulsanne Blue. Now, it features a Silver Ice Metallic color from a fifth-generation Camaro.

Tom Shallcross prepped all the bodywork for paint and applied the primer before nearby One Off Rod & Custom in Middletown, Delaware, sprayed the color. The elder Shallcross then handled all the wet sanding and final rubbing out of the paint to produce the show-car level results.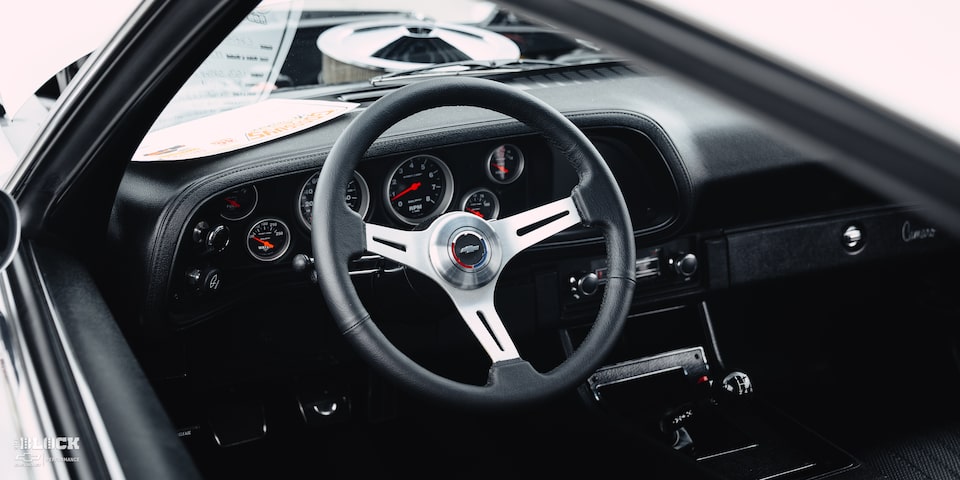 The interior is almost entirely original.

As for the interior, aside from the roll bar and harnesses, it remains much the same as it looked when it rolled off the General Motors assembly line. The seat covers are factory original replacements and the seats themselves are factory original.

Shallcross' Camaro is built for more than just competition, allowing him to attend a variety of shows and cruise-ins when he isn't on the autocross course. However, the car also has fewer creature comforts than those built in the Pro Touring style. Those vehicles may include air conditioning, leather interior and other luxury items, while Shallcross' ride is closer to what's known as a g-Machine. In fact, it doesn't even have a heater.

"I don't have a lot of bling on this car, I'm not into the polished things," he said.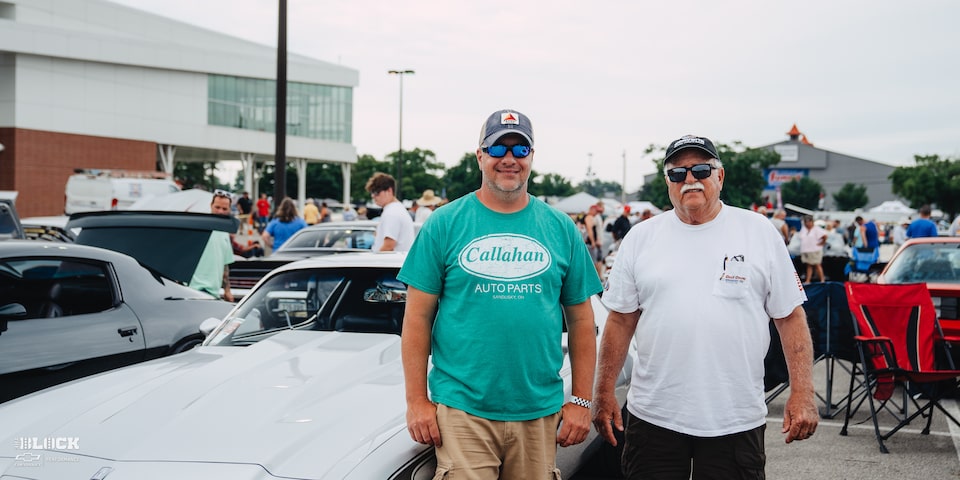 Chris Shallcross (left) with his father, Tom, during the 2023 Goodguys Columbus event at the Ohio Expo Center.

Shallcross was born into the performance hobby thanks to his father. Back in the 1980s, the two attended car shows nearly every weekend and now visit a variety of events closer to home, along with major programs like Goodguys Columbus and the NSRA event in York, Pennsylvania. Shallcross is also involved with the Camaro Nationals in Morgantown, Pennsylvania, which to his knowledge is the largest all-Camaro show in the world.

His dad, Tom, has built four street rods in his life. With the assistance of Chris, he also restored a 1972 Chevelle for his wife, a 1957 Corvette for himself and a 1969 Camaro Z/28 belonging to Chris.

Chris Shallcross would love to do more autocross, but there are simply not that many events around his home. That means he puts his 1970 Camaro and the LS376/515 through its paces on the track whenever he gets the chance.

"It can handle it," he said. "I can turn good times and be out there right in the thick of things."

Keep watching The BLOCK for more from Goodguys Columbus and Chevrolet Performance builds from events across the country.

*Because of its effect on a vehicle's emissions performance, this engine is intended exclusively for use in competition vehicles. This engine is designed and intended for use in vehicles operated exclusively for competition: in racing or organized competition on courses separate from public roads, streets or highways. Installation or use of this engine on a vehicle operated on public roads, streets or highways is likely to violate U.S., Canadian, and state and provincial laws and regulations related to motor vehicle emissions.

†Chevrolet Performance Crate Engines include a 24-month or 50,000-mile/80,000-kilometer limited warranty, whichever comes first. See your GM dealer for details.