WELCOME TO YOUR CHEVY EV EXPERIENCE

Congratulations on your All-New Blazer EV. This is your first destination to learning, and loving, your new ride. Here you'll find everything you need to get going. From convenient charging options and efficient driving tips to the ins and outs of ownership — it's all backed by our Plug-In Promise. We're supporting you all the way, so you can charge ahead with confidence.
When you need a quick answer to a question about your Blazer EV, this is your place.
GET IN AND GET TO KNOW
---
Hands-Free Start/
Buckle to Drive
Electronic Precision Shifter

A new position on shifting.

Create a personalized experience.

Hands-Free Start/
Buckle to Drive

Hands-Free Start/Buckle to Drive

The days of turning a key or pressing a button are over. With your key fob in hand, simply get in, close the door, and tap the brake, and your new Blazer EV is ready to drive. Remember to buckle up – you won't be able to drive without using your seat belt if Buckle to Drive is enabled.

Electronic Precision Shifter


Ready to throw it into drive? Here's how. To the right of the steering column, you will find the new electronic shifter. Your selected position will be lit up in red.

To shift to Drive, put your foot on the brake and pull the lever toward you and down.

To shift to Reverse, put your foot on the brake and pull the lever toward you and up.

To shift to Park, press "P" on the end of the lever.

To shift to Neutral, put your foot on the brake, pull the lever toward you and hold briefly.

Google Sign-In†


Unlock the full capability of your Blazer EV with Google built-in.† To get started, follow the steps below through your center display:

Accept the privacy terms and conditions.

Sign in to your Google Account in the vehicle or on your phone. Signing in will allow you to download apps and have the most personalized Blazer EV experience.


After you log in, complete the additional setup steps and activate Google Assistant.

Turn on personal results to access things like your calendar, contacts and reminders.

Customize your experience by downloading some of your favorite apps.

Go to Settings and make sure the Google Assistant setting is toggled on.

®2023 Google LLC. All rights reserved. Google, Android, Google Assistant and other related marks and logos are trademarks of Google LLC.

Powered Charging Door


Time to charge? Whether it be home or public, accessing your charging port is easy.

On the driver side of your new Blazer EV you will find your charging port just below and in front of the driver-side mirror. To open, simply press the two lines located on the charge port door. To close, press on the black rectangular button within the charge port area.

CHARGING
PREPARE FOR YOUR FIRST CHARGE

When the moment comes to charge your Blazer EV for the first time, make sure you're set up to plug in at home or at one of the more than 110,000 publicly available chargers in the U.S. and Canada. Download the myChevrolet Mobile App† and you'll see how easy it is to find public chargers near you.
When driving your Blazer EV, you'll realize that a single charge† can go a long way. Learn more about the types of home chargers and how to get one professionally installed. See how easy it is to get set up.
Charging on the go is simple. Just pull up to a Level 2 charger, commonly available at a parking garage or store, or you can plug in at a DC Fast Charger at certain commercial locations if you're short on time.

Have a question about how to use your Dual Level Charge Cord or want to learn how to monitor your charging status? We're here for you.

IN-VEHICLE TECHNOLOGY
STAY CONNECTED AND IN COMMAND

As you get to know your Blazer EV, you'll seamlessly connect with a host of in-vehicle technology. It's easy to stay in touch with contacts, access entertainment options and even set service reminders right from your vehicle.

Enjoy an enhanced version of Google Maps, along with optimized route plans, and locate charging stations along your chosen route. To help you save time, you can see available charging speeds, view payment options and estimate the charging time required to reach your destination.

Find the nearest available charging points, plan the best routes, check your vehicle's repair status and more, right from your smartphone.

OnStar† offers you the following: 8 years of Connected/EV Access,† Remote Access,† and Google Assistant and Google Maps access;† 3 years of App Access,† 3 years of Super Cruise™† if eligible; and 1 month of OnStar Safety & Security plan,† plus 2 months on us.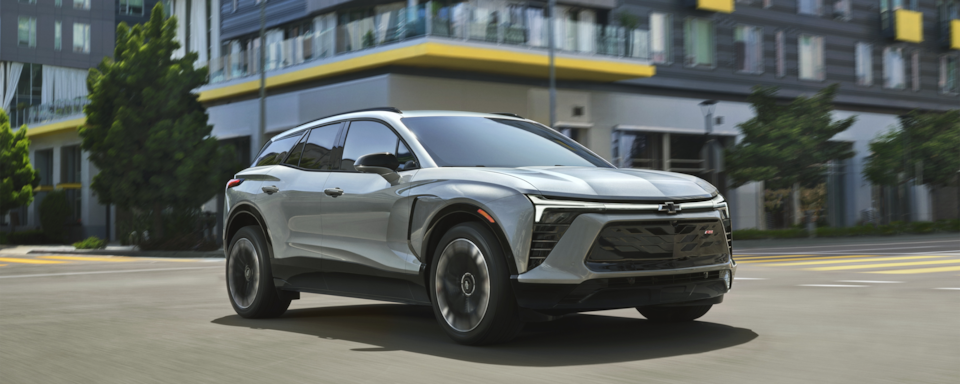 RANGE
GET THE MOST OUT OF YOUR EV

Learning how to maximize your range will help you go farther on every charge and make driving your Blazer EV even more fun.

Regen on Demand† and One Pedal Driving†
Both One Pedal Driving† and Regen on Demand† are effective ways to help you maximize your range. And when you use these features together, you'll see how efficient you can make each drive.

EV PERSONALIZATION
OPTIMIZE YOUR DRIVE

We're giving you all the tools to make driving a Blazer EV more comfortable with added peace of mind.

Plan your route to maximize EV range and locate charging stations as you drive.

Learn how to customize vehicle displays to show information that's most important to you.

Blazer EV comes standard with a suite of active safety features† and driver assistance technologies, including available Reverse Automatic Braking and available HD Surround Vision.

Nationwide Chevrolet Dealer Network
As we go forward together, you can feel confident that Chevrolet dealers have exceptional service, the right equipment and trained technicians to support your EV purchase. We promise that we'll be with you throughout your electric journey.
THE PLACE TO GET ANSWERS

Connect with real people to get all your questions answered. Or learn at your own pace with an interactive experience, how-to videos or self-guided tours with a Product Specialist.

Get your Blazer EV questions answered by a Chevrolet Product Specialist or join a live group tour.

If you ever have a question, check out our library of how-to videos and articles.

Get answers from one of our helpful Chevrolet EV specialists. Call 1-833-382-4389.

Monday – Friday: 8 a.m. – Midnight ET
Saturday & Sunday: 12 p.m. – 9 p.m. ET