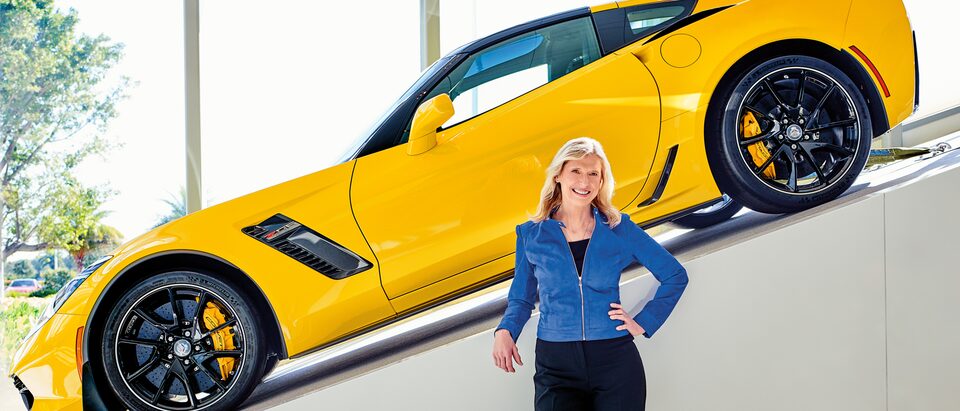 ---
2018-3-1 | Chevy New Roads Magazine

All in the Family

Hertz CEO Kathy Marinello loves time with her kids—and they all love their Chevys.

As chief executive officer of Hertz—which buys hundreds of thousands of cars every year, covering nearly every make and model imaginable—Kathy Marinello gets to drive any car she wants.
She chooses Chevrolet.
In fact, Marinello and her entire family—her three sons and their families—drive Chevys. She comes by it naturally, it seems.
"The first car I rode in as a child was a '57 Chevy," she says. "Then my dad bought a Chevy Nova. When I left for college, he let me take the Nova with me. Cars are very personal, and I have a strong preference for Chevy."
Marinello's job keeps her in Florida most of the time, but her family home is in Minnesota, and she returns there for a weekend whenever she can. She has a Chevrolet Tahoe in each location. "For comfort and ease of turning and handling, the Tahoe is excellent," she says.
The Hertz Corporation, which turns 100 this year, operates three car rental brands (Hertz, Dollar, and Thrifty) in about 9,700 global locations across 150 countries. Hertz bought more model year 2018 vehicles from General Motors than from any other automaker, essentially doubling its GM fleet offering. That decision, Marinello says, was motivated by GM vehicles' dependability, reliability, and popularity among Hertz rental customers.
Marinello assumed the role of CEO in January 2017, and she says one of the job's first lessons was that experience matters.
"Having a relevant background makes a difference," she says. "I managed a large fleet globally for five years before I got here, and my experience and knowledge around that have been enormously helpful. I also spent 10 years on the board of General Motors, and understanding the manufacturer's needs and strategy provides me with valuable insight."
Cars are very personal, and I have a strong preference for Chevy.

Overseeing a major company like Hertz means free time is at a premium for Marinello, who enjoys gardening at her home and traveling with her sons, who are 22, 27, and 30.
"Given the size of the company and magnitude of managing the operations, there isn't a lot of free time, and the little time I have tends to be spent with my children either back in Minnesota or when they come to Florida," she says. "And we take trips together; I recently went to New York with my youngest son and his girlfriend for a weekend, and we walked 10 miles sightseeing. Whenever I have a minute, it's with family."
That includes road trips from Minnesota to Montana with her youngest son, who attends college there, in his Silverado. "It's so comfortable, with plenty of room, so I can stretch out and relax while he's driving," she says.
While Marinello has made sure she and her sons are driving reliable vehicles built to last, when she bought a Camaro and Corvette, it was about having fun as well. "I fell in love with the Corvette," she says. "It's gorgeous; it fits like a glove. I love the handling of that car, the comfort and quietness."
Marinello's job is definitely demanding, with early mornings and late nights. When she gets in her car at the end of the day—or night, more than likely—Marinello isn't only looking for mechanical reliability, but aesthetic luxury.
"I love Chevy for the interior comfort; I love the simplicity and ease of the infotainment," she says. "I've driven so many cars over the years and managed over a million cars as a fleet, that I'm at the point that I know what I like, and I just love the Chevys."
STORY: ALEXA STANARD/PHOTOGRAPHY: EILEEN ESCARDA