Greg Anderson Claims 100th Career Pro Stock Win at Indy
Photos: AUTO IMAGERY, INC.

Share on
Share on
Visit us at
Visit us at
It may have taken Team Chevy driver Greg Anderson longer than expected to score win No. 100 in NHRA Pro Stock competition, but the milestone finally occurred on Monday in the biggest race of them all – the U.S. Nationals.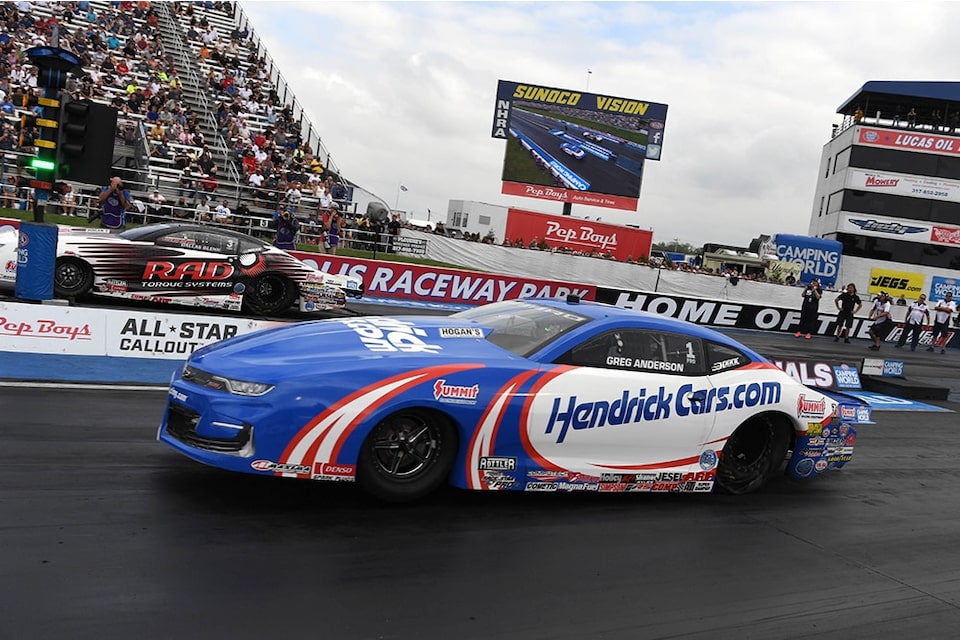 Greg Anderson (near lane) took his 100th Pro Stock victory in an all-Camaro SS final with teammate Dallas Glenn.

Anderson, a five-time NHRA Camping World Drag Racing Series champion, qualified in the No. 1 spot and drove his KB Racing Camaro SS to the winner's circle at Lucas Oil Indianapolis Raceway Park by making four consistent passes during Monday eliminations.
In the final round, Anderson defeated his Chevrolet and KB Racing teammate Dallas Glenn by turning in a run of 6.587 seconds at 208.07 mph after Glenn went red by -0.002. Glenn clocked a 6.626 at 205.19 after the foul start.
With the win, Anderson joined fellow Chevrolet driver John Force as just the second Pro competitor to notch 100 career wins. Anderson also now has more than 900 career round victories.
"I don't know how to explain how meaningful this is to me. It's incredible," Anderson said. "I kept asking myself, what do I have to do to win? It wasn't meant to be until now. It was meant to be at Indy. It's an out-of-body experience when you win here, and to win No. 100 at Indy, I just couldn't possibly have asked for anything more."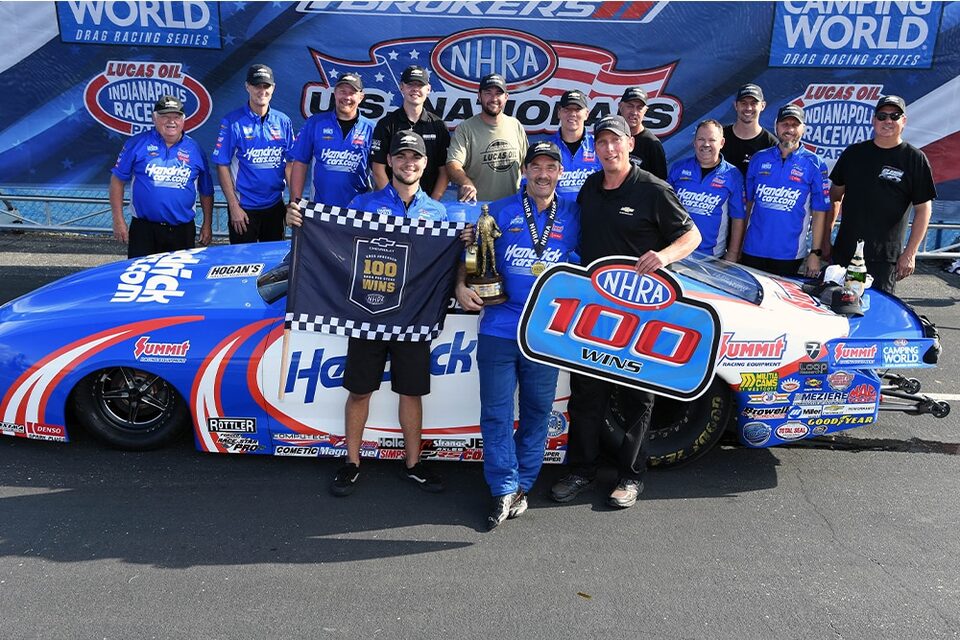 Anderson celebrates in the Lucas Oil Indianapolis Raceway Park winner's circle with his Chevrolet and KB Racing teammates.

Anderson claimed his first career Pro Stock victory at Bristol Dragway in 2001, and overtook Warren Johnson as the winningest driver in category history last fall at Texas Motorplex by claiming his 98th Pro Stock Wally. His 99th win came in the 2021 season finale at Auto Club Raceway at Pomona, where he wrapped up his fifth title.

Anderson had appeared in two Pro Stock final rounds this season before the Indianapolis event, but the third was the charm when he broke through at "The Big Go" to take his seventh U.S. Nationals win and the 360th victory for Chevrolet all-time in Pro Stock competition.
"Congratulations to Greg and his Camaro SS team on this incredible milestone victory," said Jim Campbell, Chevrolet vice president of Performance and Motorsports. "The 100 wins are the result of Greg's skill as a racer combined with a great team that has prepared his race car over the years. This is also a very special tribute to his mother, late father and family who have always supported his passion for drag racing and the NHRA. We are extremely proud of Greg's 100 wins – all with Chevrolet/GM."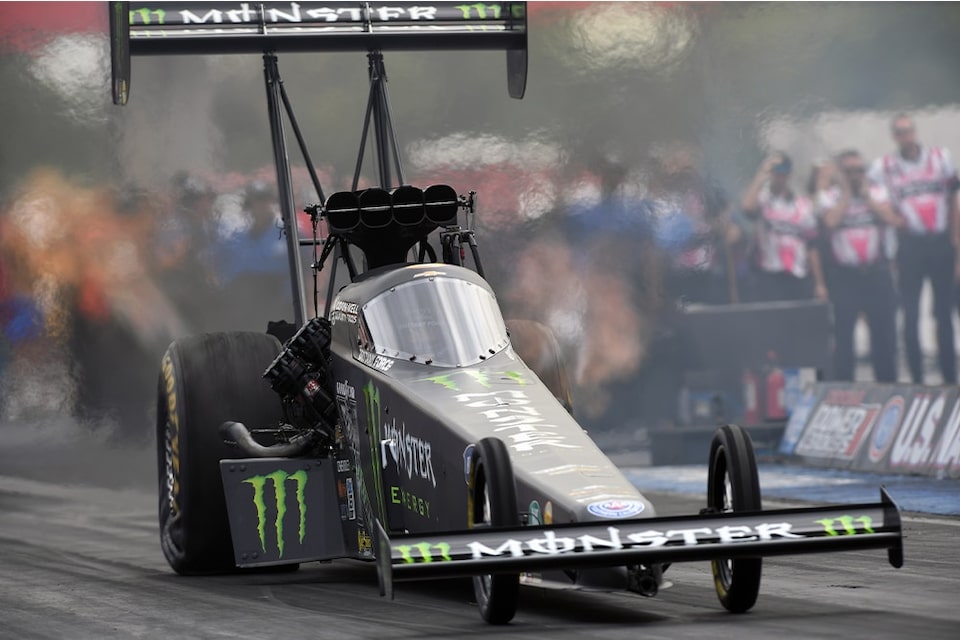 Brittany Force set a track record in qualifying and finished as Top Fuel runner-up at Indy in her Chevrolet dragster.

John Force Racing (JFR) also turned in a solid weekend in the nitro categories during the 68th U.S. Nationals. Brittany Force finished as event runner-up in Top Fuel after qualifying in the No. 1 position with a track-record blast of 3.640 seconds at 337.75 mph in her Chevrolet dragster. The No. 1 qualifying effort was her seventh this season and 39th of her career, while the final-round appearance was her sixth in 16 races this year. Additionally, Force finished as runner-up in the specialty Pep Boys Top Fuel All-Star Callout on Saturday.
Meanwhile, her Top Fuel teammate Austin Prock exited in the first round of Monday eliminations.
On the Funny Car side of JFR, Robert Hight finished as runner-up in his Camaro SS after reaching his ninth final round of the season. John Force finished the day in the semifinals in his Camaro.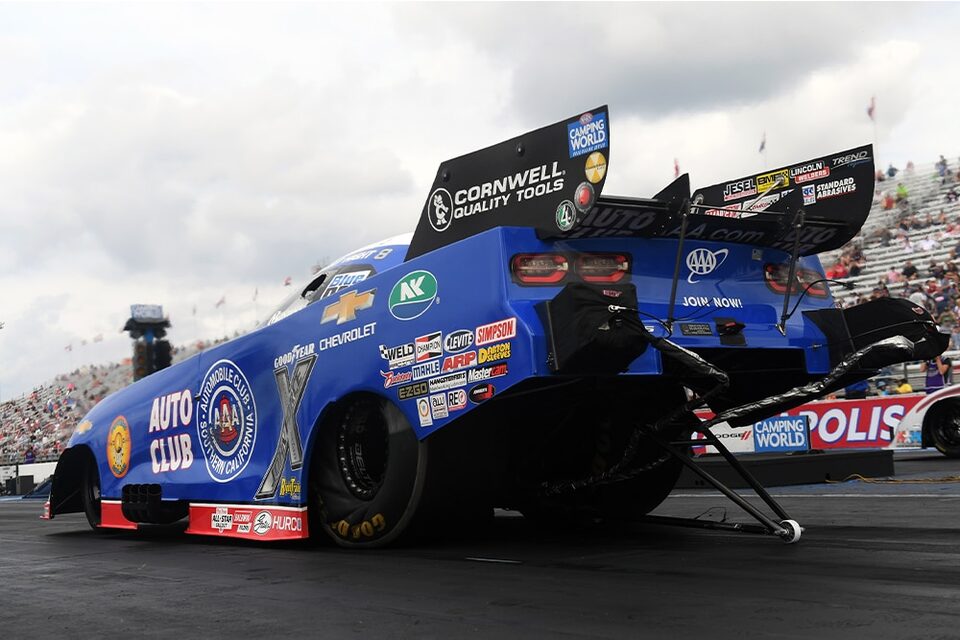 Robert Hight drove his Camaro SS to the final round in this year's U.S. Nationals.

The U.S. Nationals also served as the final race before a points reset and the six-race Countdown to the Championship begins. Entering the first event in two weeks at Maple Grove Raceway, 2017 Top Fuel champion Brittany Force leads the category points on the strength of four wins thus far in 2022. Hight, a three-time Funny Car champion, leads the Funny Car field after scoring six wins. In addition, 16-time Funny Car champion John Force has reached the winner's circle once this year and will seek yet another title, while Prock looks for his first in Top Fuel.
In Pro Stock, four-time champion Erica Enders enters the Countdown as the top seed with six wins to her credit in 2022. She'll lead a field made up primarily of teams campaigning the Camaro SS.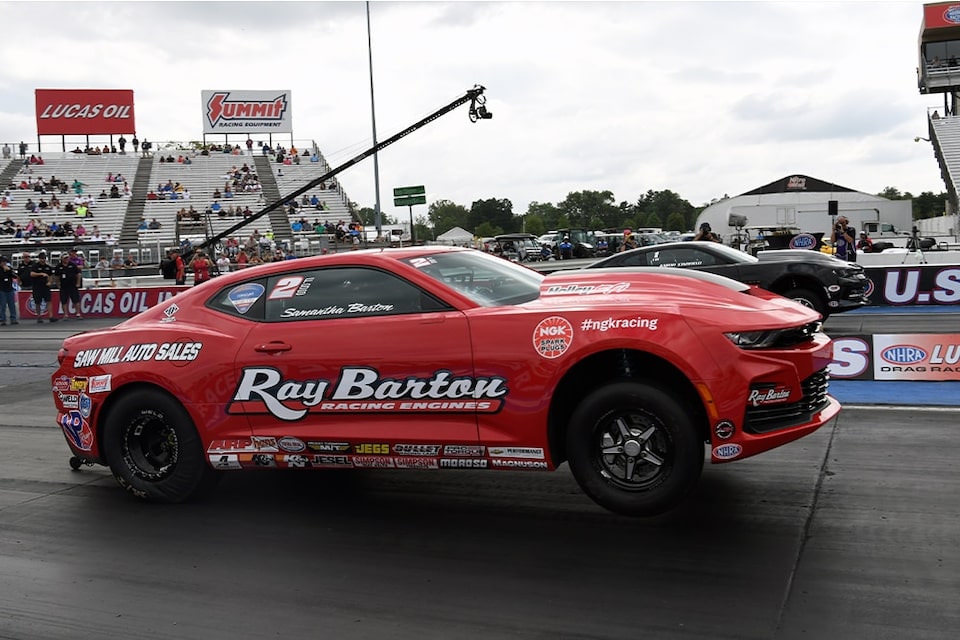 David Barton (near lane) won Factory Stock Showdown at Lucas Oil Indianapolis Raceway Park in an all-COPO Camaro final.

As always, Chevrolet Sportsman racers collected multiple trophies in Indianapolis as well, highlighted this year by David Barton. The Reading, Pennsylvania, driver took the Constant Aviation Factory Stock Showdown win in his COPO Camaro by defeating fellow COPO driver and No. 1 qualifier Aaron Stanfield of Bossier, Louisiana. With the victory, Barton took over the points lead with six of eight events completed for the series pitting factory muscle from the Big Three against one another.
"There's really stiff competition out here, so you have to take it one round at a time," Barton said. "We tried to stay focused and here we are in the winner's circle. Two to go and we're going to try to hold onto the points lead the best we can."
As the 2022 NHRA season enters its home stretch, Chevrolet teams sit atop the point standings in several categories. They will now look to use the momentum from a solid U.S Nationals as a springboard to even more championships for the Bowtie.
Keep checking out The BLOCK for more on Chevrolet Performance and a wide variety of motorsports disciplines.