Will Power Wins Second INDYCAR Championship

Share on
Share on
Visit us at
Visit us at
Team Chevy driver Will Power wrote the final chapter of the 2022 NTT INDYCAR SERIES story on Sunday when the Australia native scored his second career title with a third-place result at WeatherTech Raceway Laguna Seca.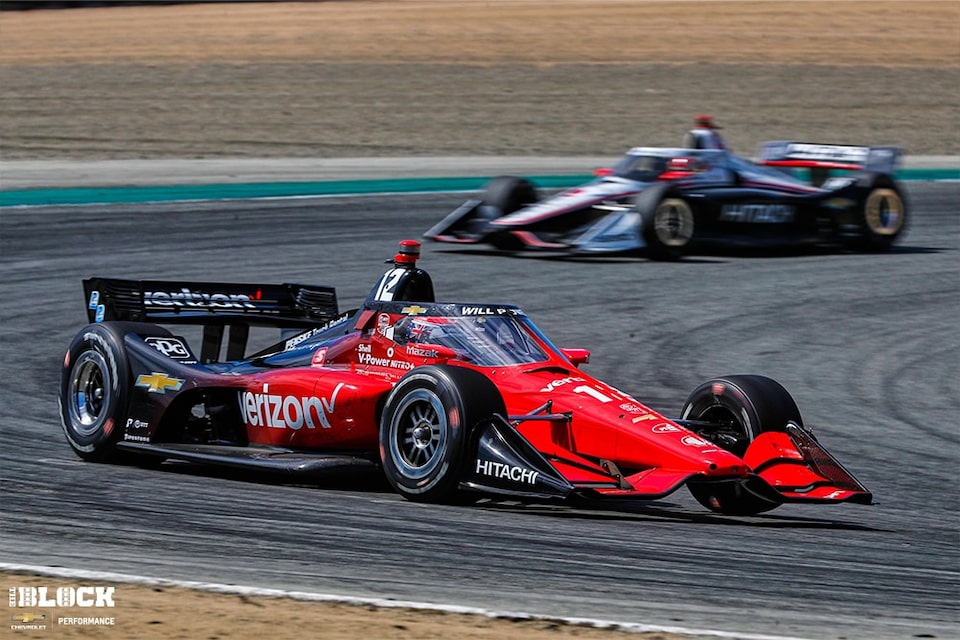 Team Chevy and Team Penske driver Will Power won his second career NTT INDYCAR SERIES championship in 2022. His teammate Josef Newgarden (In background) finished second in points.

Power entered the race leading the point standings and was one of five drivers (including three from Team Chevy) still mathematically eligible to contend for the title. However, Power only needed to finish third or better and the championship would be his regardless of how his competitors fared.
Power kicked off the weekend by claiming his 68th career INDYCAR pole to move into first place all-time in the category. Then throughout the Firestone Grand Prix of Monterey on the famed 2.238-mile, 11-turn circuit in Salinas, California, Power kept his No. 12 Team Penske Chevrolet near the front of the field and led 17 laps en route to a podium finish.
"I just knew I had to get the most out of those stints and not lose any more positions," Power said. "I had to drive the thing today. It was on the edge, very loose. What a relief to get that done. I can't thank Verizon enough. They've been with me for close to 12 years now and without them I would never have had this career, and obviously Roger Penske and the whole team and Chevrolet."
Power leads the field to green at WeatherTech Raceway Laguna Seca. Over the weekend he scored his 68th INDYCAR pole – the most all-time.

During his championship season Power was a model of consistency, scoring one win, nine podiums, 12 top-fives and 13 top-10 finishes in 17 races to go along with five pole positions.
"From the beginning, it was just playing the long game, not necessarily going for the big wins and all that," said Power, 41, who won his first championship in 2014. "As I've gotten older, I have a lot more gratitude for my life and what I get to do. Not everyone gets to do this and I'm lucky and I appreciate it a lot."
Power, who hails from Toowoomba, Queensland, has won 41 races in his career – including the 2018 Indianapolis 500 – to go along with two series titles.
"It's always exciting to watch Will Power behind the wheel of an INDYCAR," said Jim Campbell, Chevrolet vice president of Performance and Motorsports. "Will started on the pole, led the first lap and managed this race with the No. 12 team to clinch the 2022 championship. It's been so special to work with Will, Ron Ruzewski, David Faustino and the No.12 Verizon 5G Chevrolet team all season long. We're proud that both of Will's championships have been powered by Chevrolet's 2.2-liter V6."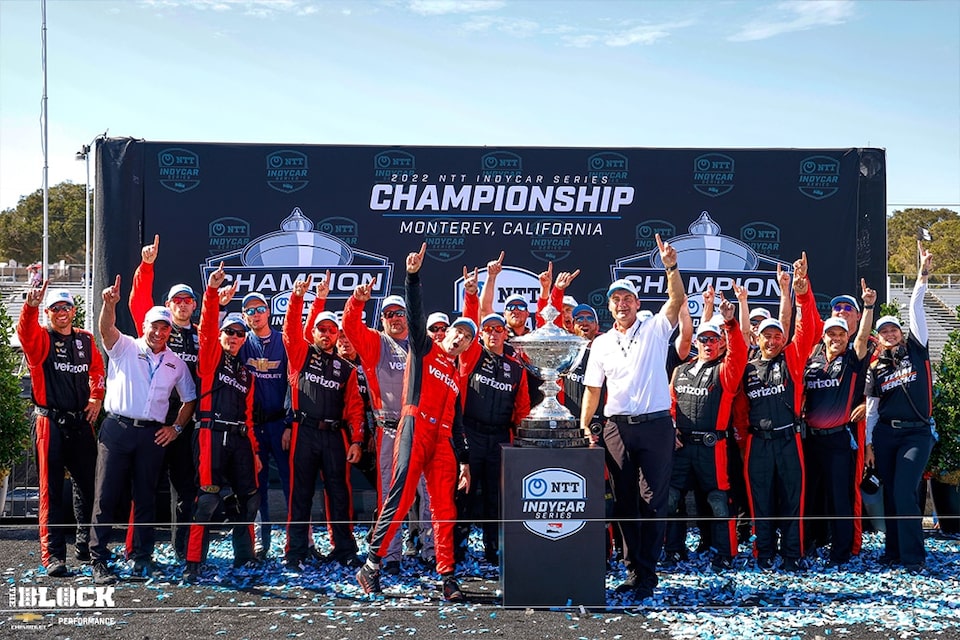 Power celebrates with his team in Laguna Seca Victory Lane.

Chevrolet also scored its seventh Manufacturer Championship in eleven seasons in 2022 after the 2.2-liter twin-turbo, direct-injected V6 Chevy engine scored wins in 11 of 17 races this year. Among them was its 100th triumph since returning to the series as an engine supplier in 2012. That race also happened to be Power's victory at the Chevrolet Detroit Grand Prix in June.
In total, the V6 Chevy engine has found Victory Lane in 106 of the 182 races in which it has competed.
"Winning Chevrolet's seventh NTT INDYCAR Series Manufacturer Championship has been a true team effort by our Chevrolet engineers, Chevy-powered race teams, Chevrolet Propulsion engineers and technical [colleagues] at Ilmor Engineering and Hitachi Automotive Systems," said Mark Stielow, Director Motorsports Competition Engineering. "The performance delivered by Chevrolet's 2.2-liter twin-turbo, direct-injected V6 engine has proven throughout the season to be the consistent combination of reliability, drivability and power for our teams to win races and this championship."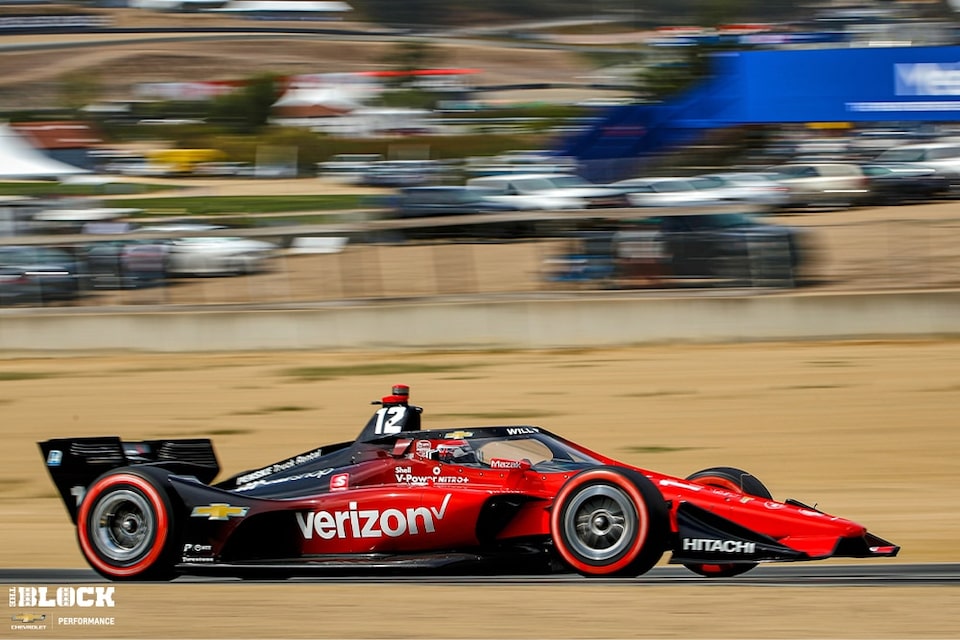 Will Power won one race in 2022 and helped Chevrolet to its seventh Manufacturer Championship in 11 seasons.

Three Team Chevy drivers finished in the top four of the final standings, with Josef Newgarden finishing as runner-up at Laguna Seca and second in points. He also won a series-high five races in 2022. Meanwhile, Scott McLaughlin came home fourth in the year-end standings after winning three times this season. All three drivers are part of Team Penske.
Additionally, Pato O'Ward drove his Arrow McLaren SP Chevrolet to two victories and a seventh-place points result, while teammate Felix Rosenqvist finished eighth in the standings.
With both the INDYCAR Driver and Manufacturer Championships going to the Bowtie Brand, 2022 proved to be yet another banner year for Chevrolet in America's premier open-wheel series.
Be sure to keep watching The BLOCK for much more on Chevrolet Performance and all motorsports disciplines.