Built From Two Eras: This 1955 Chevrolet 3100 Spans the Decades
Share on
Share on
Visit us at
Visit us at
Travis Sanchez's Glacier Blue-inspired 1955 Chevrolet 3100 is actually two trucks in one. While aftermarket chassis have become the norm for many restomod projects, Sanchez's build features the classic Chevy pickup on top of a more recent-generation Chevrolet Silverado.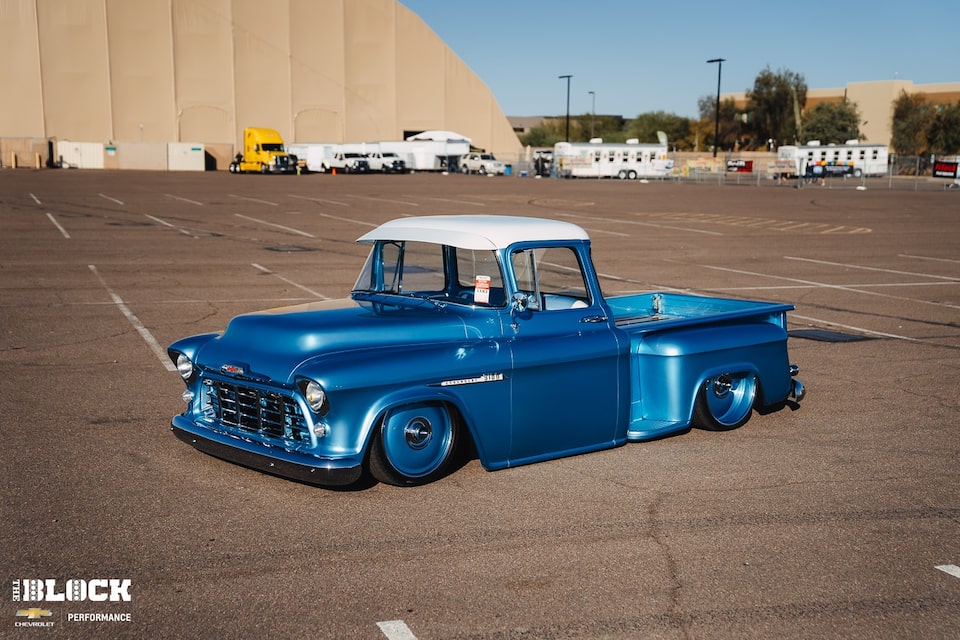 Travis Sanchez's 1955 Chevrolet 3100 utilizes a classic body and a modern Chevy truck chassis.

"The truck originally started as an '02 Silverado, single-cab rear-wheel drive," Sanchez explained during last fall's Goodguys Speedway Motors Southwest Nationals in Scottsdale, Arizona. "The '55 started as a 3100 small-window. So what we did is we used the frame, all the front suspension, drive components, motor, trans, from the '02 and then put the '55 on it."
Sanchez hails from the Laveen area of Phoenix and opened Arizona Custom Car Design at the end of 2022. Currently he has several employees and a 6,000-square-foot shop.
An old business partner of his from a previous venture started the truck project four and a half years ago. However, when the partner moved to Singapore, Sanchez inherited the truck about halfway through the build which combined both old and new Bowtie elements.
"The nice thing for me is we're taking a Chevy body and putting it on a Chevy frame," he said. "So, we're keeping it fairly traditional. This is essentially the truck that Chevy would've built with this body style in this era."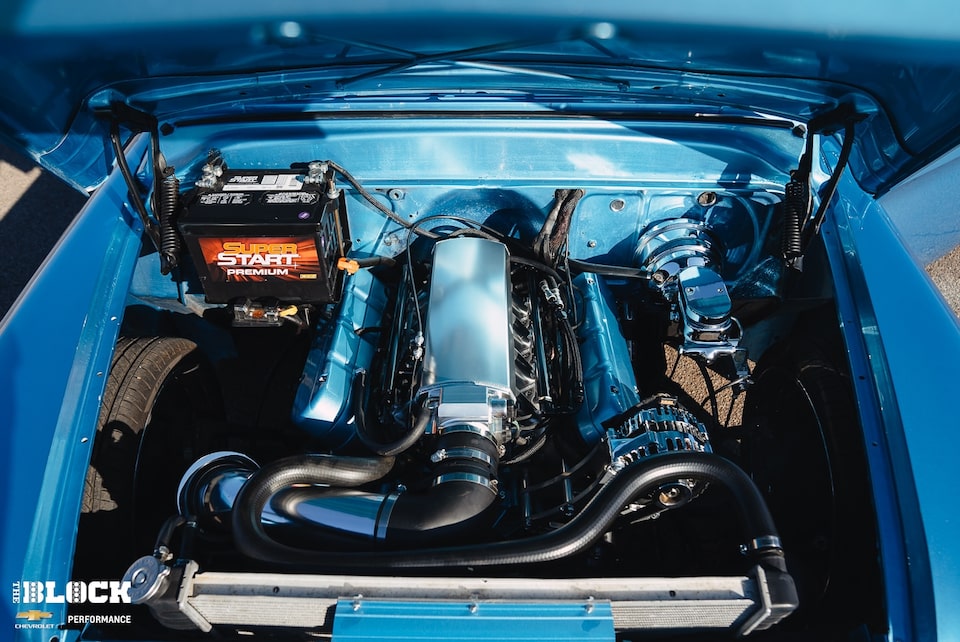 A modern 5.3 LS engine is under the truck's hood.

Sanchez and his wife, Dominique, decided that for their needs, spending additional money on an aftermarket chassis simply didn't make sense for how they planned to use and drive the truck named "Blue Betty."
The 5.3 LS engine that came with the Silverado powers the truck and provides modern performance. However, Sanchez notes that he dressed up the engine to make it fit the mid 1950s-era, down to color-matching the truck's custom PPG blue paint to resemble GM's original Glacier Blue on the block and valve covers.
Performance upgrades include a 92mm throttle body, sheet-metal intake manifold, a custom stainless steel Borla exhaust and a Stage 2 camshaft from COMP Cams. The engine is mated to the Silverado's stock 4L60-E four-speed automatic transmission.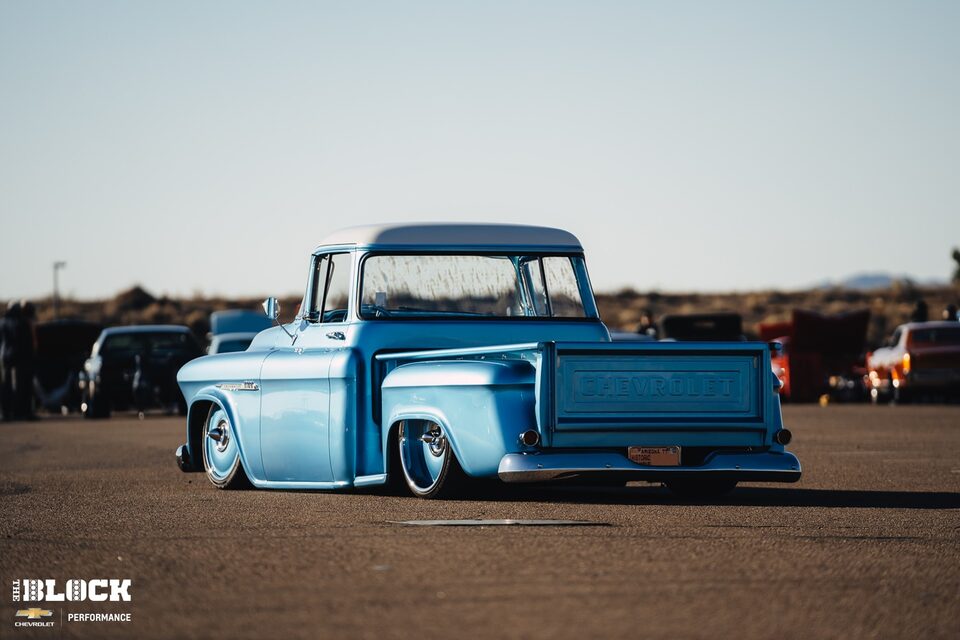 A big back window conversion and MTW wheels are just two of the 3100's exterior upgrades.

Among the exterior modifications to the truck are a big-window conversion in the rear and a custom front visor, along with a custom hardwood bed. MTW made the matching blue two-piece wheels measuring 22 x 12 in the rear and 22 x 9.5 up front. The wheels were built to fit inside the tubs to maintain the bed's functionality.
In addition, the brake setup features a CPP booster and master cylinder, along with slotted and drilled performance rotors, but the brakes themselves are from the original '02 Silverado.
However, there is one totally modern performance upgrade: 2600-pound air bags on all four corners. The system is operated by an Accuair e-Level+ system utilizing a three-gallon Endo VT Accuair tank with ⅜-inch lines. All of the components came directly from Accuair.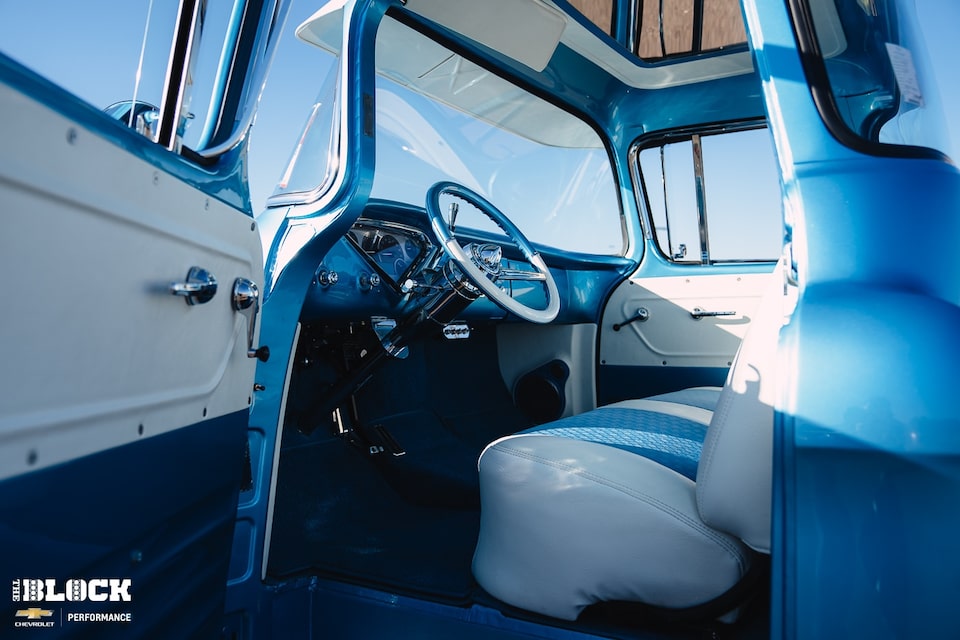 The truck's interior could be straight out of 1955.

The two-tone custom interior features a distinctly mid-1950s vibe as well, something Sanchez took painstaking steps to complete.
"We didn't want to go with one of these new really popular grays and that kind of deal," he said. "We wanted something that was going to feel traditional to the period."
Among the custom touches on the interior are Winchester 45 buttons, a mirror on the ceiling inside the cab and a JL audio system. The dash wasn't cut at all and the upholstery is even created in a retro GM style.

The truck recently underwent a major overhaul.

Although much was already done when Sanchez got the truck, his new company Arizona Custom Car Design recently performed a frame-off restoration.
Sanchez and his team updated the rear four-link triangulated suspension, upgraded the air-bag suspension and repainted the truck in a PPG custom color inspired by Glacier Blue. The white roof was completed in Jack Frost Pearl White from the PPG Vibrance Refinish Collection.
The result is that the truck is a long way from its original black color.

Sanchez is the proprietor of Arizona Custom Car Design.

Sanchez's parents owned a body shop, meaning he grew up around the industry and has been around cars his entire life. His wife also comes from a family full of automotive enthusiasts, making the couple a perfect fit. They take the truck to a wide range of shows, and in fact at Goodguys Scottsdale, won the Chevy Truck Pick.
It came as a surprise, since the truck was built for functionality.
"We wanted to go restomod without going so resto," Sanchez said. "We wanted to kind of keep it traditional, and in my opinion, when I look at this truck and when I think about everything that's in it, I think to myself this is what it would've been built like with this technology in '55."
It turns out, that was an award-winning idea.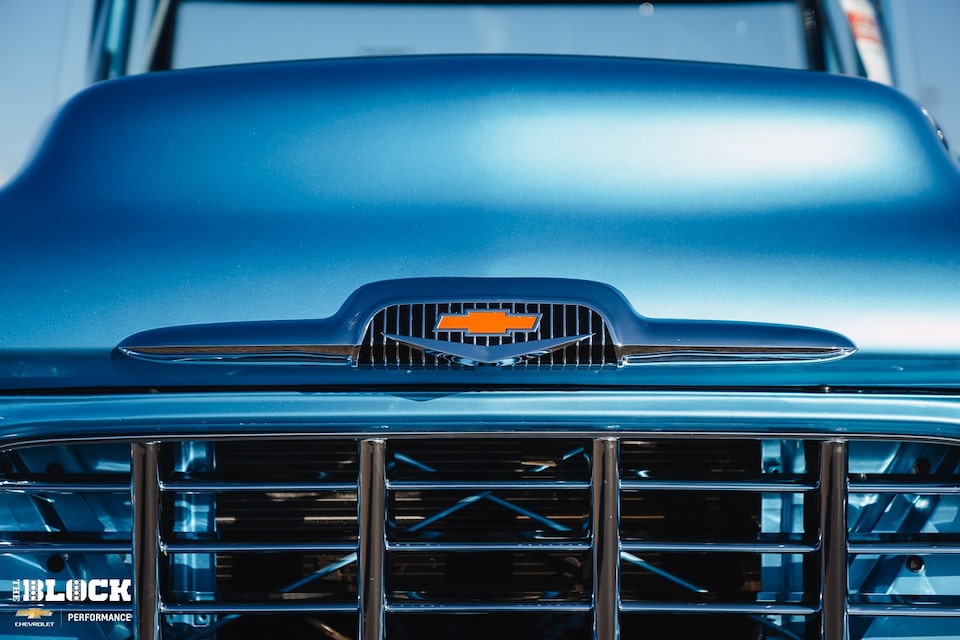 This truck is all Chevrolet.

Be sure to keep watching The BLOCK for more on Chevrolet Performance and a wide variety of feature builds from across the nation.