Published 11/14/23

Erica Enders Scores 6th Pro Stock Championship

PHOTOS: AUTO IMAGERY, INC.

Share on
Share on
Visit us at
Visit us at
Erica Enders continued to grow her legacy as one of the all-time greats when the Team Chevy driver wrapped up her sixth NHRA Pro Stock title at In-N-Out Burger Pomona Dragstrip on Sunday afternoon. Meanwhile, Robert Hight drove his John Force Racing (JFR) Camaro SS to a runner-up result in the final Funny Car standings as the 2023 NHRA Camping World Drag Racing Series season came to a close.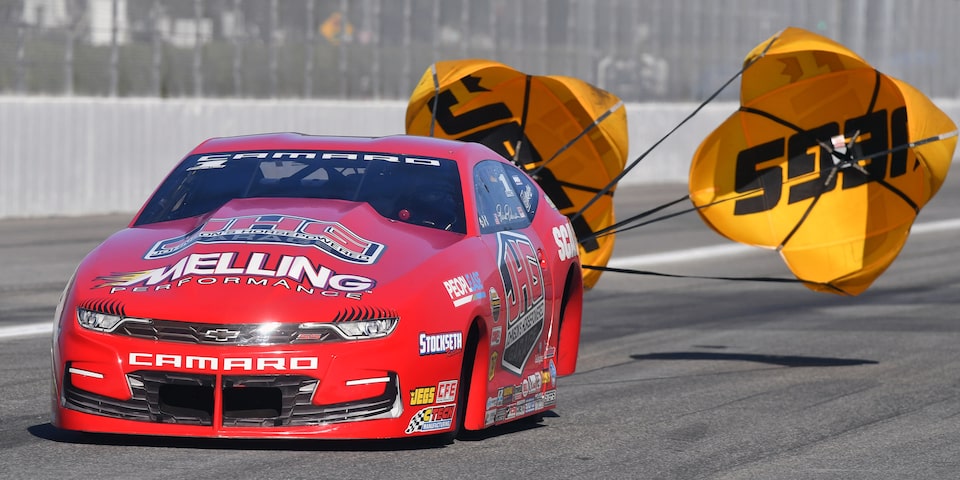 Erica Enders claimed her sixth Pro Stock championship in her Elite Motorsports Camaro SS at In-N-Out Burger Pomona Dragstrip on Sunday.

Enders, representing Elite Motorsports, entered the In-N-Out Burger NHRA Finals at the famed Pomona track with a 114-point advantage over fellow Chevrolet Camaro SS driver Greg Anderson of KB Titan Racing. Enders officially claimed her sixth championship after her first-round win and finished in the semifinals.

Despite getting off to a slow start by her lofty standards, Enders won four events on the season and became the winningest female driver in NHRA history. Her triumphs included back-to-back victories at Dallas and Las Vegas in the fourth and fifth races of the six-race Countdown to the Championship, helping to put her red Camaro out of reach.

"I'm four on the season on the heels of a career-best season," Enders said. "I'm just really thankful for the position we were in, and I talk about my guys all the time. When our backs are against the wall, we perform, we execute, and it makes me so proud to be their driver. It was a crazy year, we ended up on top, we took the long way, but we're here.

"It's all about teamwork, and it makes the dream work. I know that's not a phrase I coined, but I believe in it. I'm thankful for my guys. They never give up. They don't complain when we get our teeth kicked in like others do, they put their heads down and get to work. We turned the beacons on by doing it the right way."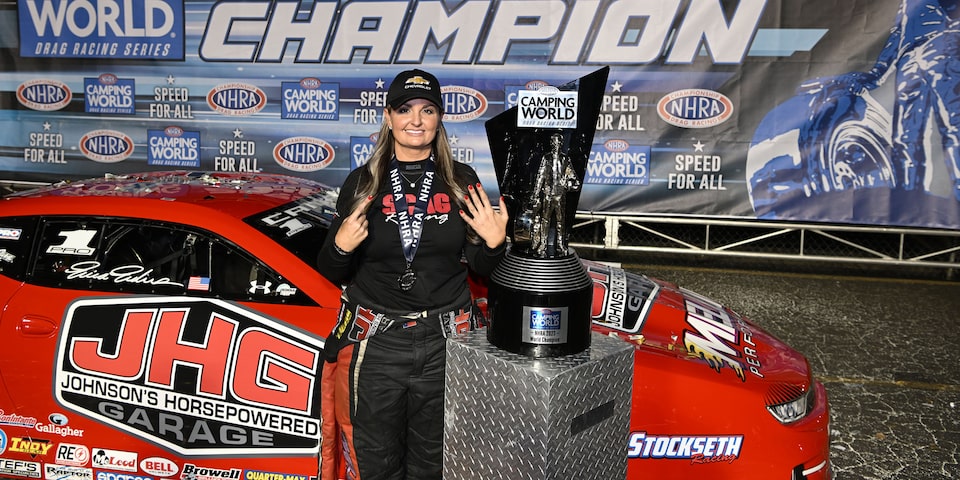 Enders celebrates all six of her championships at the In-N-Out Burger NHRA Finals.

With her sixth championship, Enders moved into a tie with the legendary Warren Johnson in the category.

"I vividly remember Erica's first win at Route 66 Raceway in Joliet in 2012," said Jim Campbell, Chevrolet U.S. Vice President, Performance and Motorsports. "It's so exciting to see her capture the sixth championship of her career today. She's a great racer and a record-breaker. Her wins and championships are a result of her skill, hard work, dedication, preparation and teamwork. Congratulations to Erica, Richard Freeman, Elite Motorsports and the Johnson's Horsepowered Garage Melling Chevrolet team."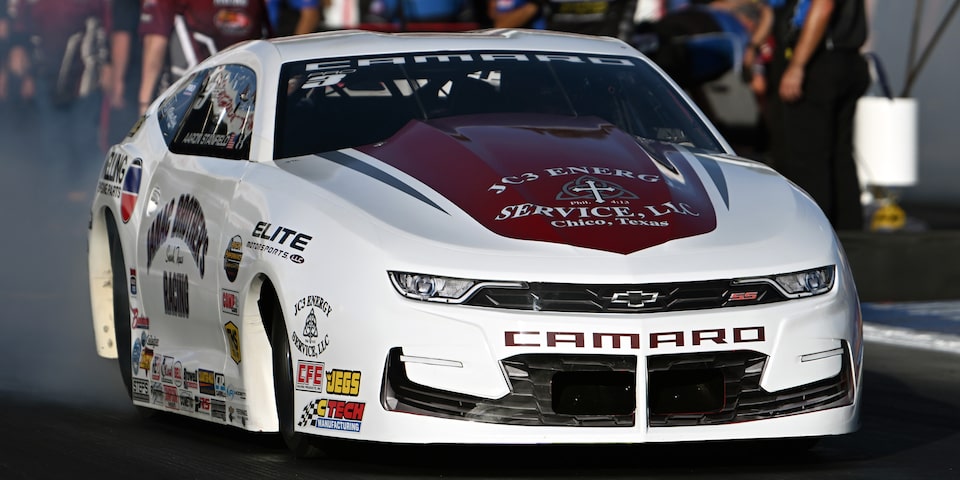 Aaron Stanfield took the Pro Stock win on Sunday in his Elite Motorsports Camaro SS.

The Pro Stock victory at Pomona went to Aaron Stanfield, who defeated Matt Hatford in an all-Camaro SS final round to take his first win of the year in the class. Stanfield turned in a holeshot win with a pass of 6.534 seconds at 208.91 mph to best Hartford's 6.519 at 210.14. Stanfield left the starting line with a 0.031-second reaction time to Hartford's 0.048.

Stanfield's victory in his Elite Motorsports machine meant Chevrolet won 16 of 17 Pro Stock races this season. Stanfield also gave the Bowtie its 282nd Pro Stock victory since 1970 and its 263rd with the Camaro.

"(My wife) told me if you're going to go, you better win," said Stanfield, an expectant father any day. "We've struggled a bit this year. We've been waiting for that win to come, so to get it here at this last race, it's awesome. Given everything else that's going on in my life, it's perfect timing."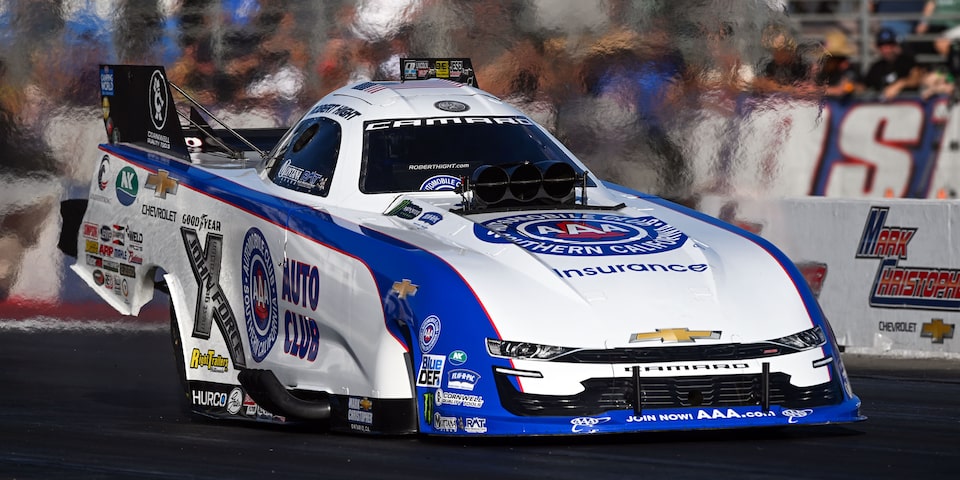 Robert Hight finished as runner-up in the 2023 Funny Car standings after driving to four wins behind the wheel of his John Force Racing Camaro SS.

In Funny Car, Robert Hight turned in a valiant effort as he earned No. 1 qualifier honors at Pomona and came ever so close to his fourth championship in the category. He finished in the quarterfinals at the event, ultimately placing him second in the final standings, just 12 markers out of the top spot.

Over the course of the 2023 campaign, Hight claimed four wins, two runner-up finishes and seven No. 1 qualifying positions.

"We've kind of been here just at the end," Hight said of the title fight. "Proud of my Auto Club guys. We're not going to give up; we're going to keep digging heading into next year. You always hope that you're here on Sunday, battling for the championship."

Hight's Funny Car teammate, 16-time champion and JFR team patriarch John Force, failed to win a race for only the second time in which he has competed in a full season since 1987. However, the popular driver still came home seventh in the final standings after a quarterfinal finish on Sunday.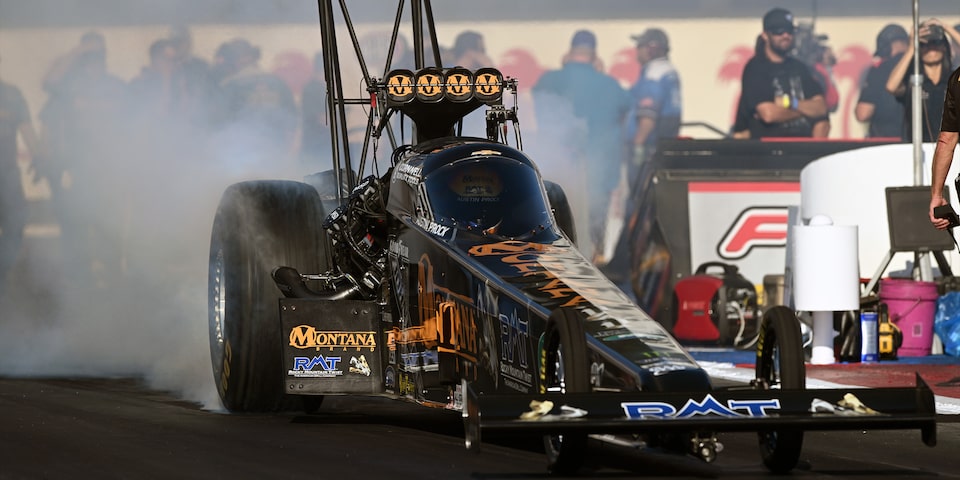 John Force Racing and Team Chevy driver Austin Prock was the No. 1 Top Fuel qualifier at the Pomona finale.

In the Top Fuel category, Austin Prock claimed one win in his JFR Chevrolet dragster in 2023 en route to an eighth-place points result. He qualified No. 1 at Pomona and drove to a quarterfinal finish. Two-time and defending Top Fuel champion Brittany Force was unable to take home a Wally in her Chevrolet dragster from JFR this season. However, she grabbed a solid seventh-place finish in the standings. At Pomona, Force exited in the first round.

In 2023, Dave Rizzoli also won the Stock Eliminator championship in a 1969 Camaro, while Wyatt Wagner won the Super Stock title in a '68 Camaro. Aaron Stanfield grabbed the Factory Stock Showdown championship in a COPO Camaro.

Chevrolet's success across the Funny Car, Pro Stock, Factory Stock Showdown, Super Stock and Stock Eliminator categories in 2023 helped the brand to its record-extending 28th Manufacturers Cup since 1966. The award is the seventh in a row for Chevrolet and its ninth in the past 11 seasons.

In both the Pro and Sportsman ranks, the Bowtie dominated the drag strip throughout the season once again.

Be sure to keep watching The BLOCK for more on Chevrolet Performance and all motorsports disciplines.