Chevrolet's Ross Chastain wrapped up the NASCAR Cup Series season with a dominant victory at Phoenix Raceway on Sunday, while Kyle Larson claimed a runner-up finish in the drivers' championship standings.

Entering the final event of the 2023 campaign, Team Chevy and Hendrick Motorsports drivers Larson and William Byron were among the Championship Four and could each score the title by finishing in front of the other three contenders. Chastain had already been eliminated from the playoffs, meaning his only goal was to win the race with his Trackhouse Racing team.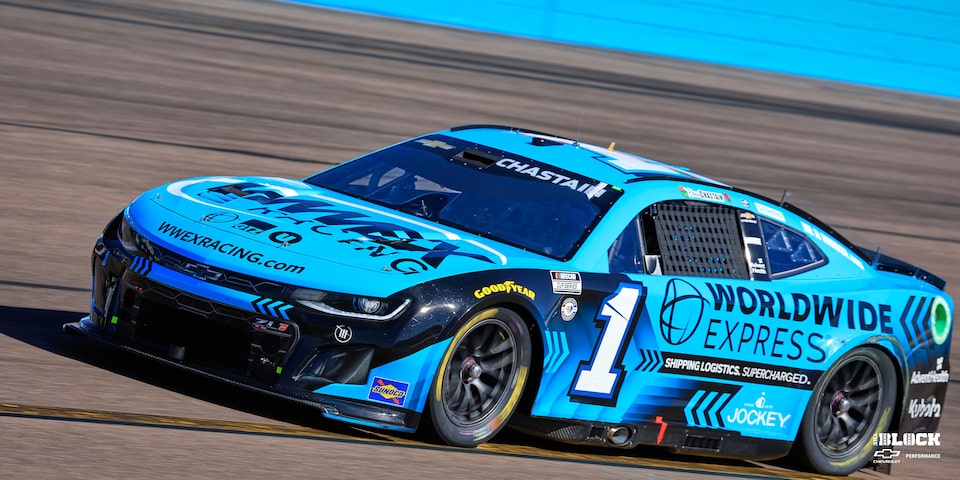 Ross Chastain claimed his second victory of the season in his Trackhouse Racing No. 1 Camaro ZL1 at Phoenix Raceway on Sunday.
Byron claimed the pole in his No. 24 Camaro ZL1 and led the first 92 laps on the one-mile oval in Avondale, Arizona. Meanwhile, Chastain quickly moved forward from his eighth-place starting position in his No. 1 Camaro ZL1. He took over the top spot for the first time on Lap 117 and stayed up front for much of the remainder of the event, fending off fierce challenges on multiple occasions as he led a race-high 157 circuits.

Larson, the 2021 Cup Series champion, also competed at the front of the field for the duration of the race. His No. 5 crew put him in championship position after turning in a blistering late pit stop. However, Larson couldn't keep his Camaro ZL1 atop the Championship Four and settled for second in the title fight, and third in the race, as Chastain took the checkered flag by 1.230 seconds. Byron finished third in the championship and fourth in the race to put three Chevrolet drivers in the top-five.

The victory was the second of the season for Chastain and the fourth of his Cup career.
Chastain celebrates with his Trackhouse Racing team in Phoenix Victory Lane.
"There were some questionable times this year, and as we went, we continued to fight and prepare the same," Chastain said. "There were some tough days and nights, and sleepless nights, but it made us even hungrier and we brought the thunder this weekend."

Chastain also became the first non-Championship Four driver to win the final race of the season since the current playoff format was introduced in 2014.

"That last caution saved me," Chastain said. "We were way too tight. [Crew chief] Phil Surgen, these boys and girls, [Race engineer] Michael Hann, our whole sim group, General Motors' sim group, the whole workforce of 140-plus employees at Trackhouse, came up with a way to make this hot rod turn. She turned that last run, and drove off into the sunset."

Chastain's victory was the 18th for Chevrolet in 2023, meaning the Bowtie Brand won exactly half the races on the schedule. Five different organizations contributed to that total. In addition, Chevrolet led all manufacturers with 77 top-five finishes, 149 top-19 results, 3,631 laps led and 26 stage wins. Those stats helped Chevrolet to its 42nd NASCAR Cup Series Manufacturer Championship.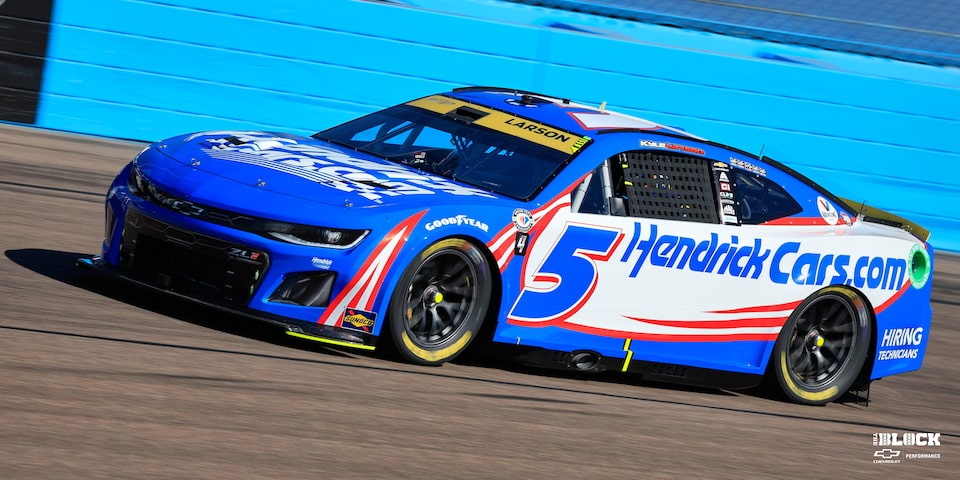 Kyle Larson finished as runner-up in the 2023 NASCAR Cup Series point standings.
In addition, Chevrolet won its 25th Bill France Performance Cup in the NASCAR Xfinity Series and its 11th NASCAR Craftsman Truck Series Manufacturer Championship. The Bowtie has now swept all three manufacturer titles five times, having previously achieved the feat in 1996, 1998, 2005 and 2012.

With Chastain's victory, Chevrolet also extended its lead as the all-time winningest manufacturer in NASCAR's premier series with 851 triumphs.

And although Chevrolet Motorsports came up just short in the driver title chase in Phoenix, Larson turned in a valiant effort.

"It would've been difficult, but my team did a really good job all season," Larson said. "I'm extremely proud of them. We had an up-and-down year, and we finally put together two solid weeks in a row. I don't know if we've done that all year. A huge thank you to HendrickCars.com, Team Chevy, Valvoline, Jinya Ramen Bar, everybody back at Hendrick Motorsports, the engine shop, everyone. We'll come back next year and try to be stronger."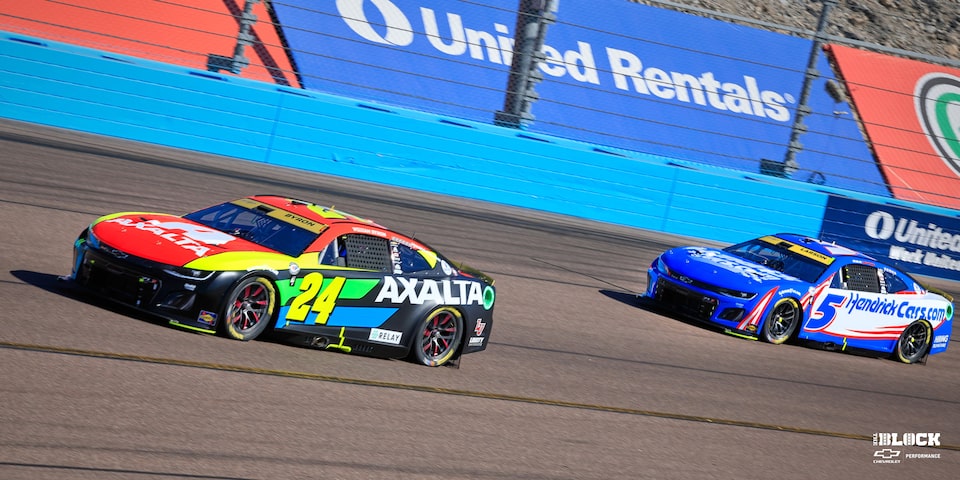 Chevrolet won 18 points-paying races in the 2023 NASCAR Cup Series season.
Byron, who led all drivers this season with six victories, also walked away from his first Championship Four appearance with a positive mindset.

"Just really proud of this No. 24 Axalta Chevy team," he said. "It's been a great season. It stinks to come up short, but I'd like to think we're going to be back in this position and we're going to have more shots at it. We just have to keep working. Keep working on the short-track program for us – that's definitely been the tough part of our season. But I felt like we brought a good car this weekend, and really until the track changed, I thought we were in the game. Just all we had there."

Across the board, Chevrolet's NASCAR teams gave it all they had throughout 2023.

Be sure to keep watching The BLOCK for more on Chevrolet Performance and all motorsports disciplines.