Our legend endures.

When you compete at the highest levels of endurance racing for over 20 years, you experience a thing or two — like back-to-back championships. In 2021, Corvette Racing finished the final GTLM season by bringing home the IMSA GTLM Manufacturer, Team and Driver championships for the second year in a row. That victory will motivate us as we continue our legacy and transition to compete in the new GTD PRO class and the LMGTE AM class in 2023.

Designed to compete.
After proving itself in the GT1, GT2 and GTLM/GTE Pro categories, Chevrolet enters the GT3 category for the 2024 season with the street-inspired Corvette Z06 GT3.R – available to both pro and amateur teams.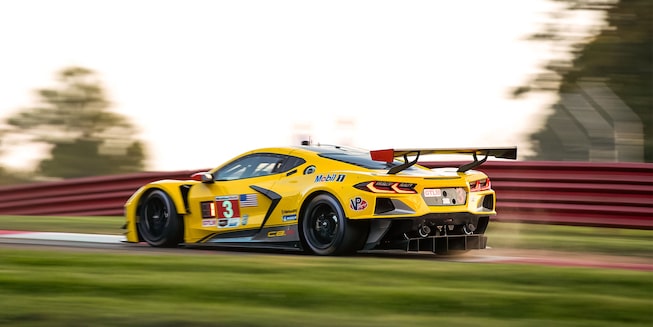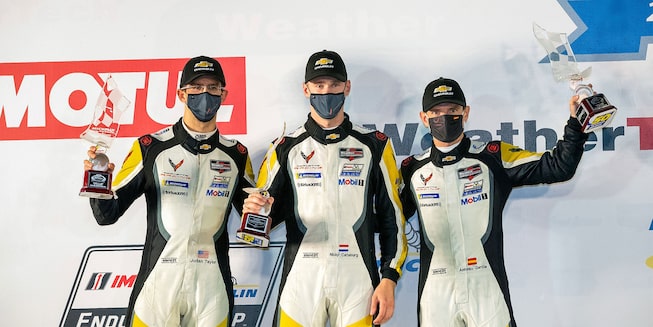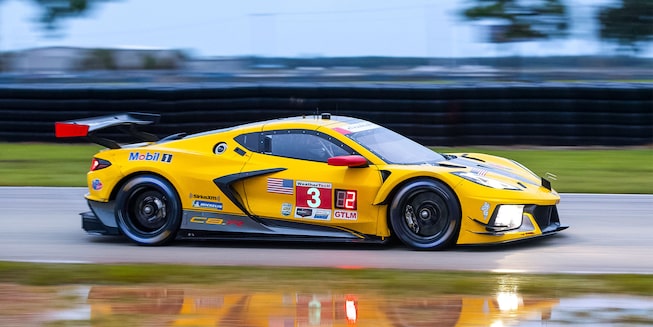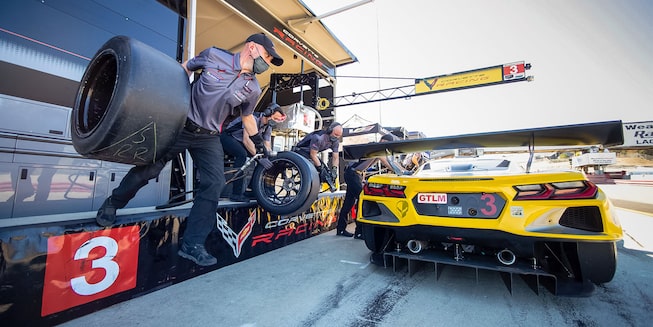 From whiteboard to checkered flag.

The mid-engine platform served as a clean slate, a first for Corvette Racing since the C5.R. Engineers were able to drastically improve aerodynamics over the previous generation, and the race car is significantly stiffer and lighter than the C7.R. With no need for front storage, the C8.R features a single centrally mounted radiator for improved optimal performance and visibility. Every inch of this vehicle has been optimized for racing.

Double the endurance.

When you've dominated endurance racing as long as Corvette Racing has, the only direction you can move is forward. In 2023 Corvette Racing will continue to race in IMSA with a team of three and will transition to LMGTE Am with a team of three, 2 of those drivers being added this year to the team, securing our participation in the 24 Hours of Le Mans and our future as a leader in endurance racing.

IMSA RACING DRIVERS

ANTONIO GARCÍA

C8.R #3
JORDAN TAYLOR

C8.R #64
TOMMY MILNER

C8.R #3
2023 IMSA RACING SCHEDULE
DAYTONA INTERNATIONAL SPEEDWAY
DAYTONA INTERNATIONAL SPEEDWAY
SEBRING INTERNATIONAL RACEWAY

LONG BEACH STREET CIRCUIT

WEATHER TECH RACEWAY LAGUNA SECA

WATKINS GLEN INTERNATIONAL

CANADIAN TIRE MOTORSPORT PARK

Bowmanville, Ontario, Canada

VIRGINIA INTERNATIONAL RACEWAY

INDIANAPOLIOS MOTOR SPEEDWAY

MICHELIN RACEWAY ROAD ATLANTA

Events are subject to change.
WEC RACING DRIVERS

NICKY CATSBURG

C8.R #33
BEN KEATING

C8.R #33
NICOLAS VARRONE

C8.R #33
2023 WEC RACING SCHEDULE

SEBRING INTERNATIONAL RACEWAY

SEBRING INTERNATIONAL RACEWAY

ALVGARVE INTERNATIONAL CIRCUIT

Portimao, Algarve, Portugal

SPA-FRANCORCHAMPS CIRCUIT

AUTODROMO NAZIONALE MONZA
FUJI INTERNATIONAL SPEEDWAY

BAHRAIN INTERNATIONAL CIRCUIT

Events are subject to change.