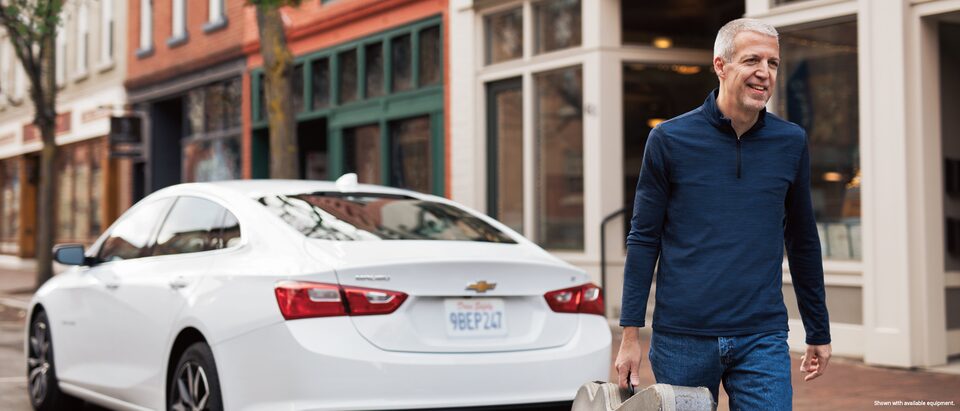 ---
2018-6-18 | Chevy New Roads Magazine

Engineer. Musician. Super Dad.

Mike Lucey is all about the details.
Like most dads, Mike Lucey would do anything for his kids. Whether it's electrical work on their houses or other handy to-dos, Steven, 30, Justin, 28, and Melissa, 26, know their dad can always be counted on.
But last July, Mike went above and beyond the normal call-of-dad-duty when Justin's fiancée, Mara, pregnant with Mike's grandson, was in a terrible car accident. Mara was pulling into a friend's driveway when another car sped over a blind knoll on the adjoining country road and hit the front end of her vehicle, spinning it 180 degrees. The other car then rolled over before landing upside down in a ditch.
"It was horrifying," Lucey says. Fortunately, Mara and the baby were all right, but the crash left her car totaled. That's when Lucey stepped in. Knowing how important it is for a young, new family to have a dependable vehicle, and wanting to alleviate as much stress as possible, Lucey and his wife, Kathleen, gifted the couple their 2010 Chevrolet Malibu.
"I loved my Malibu, but it was the right thing to do and a good upgrade for her," Lucey says. "My wife said that we could afford a new car payment more than they can. It was fun to be able to do it."
A vehicle for both sides of the brain

Mike Lucey is an engineer by day and a musician by night. The Malibu offers a similar balance of artistry and technology, with striking style and efficiency.

The only problem with passing on his beloved Malibu was that Lucey had no idea what he wanted to replace it with. So he set out on a long, involved car-shopping process that had him looking at new cars, pre-owned cars, SUVs, sedans, and more. A few days into his search, he went to visit his local Chevrolet dealership. After checking out a few models, he was rounding a corner when "these gorgeous wheels" caught his eye.

"I knew immediately," he says. "I'm done. This is it! Without even seeing the rest of the car or looking at the inside. It's silly, but I knew." Those gorgeous wheels belonged to a new 2017 Malibu, with a Summit White body and available 18-inch aluminum wheels. "The Chevy folks really figured it out with this combination," Lucey says. "The big, beautiful blacked-out alloys and the white are a total wow."

Lucey was also a fan of the Malibu's sophisticated and sporty body lines. "I love the coupe look for a four-door sedan."

He soon realized that his new Malibu offered a lot more than just the striking style that had won him over at first sight, including its EPA-estimated 36 MPG on the highway†.

"I drove home from the dealer, which is about 25 minutes from my house," he explains. "When I pulled into my driveway, I checked the mileage and I thought, 'Holy cow!'"

As an engineer (and a self-​described "geek"), Lucey's appreciation of such technical details runs deep. "The engine stop/start technology is just incredible," he says. "It is so smooth and instantaneous. It's such a cool technology. Kudos to the software guys who wrote the algorithm for that."
A few days into his search, he went to visit his local
Chevrolet dealership. He was rounding a corner when
"these gorgeous wheels" caught his eye.
"I knew immediately," he says. "This is it!"

The Chevrolet Malibu doesn't compromise

The Malibu strikes the perfect balance, merging dramatic style with Chevy's latest technology, and remarkable efficiency with impressive acceleration.

Lucey pairs his phone to the Malibu using Android Auto™† compatibility and plays some of his favorite tunes, a library that runs the gamut from country to pop—the same music he plays as a part-time singer and acoustic guitar player. In his younger days Lucey played in bands, and in recent years he's found his way back to this passion, frequently performing in and around his hometown of Corning, N.Y. His Malibu's "huge" trunk is perfect for hauling gear to and from his shows, he says, and when he has to venture out of town for gigs, he always chooses his Malibu over his wife's larger SUV because he can't get over the Malibu's accommodating space and fantastic gas mileage.†
And sitting in the front row at many of those shows? His 3-month-old grandson, Kane, who made it through that accident with his mother before he was even born, his eyes now big and bright while he bounces up and down to his grandfather's music.
"I've been a Chevy fan over the years and have always appreciated its engineering," Lucey says. "To see where the brand has gone now, with such attention to detail on both the interior and the exterior look and feel of the car—the whole is much more than the sum of the pieces. It's absolutely wonderful."
STORY: LESLIE YOUNGBLOOD/PHOTOGRAPHY: CHRISTIAN KOZOWYK