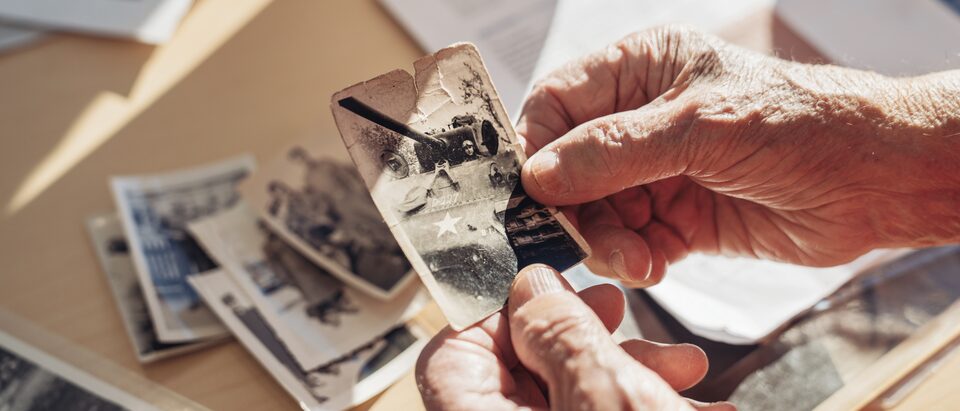 ---
2018-3-1 | Chevy New Roads Magazine

Brothers in Arms

An unexpected shared history brought two veterans from two different generations together. One bought his Equinox from the other, and now they're friends for life.
When it came time for George Patton Waters to buy a new vehicle, there was no question where he would go to buy it: Buss Chevrolet in Shawano, Wis., where 94-year-old World War II veteran Reuben Schaetzel is a salesman.

"You drove a tank for my grandfather; I want to buy a car from you," Waters told Schaetzel. Waters is the grandson of Gen. George S. Patton. He had met Schaetzel several years before, during a festival in Pilsen, Czech Republic, to celebrate the town's liberation by Patton's Third Army from the Nazis. "We met and started talking about my grandfather," says Waters, who spends about 100 days each year talking to veterans groups. "He looked up at me and said, 'I drove a tank for that S.O.B.' We became best friends. I'd like to say we're like brothers."


The pair talk on the phone almost every day. But it was when they met again during a fundraiser at Lambeau Field in Green Bay, Wis., for the Brian LaViolette Scholarship Foundation, which had helped sponsor Schaetzel's trip to Pilsen, that the topic of the car sale came up.

"I said, 'What do you think I should get?'" Waters says. "He sat there thinking for a while and asked me a few questions, like what do I like, where do I go. He said, 'You need an Equinox.' I didn't realize he'd sold 17,000 cars."

In fact, Schaetzel started selling cars in 1951 and has spent his entire career with Chevrolet. So it was simple for him to help Waters, 77, choose the perfect Chevy for his lifestyle. Waters appreciates that the Equinox is easy for him and his wife, Martha, to get in and out of, and that it offers advanced safety technology, a panoramic power sunroof, and an available trailering package.† But, most important for Waters, the vehicle boasts 63.5 cubic feet of maximum cargo space† for comfortable travel, as well as the Chevrolet MyLink infotainment system.†

"This Equinox can take you just about anywhere you want to go," Waters enthuses. "We found a little place in the mountains and it took us right there. The [available] navigation system† is remarkable. I've got 21,000 miles on it, and I can hardly wait to get to 200,000.

"It's fantastic," he adds. "This Chevrolet is just perfect."
Exploring a shared history with a larger-than-life man
1) A picture of Schaetzel as a young soldier; 2) Waters (at right) and Schaetzel catch up at the dealership where Schaetzel still sells Chevrolet vehicles; 3) Waters' famous grandfather's boots, along with a photo of him with Patton when he was a child.

Life comes full circle

The year was 1945. The battlefield was in Germany. A bazooka had ripped into Schaetzel's tank, killing three of his comrades and immobilizing their vehicle.

"If you're in an area with casualties, you don't just abandon them," says Schaetzel, who served as a tank driver. "I was charged with the responsibility of staying with them overnight. I was feeling very scared because I was all by myself and I wasn't feeling too well because I had been burned.

"The next morning, a jeep came driving up," he adds. "It had a license plate with four stars. I said, 'Holy man! It's Gen. Patton.' He jumped out and hopped onto the back deck of my tank. He put his arm over my shoulder and said, 'Soldier, what happened here?' I told him, 'Take a look in my turret.'

"[After he saw the soldiers' bodies], he was just white in the face. He came back and hunkered down alongside me and said, 'You OK?' I said, 'I'll be OK.' He said, 'Where are you from?' I said, 'Wisconsin.' He patted me on the back and said, 'Good luck, soldier,' and jumped off the tank and got into his jeep and drove away."

Seven decades later, when Waters picked up his new Equinox, he was surprised to discover it sported a four-star license plate, as well as his famous grandfather's division medallion on the grille, the trunk, and each side of the vehicle. Schaetzel also had signed the dashboard and a Chevrolet hat that Waters keeps in the vehicle.

"George was overwhelmed," Schaetzel says. "He brought his grandfather's boots along and showed them to me. It made quite an impression. It was a real honor that Gen. Patton's grandson chose to buy a vehicle from me. It cost him a lot to ship it home [to South Carolina]. But he didn't care. If he was going to buy a vehicle, he was going to buy it from me."
Waters says the honor was all his. He met his grandfather in 1945, when he was 4 years old.
"I remember him; he was a great big man," Waters says. "He had two languages: one was English and the other was profanity. Despite all his gruffness, he was a very loving person.

"It was a thrill for me to buy a car from a guy who drove a tank for my grandfather," Waters adds. "It's kind of—what goes around comes around. He's the luckiest guy in the world to be alive, and I'm even more lucky to meet him. It's just amazing how all of this came together."
STORY: LESLIE ELLIS/PHOTOGRAPHY: KEVIN NETZ