---
2018-6-18 | Chevy New Roads Magazine

Park to Park

A road trip through national parks and forests reveals the country's stunning natural beauty.

I'm driving a Chevrolet Traverse along a ridge in Angeles National Forest, equally captivated by the breathtaking views of mountains and forests all around me and terrified I'll make a wrong move on the road. The constant switchbacks and sheer drops don't leave any room for error.
Few things feel more America-in-summer than a road trip—especially one under the endless blue skies and blazing sunshine of the West. My fiancé and I love the outdoors, and previous vacations to the northern part of California have left us wanting to explore more of the state's protected natural beauty. We make the drive in a Traverse LT with available leather-​appointed seating surfaces, which we love for its comfort and versatility—things that help reduce stress on a long drive and make it that much more enjoyable.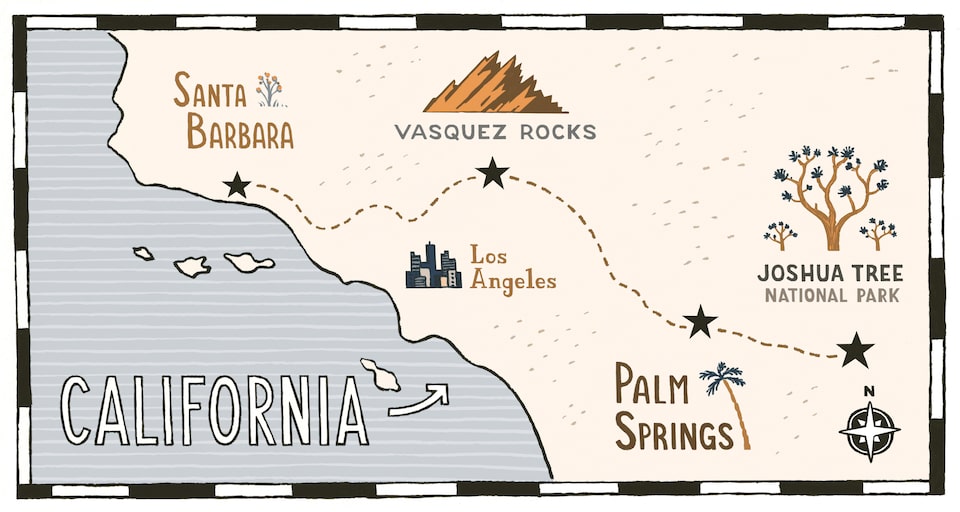 With plenty of room for gear—or your favorite people—Traverse was perfect for exploring the western states. Heading into the mountains was no problem, thanks to available all-wheel drive, and the Chevrolet MyLink† radio with available navigation made it easy to find the next destination.

Day One

California's vast landscapes were the inspiration for the national park system: Abraham Lincoln put Yosemite under the government's protection during the Civil War, and the writings of naturalist John Muir helped spur Teddy Roosevelt to significantly expand the early system. The state's southern region, though synonymous with Los Angeles, offers much more than a concrete jungle: Southern California is home to several national parks and forests within a reasonable drive of each other, yet each offers a wildly different landscape.
We start our trip in Santa Barbara. This former Spanish mission town on the Pacific Ocean is known for its beaches, wines, and exceptional food. It also makes a gorgeous leaping-off point for Channel Islands National Park to the south, the first national park on our itinerary.
The five Channel Islands that make up the park were home for many thousands of years to the native Chumash, and then, in the 19th century, to sheep and cattle ranchers; evidence of both can be seen throughout the park. But mainly the islands are known for their exceptional natural diversity and beauty. Each is reachable by boat or plane. We opt for Santa Cruz, the most accessible of the five.
The island is so colorfully pretty, with waters so aquamarine, that it creates the strange sensation of being in a living postcard. Snorkeling and kayaking are both available at Scorpion Anchorage, but we decide to try the easygoing trails around Scorpion Valley. A two-mile loop takes us to Cavern Point, where the views are breathtaking and whales can sometimes be spotted. Another short half-mile trek takes us to the historic Scorpion Ranch, one of the buildings dating to the 1800s that are still scattered about the islands. By the afternoon it's time to head back, but it's hard to leave the lush scenery, and I'm wishing we had time to see what the other islands have to offer.

Back in Santa Barbara, we set out to find a good local institution for dinner and come upon a step-back-in-time, family-oriented Italian eatery. We slide into a red leather banquette and take in the walls, which are nearly covered with pictures of the restaurant's celebrity visitors and the owners' ancestors. Calamari and pork chops ease the transition back into civilization.
Day Two  
We take a walk along the ocean before hitting the road for Palm Springs. It's early, and virtually no one is on the beach. Our route out of town lets us bypass Los Angeles traffic and, more important, take in Vasquez Rocks, which are located in the Sierra Pelona Mountains and are part of the county park system. The rocks, formed by uplift and rapid erosion millions of years ago, jut out of the earth so starkly and startlingly that they've been the site of numerous movie and television shoots looking for an outer space–type landscape. We hike to the top of one of the reddish rocks to get a good view of the largest and most distinct formation. We're just a couple of miles off the freeway, but it's peaceful and desolate.
From Vasquez Rocks, we take the long way to Palm Springs. My fiancé plugs his phone into the Traverse's USB port† to connect to Apple CarPlay™ compatibility,† so we can stream our favorite tunes from his playlist and control the flow through the touch-screen. Just past Agua Dulce we pick up county highway N3 and start heading south into the heart of Angeles National Forest. We keep stopping to take in the sweeping vistas—there is nothing but majestic rocky structures and blue sky as far as the eye can see.
After about an hour, we switch to the legendary Angeles Crest Highway, heading east. Each time I'm sure there's no way we could go any higher, we pass another sign with another elevation milestone, eventually closing in on nearly 9,000 feet. (The forest's highest peak is Mount Baldy at 10,064 feet.)
The feeling of being so high—on a road with sheer drop-offs at every bend—is equal parts exhilarating and nerve-wracking. I'm grateful for the Traverse's available all-wheel drive, as well as Traction Mode Select, which lets me adjust performance based on the different road conditions we encounter through the mountains.
There is nothing so American as our national parks. The fundamental idea behind the parks is native. It is ... that the country belongs to the people.
– President Franklin D. Roosevelt,
in a radio address on Aug. 5, 1934

Another half-hour brings us to Newcomb's Ranch, an unassuming roadside restaurant. Rarely have I been so happy to stumble on a watering hole; my eyes are tired from focusing so hard on the drive and I need a break. Newcomb's started as an inn in 1939. At various points it was a general store and gas station, and then was rebuilt as a restaurant after a 1976 fire. Today it's a great place to slide up to the bar and order a sandwich after hours of navigating harrowing twists and turns, which is exactly what we do.
After a bit we're ready to tackle the remainder of the scenic highway, 33 miles to Wrightwood and terra firma all around. For a bit of levity, we stop along the way to Palm Springs to see the Cabazon Dinosaurs, a roadside attraction dating from 1975. These enormous replica dinosaurs on the side of the highway manage to be both kitschy and unexpectedly impressive.
Closing in on Palm Springs along Interstate 10, we come to the Palm Springs Aerial Tramway. This tram takes riders up the San Jacinto Mountains, rising nearly 6,000 feet in just 12 minutes, with staggering views all around. At the tram's base is desert and at its top is alpine forest. The ride sounds incredible—except I'm deathly afraid of heights. But skipping such an experience feels ridiculous.
As it turns out, I was right to be nervous: The ride is petrifying. But it's also like nothing else I've done—soaring up a mountain in just a few minutes, with open sky on three sides and the cliff face on the fourth, as the tram rises quickly and rotates slowly. Like many riders, I'm grateful for Peaks Restaurant, an upscale yet comfortable establishment at the top, but I'm not sorry we took the ride.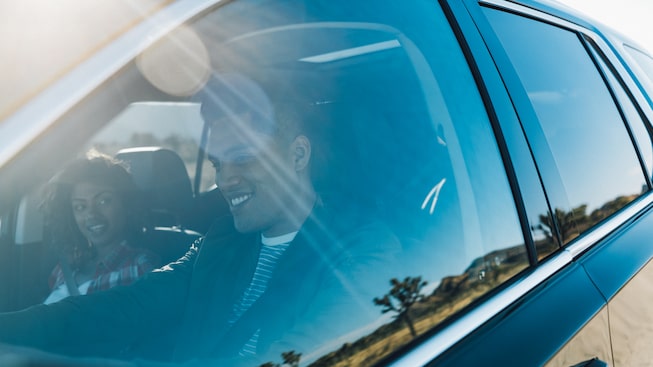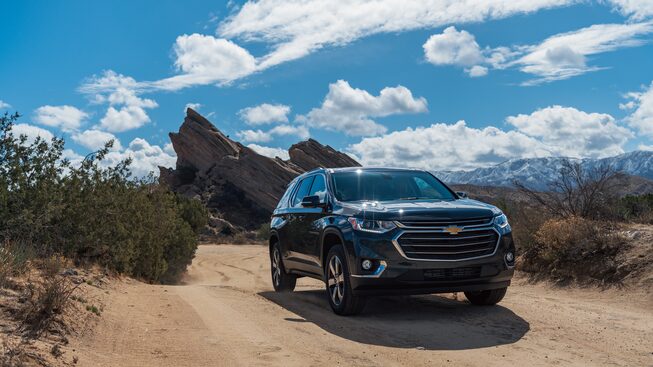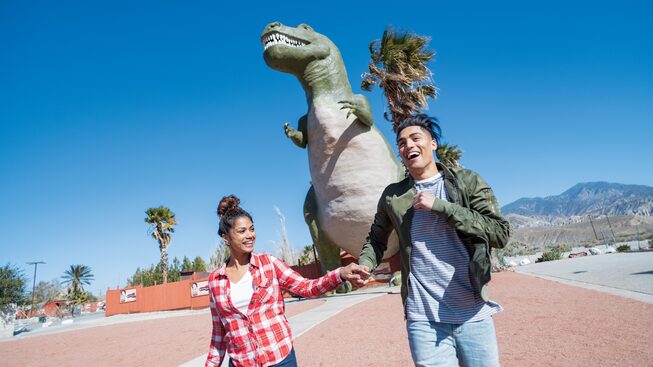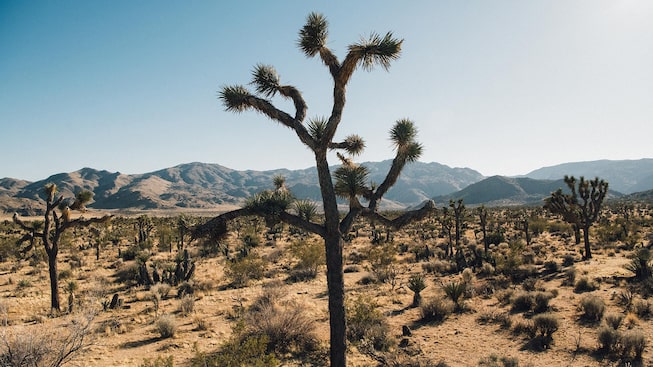 Whatever sights you want to see, you can get there comfortably in a Traverse.
Day Three
Today we're headed toward the park I've been most eager to explore: the 825,000-acre Joshua Tree National Park, where the Mojave and Colorado ecosystems come together. Images of the park's wildly distinctive trees have long captivated me.
But first, we head to the Ace Hotel Palm Springs for breakfast. This collection of quirky hotels around the country is trying to be cool and is pulling it off, without being snobbish. The Ace restaurant offers comfortable, retro chic décor. After a breakfast of huevos rancheros and avocado toast, we're ready to tackle the day.
We drive along Highway 62 to Joshua Tree National Park's west entrance. We continue down Park Boulevard to Quail Springs and hop out. All around us are Yucca brevifolia, named Joshua trees by the Mormons because they reminded them of a biblical story in which Joshua raises his hands to the sky to pray. It is not hard to see how the trees could inspire a religious experience—they are so beautifully weird and grow in terrain so unforgiving that it's hard not to feel humbled by them. We walk along a small path, far enough into the park that we can't see or hear anyone else, and find one of the few accommodating rocks around. We lie back under the ferociously blue sky and close our eyes. For quite some time.
Our plan is to end our day at Indian Cove and take in the sunset. It's hot, so heading back to the parking lot we use the myChevrolet mobile app† to remote-start the Traverse so it's nice and cool when we climb inside. Taking the long way around through the park, we spot numerous climbers—Joshua Tree is a popular destination for rock climbers—and pass the aptly named Skull Rock. As the sun starts to set, we pull into Indian Cove on the park's northern edge and watch the sun drop behind the giant rock formations a couple of miles ahead. We drive out of the park, sad to leave.
On our way back to Palm Springs, we swing by Pie For The People, a pizza joint on 62 that serves pizza by the slice. In a fit of delusion, I order three slices. I can finish one. This feels like an apt metaphor for our trip: I'm only able to experience a tiny amount of the wonderful things available.
STORY: ALEXA STANARD/PHOTOGRAPHY: CHRIS STRALEY