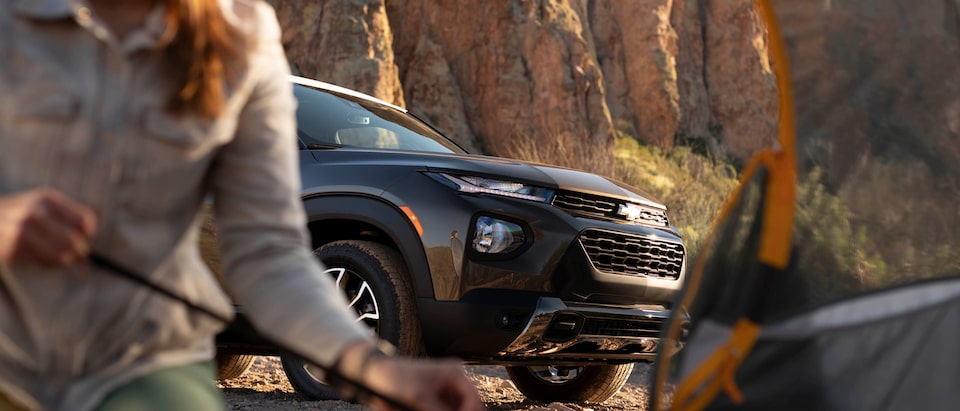 2020-09-18 | Chevy New Roads Magazine

Base Camp
Going on a solo backpacking adventure can be restorative, but it takes good planning and a ready companion like the 2021 Chevrolet Trailblazer ACTIV.
The Tonto National Forest boundary begins among the saguaros, those giant, many-limbed cacti found exclusively in the Sonoran Desert. Thickets of cholla cactus and creosote bushes dominate the landscape. Here, just east of Phoenix, Gila monsters and western diamondback rattlesnakes seek out shade beneath rocks. The buzzy chatter of cactus wrens—Arizona's state bird—fills the air. Harris's hawks watch for cottontails from their perches while mule deer keep a careful eye out for mountain lions.
In the upper half of the Tonto, black bears and elk flourish among juniper, oak, and 100-foot ponderosa pines. The northern forest boundary butts up against the Mogollon Rim, a striking rock escarpment that marks the edge of the Colorado Plateau. End to end, the Tonto contains nearly 3 million acres of five converging ecosystems and a 6,000-foot change in elevation. With 900 miles of trails and 2,600 miles of roads to explore, this is exactly the kind of country open to exploration with the Chevrolet Trailblazer ACTIV. A right-sized, versatile SUV, the Trailblazer has the rough-road ability and storage capacity to let you gear up for your next best adventure.
The Details Matter
3 DRIVE MODES†
FOR DIFFERENT ROADS/
CONDITIONS
FOR DIFFERENT
ROADS/
CONDITIONS
155/174

HORSEPOWER/
LB.-FT.
OF TORQUE

HORSEPOWER/
LB.-FT. OF TORQUE
Breaking Trail
Few people know the particular thrill of listening to the night begin. Dusk has its own soundtrack: the playful yips and howls of coyotes across the desert, the first "who-whos" uttered by a great horned owl, and the delicate scratching of pack rats in the sand. Solo camping gives you the opportunity to sit and count shooting stars beneath the Milky Way with a trusty dog at your side, no cell reception or human noise to distract you from your well-deserved silence. That kind of solitude is priceless. It's also easy to come by, if you know where to look.
As more people gravitate toward the outdoors, traditional designated campgrounds have become less of a nature getaway and more of a community gathering place. National forests offer a respite from overcrowded campgrounds, allowing you to truly leave civilization behind—including the loud music from two campsites over. With dispersed camping, you can pitch your tent almost anywhere you'd like, with just a few restrictions on the proximity to water sources, cliff bases, and roads and trails. Dogs are welcome in most national forests, and each campsite can be occupied for up to 14 days. There are no permits or fees required, just seemingly endless dirt roads and remote wilderness waiting to be explored. Pick a quiet forest road and follow it as long as you'd like, keeping an eye out for flat, open areas. The Trailblazer's available all-wheel drive is perfect for access roads like these, and its three drive modes let you get the traction you need depending on the road. You can cruise in Normal mode on pavement, switch to All-Wheel Drive mode for lower-traction surfaces like gravel, or even have a bit of fun in Sport mode if you take the curvy road home.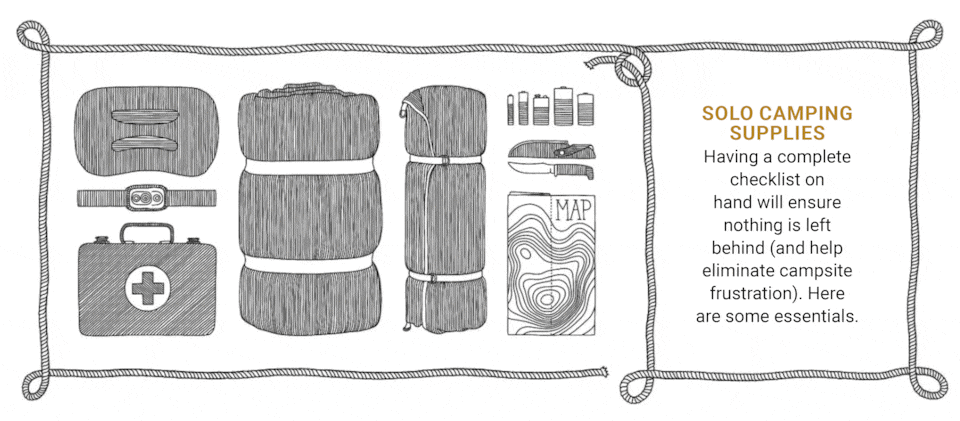 Gearing Up

National forests have fewer amenities than the Trailblazer, and rougher living than is generally found at designated campgrounds. There are no toilets or showers, no potable water, no electricity or grills. But the solitude is worth the lack of luxuries, and there are few meals as delicious as those cooked over an open campfire.
Solo dispersed camping requires a little extra preparation, and plenty of room for gear. Because there is no potable water, you'll need to bring plenty for you and your dog. If there's a nearby water source, bring a water filtration system. Because there are no toilets, you'll need to being a trowel for digging a "cathole." You'll still pack some of the same gear you'd use at the designated campground with your friends, too: a tent, sleeping mat and bag, and lighting.
With the Trailblazer's maximum 54.4 cubic feet† of storage space, you can load up a cozy camp chair, a book and an extra blanket for fireside reading, a telescope or binoculars, and a field guide for birding. Bring the cast-iron skillet and a coffee percolator. Stock a cooler with dinner and breakfast ingredients. Treat yourself to s'mores for dessert. Pick up firewood and a shovel for putting out your fire.
Hit the Trail

There are trails for all skill levels in the Tonto. For a reliably good day of birding and wildlife-viewing, head to the lower Salt River just south of Saguaro Lake, where you'll find a great diversity of bird life, from purple-crowned Costa's hummingbirds to prehistoric-looking great blue herons. Bald eagles nest nearby and can be seen year-round, as can other birds of prey such as zone-tailed hawks, ospreys, and peregrine falcons. Through spring and summer, vermilion flycatchers make this oasis their home. The males are unmistakable: You'll easily spot the vibrant red birds performing aerial acrobatics while hunting insects near the river. Other desert specialties, like Lucy's warblers, curve-billed thrashers, and gilded flickers, are abundant. So, too, are reptiles, so watch your feet and keep an ear out for rattlesnakes. Bighorn sheep, javelinas, and bobcats are just a sampling of the native land mammals—the lower Salt River even supports a herd of wild horses. Black bears and mountain lions also inhabit the area, but you're unlikely to cross paths with either. If fishing is on the itinerary, the river holds rainbow trout, largemouth and smallmouth bass, sunfish, and catfish. Spend enough time by the water and you might be lucky enough to see a river otter.
Experienced hikers can challenge themselves on the Three Sisters Summit in the Superstition Wilderness at the southern edge of the Tonto National Forest. The trail gains 2,500 feet of elevation in 3.5 miles as it approaches the massive three-pronged rock formation known as the Three Sisters. Marvel at ancient saguaros, some reaching 40 feet, and otherworldly geological features along the trail. Take the turnoff to stand on the smooth, wave-shaped rock inside the Wave Cave for one of the best views of the Superstitions. Plan your hike for early morning or evening and bring adequate water and snacks. This trail requires route-finding ability and some scrambling, but to stand on the summit of Three Sisters—or any peak—and know your own body got you there is a worthy reward.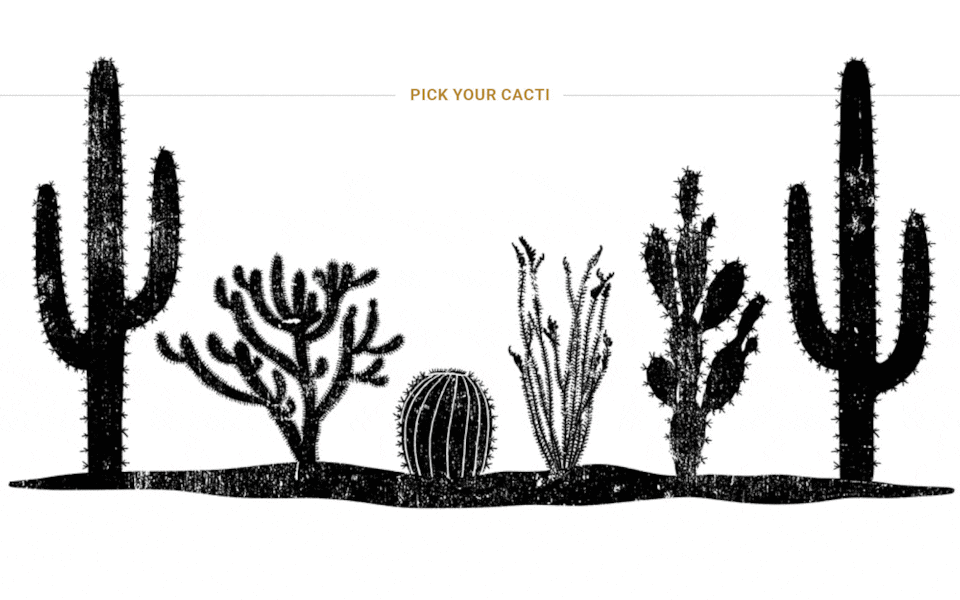 ---
Whenever you venture out, it's always a good idea to leave a rough itinerary with an emergency contact. As a solo camper and hiker, you are responsible for your own safety. Having a Chevy vehicle with available OnStar† is a great way to ensure that you'll have help available at the push of a button. Portable GPS units can also allow you to track and share a map of your hike, and generally provide a great second level of safety. You can even keep your pup safe with a specialized GPS unit made specifically for dogs. If you and your dog become separated, this tech allows you to track him in real time though an app on your phone.
One of the greatest joys of solo adventure is the freedom to choose your own itinerary: Want to hit the trailhead before dawn to catch a mid-hike sunrise, or sleep in and linger for that second cup of tent-side coffee? Practice orienteering with a topographic map and compass, or take a leisurely stroll down a popular trail? It's entirely up to you: your trip, your time, your adventure. So, go on and gas up the Trailblazer, grab the pup, and take a couple days off, just for you.
STORY: CASSANDRA POWERS / PHOTOGRAPHY: SHAYD JOHNSON / ILLUSTRATION: MATTHEW ALLEN