2022-05-23 | New Roads Magazine
Technology Is Driving Yellowstone

The more (some) things change, the more (other) things stay the same.

In 1872, the Yellowstone National Park Protection Act designated the area as the world's first national park, primarily to preserve the thousands of geysers, hot springs, and other unique thermal features "for the benefit and enjoyment of the people."
The earliest park visitors walked or rode horses, with cars replacing horse-drawn wagons and carriages in 1917. Since then, someone has always had to do the driving — at least until last year, when Yellowstone tested driverless electric shuttles to see how the technology would work in the park. The two eight-passenger shuttles moved people around Canyon Village throughout the summer.
Some passengers surely found it strange to cruise from their campground to the visitor center in a driverless electric shuttle. But it should not have been a surprise to anyone familiar with Yellowstone's rich history of innovation.

The Details Matter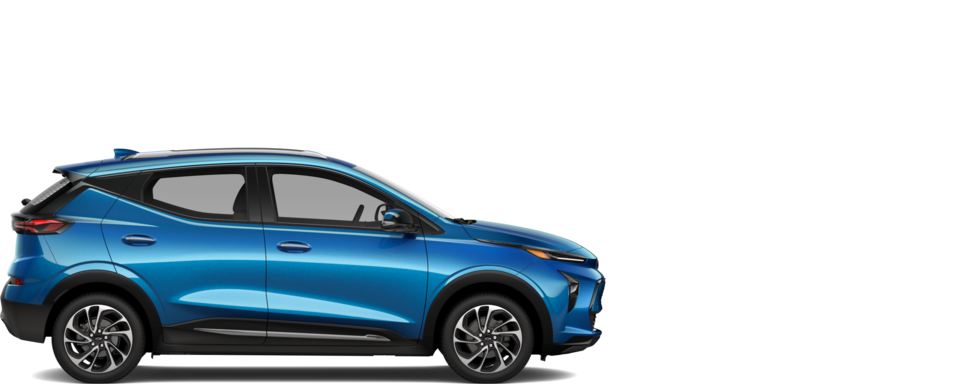 2022 BOLT EUV

---
247 MILES

EPA-ESTIMATED RANGE ON A FULL CHARGE†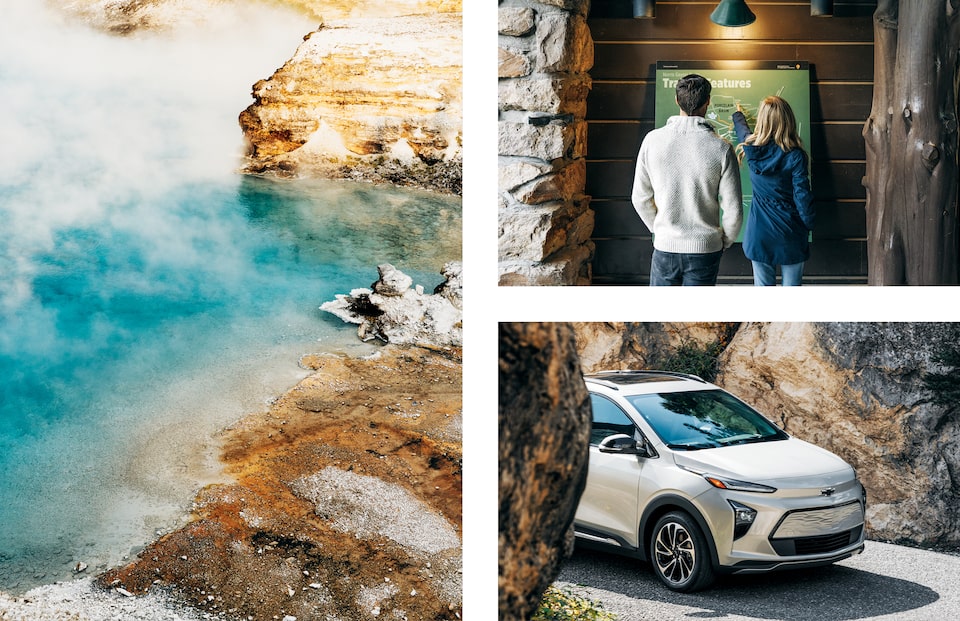 Best of all, though, charging the Bolt EUV within the nation's oldest national park is no problem. That's because electric vehicle charging stations have been installed in six spots around the park over the past five years by Xanterra, Yellowstone's primary concessioner, which operates hotels, restaurants, and group tour activities.
"We have been expanding electric vehicle charging infrastructure around the park, because the industry is growing at a rapid pace," says Dylan Hoffman, director of sustainability in Yellowstone for Xanterra.
Hoffman says 2021 brought more EVs to Yellowstone than ever, with visitors taking advantage of free Level 2 chargers in almost all of the park's developed areas, as well as in nearby Montana communities like West Yellowstone and Gardiner, and in Cody, Wyoming, just outside the east entrance.
While the chargers are a highly visible symbol of new technology in the park, other innovative programs may not be so obvious. Yellowstone plays host to a range of other technological innovations, many driven by outside researchers who collaborate with the National Park Service to study the park's wildlife and thermal features.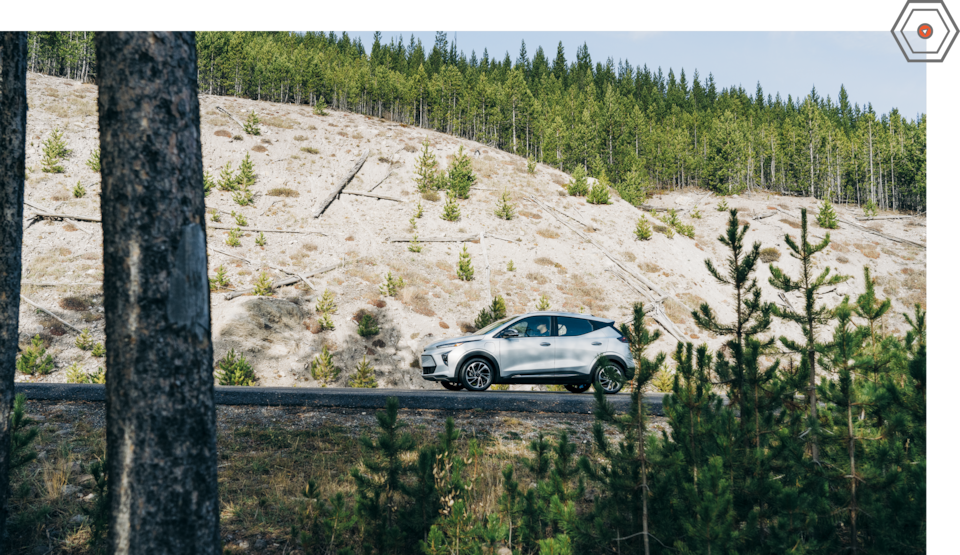 THESE TOURS HAVE APP-EAL
Download one of these apps before your Yellowstone trip and you'll be ready to tour the park — with or without cell service.
01. NPS App
Free downloadable information for all national parks. Includes an interactive map and self-guided audio tours, as well as extensive hiking, lodging, and event information to make the most of your trip.
02. GyPSy Guide
A popular "tour guide in your car" for Yellowstone visitors, the app plays entertaining commentary automatically as you drive, pointing out places to see and sharing stories, so you won't miss a thing. Free to download, then purchase tours in-app.

One example: Park Service scientists, state wildlife agencies, and independent university research labs use wildlife monitoring collars that use GPS to track, record, and report an animal's location, movement, and orientation dozens of times daily. The collars can even capture photos and video of what the animal sees. Using that information, researchers can gain insight on what grizzly bears eat, the routes elk use for seasonal migrations, or even how solitary predators like cougars compete for territory.

In another project, researchers from the U.S. Geological Survey, working with the Park Service, are using thermal imaging cameras that can monitor gray wolves to help detect mange, a contagious disease caused by mites. Researchers have used the cameras to follow how mange spreads and to learn more about how it alters the complex dynamics of competing wolf packs in Yellowstone.
Discovery at the park goes beyond animal research. There's also a network of seismic sensors that record an average of 2,000 small earthquakes annually across Yellowstone. A weather monitoring system includes the oldest continuously operating weather station in Wyoming, installed in 1894. And there's even a "micro-scale" hydroelectric power station installed in Mammoth in 2013 that provides enough electricity to serve one-third of the Park Service's housing and administrative power needs.

Sometimes, though, something found at the park leads to a scientific discovery for the outside world. At Lower Geyser Basin, a discovery in the 1960s led to a diagnostic test. A unique "extremophile" bacteria found in the boiling waters of Lower Geyser Basin enabled polymerase chain reaction DNA testing — a quick, cheap, and effective way to diagnose certain diseases and genetic changes.
A heat-resistant enzyme in that bacteria, known as Taq polymerase, has been used in DNA sequencing and analysis and even the Human Genome Project. Today, though, it's mostly used to test patients, surfaces, and objects for infection — most recently to test for COVID, and further proof that Yellowstone remains as relevant today as it was 150 years ago.

And with the right policies and a little luck — along with maybe some new technologies and innovations yet to be discovered — Yellowstone will be just as relevant 150 years from now.
STORY: RUFFIN PREVOST / PHOTOGRAPHER: JOSÉ MANDOJANA