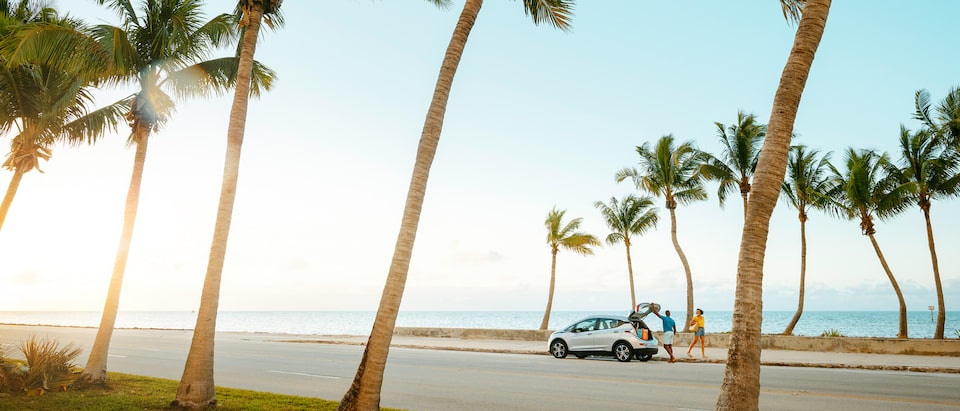 2020-06-30 | Chevy New Roads Magazine

Re-Charging in the Keys

It's not just beaches and sunshine: With Bolt EV, it's possible to unlock even more of Key West's secrets.

Connected to mainland Florida by 42 bridges, Key West dangles into the Gulf of Mexico like a tendril hanging from the United States. With sun and warm temperatures year-round, plus beaches and coral reefs to explore, it's a destination that seems farther away than the 113-mile drive down the Overseas Highway.
Key West's allures for tourists are well documented. Whether you're there for recreation, entertainment, or just to take a selfie at the Southernmost Point Buoy on the island's southern coast, the big venues are well known. Yet we're more interested in the unconventional, lesser-known side of this vacation paradise—the destinations you never expected to put on your agenda.
One thing that might surprise travelers is how accessible Key West is for drivers of electric vehicles like the 2020 Chevrolet Bolt EV. For starters, the car's EPA-estimated driving range of 259 miles† is more than enough to reach the island from many major cities in southern Florida. But equally notable is that the tiny island has as many as 10 hotels and resorts with electric vehicle charging stations for Bolt EV drivers to recharge their vehicle as they recharge, mentally, in this vacation destination.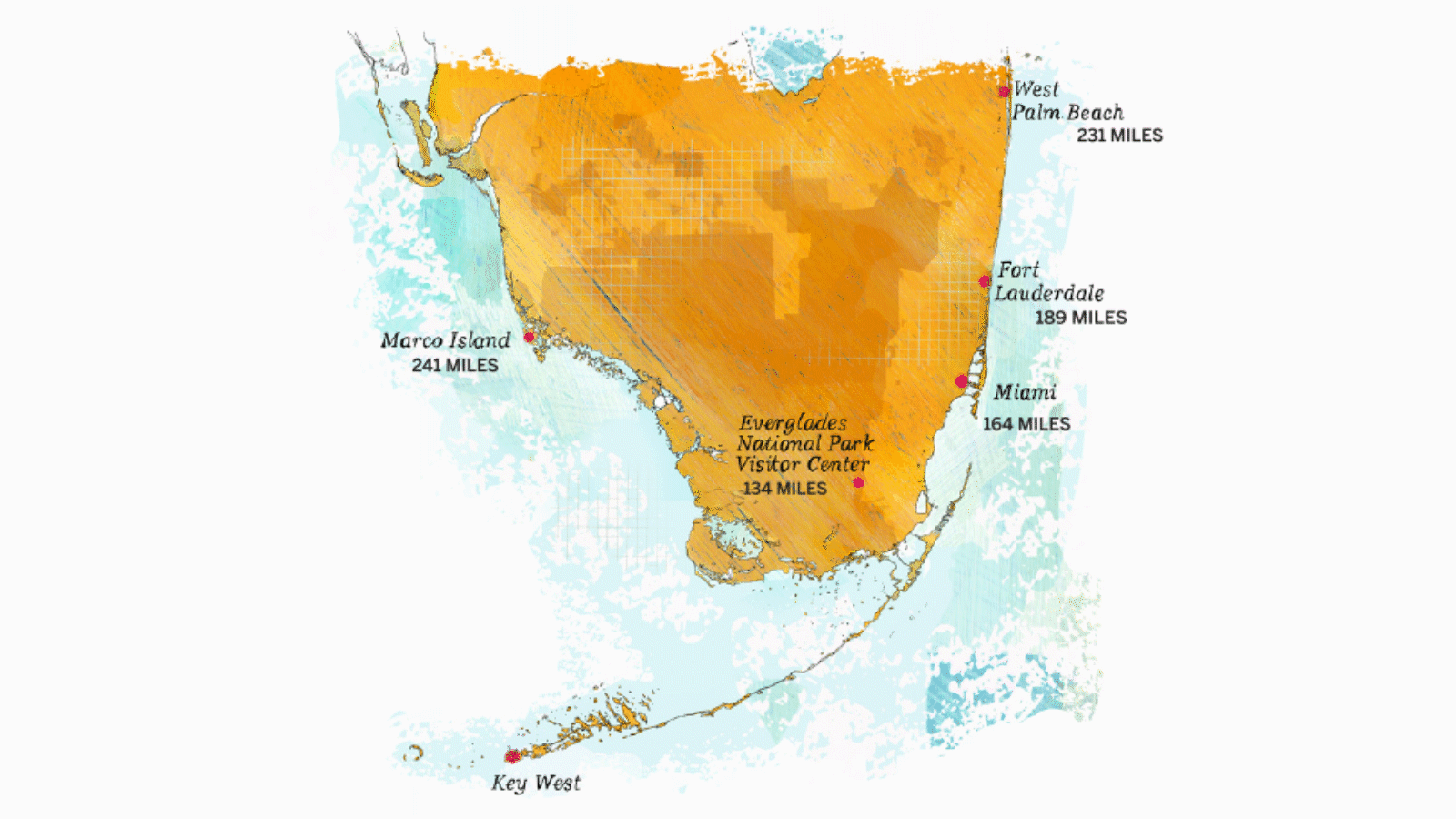 WHERE CAN YOU GO?
Bolt EV's EPA-estimated range of 259 miles† allows for easy runs to Key West from many South Florida destinations, including West Palm Beach and Marco Island.
You'll find two EV chargers outside city hall, plus others at hotels, resorts, and bed-and-breakfast locations across the island. It's a testament to the growing national interest in EVs that even this relatively remote, relatively small island city is ready for drivers to plug in.
"In the last 10 years, the city of Key West has seen a rise in the demand and interest in electric cars," says John Wilkins, the city parking director. As a result, he says both government and private buildings across the island have been adding electric vehicle chargers. "Nowadays, I think that people are expecting to find one at the airport, at the resort, even at the shopping center," he adds.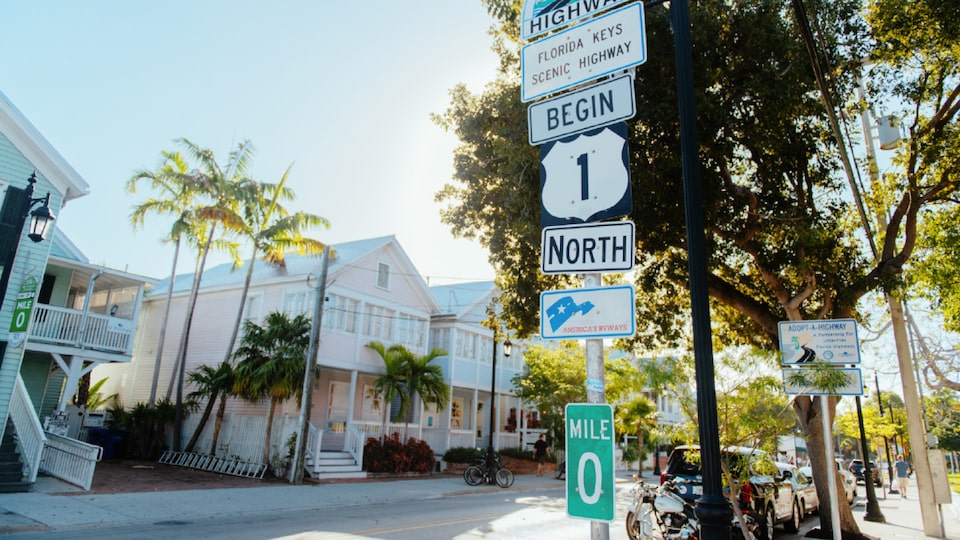 INSIDER KNOWLEDGE
U.S. Highway 1 starts in downtown Key West (look for the "Mile 0" marker at Whitehead and Fleming streets), crosses the bridges to mainland Florida, and runs a total of more than 2,300 miles north to the Canadian border.

History Meets Electricity
Our home base for a weekend of Key West exploration is The Mermaid & The Alligator, a bed-and-breakfast in Old Town. Built in 1904, the mansion became a B&B in 1985 and continues to delight visitors with its elegantly decorated rooms, gorgeous garden, and, of course, lemonade and cookies every afternoon. Better still, it's just a short walk from some of the island's best tourist spots.
Despite its history and classical flourishes, there's no need to sacrifice modernity when staying here, thanks to the electric vehicle charger installed by The Mermaid & The Alligator's previous owner. The charging station is used by guests about once a month, says current manager Maura Gannon, and it allows a Bolt EV driver to start the next day's adventures with a fully charged battery.

A HOUSE WITH HISTORY
The Mermaid & The Alligator is named for a statue of a mermaid kissing an alligator that was purchased by the B&B's previous owners and can still be seen next to the pool. The mansion was initially closer to the street, but was blown off its foundation to its current location (and subsequently restored) during a 1909 hurricane.
Open Waters
It's only a short drive to the starting point of the first of those adventures, as we head to the Key West Historic Seaport. From there, dedicate a few hours to a boat tour farther out from the coast to discover hidden coral reefs. Their visual beauty unleashed only to snorkelers who gaze beneath the bright blue waves, Florida's reefs contain over 50 species of coral. The barrier reef tract starts as far north as Miami, wraps around the Keys, and extends all the way to the Dry Tortugas, almost 70 miles west of Key West. Fortunately for divers and snorkelers alike, the waters are usually warm, owing to the island's latitude just 24 degrees north of the equator.
Even if a boat trip doesn't fit into your schedule, there are ample places to unwind on dry land. Key West has beautiful beaches of its own, but with the Bolt EV at your disposal, it's simple to find a quieter, more untouched spot in nature. Head back up U.S. Highway 1 and pull in at almost any of the Keys to find parks, lakes, or waterfront vistas. Whether you're picnicking, snorkeling, or just taking a dip to cool off from the heavy humidity, they're idyllic and tranquil spots. Stay for a dramatic sunset before getting back on the road to return to town for the night.
INSIDER KNOWLEDGE
The "Conch Republic" moniker (it's pronounced "conk") started in 1982 when the mayor of Key West declared a mock secession from the United States to bring attention to the economic hardship caused by a U.S. Border Control roadblock set up between the mainland and the Keys. It worked, and the nickname stuck.

Cuban-Tinged Cuisine
No trip to Key West is complete without sampling the island's Cuban-influenced fare, whether it's Cubano sandwiches, roast pork, paella, or any number of other dishes.
For a morning pick-me-up, we're starting at local landmark Cuban Coffee Queen, which has three locations on the island. The original cafe, near the Historic Seaport, is a popular place to grab a bite to go. As the name suggests, it's known for Cuban-inspired café con leche and cortado espresso drinks, as well as smoothies, all-day breakfast options, and an assortment of Cuban-inspired sandwiches.
40,000 Ways to Recharge
The Energy Assist feature within the myChevrolet mobile app† makes traveling with Bolt EV even easier. And now, the app has been updated with more ways to assist drivers on their next all-electric journey.

The Mysteries of the Ocean
As might be expected of a city surrounded on all sides by water, there's no shortage of places to learn more about aquatic wildlife, naval history, and more. While you're waiting on your order at Cuban Coffee Queen, wander next door to Mac's Sea Garden to browse for souvenirs. Dating back to the early 1900s, the store offers everything from kitschy memorabilia to genuine sponges, as well as conch, whelk, and cowrie shells.
For a deeper dive into history, check out the Mel Fisher Maritime Museum. It's part treasure museum, with collections of treasures recovered from two Spanish galleons—the Nuestra Señora de Atocha and the Santa Margarita—that were shipwrecked off the coast of Key West. But the museum also has historical exhibits, marine archeological artifacts, and a ship from the 1700s called the Henrietta Marie, as well as replica artifacts for sale in the well-stocked gift shop.
In other words, it's a great stopping point for parents looking to inject some educational value into a family trip. "People come here to ogle the gold and the silver and the emeralds. But when they leave here they've learned more than they realized," says museum CEO Melissa Kendrick.
Back to the Mainland
When it's time to return home from a Key West weekend, the 2020 Bolt EV can easily make the journey back up to mainland Florida; a fully charged Bolt EV has enough driving range† to get back to Miami or Fort Lauderdale without stopping to recharge. And if your destination is farther afield? There are a handful of other charging opportunities before you leave the Florida Keys.
With a long battery range, and ever more charging stations popping up across the country, vacations with Chevrolet Bolt EV are simpler and more appealing than ever—and destinations like Key West are more accessible than ever.
Has the freedom of an electric car allowed you to take a new road trip with Bolt EV? If so, share your EV experiences with Chevrolet for a chance to have your story shared with other owners, and to help encourage other drivers to make the switch to electric. Simply visit ChevroletElectricOwners.com to get started.
STORY: JAKE HOLMES / PHOTOGRAPHY: MYLES MCGUINNESS / ILLUSTRATION: TINA ZELLMER