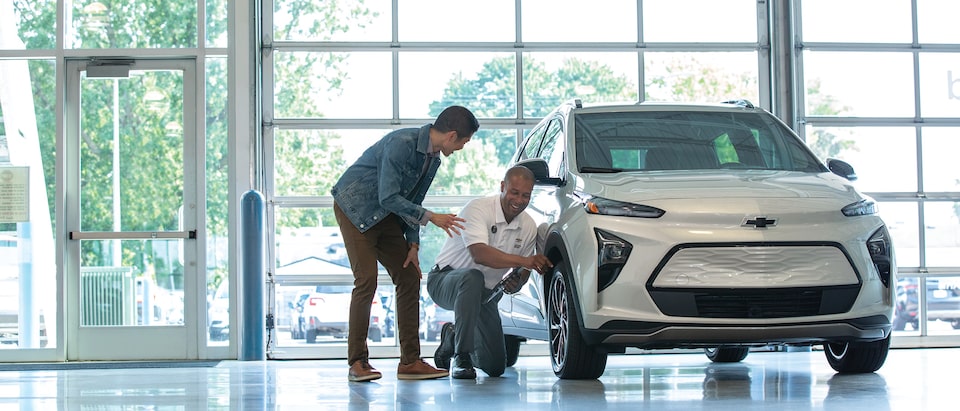 2023-03-29 | New Roads Magazine
New Electric Vehicles Are Coming from Chevy. EV Dealers Are Ready. 
• Participating EV dealers are undergoing training so they'll be able to answer customers' questions and guide them to the right vehicle choice for them.
• Through the Dealer Community Charging Program, GM will work with dealers to help expand charging access in their communities.

Even in times of change, there are things you can count on. For decades, the first, best source of information about new Chevrolets has been your local Chevy dealer. And with a full lineup of new electric vehicles arriving by the end of the year, your local Chevy EV dealer will be ready to help anyone who's interested in navigating the move to an EV.

"Participating Chevrolet dealers are taking the right steps to modernize and support a more rapid acceleration to electric vehicles," says Nate Giannettino, Chevrolet's manager of EV Readiness. "Over the next year, Chevrolet EV dealers are making substantial investments to modernize their facilities."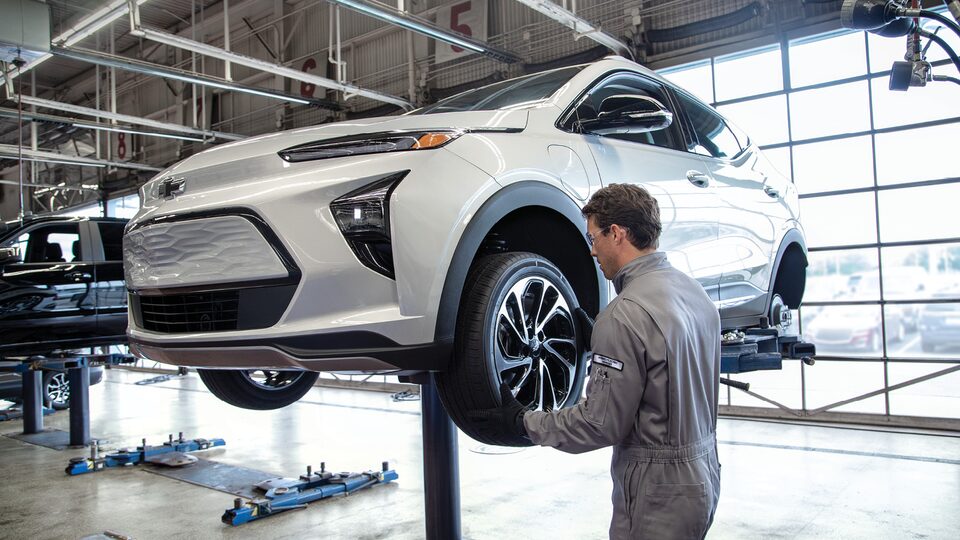 EV-specific training
"For generations, people have grown up talking about horsepower, miles per gallon," says Logan Page, a Chevrolet dealer operator in Utah. EVs are introducing a new lexicon, and with so many more people considering electric vehicles, dealers are anticipating a broader range of questions from people arriving at dealerships. That means salespeople need to be prepared.

Quarterly training, a requirement for any Chevy salesperson selling electric vehicles, is equipping them with the knowledge they need to answer customers' questions, whether those questions are about technology, infrastructure, or battery range.
EV-specific tools
Through the Dealer Community Charging Program, GM is working with dealers to expand access to charging stations, including in underserved rural and urban communities. Ultimately, the goal is to add up to 40,000 public Level 2 chargers across the U.S. and Canada as part of the program.

EV dealers are also making upgrades to their service departments, including additional training for the service employees and adding hoists and forklifts capable of transporting components for electric vehicles.
---
OVER THE NEXT YEAR, CHEVROLET EV DEALERS ARE MAKING SUBSTANTIAL INVESTMENTS TO MODERNIZE THEIR FACILITIES.
---
— NATE GIANNETTINO
---
Owner-specific approach
Both Giannettino and Page say that one of the most common misconceptions prospective EV buyers have is about range. Some don't realize how much range EVs can have today. Others think they need more range for their daily lives than they really do. Addressing those concerns means understanding the buyer and their needs, same as it's always been.

"That's a lot of our initial interview with guests when they come through the doors: Finding out what they're using their vehicle for and making sure we're acting as a real-life consultant and a professional, and not just an order-taker or just selling them what we have," Page says. "We're explaining the benefits based on what they're telling us they need and what product seems to fit that mold."

And that's a service that hasn't changed, isn't changing, and won't ever change.