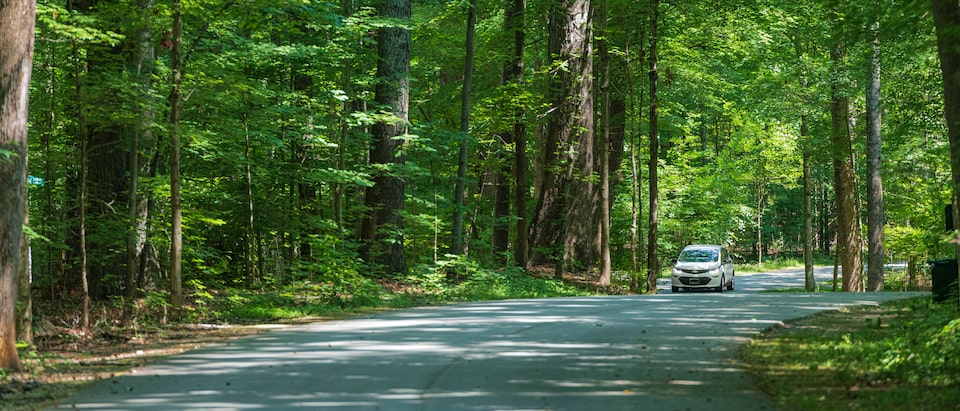 ---
2019-10-8 | Chevy New Roads Magazine

Evolving Traditions

Holly Goddard Jones grew up taking road trips in the family Chevrolet. Now she's carrying on the tradition with a new generation of kids and a new generation of vehicle.

My first road trip was with my parents and big brother, journeying in Dad's dark green 1970 Chevrolet Nova from our hometown in southern Kentucky to the Great Smoky Mountains. We weren't really the vacationing sort of family; Dad's work schedule at the factory was tight, and money was even tighter. Movies of the time had taught me that the great American family road trip happened in a station wagon and culminated thousands of miles later at a theme park, but our adventures were closer to home, and we made our own fun.
We relied on the pleasures of a national park, bypassing Gatlinburg and its colorful tourist traps for hiking trails, touring Mountain Farm Museum, and eating our packed ham sandwiches and potato chips at roadside picnic tables tattooed with the initials of teenagers. The Smokies were only four and a half hours from home, but they changed my sense of scale. And Dad's Nova was what transported me to that broadened worldview.
In 2017, when my own children were 6 months old and 3, my husband and I decided we'd go on a family road trip from our home in Greensboro, North Carolina, to mid-coast Maine—about 1,000 miles each way. But we'd execute this old-fashioned scheme in a decidedly new-fashioned way: We'd take our newly purchased, all-electric Chevrolet Bolt EV. Why? Well, a road trip is always an adventure, and we were adamant that parenting should not put an end to adventures. But we also wanted to show our children the kinds of experiences that enriched our own upbringings—even if in a completely different kind of vehicle.
What we couldn't have guessed is this: Electric travel, at least in a car with the range† and spaciousness of the Bolt EV, is actually a great way to cover distances with young children. Ideal, even. Giving ourselves three full travel days, we started our journey northeast in late June, cutting over to Virginia Beach and following the scenic coastline. That's a great corridor for EV traveling with plenty of DC Fast Charging options, and the stops were a good time for us to get the kids out of their car seats, eat a meal, and show them (even the 6-month-old) new things.
We inhaled the briny sea breeze off a pier in Delaware. We woke up our napping son so he could see the New York City skyline and the iconic buildings and bridges he had known at this point only from picture books. We made pit stops at the NASA Goddard Visitor Center in Maryland and the USS Albacore—a decommissioned submarine in New Hampshire—and we ate lots of fried seafood at picnic tables, enjoying June breezes that were a luscious relief from the Carolina heat and humidity.
This trip, too, ended at a national park. It turns out that I'm not done having experiences that change my sense of scale, even as a grown-up. This time, from the rocky summit of Cadillac Mountain in Acadia National Park, I measured my beloved little ones against the wide, wonderful natural world, all of us taking in the startling panorama of blue water below.
Our EV road trips have become a tradition, and this year we'll embark on our third, ending in rural Quebec. We like how journeying in our Bolt EV forces us to hit pause—to experience our children, our country, and the wonders of our planet. And we love that we've managed to prove that the great American road trip still has its place in a more sustainable future.
STORY: HOLLY GODDARD JONES / PHOTOGRAPHY: CHRIS STRALEY