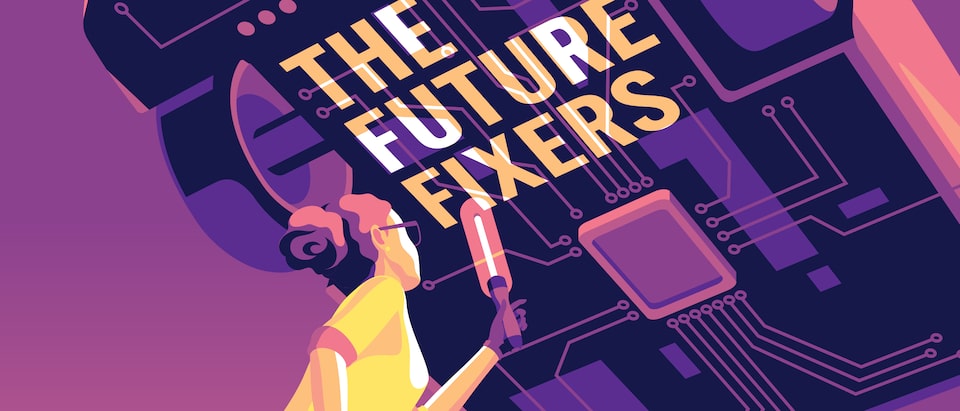 2022-08-30 | New Roads Magazine
The Future Fixers
Electric cars will change what technicians do — but other tech has already radically altered what it means to repair your Chevy.
In 2025, one in five cars sold in the U.S. will likely run on electricity. And by 2030, it's possible that more than half of all passenger cars sold will be some type of EV, according to a 2021 study. All those electric vehicles are several steps up from simple machines in terms of technology. And they happen to also be festooned with cameras and sensors. Those maintaining this shiny new fleet will need to be high-tech mechanics with specialized training.
Here's the thing, though: That future has already arrived. Because whether they are EVs or not, most vehicles sold today have cameras and even radar sensors that enable advanced active safety features† that are offered, such as Automatic Emergency Braking† in certain traffic situations. All that tech wizardry? It runs on software, not dinosaur juice.
There are approximately 290 million vehicles on the road in the U.S. today, but to keep them all running, the country will need around 70,000 new auto technicians each year — and they will all need to be trained to work on both gas-powered cars and EVs, says Mike Coley, president of the ASE Education Foundation, a nonprofit that accredits programs that educate current and future technicians.
Here's how vehicles of 2022 and beyond may be approached by trained technicians.
---
WE HAVE TO REVERSE-ENGINEER AN ISSUE, AND UNDERSTAND BOTH HOW THE CAR WAS BUILT AND HOW TO REPAIR IT.
Diagnostics Go Digital
Tonia Haney learned to work on cars before her 16th birthday. Her grandfather ran the only repair shop in her hometown. "It's 450 people and 500 dogs," she says of her rural birthplace. Her grandpa told Haney and her two brothers that he would buy them Chevys — but there was a catch. "They had blown motors, and he said if you want the car, you have to help me rebuild the motor," she says.
Her brothers took zero interest, so Haney rebuilt all three engines. Decades later, she's a professor and head of the automotive technology department at Clark College in Vancouver, Washington. There, she has designed a curriculum focused on diagnostics, without losing sight of mechanical skills.
"We're seeing a wave of retirements," among vehicle technicians, says Haney, in part because EV mechanics need more knowledge than mechanics in the past. "We have to be able to reverse-engineer an issue, and understand both how the car was built and how to repair it."
That's an opportunity for techs who are comfortable with high-voltage work. But there's a low-voltage side, too. Low-voltage systems power the software controls that connect EV high-power battery systems to motors that move it down the road.
Eric Kenar is the manager in charge of General Motors' Service Technical Training center, and he couldn't agree more with Haney: "The vehicles have upwards of 70 computers on them. So a student has to understand the networks and how they talk to each other." Especially when it comes to electricity, this is a different job than a conventional repair. "We have codes that help them out," Kenar says, and a technician would read these on a laptop. "But once we flag a code, they need to understand, 'OK, how do these modules work together; what am I looking at?'"
Kenar's role, in part, is to connect the dots between American high schools that teach GM's Automotive Service Education Program (ASEP) and a network of dealers and community colleges nationwide. GM now lets high schools in on the ground level with its diagnostics technology, so students can not only learn how to change oil, but understand the computational pathways that run a car.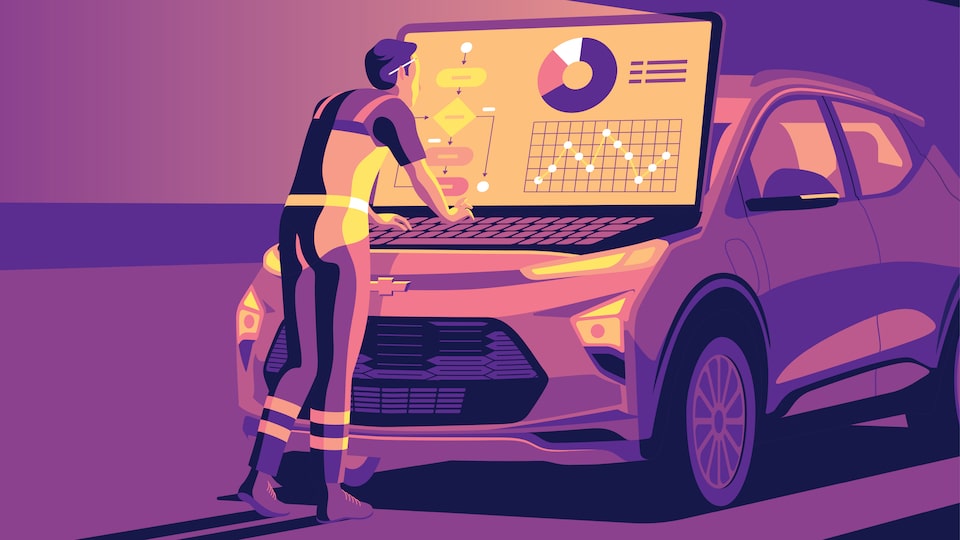 It's Not Just About the Parts
Haney's students are on the front lines of this new way of thinking. She says the old way of "just knowing what part to put where" won't apply to EVs. As Kenar points out, EV issues are often about how computers and battery networks converse and if that conversation is coming through in less-than-perfect fashion. That could be caused by a voltage leak, or it could be that a single cell in a multicell battery has gone bad. Changing that cell is far more cost effective than swapping an entire battery. Figuring out what's wrong and why is the challenge.
To teach her students, Haney will create a bad ground wire, causing an EV to disable itself. From there she has her students play detective: "What does the data tell me? Does it tell me it's XYZ, you know, a component? A cell? A voltage leak?"
Going beyond learning just how EVs work, her students learn to follow the scientific method. "I want them to use what we learn about how the cars operate, and then develop a theory, identify what test is going to prove or disprove that theory, and then analyze the test and move on to the next test," Haney says.
Safety First
Justin Morgan, chair of Automotive Technology at Sinclair Community College in Dayton, Ohio, says that, like Tonia Haney, his job is really about training students to understand the relationship between the digital and physical worlds. As an example, he cites cameras that can become askew due to a collision, a rock chip on the windshield, or even just driving through a pothole.
In the wake of such a mishap, you might need new parts, but someone has to code those parts so they recognize each other and are recognized by your vehicle's computers so that all communication channels are open. "The modules can self-diagnose to a certain extent, but there still needs to be someone to verify what the system is saying," Morgan explains.
---
THE MODULES CAN SELF-DIAGNOSE TO A CERTAIN EXTENT, BUT THERE STILL NEEDS TO BE SOMEONE TO VERIFY WHAT THE SYSTEM IS SAYING.
Tony Nalley, a GM service technician near St. Louis, agrees with Morgan when he says that it's the small sensors and cameras available on modern cars that are especially sensitive. Nalley says he might spend all day on his laptop with cars that have been in fender benders, retraining the short- and long-range radar sensors because a body shop will frequently misidentify the components. "The part number's identical, but they're side-specific," he says. Put the left one in on the right, and your vehicle's safety features won't operate. A big part of Nalley's workload is just troubleshooting the tech and constantly retraining on how the newest devices work.
There are ways EVs might save customers time and money. "They're going to get information about their cars via over-the-air updates," says Haney, allowing for easy software fixes. Your mechanic may even wirelessly receive some diagnostic information in advance of your visit. That will help make sure your Chevy dealer has the right parts in before you arrive.
Jobs That Evolve and Grow
Haney, Morgan, and Nalley all stressed one key factor for future mechanics: It's a growth industry. GM's Kenar tells the story of one GM dealer trying to correct a high school counselor about the nature of the work, and how "it's no longer this low-wage gig. These are high-tech, well-paying jobs," Kenar says.
Students at Morgan's Sinclair Community College are graduating from certificate programs debt-free, with their education paid for by a GM dealership in Ohio that needs that labor force immediately.
Even beyond the money, Nalley's sales pitch is probably the strongest of all. "You know, a carpenter brings a hammer and a tape measure to work, and 10 feet is still 10 feet, just like it was 100 years ago," he says. "For cars it's constantly changing. I get to be a computer programmer, HVAC technician, an electrical engineer, a plumber, pipe fitter, a welder — and a detective. You're just never going to be bored."
STORY: MICHAEL FRANK / ILLUSTRATION: JACK DALY