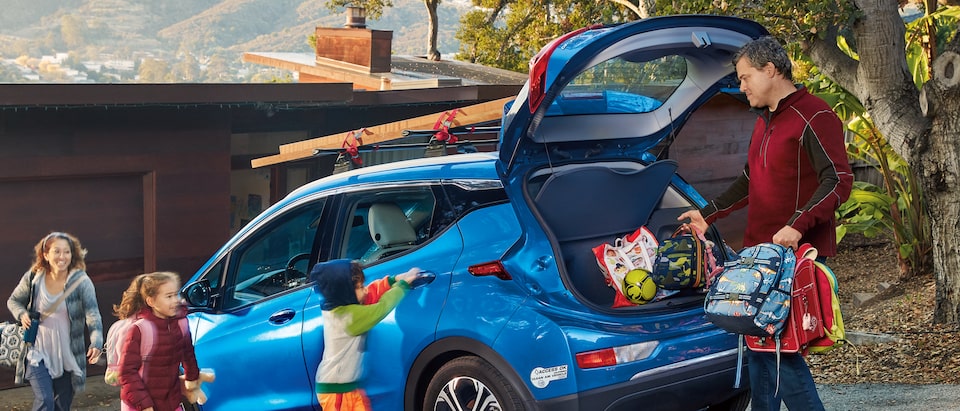 ---
2018-3-1 | Chevy New Roads Magazine

Love Before First Sight
The doctrine of Ethan

What follows is the true tale of a restless wanderer named Ethan Stock, who left the family farm in Ohio to travel the world, find adventure, and drive fast cars. Deep down, however, his heart yearned for a deeper connection, one built on attraction, trust, and true compatibility. Stock held out hope that someday, somewhere, someone would make the perfect ... car.
A lifelong automotive enthusiast and tech industry veteran, Stock knows what manufacturers are capable of achieving. He tore through an impressive cadre of cars in his 20s and 30s. And, having grown up on a farm, he knows all about things that move. From tractors and trucks to motorcycles and sports cars, if it has wheels and an engine, he's driven it—and fast.
"When I was around 12 years old, I would drive the tractor into town if I needed to get a part from the hardware store," he says. "In high school, during study hall, I'd grab issues of car magazines from the library and just sit there and read them cover to cover."
Fast-forward to January 2016: Stock is in his 40s, happily married with two kids, successful in his career (in Silicon Valley). He is pretty darn content, despite one nagging question: Where is this ideal vehicle he's been waiting for all his life?
Sure, 80 percent of the driving he does is commuting—a far cry from his younger days whipping around country roads in England on high-performance motorcycles—but Stock dreamed of a car that could make the most of his daily 50-mile round-trip to San Francisco and still indulge his weekend family getaways. He was looking for something that suited his dynamic lifestyle while recognizing—and gratifying—his passion for being behind the wheel.
"We like to drive out to the beach at Half Moon Bay, go camping up in the hills, and take trips up to Mendocino, to wine country, or to Lake Tahoe," he says. "We get out into nature and onto those beautiful, twisty, smaller coastal roads or mountain roads."
At first, Stock was looking into crossover sport utility vehicles. After all, he stays busy with an endless list of home improvement projects: "Woodworking, landscaping, stuff like that," he says. "Having a roof rack that can carry lumber is super convenient."
We get out into nature and onto those beautiful, twisty, smaller coastal roads or mountains roads.

However, the vehicles he looked at didn't check all his boxes. Stock was craving tight handling and responsive acceleration, as well as spaciousness, versatility, and good design. "But I felt like I was always forced to trade one attribute for another," he says.
His patience paid off. In January 2016, the Chevrolet Bolt EV was unveiled at the Consumer Electronics Show in Las Vegas. Stock started hearing rumblings that sounded too good to be true: Chevy was producing an electric vehicle that could merge like a boss on the highway and lug lumber from the hardware store back home without relinquishing speed. Plus, it actually looked good.
"So many cars now are going to crazy extremes to make these things look like science fiction," he says. "But the Bolt EV has an inherently lovely shape. Chevy emphasized it with some subtle touches but, from a design perspective, they're not just slapping some weird plastic flourishes on it."
Stock—who is sure to let you know that environmentalism isn't always his top priority—started voraciously researching the company's new all-electric vehicle.
He was fascinated by the potential of an electric car that satisfied his urge for speed (0 to 60 in a spirited 6.5 seconds†) while its cabin space and 238-mile range† promised the room and rigor to take his family up the mountain roads of northern California for weekend ski trips.
"I read every piece of information that existed about this car," he says. "I had ridden in friends' electric vehicles and I knew there were some interesting upsides to them, but they all seemed to come with their own set of sacrifices, whether that be room, utility, or handling. From everything I read, I really thought the Bolt EV could be something special by solving all those trade-offs. Eventually, I became convinced that I needed to just go for it.
"I'd never even laid eyes on one in the flesh," he adds. "I called a friend who owns a Chevy dealership in Southern California who said he could order me one, and we did the paperwork remotely."
First enamored by sheer numbers—acceleration and battery range—Ethan Stock was completely sold on the Bolt EV because of its design. He says that "it's obviously a car built with care."

In December of 2016—just about a year after the world was introduced to the Bolt EV—Stock purchased one of the very first Bolt EVs produced. He may have taken a gamble buying a vehicle he had never seen, but he's so glad he did.
"I think we're going to see a revolution in automotive design as the full potential of the electric vehicle is realized," says Stock. "I'm really excited about that, and I'm proud as an American that Chevy is leading the way."
Stock is no stranger to tech trends, but he doesn't consider himself a so-called early adopter. Going all-in on the Bolt EV so early was a decision born out of sheer necessity ("My wife's old college car was our commuter slug, and that thing was on its last leg") as well as brand confidence.
"One of the things I love about the Bolt EV is that it's built well, and with great care," he says. "Not only does it have off-the-line acceleration, but it has freeway merging acceleration and handles pretty darn well for what it's meant to be in the automotive universe. I really enjoy it."
Enjoy might be too light a word. After tacking on the first 10,000 miles, Stock's adoration for Bolt EV was cemented and uncontainable. He'd shout its praises from the rafters. Or, the contemporary equivalent: He'd passionately blog about it.

And in the months since that blog was written, his appreciation for the car's versatility—and velocity—has only grown.

Some people say you can't get everything you want. Well, those people settle for good. Stock was holding out for greatness. "I wanted a car that could handle well, had acceleration, good interior room, and was at least ecologically minded," he says.

See, true love waits. Stock can't get enough of his Bolt EV. There's just one problem: Neither can his wife. Over the course of the last year, the Stock household has faced an essential—and somewhat emotional—conversation.

"We both love this car so much," Stock says. "We can't ever agree on who gets to drive it. So we're going to buy another one."

Ethan Stock on 4 things the Chevy Bolt is NOT

The Chevy Bolt EV is NOT a gutless eco-box: The most magical experiences are when you feel like you're telepathically connected to the vehicle. A really good car—it just goes. At any speed, it should say, "Yes, I have more." The worst feeling is when a car can't give you more, and it just feels like it's ignoring you because it doesn't have that capacity.
The Chevy Bolt EV does NOT handle like it's full of bricks: I grew up on a farm, so I've driven a lot of heavily loaded vehicles. It's pretty embarrassing with some of those other four-seat passenger cars that weigh about 3,000 pounds but feel just as bad as some of those industrial work vehicles.
The Chevy Bolt EV is NOT planet first, driver second: It's planet first, driver first. People can like to drive and care about the planet. I love the fact that the Chevy Bolt EV is the most ecological car it could be, but it's fun. It has verve and heart!
The Chevy Bolt EV is NOT a compromise: The reason I bought this car, sight unseen, is that I was trying to solve a real, multidimensional transportation problem for my family. Yes, I do care about the planet. But does it have a roof rack? It comfortably fits my wife and kids. But does it handle well? The list goes on. The answer was an enthusiastic "yes" to each question that I really cared about.
STORY: TRAVIS WRIGHT/PHOTOGRAPHY: JOSEPH PUHY