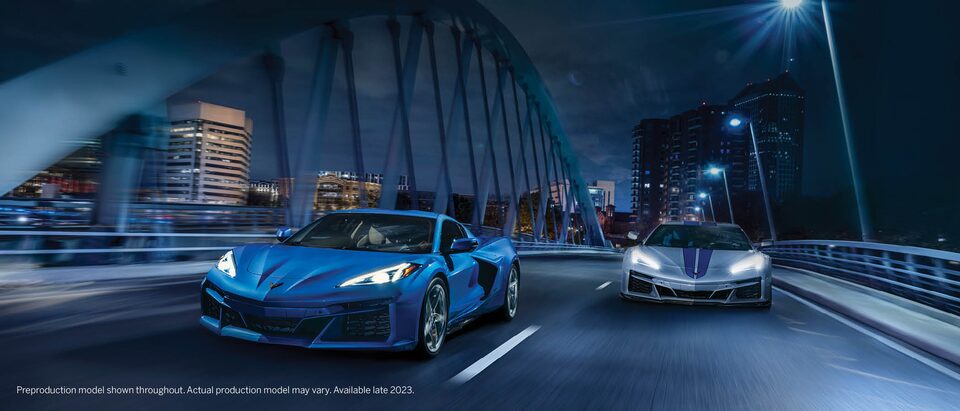 2023-03-14 | New Roads Magazine
An All-Everything Sports Car Arrives

Introducing: the all-new 2024 Corvette E‑Ray
An All-Everything Sports Car Arrives

Introducing: the all-new 2024
Corvette E-Ray
• On the 70th anniversary of the first Corvette reveal, Chevrolet unveiled the 2024 Corvette E-Ray, the first Corvette with all-wheel drive and the first Corvette with an electrified powertrain.
• Thanks to a 495-horsepower small-block V8 driving power to the rear wheels and an electric motor routing 160 horsepower through the front wheels, the E-Ray touts a combined 655 horsepower† and can reach 60 mph in 2.5 seconds.†
• The 2024 Corvette E-Ray will arrive at dealerships later this year.
On January 17, 1953, at General Motors' Motorama in New York City, Chevrolet revealed the future of the American sports car. And for 70 years, every generation of the Corvette put performance to pavement by sending internal combustion power exclusively through its rear tires. On January 17, 2023, Chevrolet unwrapped new possibilities with the all-new 2024 Corvette E-Ray.

"In the past, if you wanted something above the Stingray, we just had more high-performance track-oriented cars," says Harlan Charles, Corvette product marketing manager. "Now we have a different direction for people to go. You get more sophistication, more technology."

The E-Ray features two Corvette firsts: an electrified powertrain and all-wheel drive. The legendary small-block V8 with 495 horsepower sends power to the rear wheels, and a self-charging electric motor with 160 horsepower spins the front tires.

The result is 655 combined horsepower† and the quickest, most versatile Corvette ever. The 0-to-60 time is 2.5 seconds† — less than a quarter of the time it took for the Corvette to reach 60 mph when it debuted in 1953.
"Our priority was keeping that Corvette character and making it known that this is still a Corvette; it can just do a lot more than you're used to out of a Corvette," says Stefan Frick, an energy integration engineer at General Motors. "As the driver asks for more torque, we ask for more out of the engine and more out of the electric motor, so the two come up together. But you always keep that character, that naturally aspirated response."

The Corvette's engineers coupled the e-AWD powertrain on the E-Ray to standard Magnetic Selective Ride Control™ for all-season capabilities. And the all-wheel drive system is complemented by wide all-season tires exclusive to the E-Ray and standard carbon ceramic brakes.

"The days of putting your Corvette away for the winter, maybe that's over," Charles says. "You don't have to shed a tear anymore; you can enjoy it all the time."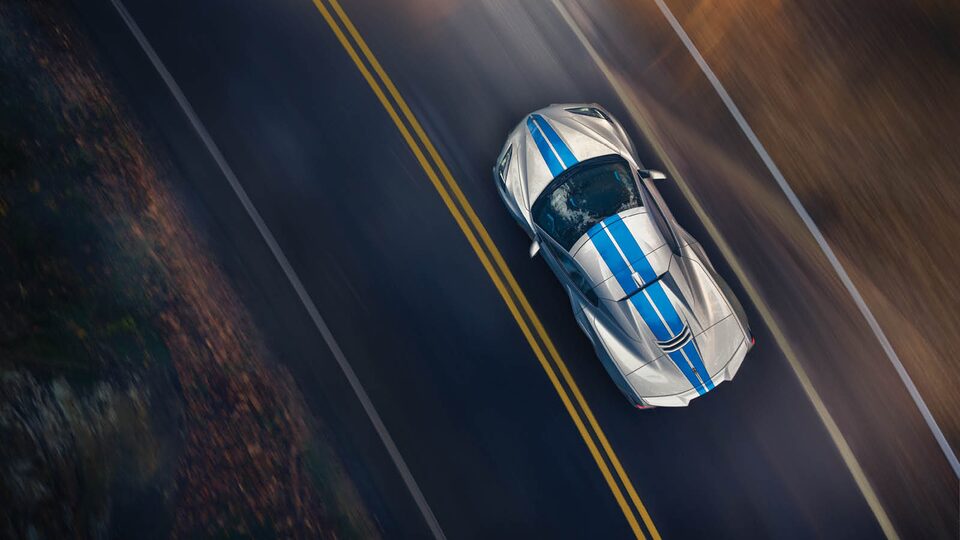 THE DAYS OF PUTTING YOUR CORVETTE AWAY FOR THE WINTER, MAYBE THAT'S OVER. YOU DON'T HAVE TO SHED A TEAR ANYMORE; YOU CAN ENJOY IT ALL THE TIME.
— HARLAN CHARLES
A 1.9-kWh lithium-ion battery powers the electric drive unit that turns the front wheels of the E-Ray. With this all-new system for the Corvette, there is no plug and no need to charge the E-Ray; simply driving it charges the system. The electric motor fills in the torque curve, so no matter when the gas pedal is punched, you'll be pressed into the driver's seat.

In Stealth Mode, the electric motor has enough capacity to power the front wheels of the Corvette without help from the V8 for short distances, up to 45 mph. That means no more waking up the neighbors with that rumbling V8 as you head out of your driveway.

While those neighbors may not be able to hear the E-Ray, they will recognize it. The car takes the width and shape of the Corvette Z06 and enhances it with neutral accents, while also adding a unique wheel design and its own badging. Corner exhaust exits punctuate the rear. Get a look at it for yourself when the E-Ray arrives at dealerships later this year.

"To me, and a lot of the team, this is the next step in the Corvette lineage," Frick says. "You look over 70 years, it's always been about pushing the envelope."