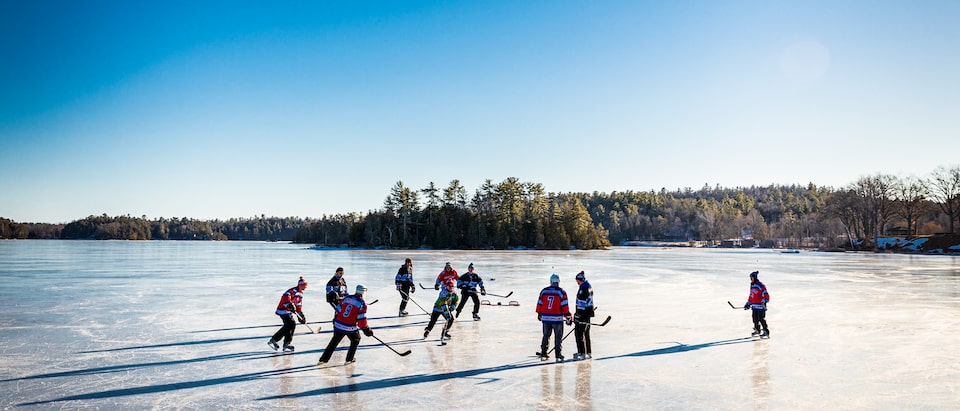 ---
2019-10-8 | Chevy New Roads Magazine

Playing the Pond

With little more needed than sticks, a puck, and a frozen body of water, pond hockey is refreshing, nostalgic, and fun at every age.

They say this is the way hockey was meant to be played: outdoors, surrounded by nature, in all kinds of weather—the colder and snowier, the better—with the sounds of blades ksssh-kssshing on ice and the clack of pucks passing stick-to-stick in the frosty air.
In early winter across much of the Northeast and Upper Midwest, you'll find people checking ice conditions on local ponds, lakes, creeks, and canals. It's a time of great anticipation, because once that ice is thick enough, folks will be lacing up skates, grabbing sticks, and taking to those frozen waters for some good old-fashioned pond hockey.
It's a sport that makes for a seriously good time. "You're outside, you're having fun. You're usually laughing, maybe falling over. People are really just out there enjoying themselves," says Steven Currie, 50, of Park City, Utah.
Currie has been playing pond hockey with the same group of guys for years. They even take an annual trip to play in pond hockey tournaments, which may range from an intimate affair to a weekend-long festival with hundreds of skaters and thousands of spectators. So far, they have competed in 10 different tourneys in seven states and Canada.
Ice hockey originated on the frozen ponds of Canada about 200 years ago, and pond hockey celebrates that heritage. "It's sort of a throwback to the original game," says Currie—and that's a big part of its appeal.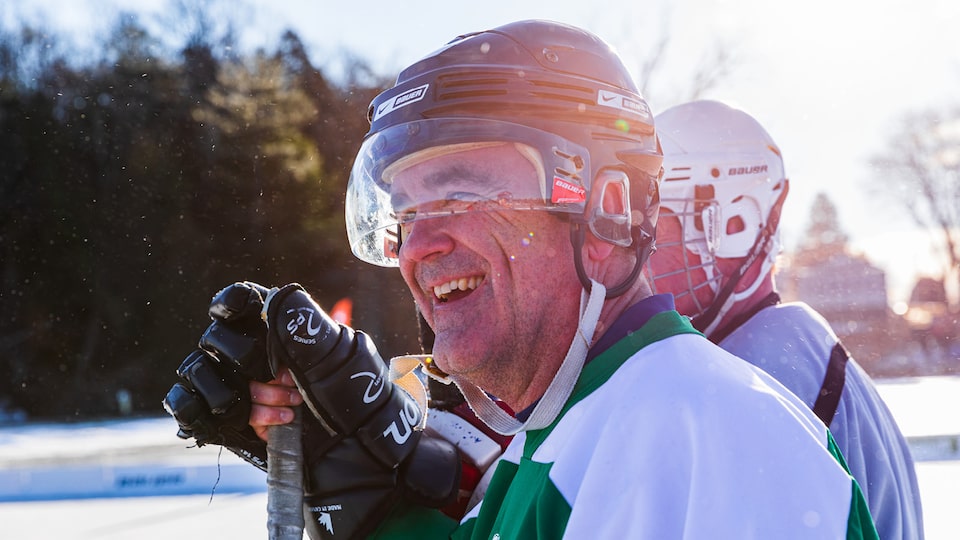 "It's just gotten bigger and bigger. Now there are ponds all over the place," says Dave Beichley, 58, of Fort Collins, Colorado. Beichley helps organize the Fort Collins Pond Hockey League, which operates much like a large pickup game: Beichley emails more than 200 skaters—whoever can play shows up.
Even the NHL has gone al fresco. This year the pros have three regular-season games outdoors: the Heritage Classic, the Winter Classic, and the Stadium Series.
Rules of the Pond

Teams are randomly drawn by throwing hockey sticks into a pile and then separating the sticks into groups. Skaters follow their sticks onto their team, Beichley explains. Games of four-on-four are played on weekends, as well as before work and during lunch. The season may run a few months or much less; it all depends on Mother Nature. "We make the most of it," Beichley says.
It's a challenge to keep the ice free of the bumps, grooves, and cracks that make skating difficult. Through much trial and error, Beichley has learned that the easiest way is to cut a hole in the ice and pump out pond water onto the playing surface. The water fills in and covers the imperfections and then freezes smooth.
I love playing hockey competitively, too. It's just a different experience. It's a nice change of pace.

Beichley has learned other tricks for keeping the pond in good skating order, including, as he puts it, "No shovel, no skate." That's because removing even an inch of snow from the ice is a big job, he says. A good snow shovel is a key piece of gear, right up there with skates and a hockey stick. Players shovel the ice before and between games, and the piles of snow and ice shavings often stand in for boards and keep the puck in play.
Pond hockey games generally are high scoring, and the rules are simple: no slap shots, no checking, no offsides, no scoring unless you're beyond half ice. Instead of playing goalies, many teams use low nets or wooden box goals with open corners. Because most players don't wear full protective gear, the emphasis is on keeping the puck low so no one gets hurt. That puts the focus on teamwork and passing the puck to one another.
"It's hockey in its purest form," says Emily Cronin, 34, who grew up playing on a pond in Massachusetts with her siblings, dad, uncle, and cousins. Cronin played collegiate hockey and now skates in an indoor league, but still loves playing pond hockey. "It's just very unstructured; you can really celebrate the sport in itself without all the rules and the refs. I think that's why I like it so much," she adds. "I love playing hockey competitively, too. It's just a different experience. It's a nice change of pace."
To give more people an opportunity to experience pond hockey, Cronin and her brother, Eric, began hosting a tournament on a lake in Vermont three years ago. Participation has since tripled to 600 skaters. Last year, 13 women's teams signed up to compete, fulfilling one of Cronin's goals for the tournament.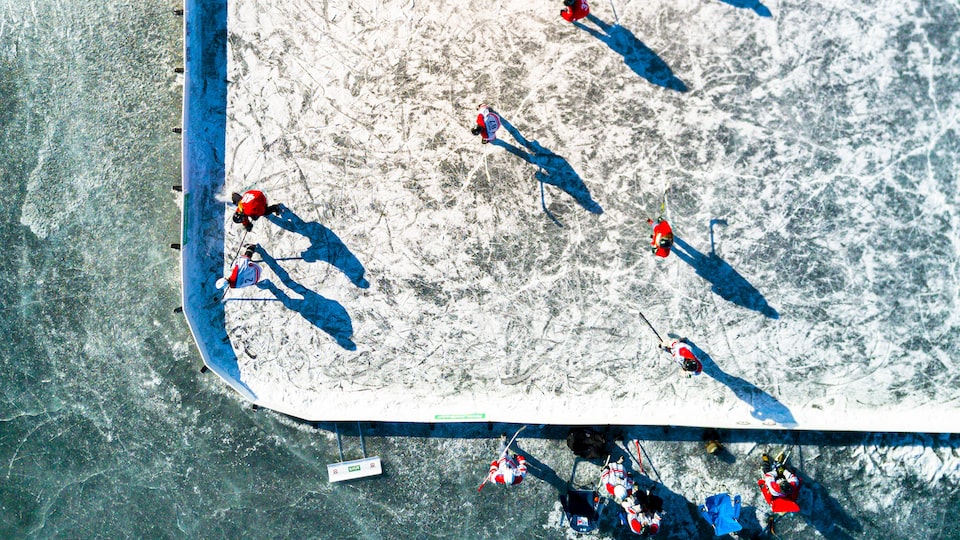 Love of Outdoor Play

When weather doesn't cooperate or a skateable body of water just doesn't exist nearby, pond hockey fans can be found playing on outdoor rinks, which often are maintained by public parks or built in people's backyards.
Currie makes an outdoor rink in Park City with friends each winter. "Most of us have kids, so there's usually some kids involved," he says of the friendly drop-in style of hockey games they enjoy.
For many of the adults, the experience conjures up the carefree days of youth. "There's something about playing outdoors that makes you feel like a kid again. It takes you back to playing till it's too dark to see or till your mom calls you in for dinner," says Currie, who grew up playing outdoor hockey as a kid in Canada.
Cronin takes a similar view. "I think there's just this pure joy that you feel playing outside," she says. "It brings together people of all ages and ability levels. It's a fun activity that lots of people can do together."
The welcoming pond hockey vibe is pretty much the same everywhere you go, says Beichley. And you're never too old to give the game a try. Beichley should know: He didn't grow up playing hockey, but learned to skate when he was 30 years old on the frozen pond across the street from his office. "It was just a lot of people from work who never played hockey before, and we all started out there as tripods, trying to figure out how to skate and hold the stick and play the game," he says.
In time, more people from the business park and surrounding area came out to skate on the pond. "It became a really solid community," says Beichley of the group that eventually grew into the Fort Collins league. Today, he's thrilled to see more families skating and passing on the pond hockey tradition to their children. "I've watched kids grow up on that pond, and they're really good and, of course, I'm really jealous," he says, laughing.
STORY: ANNE NAGRO / PHOTOGRAPHY: RICHARD SCHULTZ