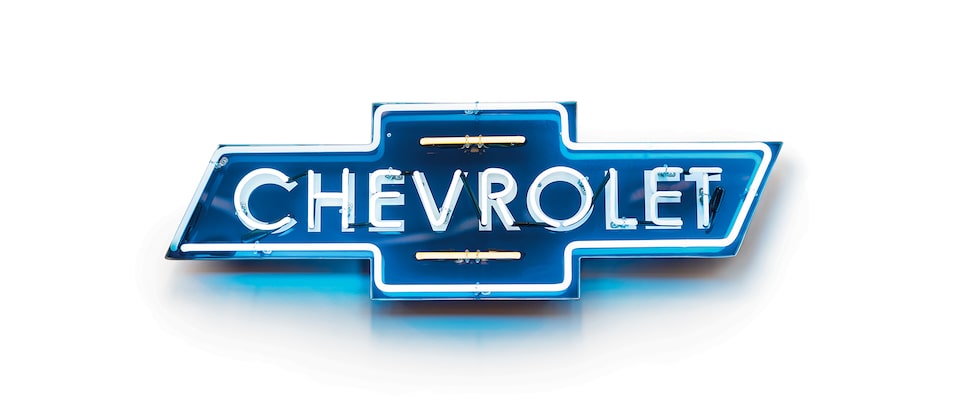 ---
2019-2-25 | Chevy New Roads Magazine

Meet the Special Collectors
Get a glimpse into some of the most expansive private car collections in the country—and the people behind them.
Across the country there are countless individuals with private collections, ranging from people with a few cherished vehicles to those who need major space to house their fleet. We talked with two collectors who have a few hundred cars each in their private collections to find out how they got started and what drives their passion.
It's not about the money, they say. Many of the cars have sentimental value; their favorites are those that were popular when they came of age. "I think a lot of us relate to different cars at different phases of our  lives," says collector Ken Lingenfelter, owner of Lingenfelter Performance Engineering in Wixom, Mich. "I'm buying cars I wish I could've had when they came out." Here, these collectors share the stories of how they got started.  
You may have heard of Ken Lingenfelter because of his successful car parts and tuning business, even if you didn't know he owns one of the most impressive car collections in all of the Midwest, which he often opens to charity functions.

Meet the Chevy Family Man

Ken Lingenfelter has Chevy in his blood. So much so that it once got him expelled from high school. His family had moved to Dearborn, Mich., from Ohio, "where everybody's family worked for Ford," he says. "I was a General Motors guy and it was hard to fit in. Someone in a Mustang challenged my 375-horsepower Camaro and I couldn't let that go." Without going into detail, Lingenfelter says he was able to prove he had the better car. It wasn't his brightest moment, Lingenfelter admits, but after that, he says, "all of the Ford guys wanted to be my friend."
Lingenfelter's dad was an auto executive and would often bring 5-year-old Ken back to the factory after stopping home for dinner. Lingenfelter, now 65, was 11 years old when he laid eyes on a split-window 1963 Corvette. His fate as a car guy was sealed.
It was the space age, and all of the astronauts had Corvettes. "It made a huge impression on me, looking through that split window into the interior," Lingenfelter says. "I think it's one of the most beautiful cars General Motors has ever built."
A split-window Corvette is still his favorite in the collection, which is made up of about 30 percent muscle cars, 30 percent exotics, and the rest Corvettes. They're stored in a 45,000-foot facility in Brighton, Mich., and he opens it about 60 times a year for charity functions. Highlights from the esoteric, exotic collection include a 2007 Bugatti Veyron, which, with a maximum speed just over 250 miles per hour, is one of the fastest street-legal production cars ever. You'll also find a Lamborghini Reventón (no. 12 of just 21 produced), and let's not overlook the 1985 Ferrari 288 GTO: Built for racing, it was the fastest Ferrari of its era.
The first car Lingenfelter bought for the collection was a '77 Corvette, one that he "had to rub two nickels together to get. I had to use it as my driver—even during Michigan winters," he says. The quirkiest is a wild-​looking silver 1979 Caballista Corvette, customized by the same mod shop that became known for its vehicles in '70s action films.
There are some cars Lingenfelter will never get rid of, but the collection is always evolving. He's constantly attending auctions, buying and selling, but he doesn't have a grand plan for it. "I don't look at it that way," he says. "It's just part of who I am and what I do. As long as I'm alive, I'll have a big car collection."
Dennis Albaugh has turned a childhood prohibition against driving convertibles (his parents wouldn't let him) into a grown-up obsession with Chevy ragtop cars. This astonishing collection of convertibles is encyclopedic, with 181 models representing every convertible the company every produced between 1912 and 1975.
Meet the Convertible Obsessive

Dennis Albaugh figured Chevy didn't make a convertible in 1939 because of the war. Having collected every drop-top the company ever built, he would know. Or so he thought.
"One day, a guy in Australia heard about me putting the collection together and said, 'I think I have something you want,'" he says. "It turned out that Chevy didn't make a convertible in the United States, but they did make one in Australia in 1939." He had it brought over in a shipping container. It took a year to refurbish. Now complete, his convertible collection begins with the year 1912 and ends with 1975, the year Chevy temporarily stopped making them.
Albaugh, who made his money selling agri-chemicals, wasn't allowed to drive open-tops when he was young, which explains his love for them now. He stores his cars in a private facility on his 19-hole golf course in Ankeny, Iowa.
The collection has grown to 181 vehicles and includes an antique gas pump, Yenko Camaros from 1967 to 1969 and 1981, a rare 427 Nova, and a GM Futurliner, a big, bus-like vehicle that traveled around the United States in the 1940s and '50s publicizing new vehicles and innovations. When TV advertising became popular, Futurliners eventually stopped traveling. There were 12 made; five are left. "That was my latest purchase—I'm very happy with that one," Albaugh says.
Albaugh drives the cars once every three years. If you're lucky, you might catch him driving one of them up and down the interstate in Iowa. He doesn't come from an auto family, and his kids aren't into cars either. "They wonder why I have all of these old cars," he says. "I'll probably put them up for auction someday. But I just have this love for Chevrolet cars."
STORY: ELIZABETH SWANSON / PHOTOGRAPHY: CLINT DAVIS