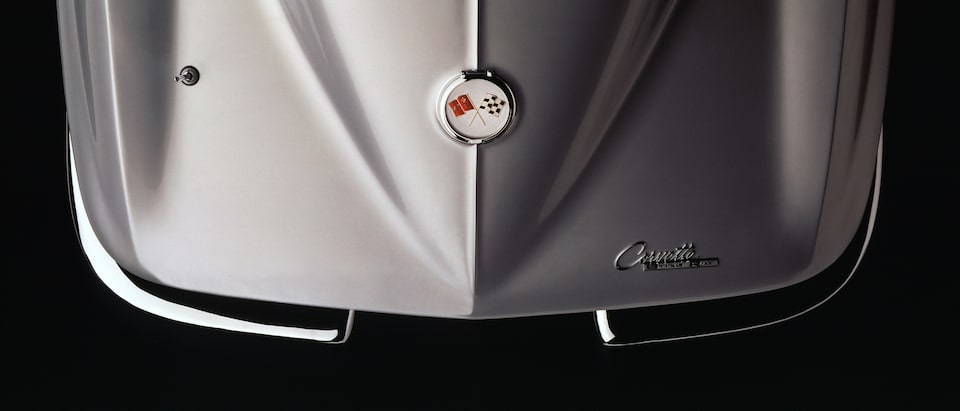 ---
2019-10-8 | Chevy New Roads Magazine
The Book of Corvette

The Chevrolet Corvette has been one of America's most revered automotive nameplates going on eight generations now. Here's the story of how we got here.

It all began at 1 p.m. on a cold Friday afternoon in 1953, when America got an eyeful of a sexy, windswept sports car at the Waldorf Astoria New York ballroom. It was called Corvette, named after a class of small, maneuverable warships. The occasion was the 1953 General Motors Motorama, a precursor to today's auto shows.
GEN 1: THE GODFATHER
Milestone: First-ever Corvette produced
A true marriage of Chevrolet Design and Engineering, the first Corvette was an inspired idea. It was crafted largely with components from the full-size Chevrolet car, including a straight-six engine, a two-speed automatic transmission, and a solid-axle rear end. Performance was at least comparable to other sports cars of its day, and its looks absolutely stopped traffic.
The crusade to help the Corvette go as fast as it looked was led by engineer Zora Arkus-Duntov, who was so moved by the sight of the Motorama Corvette that he applied for a job at GM just to work on it. One of the biggest single improvements was the addition of an optional small-block Chevy V8 in 1955. Fuel injection would be offered two years later, providing one horsepower for every cubic inch of displacement, a major milestone.
GEN 2: THE STING RAY YEARS
Milestone: Sting Ray is introduced
While Arkus-Duntov's enhancements created an increasing demand for the Corvette, it would be almost 10 years before he got the chance to engineer a car that was truly all his own. Influenced by the mid-engine machines he raced in Europe, he started sketching out engineering designs for a mid-engine Corvette as early as 1957. But a new front-engine Corvette design called the Sting Ray racer was the inside favorite. The work of Design staff's Bill Mitchell, it looked like it was going 200 mph standing still.
Indeed, it would set the mold for the new-generation Corvette, also called the Sting Ray. For the first time, the Sting Ray came in two body styles—the standard convertible and a new fastback coupe with a controversial split rear window. For Arkus-Duntov, an engineer and racer who prized functionality, the split window was a superfluous add-on, hampering rear visibility. He went to war with Mitchell over the split and lost—with Chevrolet chief engineer Ed Cole ruling in Mitchell's favor, at least for the first year.
Despite Arkus-Duntov's misgivings, the overall shape made everything around it look 20 years older. The Gen 2 Corvette was also noteworthy for its new ladder-style frame and an independent rear suspension that significantly elevated its road performance. The result was high demand: 1963 model year sales increased by 33 percent over 1962.
In 1965, Chevrolet added the first big-block to the Corvette lineup—a 396-cubic-inch, 425-horsepower engine nicknamed the Porcupine Head, based on the splayed angles of its valve stems. That same year, four-wheel disc brakes became standard equipment.
The Sting Ray racer was the inside favorite. It looked like it was going 200 mph standing still.

GEN 3: THE SHARK YEARS
Milestone: T-Tops and AM/FM radio introduced
Model year 1968 brought on a flamboyant new Corvette design, inspired by a Bill Mitchell show car called Mako Shark II. Gen 3 also saw the debut of a powerful, solid-lifter small-block engine, the LT1, which put out a healthy 370 horsepower while costing an additional $447.60—a lot of money in 1970. By 1973, Corvette performance had peaked, and the combined effects of a gas shortage and stricter emissions standards served to curtail Corvette performance. By 1975, Corvette was down to two engine options—a 165-horsepower V8 and a 205-horsepower V8.
Even with the performance decreases, Corvette production ramped ever upward. The 25th anniversary Corvette and the Indy pace car from 1978 were both hot sellers, the latter causing a feeding frenzy at dealers, and by 1979, Corvette production reached an all-time high of 53,807 units. Gen 3 culminated with a Collector Edition Corvette in 1982.
GEN 4: EIGHTIES GLAM
Milestone: ZR-1 debuts
After 15 years of Gen 3 production, an all-new Corvette hit the streets in 1983 (with the convertible returning in 1986) that had the world buzzing. It featured a wide clamshell hood showcasing an all-new chassis and a beautiful forged-aluminum double-wishbone suspension. It would be the best-cornering Corvette yet, with Z51 Performance Package models achieving 1 g on the skid pad.
Shortly after the Gen 4 hit the showrooms, rumors began to circulate about a new "King of the Hill" Corvette designed to beat the world's best. The car would have a body that widened at the rear to accommodate huge rear tires and would be powered by Corvette's first DOHC V8, developed jointly with Lotus Cars of England.
The ZR-1, as it came to be called, was a superstar, capable of speeds exceeding 175 mph. Said chief engineer Dave McLellan at the time of the launch: "It's a Corvette—only more so." Unveiled to the media in Geneva, it electrified the motoring press, with the ZR-1 owning the cover of virtually every automotive publication in the world.
---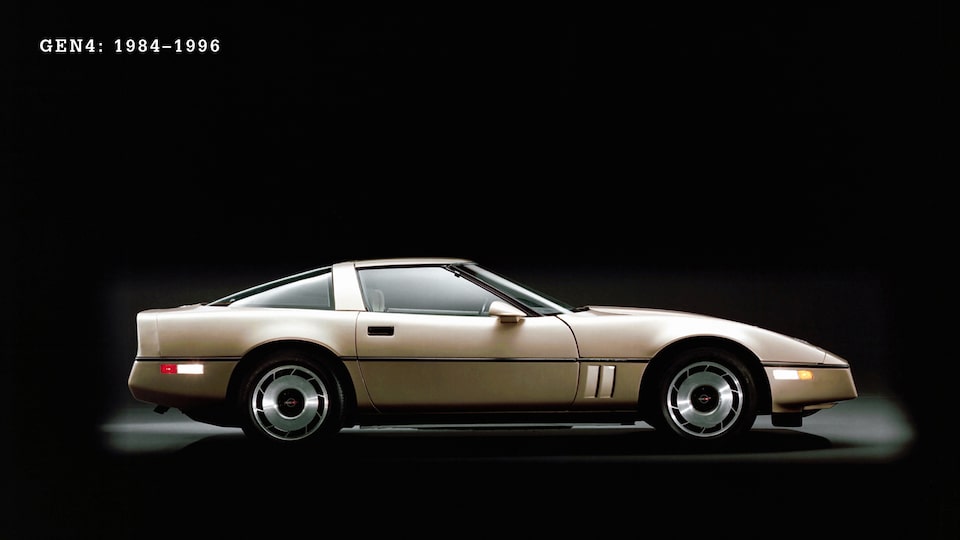 GEN 5: ALL-NEW ARCHITECTURE
Milestone: Carbon-fiber hood available
Gen 5 debuted in 1997 after some uncertainty over whether GM would build a new Corvette. It employed a rear-mounted transmission and a new central-tunnel architecture surrounded by a hydroformed steel frame. As a result, Gen 5 was more than three times stiffer than its predecessor. It also enabled more advanced suspension tuning and resulted in a much more pleasing car.
Gen 5 was offered in coupe form in 1997, with a convertible added in 1998 and a fixed-roof coupe in 1999. The latter was to be a lower-cost, entry-level Corvette. But modest sales caused Chevrolet to back away from the low-price concept and instead use the fixed-roof car as the platform for a new high-performance Z06 in 2001. With 385 horsepower (later increased to 405), it provided ZR-1 performance for a fraction of the price.
GEN 6: FASTER AND LIGHTER
Milestone: Largest lineup and option availability
Breaking sharply with Corvette tradition since 1963, Gen 6 sported a new design with exposed headlamps embedded under clear lens covers for better aerodynamics. Introduced in 2005, it perfected the good things about Gen 5 while adding 400 standard horsepower and 400 pound-feet of torque. A new Z06 model was introduced in 2006 that contained a litany of racing technology, including the extensive use of carbon fiber and magnesium and an aluminum frame. With its 7.0-liter small block, the Z06 was capable of 505 horsepower and a top test-track speed of 198 mph.
Gen 6 also saw the reintroduction of the Grand Sport—modeled after a limited-production lightweight racing Corvette from 1963—as well as an even more powerful Z06 model. Topping off the sixth generation was the "Blue Devil" Corvette, officially known as the ZR1. With its supercharged 638-horsepower engine, abundant use of carbon fiber, and carbon-ceramic brakes, it set yet another new standard for Corvette performance.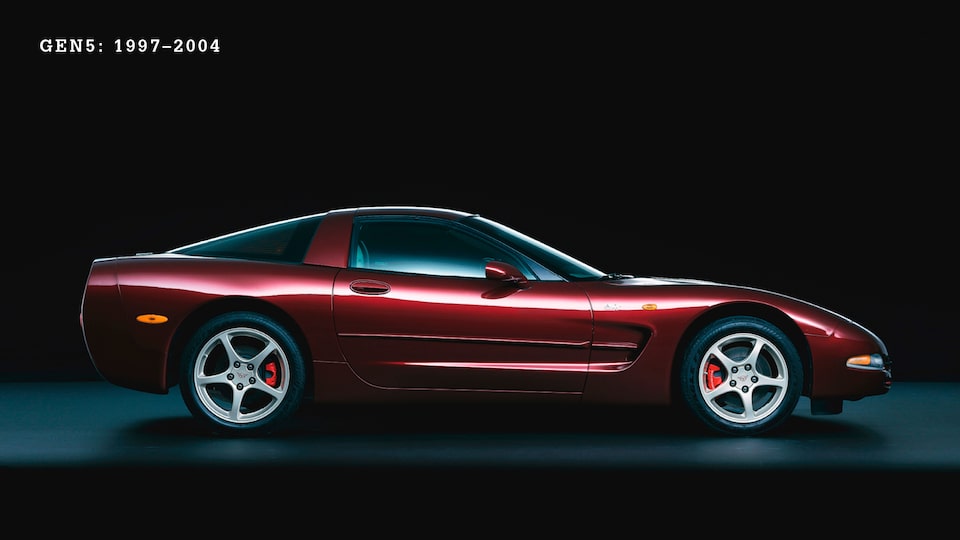 ---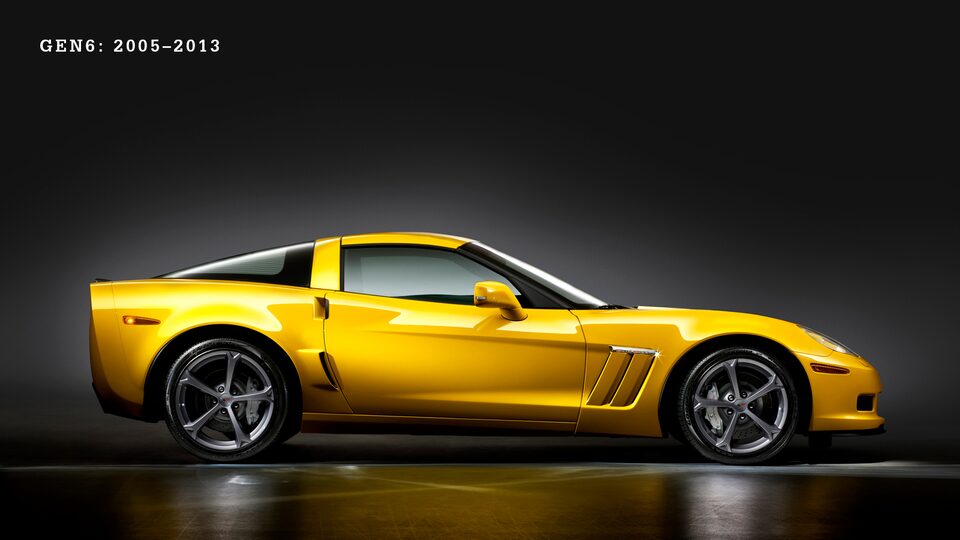 GEN 7: SUPERCAR FOR THE AGES
Milestone: Stingray returns
Gen 7, which debuted in 2014, would be the last hurrah for the front-engine Corvette. But what a hurrah it was, with the return of the Corvette Stingray nameplate as the standard model. Said chief engineer Tadge Juechter: "This car had to earn the right to carry the Stingray nameplate." And did it ever.
The Gen 7 design was more provocative than ever with its wide stance, graceful haunches, sharply defined lines, and a renewed focus on aerodynamics. The coupe featured a wider side window profile with the rear glass tapered to the center to echo the 1963 split-window coupe.
Topping off Gen 7 was the return of the Corvette ZR1, this time with a 755-horsepower supercharged V8 engine and an available high rear wing capable of 950 pounds of downforce at speed. Needless to say, it's the fastest production Corvette ever, with a top speed of over 212 mph.
But there's no such thing as too much horsepower. Remaining on top in today's competitive sports car world requires steady progression. The new eighth-generation Corvette provides a whole new foundation to build on, ensuring that America's sports car will continue to enchant many future generations of enthusiasts.

GEN 8: MID-ENGINE MOVES
The eighth iteration of the Corvette finally brings to life Arkus-Duntov's dream. The 2020 Corvette Stingray has an available (with Z51 package) 495-horsepower LT2 V8 engine mounted in the middle, offering supercar handling with a distinctly American accent. From discovery to delivery, reserve your own Corvette at Chevrolet.com.