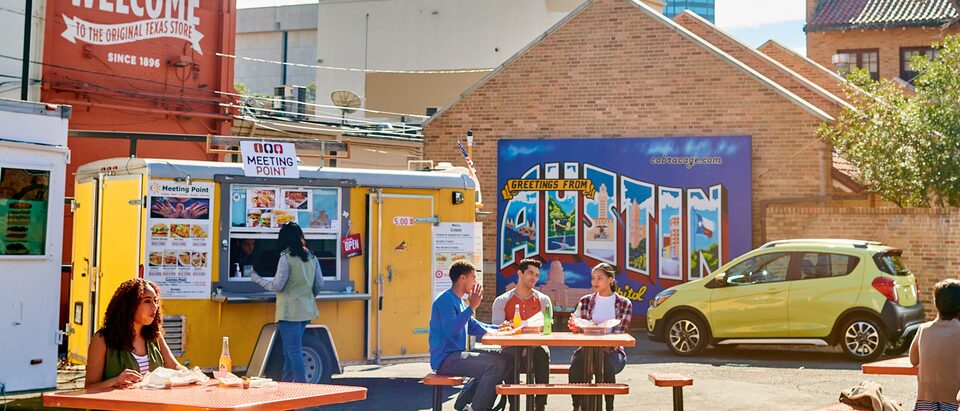 ---
2018-3-1 | Chevy New Roads Magazine

Austin's food scene pulls visitors from around the country, offering dining options ranging from quirky food trucks and bubble-tea shops to barbecue joints and upscale steakhouses. The city's growth rate has been breathtaking (its population more than doubled between 1990 and 2016, to nearly 914,000), as Austin became a destination for lovers of music, the outdoors, and the sunny Texas climate—and all those recent arrivals have made the city a diverse hotbed of interesting eats. We created our own food-lovers focus group and sent Chevrolet Spark and Colorado owners to this lively locale with something delicious for everyone. Here's what they loved.
Chevy Spark hits the streets

A trio of friends headed out in a Spark in search of funky, affordable fare, and there are few better spots to find it than at a food truck. The city's convention and visitors bureau says Austin has more than 1,000 mobile food vendors and a number of gathering spots for food trucks, referred to locally as food truck trailer parks. Entire websites are devoted to mapping the city's many food trucks and their travels about town, and a street-food aficionado could quickly get overwhelmed.
But you've got to start somewhere. The three friends decided to check out the University Co-op food court across from the University of Texas campus. Developed by the university in partnership with Tiffany Harelik, author of the Trailer Food Diaries cookbooks, the co-op's food trucks create a haven for adventurous eaters, serving up everything from açai smoothies to Taiwanese street food and, of course, tacos—because no food tour of Austin is complete without sampling the city's taco purveyors (natives consider the taco to be a legit breakfast food, too).
Texans are known for going big, so the trio made sure to sample chicken-fried ribs, Belgian fries, and ice cream, too, while soaking up some rays at the outdoor picnic tables. Yum.
GO EVERYWHERE: Spark makes it easy to navigate narrow city streets. And because it's compact, you can get out of those tight parking spaces as easily as you got in.
STAY CONNECTED: Apple CarPlay™† and Android Auto™† compatibility means you can bring some of your favorite music and apps right into the Spark's seven-inch diagonal touch-screen, so you never have to go without.
ADVENTURE AWAITS: Spark ACTIV has heated seats for those cool mornings, a leather-wrapped steering wheel, Gunmetal Silver–painted alloy wheels, unique front and rear bumpers, and roof rails for when you need a bit more cargo room (like when you're heading out for a weekend in the woods).
DID YOU KNOW: Austin is much more than a food destination. The city is probably best known for its music. South by Southwest got its start in 1987 as a small festival for a few hundred movie and music lovers, and has since grown into an annual 10-day behemoth of music, film, media, and technology that draws nearly 40,000 people. Meanwhile, Austin City Limits has been bringing local music to its live PBS series for more than 40 years, making it the longest-running music program in television history.
Chevy Colorado embarks on a foodie adventure

The influx of newcomers in recent decades has made the city's culinary options much more varied. But plenty of Texas eateries have stayed tied to the state's roots as cattle country, and Austin restaurants are no exception. In short, Austinites know their meats. Seeking out the best barbecue is practically a local pastime, and the city's barbecue offerings have exploded in recent years, giving local aficionados plenty to debate and rate.
The whole state is known for its beef, and Eater Austin recently came up with 23 steakhouses in Austin alone worth calling out for their excellence. But the two couples exploring the city in the Colorado were craving burgers, so they headed for the wildly popular Launderette, a newish Austin eatery in a converted laundromat with a reputation for serving up a killer patty.
Texas native Chef Rene Ortiz's neighborhood café has won just about every best-of award out there, getting attention from food writers across the country. But his food is aimed to please all palates with a variety of imaginatively prepared meat, seafood, and veggie dishes. The kids' menu serves up such favorites of the pint-sized set as buttered noodles and chocolate chip pancakes.
The couples found the Launderette burger's stellar reputation justified—bacon and lard give it extra richness, and the challah buns are made on-site. (If you're feeling adventurous, the Prince Edward Island mussels with pancetta and green-chile butter and the charred octopus with chorizo were delectable, too.) Desserts like a birthday-cake ice cream sandwich and a carrot layer cake aren't to be missed.
EVERYTHING YOU WANT: Colorado offers a wide variety of trims—from work trucks to the ZR2, the most capable† off-road midsize pickup—to meet your needs.
ROAD READY: Chevrolet offers the GM-exclusive Duramax® 2.8L Turbo-Diesel engine that makes Colorado America's most fuel-efficient pickup† and offers best-in-class towing.† The three engine offerings also include the powerfully efficient 2.5L, and an available 3.6L V6 with the most horsepower of any midsize pickup.
GREAT WITH GEAR: With the Colorado's spacious crew cab and bed, you'll have plenty of room for passengers and gear, so go ahead and load it up. This is the vehicle that your friends will want to take every time.
URBAN ADVENTURE: Austin is an ideal destination for seekers of outdoorsy adventure right in the city. Famed Barton Springs Pool is a natural spring–fed three-acre pool that holds at 68 degrees year-round. And the city is home to the beautiful Lady Bird Lake Hike and Bike Trail, a 10-mile off-road trail with beautiful skyline views. (The lake offers kayaking, canoeing, and even stand-up paddleboarding.) So hop in your Colorado and get exploring!
STORY: ALEXA STANARD/PHOTOGRAPHY: JOE VAUGHN