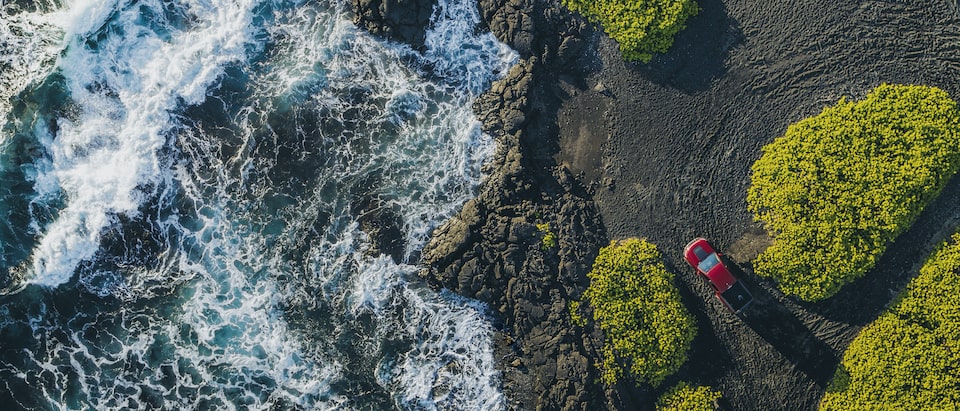 2020-3-2 | Chevy New Roads Magazine

Discovering Hidden Hawaii
The Colorado ZR2 is the perfect truck for exploring beyond the Big Island's tourist hot spots.
Residents of the island of Hawaii are welcoming to guests. But ask about the best out-of-the-way attractions, and they clam right up. "Well, we don't want to tell the tourists about those places," says one local. They're right to be cautious of visitors overrunning lesser-known spots. After all, this island, the largest in the state, is home to more than 200,000 full-time residents but welcomed an incredible 1.7 million tourists in 2018.
Of course, many Hawaiian tourists stick near the Kona district on the western coast, where warm, sunny weather is almost guaranteed. They follow the same well-trodden paths, from airport to hotel, from beach to helicopter tour, from zip line to guided snorkeling tour. And there's nothing wrong with vacationing this way. Yet for the curious traveler willing to look a little closer, seemingly undiscovered adventures are all over this island.
Turn off the highway and you'll stumble on places without gift shops or crowds: practically deserted beaches, untouched waterfalls, and even caves that testify to the island's volcanic origins. Turns out, you can see parts of Hawaii that most people won't get to visit. It just takes a bit of planning and searching.
Step one of that plan is driving a capable vehicle ready for adventure, like the Chevy Colorado ZR2. Impressively capable off-road, it allows the adventurous to explore farther. And it's equally adept on the main roads between your destinations.
The Details Matter
Colorado ZR2
3.6L V6

ENGINE

308

HORSEPOWER

275 LB.-FT.

OF TORQUE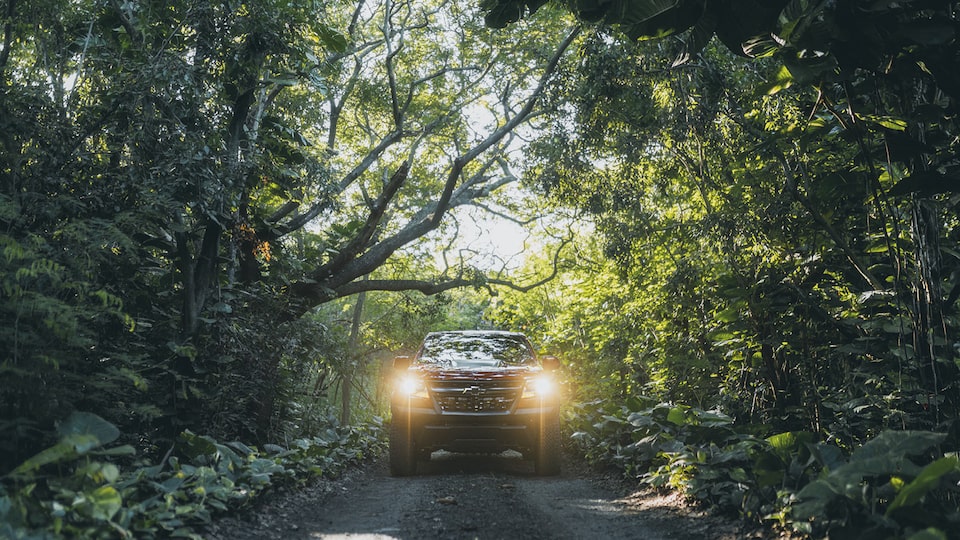 Tough, capable suspension
Colorado ZR2's suspension is raised for additional ground clearance, ideal for covering rough terrain off-road.
Untouched Beaches

Begin your day on the island's southern edge at Punaluu Beach, just off the Mamalahoa Highway (also known as Hawaii Belt Road) between the small villages of Naalehu and Pahala. Arrive before dawn to see a planetarium's worth of constellations in the night sky, as there's little light pollution in this less-populated part of Hawaii. As the sun rises over the ocean, the orange glow reveals that this beach is unlike most.
Punaluu's black sand is composed of tiny fragments of igneous rocks. Like so much of this island, the beach's origins are volcanic: When hot lava reaches the ocean, it cools rapidly and forms this black sand. Coarser than normal beach sand, it feels almost like thick salt in your hands—and it's a little rough on bare skin, so wear sandals. As the black sand warms, green sea turtles make their way up the shore to sun themselves. They're endangered and protected by law, so keep 30 feet away at all times.
Whether you're traipsing across the sand on foot or watching the waves crash from the bed of the Colorado, stopping at this beach feels like discovering something new. Though most tourists will stick to the small paved parking lot, more adventurous explorers can point their truck down the unkempt trails between clumps of beach naupaka plants. Driving over the rocks that dot the path toward the shore requires the Colorado ZR2's impressive ground clearance and approach angles—to say nothing of the component-protecting skid plates. For those who just can't bear to leave at the end of the day, tent camping near the beach is allowed by permit.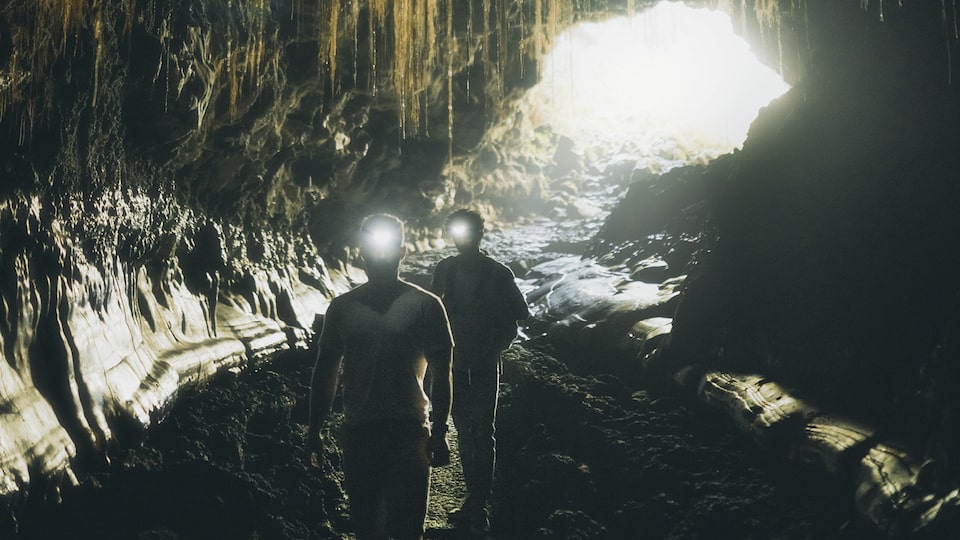 Kaumana Caves
Part of a 25-mile-long network of lava tubes, the caves are the result of an 1881 lava flow from Mauna Loa.
Going Deeper
Some of Hawaii's hidden treasures are beneath the ground. Take Kaumana Caves, for instance, about a 10-minute drive outside the east-coast town of Hilo. It would be easy to breeze past without ever knowing to stop, especially if you didn't turn off the main road. But on an otherwise unassuming street that snakes past houses and an elementary school, pull off at the side of the road to venture inside caves that remind you Hawaii owes its existence to volcanic activity. Just watch out for the wild roosters that have taken up residence nearby, and listen for the singsong mating call of tiny coqui frogs.

Kaumana Caves are part of a network of lava tubes, formed when the outside of a lava flow cools and solidifies but the interior remains hot, with lava still flowing through. When the roofs of those tubes collapse, creating what's called a skylight, they allow access into a subterranean world.

Today this opening to Kaumana Caves feels rugged and untouched: There are no guided tours, no signposts—just a steep staircase down to the cave floor. Inside you'll see otherworldly rock formations, glimmering metallic highlights, and hardy plant life clinging to the cave roof. Of course, this is a rugged adventure, so be sure to bring a headlamp or a real flashlight, as well as sturdy footwear for the uneven, rocky floor.
A Road with a View

It's called the Big Island for a reason: It's larger than the state of Delaware. So, traversing this island can take time. The most direct route from east to west is Saddle Road, also called Hawaii Route 200, and it's along here that the Colorado's dual nature really proves its worth. Just as the ZR2's suspension delivers impressive rough-terrain performance, it also offers surprising comfort and handling capability on Saddle Road's sweeping bends and elevation changes.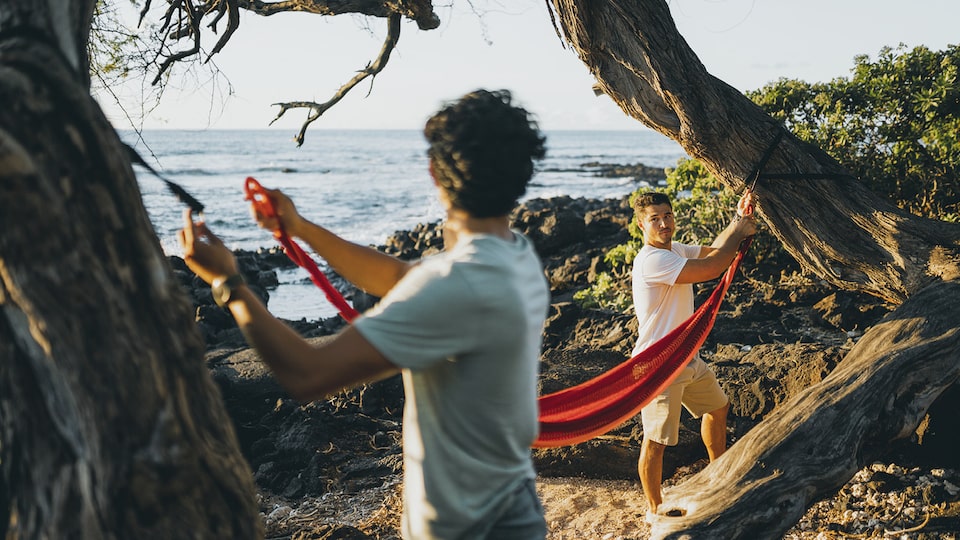 Beach bum
The Big Island's beaches tend to be rockier than the sandy beaches of other vacation destinations—a result of its volcanic nature—so sometimes a hammock is a comfier choice than lying directly on the ground.
The road climbs steadily as you head out of Hilo, peaking at just over 6,600 feet. The terrain turns rockier and drier as you near the 13,678-foot Mauna Loa and 13,803-foot Mauna Kea volcanoes; Saddle Road runs between them, making for epic views when the weather is clear. For a few miles the land on either side of the road is covered in seemingly unending fields of black rock that resulted from lava flows when these volcanoes erupted.
Eventually Saddle Road splits off to the north, heading toward the town of Waimea. Here, again, lush fields with grazing cattle line the roadway, but look beyond the fields and you'll get tremendous views of the coastline below. A less-traveled section, this stretch of the road has more frequent twists, turns, dips, and crests—quite the treat for the driver. The Colorado ZR2's standard 3.6-liter V6 engine provides great power for climbs, with its eight-speed automatic transmission readily shifting to just the right gear.
Built in the 1940s, Saddle Road was a twisty, somewhat treacherous route. Then a huge construction project in the 2000s modernized the road, with gentler elevation changes and turns as well as wider shoulders. Still, be prepared before you set off: There is almost nowhere to pull over on the road, and no gas stations along the way. The weather can also change at a moment's notice, with frequent fog and rainstorms. That's a big reason why the speed limits are typically only 55 to 60 miles per hour (watch for unmarked police cars ready to ticket speeding tourists).
FIELD NOTES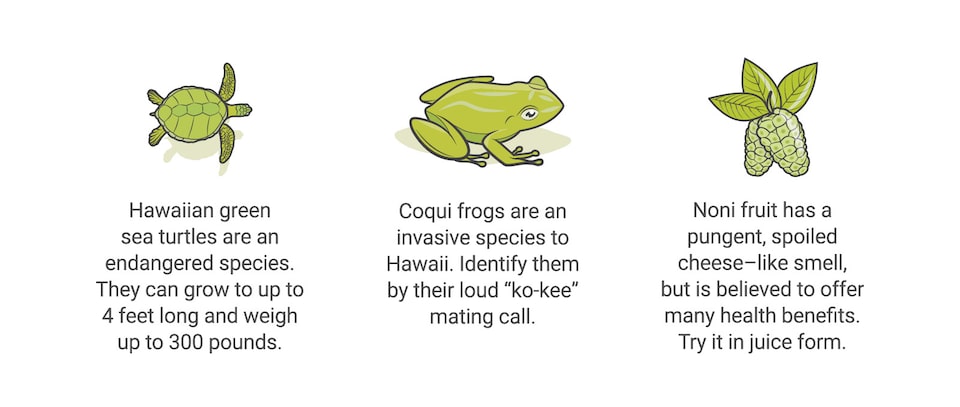 A Beach Away from the Crowds

Bring the day's adventures to a close by catching the sunset over the Pacific Ocean. For unobstructed views, pick a lesser-known spot on the west coast, such as Puako Beach. It's north of the tourist-heavy Kailua-Kona and Waikola, and is much quieter than those towns' beaches. Head down a two-lane road from the busy Mamalahoa Highway and past a church, a small general store, and some beachfront properties to find small access paths that allow for walking or driving right up to the rocky coastline.
Puako Beach's parking areas require a vehicle capable of some tougher driving: Witness the locals in trucks and SUVs traverse the sand and many exposed rocks—some of them even park right on top of rocks, suspensions twisted to the extreme. Thankfully, the Colorado ZR2 comes with off-road tires and a chassis that offers more clearance† to drive over small rocks. The payoff for making this journey is a gorgeous, secluded beach with shallow, clear waters that are ideal for snorkeling and scuba diving. Or just stay on the beach and string a hammock between trees to watch the sunset paint the sky orange and red.
An Island of Adventures

Of course, a single day or even a full week isn't enough time to see all this island has to offer. The Big Island has an astonishing amount of diversity, with varied landscapes and climates everywhere you drive. It's the sort of place where it's easy to feel like you're discovering new territory. And it's easier to access all those places when you've got a vehicle as well rounded and capable as the Chevy Colorado ZR2.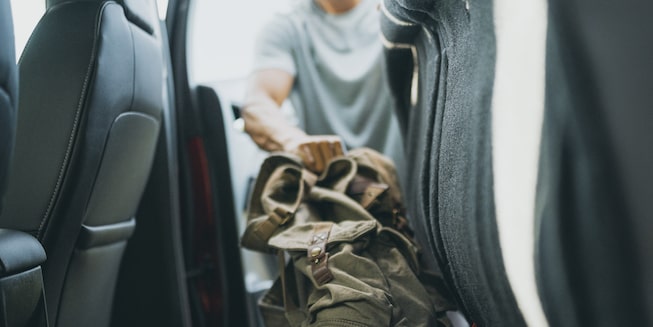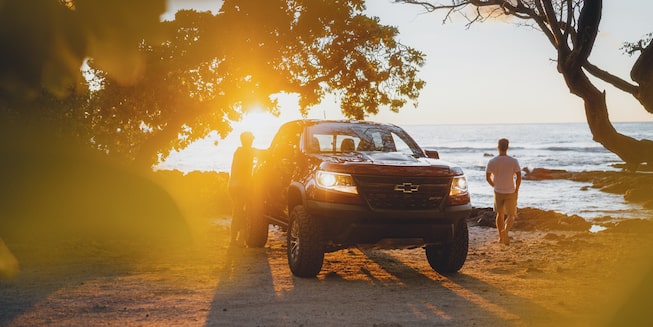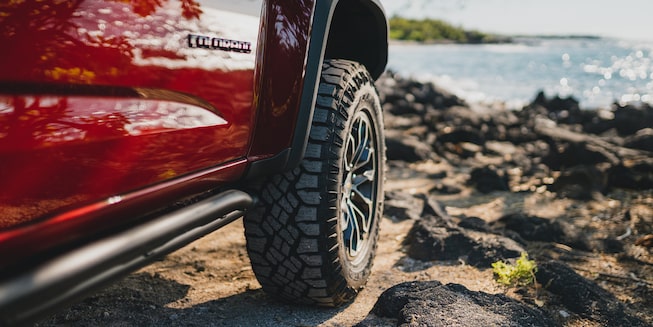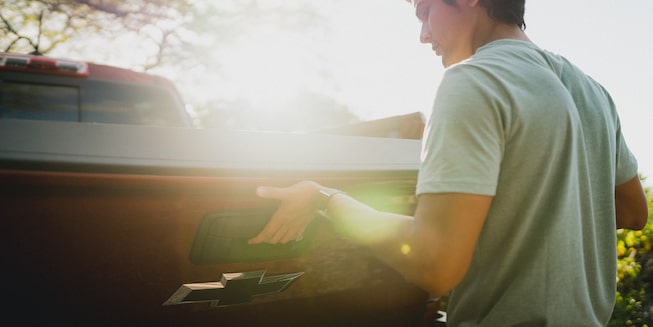 STORY: JAKE HOLMES / PHOTOGRAPHY: JUSTIN WIRTALLA / DRONE PHOTOGRAPHY: BAYLY BUCK