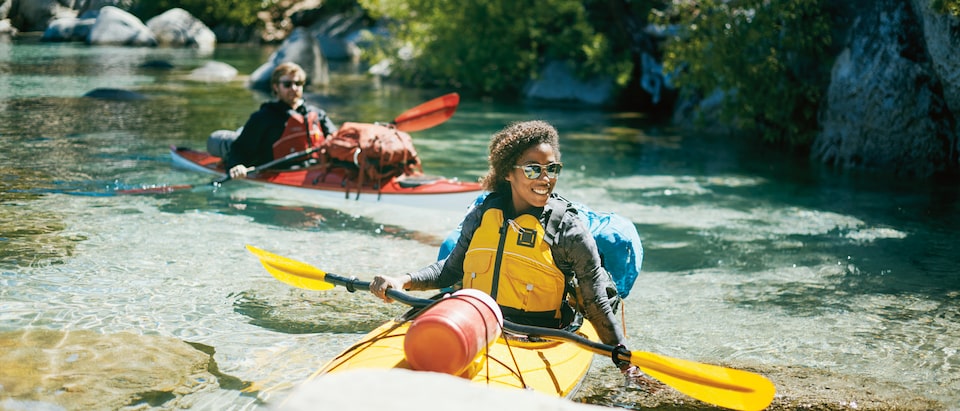 ---
2018-10-8 | Chevy New Roads Magazine

Fall Floats

More than a summer sport, kayaking is a great way to enjoy fall scenery.
Kayaking used to be a niche paddle sport, an offbeat pastime for rapid-shooting river-runners looking for big, whitewater thrills. Today, on many rivers and lakes, kayaks are more common than canoes. And it's easy to understand why.

Outdoor-minded people are always looking for new ways to explore. Paddling a kayak safely is super easy to learn with proper instruction. Lightweight, compact, and highly portable, kayaks are priced from around $200 and up. Walk into any big-box sporting retailer in America and you'll see walls lined with brightly colored "yaks" specially made for everything from multiday camping excursions to boats with built-in rod holders and fish-finding technology.

Closed or open cockpit. Single or tandem models. There are as many ways to use a kayak as there are choices in boat design. Kayaks allow you to experience nature from the waterline, so why don't more people seek to explore the thrilling variety of kayaking adventures only autumn can offer? Here are some new adventures to try this fall.
The Details Matter
---
---
3.6L

AVAILABLE V6

AVAILABLE V6
---
7,600 LBS.
TOWING CAPACITY†
Catch the Big One

As the old saying goes, the best time to go fishing is whenever you can. But if you're a kayaker with a do-it-yourself spirit and looking to catch some fish against the eye-popping backdrop of autumn color, there's no better time of the year than now.

Kayaks really shine for probing out-of-the-way waters that can't be accessed by big, motorized boats. Big trout and bass are looking to pack on the pounds for winter when October rolls around. Just follow a bait shop rumor down the nearest dirt road to some backcountry lake, reservoir, wilderness river, or any small pond.

Paddle on the Wild Side

When it comes to wildlife viewing, a stealthy kayak is the ultimate watercraft for getting up close to birds and animals in their natural habitat.

Come October, places like Russian River State Marine Recreational Management Area (about 80 miles north of San Francisco) offer a chance to see harbor seals, shorebirds, and migrating waterfowl. Off Chesapeake Bay, the Blackwater National Wildlife Refuge is a vibrant marshland environment with an abundance of egrets, whitetail deer, and even the exotic sika deer that can often be heard bugling during the annual autumn rut.

In Florida's Okefenokee National Wildlife Refuge (about 60 miles northwest of Jacksonville), you'll discover alligators, otters, herons, and sandhill cranes in the cypress swamps. The Midwest offers three dozen national wildlife refuges along the Mississippi River, from Minnesota to Louisiana. Or catch the salmon migration along the Crystal River in Michigan's Glen Arbor, just a 30-minute drive from Traverse City.

A Better Way to Explore
Colorado is a truck that's up for almost anything, whether it's a tour in town or roaming off-road.

Take a Big-Water Tour
If you've never paddled a kayak before, the idea of navigating one along the coast of the open sea probably sounds intimidating; a decade ago, you didn't dare dip a paddle in big, open water without years of experience and a seaworthy boat. Today, outfitters across the country offer professionally guided big-water tours from the rocky Maine coast of Penobscot Bay to the beaches, boulders, and dream homes along the 75-mile shoreline of Lake Tahoe in California. Kayaks, safety equipment, and same-day crash courses in sea (or lake) kayaking fundamentals included.

In the Midwest, the chance to behold caves formed over the course of a thousand years along the coast of the Door Peninsula is just an easy day's drive from Minneapolis or Chicago. Farther north, in Michigan's wild Upper Peninsula, the 42 miles of Lake Superior shoreline known as Pictured Rocks National Lakeshore offer 200-foot sandstone cliffs and towering wilderness vistas.
Kayak Camping
Kayak camping is a lot like backpacking. Much of the required gear—both in terms of function and how much you can bring for a multiday excursion—is pretty much the same. Kayak camping might even be easier, because instead of shouldering the gear you need to comfortably survive, you simply stow everything inside the hull of the boat.

The best kayak-camping destinations offer long floats, dense wilderness with areas inaccessible to foot traffic, and lots of on-river camping sites. Top destinations always in the mix whenever the subject of overnight kayak-camping adventures comes up are the French Broad River Paddle Trail in North Carolina, the Upper Buffalo River in Arkansas, the Boundary Waters Canoe Area Wilderness in Minnesota, Northern Highland-American Legion State Forest in Wisconsin, and the Rio Grande's Boquillas Canyon in Texas.

STORY: BOB BUTZ / PHOTOGRAPHY: DANA NEIBERT