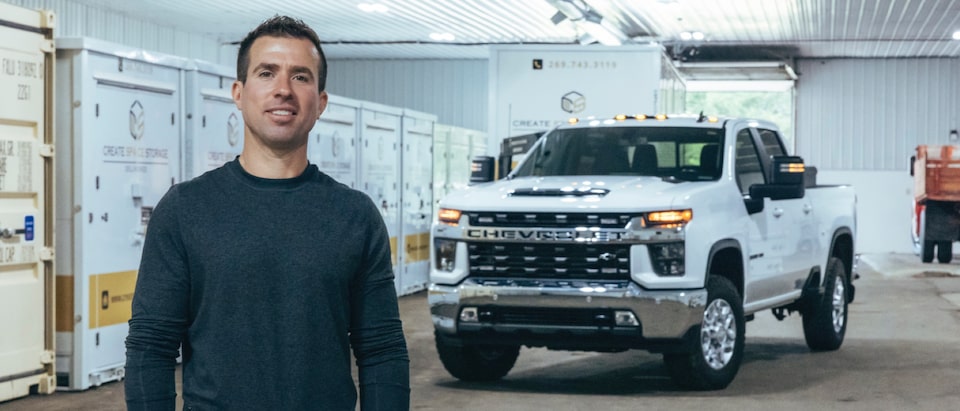 2023-02-06 | New Roads Magazine
Heavy Hauling Done Right

Small business owner Patrick Carl puts great care into storing and transporting people's most treasured belongings. His heavy-duty Silverado HD makes it all possible.
People put a lot of faith in Patrick Carl. They trust him to transport and store their treasured possessions, from precious family portraits and heirlooms to the everyday items that make a house a home.
"I try to handle everybody's belongings like I want mine taken care of," says Carl, who relies on his 2020 Silverado 3500 HD LT pickup truck to do the work.
Carl, 40, owns Create Space Storage near Kalamazoo, Michigan. He delivers high-end portable storage vaults directly to homes and businesses. When those containers are packed, he transports them wherever clients need them to be. Customers use the vaults to move their belongings to new homes and for temporary storage, such as during renovations. For those who need an off-site or long-term storage solution, containers are stashed in Carl's climate-controlled warehouse. "It's kind of like valet self-storage," he explains.
The Details Matter
SILVERADO 3500 HD
---
6.6L
AVAILABLE DURAMAX® TURBO-DIESEL V8 ENGINE
445/910
AVAILABLE HP/LB.-FT. OF TORQUE†
Full containers are heavy. A load can top out at 12,000 pounds when you add the weight of the 30-foot-long trailer and delivery equipment, handled well by his truck's towing capacity.
"It's heavy hauling," Carl says, "but the pulling is just as smooth as can be" with the available Duramax® 6.6L Turbo-Diesel V8 engine, which generates a confidence-instilling 445 horsepower and 910 pound-feet of torque.†
---
IT'S HEAVY HAULING, BUT THE PULLING IS JUST AS SMOOTH AS CAN BE.
---
— PATRICK CARL
---
"Driving down the road, I don't even realize I've got the trailer on the back," he says — and he's delivered full storage containers as far as 200 miles away. "When we go long distances, the comfort in the cab is very nice."
Carl particularly enjoys the available heated driver and front passenger seats and heated steering wheel, which offer quick warmth after loading and unloading in cold Michigan winters. And finding customer locations is a breeze with Apple CarPlay® compatibility.† "Having the navigation right on the screen is helpful," Carl says.
Some companies will use a small semi-truck to haul large storage containers. "I went with the Chevy truck because, at the end of the day, I can use it personally, too," Carl says. "I can unhook from the trailer and take it to go play soccer, or golf, or mountain biking, or whatever I want to do after work."
On weekends, it's not uncommon to find him loading up the truck bed with materials for a home landscaping project or towing a boat to nearby Gull Lake with his wife, Jenica, and young son, Paxton.
The spacious cab has plenty of room for friends and family. The rear bench seat accommodates Paxton's car seat, their dog Maya, and even the large toolbox Carl carries for work.
RESTORING THE PAST: Patrick Carl's 1960 Chevrolet C60 Viking work truck in the process of restoration. When he completes the renovation, he plans to show it at nearby cruise-ins for vintage automobiles.
Reliability, then and now
And, it's a Chevy. Carl grew up driving Chevrolets and is restoring a 1960 Chevrolet C60 Viking work truck, which he plans to show at vintage car cruise-ins at the nearby Gilmore Car Museum. He even restored a historic lumber building to serve as his warehouse.
For Carl, his Silverado HD is the right mix of modern technology and trusted heritage. "I don't lose sleep wondering if my equipment is going to break down on me," he says. Dependability is crucial when customers suffer a catastrophic event like a flood and need immediate, secure storage for their belongings.
Being there when it counts has helped Create Space Storage grow from 24 containers in 2019 to a 110-container operation today. Carl also delivers rugged containers for construction sites and mobile offices. To keep up with demand, he recently bought a 2022 Silverado 2500 HD LTZ diesel pickup to expand his fleet.
"I do everything I can to make my clients happy," Carl says, and doing that hinges on his Chevy truck. "I heavily rely on it."