2022-02-15 | New Roads Magazine
Rock Solid
With help from the first-ever Silverado ZR2, coming in spring 2022, you can take your passion to new heights.
In the early 1990s, rock climbing was a fringe activity filled mostly with men, affectionately known as "dirtbags," who spent months at a time sleeping under dank mossy boulders and living on ramen noodles and packets of ketchup. Fewer than 50 climbing gyms existed in the United States, and most of them were little more than janky plywood walls with river rocks bolted into them.
Today, the sport looks very different. More than 500 climbing gyms exist in cities across the United States, through which an estimated 10 million people each year are exposed to the physical challenge and joy of trying to scale vertical walls. Also, more than 50 percent of today's sport-climbing participants are female. And thanks to the work of organizations such as Brown Girls Climb and Memphis Rox — a nonprofit climbing gym and community center in Tennessee that is open to everyone, regardless of their ability to pay — representation and participation rates among minority groups are also on the rise.
The Details Matter
SILVERADO ZR2
420/460

HORSEPOWER/LB.-FT OF TORQUE

10-SPEED

TRANSMISSION W/ELECTRONIC TRANSMISSION RANGE SELECTOR

These welcome changes and increases in participation also bring the challenge of educating people on how best to take their passion for indoor climbing outside. Outdoors, you — and you alone — are responsible for your own safety, which means knowing how to use equipment properly, build anchors, safely navigate the edges of cliffs, and identify and climb around any loose blocks of rock so you don't pull them off onto your partner. The climbing industry has created "Gym to Crag" initiatives that seek to educate people on how to climb outside safely and ethically, including leave-no-trace practices.
Along with the technical skills, you need to know where to go and how to get there. A lot of climbing areas are in the wilderness, which can mean taking unmarked, unpaved roads to trailheads marked by cairns and then hiking to the rock. Websites such as mountainproject.com offer crowd-sourced information about climbing destinations around the world.
Luckily, the first-ever Silverado ZR2, available in spring 2022, can help get you there — wherever "there" is. The ZR2 is the newest addition to the Silverado lineup, with scores of features to take on the rough terrain out there — whether you're driving backwoods trails or crawling over boulders. That includes an off-road cut front bumper and large underbody aluminum skid plates to help you maneuver through rougher terrain, as well as Multimatic DSSV™ dampers that smooth out the ride — whether off-road or on pavement.
Go Bouldering
Bouldering outdoors is primarily about doing difficult movements on short rocks, between 10 and 20 feet high, and it's the easiest way for anyone to experience what it's like to climb outdoors. The only gear you need is your climbing shoes, a chalk bag, and a crash pad, which is a foam mat you can carry like a backpack on the approach, then lay flat beneath a boulder problem so you have a soft spot to land when you fall.
Spotting boulder climbers is different from belaying someone climbing with a rope. Hold your arms up as they climb, watching them closely; if they fall, try to "bump" them on their hips with the palms of your hands. You're not trying to catch them, but merely soften their fall and guide them so they land on the crash pads. Similarly, learn how to fall: You don't want to land on stiff legs; rather, try to tuck and crumple onto the crash pads. Placing crash pads over rocks and tree roots is a smart idea that will help you avoid a sprained ankle, the most common injury in bouldering.

Go bouldering at established areas, follow established trails, and feel free to ask the super-friendly climbers that you will invariably meet questions about where to go and what to try. Bouldering is a social, fun, and accessible way to learn climbing techniques and meet new friends.

---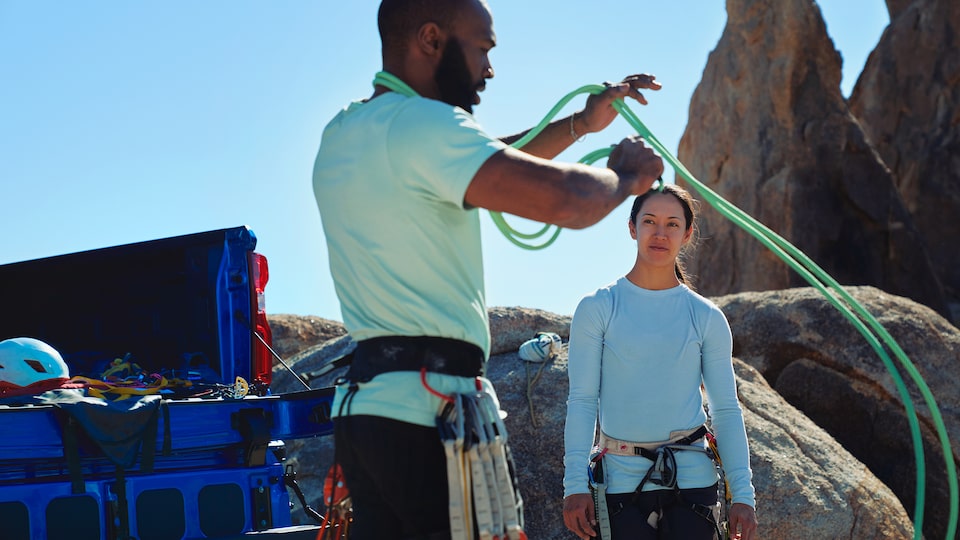 Learn to Set Up Top Ropes

Top roping is the best way to gain confidence in your climbing technique. A top rope — which is a rope strung through an anchor at the top of the route — is a safe way to let you focus on practicing the moves, which will feel very different from what you may be used to in the gym. Generally, real rock can be sharp, painful, and slippery — sometimes all at once. It can also be harder to "read the rock" — to see handholds and footholds, and decipher the climbing sequence.

With just a handful of relatively inexpensive items of gear such as 20 feet of 1-inch tubular webbing, a cordelette, some slings, and a few locking carabiners, you can build a top-rope anchor almost anywhere, even as a beginner.
The best way to (literally) learn the ropes and understand how to construct safe anchors is to hire an AMGA-certified rock climbing instructor. Look for courses specifically designed to teach you how to establish top-rope anchors, and you'll come away with a skill set that will let you feel confident in safely going outside to climb with your friends.
---
Lucky for us, great places to climb can be found throughout the U.S., from the Sierra Nevadas, where this story was photographed, to the Rockies and the mountains of the Northeast. Scroll/swipe to see a few more.
Plan a Climbing Road Trip
Rock climbing is as much about the lifestyle as it is about actually climbing up rocks. It's about the people, the places, and the fact that climbing opportunities exist in every country on Earth, providing you with a lifetime of adventure and travel opportunities.

CLIMBING STYLES
The four main types of rock climbing vary in risk, experience needed, and gear used—as well as how you use it. A: Bouldering, B: Top Roping, C: Sport Climbing, D: Trad Climbing.
Today's most committed climbers live full-time in oversized vans and travel from one spot to the next, depending on the seasons and local conditions. But even a short weekend road trip might be the thing that gets you hooked on this sport. Climbing is an excuse to take you off the beaten path into remote corners of the wilderness—to see places and meet people you otherwise would not have.
Once you spend a weekend sleeping in the dirt and thrashing your fingertips on rocks all day, you might just come away thinking that you want to keep doing this for the rest of your life.
STORY: ANDREW BISHARAT / PHOTOGRAPHY: DANA NEIBERT