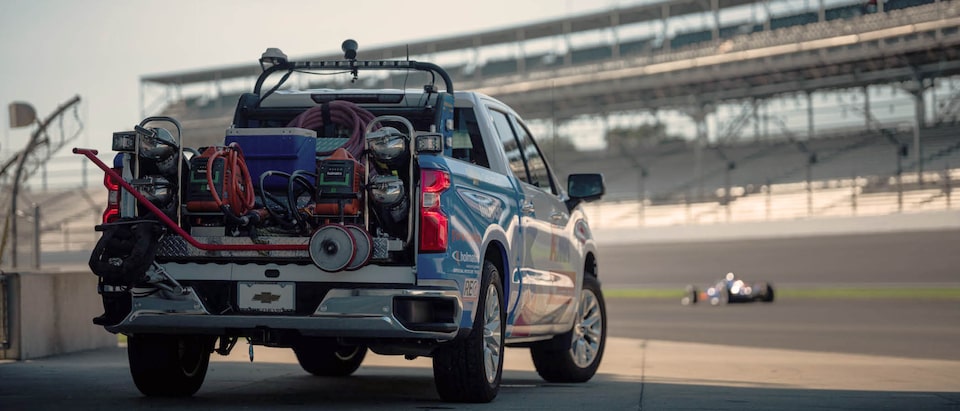 2020-3-2 | Chevy New Roads Magazine

The Inside Track

INDYCAR relies on Tim Baughman to keep drivers, their crews, and the spectators safe. Tim Baughman relies on a Chevy.

Growing up in Indianapolis in the 1970s, Tim Baughman says it was a rite of passage for high school kids to skip class and go to the racetrack. The heart-punching power of the cars was impressive, but it was seeing the quick coordination of the safety team that set Baughman on two career paths, each marked by adrenaline, teamwork, and a bevy of Chevy vehicles.
Starting out as a paramedic in the early 1980s, Baughman retired as deputy chief of the Indianapolis Fire Department in 2019. Over the same time, he worked on INDYCAR's track safety team, and upon retiring from the fire department, he was named INDYCAR's director of track safety. Baughman says his team relies on specially outfitted Silverado trucks to provide the performance, durability, and comfort their jobs demand.
NR: What came first, emergency medicine or your passion for INDYCAR?
TB: It all happened at the same time. I wanted to go to med school, but redirected to emergency medicine. I went to school to become a paramedic, which delivers the same kind of rush. When I started working, I realized that's what I'm supposed to do. I was built to be a paramedic firefighter—it's in my blood. Part of the paramedic training back then was to work the infield at Indianapolis Motor Speedway. I never really left, staying on at the raceway after graduating, moving to the safety team, then traveling with INDYCAR across the country. I think I've only missed eight races in the last 24 years.
NR: What are the similarities and differences between working for the fire department and working for INDYCAR?
TB: You have to know the basics of fire suppression—understanding accelerants and how things burn. You need to know how to get to someone who needs help, and accurately apply the kind of care they need. In both, there's a lot of downtime, and then all of a sudden you go from zero to a hundred miles an hour. But they're also very different. Out on the street, the national goal for emergency response is four minutes. Four minutes is a lifetime on the racetrack. Everything happens faster. And there are thousands of people watching you. At the firehouse, you get a call after the accident has happened. On the track, it happens right before your eyes. And these cars are going 225 miles an hour—it's more like a small plane crash.
NR: How are the Chevy Silverado trucks you use customized for your job?
TB: Each of our Silverado trucks is equipped with a hydraulic spreader and a hydraulic cutter for rescuing drivers from their cars. They're armed with hand-held fire extinguishers, as well as a big 25-gallon compressed-air fire suppression system that's attached to a 50-foot hose—very similar to a fire truck. The trucks also have restart equipment, because race cars don't have starters, as well as jacks, because race cars aren't built to make sharper turns. Also, each Silverado we use has the [available] tow package with the hooks on the front. They're pretty incredible trucks. If we can't get to the car, we can't do anybody any good. Our trucks get us there every time.

NR: What about the vehicles you use in your personal life?
TB: At home, I've always had a Chevy or two in my driveway—Camaro, Silverado, you name it. But they're very different from what we use on the track. I've depended on Chevy for decades—personally and professionally.

STORY: TRAVIS WRIGHT / PHOTOGRAPHY: CHAD KIRKLAND
---