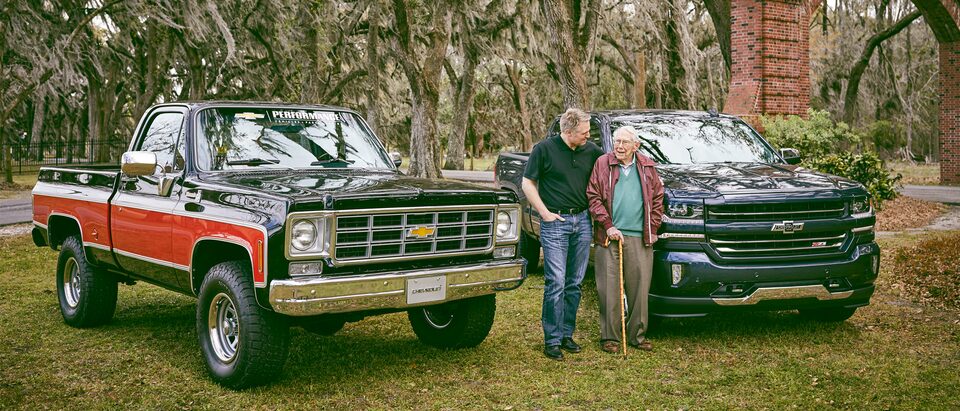 ---
2018-5-25 | Chevy New Roads Magazine

Truck Tales
We listen in on a conversation between two generations of Chevrolet engineers as they share work stories—and take a call from Mary Barra.  
Paul Hitch, age 101, spends his days on a coastal island in Georgia, down a quiet road, where pine-scented breezes waft through swaying Spanish moss. But the centenarian didn't always live such a tranquil life. He had a long and distinguished career as an engineer with General Motors before his retirement in 1978. Hitch began work with GM in 1935, eventually becoming Chevrolet's chief engineer for trucks, a position he held for more than a decade. He witnessed the transition of trucks from work tools to family-hauling vehicles, the rise of women from trim-shop seamstresses to GM's leadership positions, and the replacement of some human labor with computer programs.
As Chevy Trucks celebrate their own 100th anniversary, Hitch sat down with Eric Stanczak, current chief engineer for full-size trucks at General Motors, to talk shop—one generation of engineers to another.
Knee Pads in the Design Studio

In Hitch's day, clay models of vehicles were scanned and drawn on aluminum plates 10 feet by 20 feet by engineers working on their hands and knees, wearing knee pads. Hitch asks Stanczak how that process is done today.
"How we digitize it is very different," Stanczak replies. "It's all done with coordinate measuring machines now. So they basically take points on the surface and a machine digitizes it automatically. So, it knows exactly where that point is in space. Then it takes all those points and it creates that surface on a computer. Now you have a complete, perfect vehicle, visualized on a computer."
The beauty of this system is that the points can be stored and referenced anytime, anywhere, Stanczak says. "We have a lot of collaboration between the different engineering and design centers around the world," he says. "I tell people the sun never sets on General Motors, and on Chevy engineering specifically."
Hitch says that in his era, the work included buying competitor vehicles, tearing them apart, and laying everything out for study, and he wonders if that practice still holds.
"We have an awesome benchmarking activity. Yes, we do," Stanczak says. "In fact, we tear our competitors' vehicles down to every last bolt and nut and rivet, and they're all catalogued, with details of every single part, how much it weighs, what material it's made of, etc."
An appreciation for details
Paul Hitch, who turned 101 this year, and Eric Stanczak talk Chevrolet trucks in Savannah, Ga. Hitch worked as Chevrolet's chief engineer for trucks from 1965 to 1976; Stanczak is General Motors' current chief engineer for full-size trucks.

Points of Pride

The pair's conversation was punctuated by a call from General Motors Chief Executive Officer Mary Barra, who was just 15 when Hitch retired.
"We are really pleased to be able to talk to you," Barra says. "For you to be 101 years old and have such a rich history of General Motors and for you to be able to share it with us."
After introductions, Barra asks Hitch about his favorite truck. "1973 was my best truck. It's still a good truck," Hitch says proudly of the Chevy pickup. "I had some good engineers, and they did a great job on ride and handling. We hadn't really done too much development work on ride and handling before. That was the biggest improvement we made."
At the time, pickups were just transitioning from utilitarian work trucks to pleasure vehicles people could get around in. So the emphasis on ride and handling became more important. It's something the company still focuses on today, Barra tells Hitch.
Another innovation Hitch took pride in during his career was the development of the first Blazer in 1969: "We were trying to compete with the Ford Bronco, so we discussed it. I said, 'Why don't we just take a Chevrolet pickup, cut the wheel base to 104 inches, marry the pickup box to it, and see what that does?'
"We put it out to the sales department," Hitch continues. "They estimated they could sell 300 a year. Pete [Estes, then general manager, Chevrolet] said, 'Well, go ahead and do it anyway.' And, that year, we sold 5,000 and we didn't have enough tooling capacity to make any more. That was one funny, unusual situation."
Market Research at the Junk Pile

"We have values inside the company that we live by every day, and one of them is putting the customer at the center of everything we do," Stanczak says. "Tell me a little bit about how you thought about the customer when you were designing and engineering trucks."
The sales and service department didn't interact much with the engineers during the first part of his career, Hitch says, so they had to get creative to find out what was and wasn't working for customers.
"I would ask my fellas any time they go by a dealership to stop by and look at the junk pile. What's in the junk pile? So that was one source of [finding] problems that we had," Hitch tells Stanczak. "What changed is that the philosophy moved from, 'Hey, let's not tell them about it, we can handle it,' to, 'Maybe it's better if the engineers work on it?'"
Former Chevrolet Chief Engineer Ed Cole changed it, Hitch says. Cole's "refreshing" management style generated excitement among the engineers and throughout the organization, Hitch tells Stanczak, and the dealers really took to him. "[Cole] was a great man to work for," Hitch says. "He was hands-on. He would go to the drafting rooms. We would go over drawings." That gave engineers confidence that, when Cole gave direction, he knew what was going on.
"One of our executive chief engineers who works on the next generation trucks, Mr. Tim Herrick, has a phrase that I really like, and I use it in the right situation," Stanczak says. "He says, 'Those of us working in the company today, we stand on the shoulders of giants.' And I would say thank you because I think I'm standing on your shoulders in my position today. I've really enjoyed it—thank you very much."
STORY: LESLIE ELLIS/PHOTOGRAPHY: ROBERT ADAMO