---
The people's champ

From cruisers to pickups, factory-engineered power can make every hot rod a winner.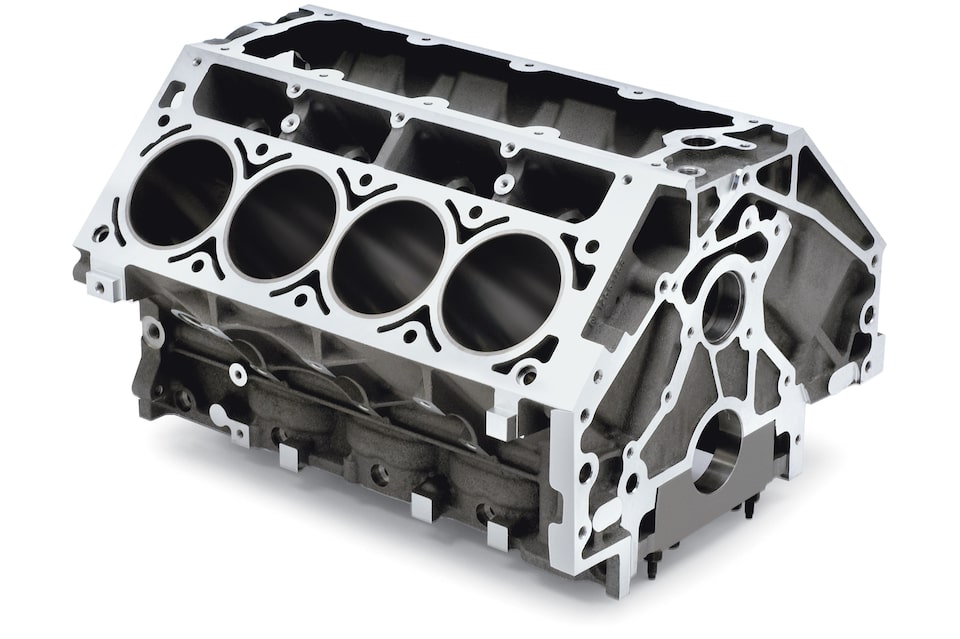 PRODUCTION CYLINDER BLOCKS

Whether you're building a simple street engine or a drag-racing engine, starting with a strong LS cylinder block assures thrilling performance.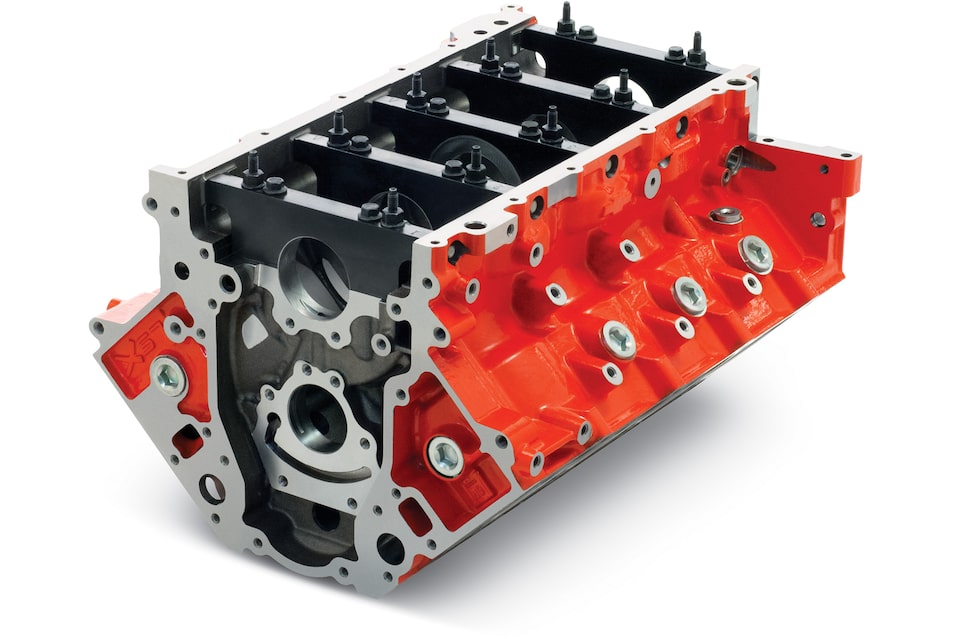 LSX Bowtie Block

Combining professional racing-level strength and entry-level affordability, the LSX Bowtie Block is our latest evolution in high-performance engine building.

CNC-machined cast-iron block
True priority main oiling
6-head bolts per cylinder
Standard 4.400" bore spacing
Extra-thick siamese cylinder bores
Semi-finished, machined thicker decks
LS7-style, 6-bolt dowel-located billet main bearing caps
Wet-sump and dry-sump oiling capability
Production-style deep-skirt head bolt holes
Production bolt hole and thread sizes
Maintains production exterior accessory mounting provisions
Front motor plate mounting holes added
Additional material cast around cam bearings for greater strength
8 mm exterior/interior fifth- and sixth-head bolt holes
Standard 0.842" lifter bores
Accommodates all LS oil pumps and oil pans
External oil pump feed (rear of block)
Main web bay-to-bay breathing holes to support greater horsepower
Includes unique cam retainer, rear cover, and lifter retainers
Front oil feed holes can be plugged/restricted for mechanical flat tappet or mechanical roller lifter applications
Can be machined safely to 9.200" deck height
Maximum 4.200" bore at .200" minimum wall thickness (naturally aspirated applications)
Head bolt holes can be machined for 1/2" studs
Cam bores can be machined to accept 60mm roller bearings
Can be machined for larger diameter lifters and/or 1.060" bronze bushings
Front oil feed lines can be plugged and external oil pump and/or aftermarket dry sump systems can be used via oil pump feed at rear of block – may be required with certain large stroke/aluminum rod combinations
Belt cam drive systems can be accommodated – some machining will be required
Front motor plate can be used for racing chassis applications (sprint car, drag racing, truck pulling, etc.).
Threaded water plugs can be used for external heaters or coolers
Extra stock for main bearing align-honed
400 mPa tensile strength iron