---
Where winning begins

Build for the street, the strip, or both with power factory-engineered to compete.

PRODUCTION-BASED BLOCKS

When building a performance engine or replacing a stock engine, our production-based blocks offer the strength, accuracy, and peace of mind you'd expect from Chevrolet Performance.

---
Standard 350 main journal sizes
Non-Siamese bores
Production-spec cylinder wall thickness
Lifter valleys machined for hydraulic-roller and flat-tappet valvetrains
BOWTIE SPORTSMAN BLOCKS

These highly versatile blocks are available in a variety of finish options for maximum flexibility, providing a rock-solid foundation for any drag strip, circle track, or high-performance application in the 300-500-horsepower range.

---
Standard 9.025-inch deck height
Nominal cylinder wall thickness is 0.340-inch
Minimum cylinder wall bore thickness on 4.155-inch bore is 0.225-inches (excluding P/N 10051181, 10051183, and 10185047)
Extra-thick deck surfaces have blind-tapped bolt holes for improved head gasket sealing
Priority main oiling system
Main bearing bulkheads are 0.900-inch thick and use Grade-8 bolts
All five cam bearing locations require 2.000-inch O.D. (1.867-inch I.D.) bearings P/N 12370843 (except block P/N 10051183)
Tall lifter bore blocks may require clearancing the top of the lifter bores for some roller lifters
Lifter valley oil scavenging boss below bell housing flange is present, but not drilled and tapped
Oil dipstick holes are not drilled
Timing system clearance must be checked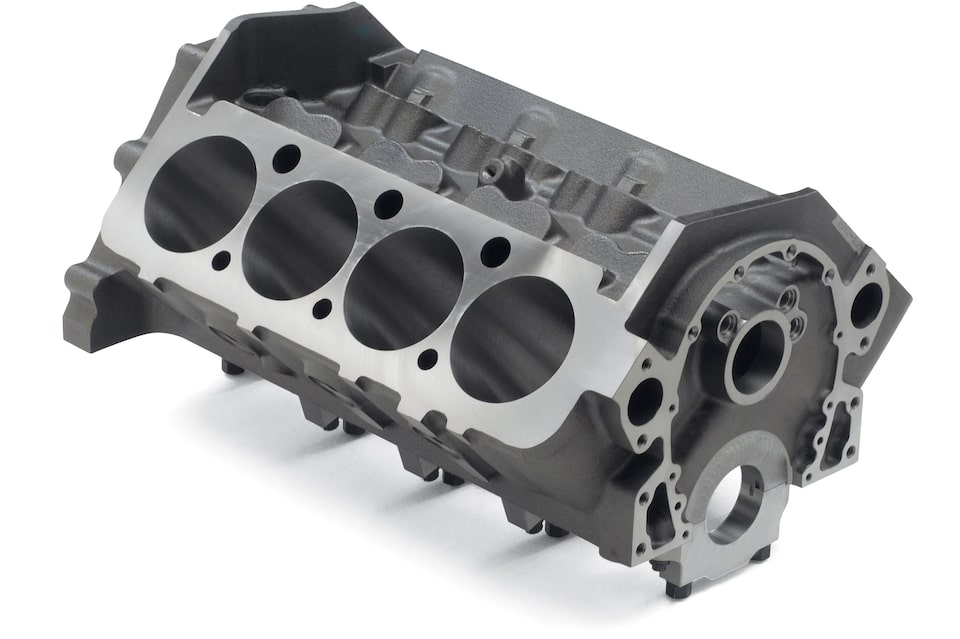 RACE BLOCKS

From start to finish line, precision is the operative word with high-grade materials and machining techniques, and proven stock Car and drag racing performance heritage.
---
Precision CNC-machining means +/- 0.001-inch tolerances.
Cylinder bore wall thickness is 0.225" minimum at 4.155" bore. A sonic bore check data sheet is provided with block
Nominal wall thickness of cylinder bores is 0.340"
Cylinder decks, front and rear of case, oil pan rail surfaces and head dowel pins are blueprinted
Extra-thick deck surfaces have blind-tapped head bolt holes for superior head gasket sealing
Enlarged cam bosses allow custom machining for larger bearings
Non-standard cam bearings are required (see each block for details)
Extra-thick main bearing bulkhead is machined at 5°
Bearing cap inner bolts are spread 0.210" to allow machining for 400 journal crankshafts
Premium quality main studs and SAE 8620 steel main bearing caps
Priority main oiling system
Billet wet sump rear main cap can be adapted to dry sump with plugs
2-piece rear main crankshafts and pre-1986 oil pans are required
Use of some aftermarket mechanical roller lifters may require clearancing top of lifter bores
Timing system clearance should be checked before engine assembly
Lifter valley oil scavenging boss below bell housing flange is not drilled or tapped
Oil dipstick holes are not drilled
ALUMINUM RACE BLOCKS

Aluminum race blocks provide competition-level strength and reliability for road racing or high horsepower turbocharged applications.

---
Extra-thick deck surfaces with blind-tapped head bolt holes for improved head gasket sealing
Centrifugally spun cast-iron cylinder sleeves
2-piece rear-main crankshafts and pre-1986 oil pans required
Enlarged cam bosses allow machining for larger cam bearings
2.000" O.D. (1.867" I.D.) cam bearings P/N 12370843 required
Blocks may require clearancing at top of lifter bores (0.842") for some roller lifters
Timing system clearance should be checked before engine assembly
Extra-thick main bearing bulkhead machined at 5°
Premium main studs and steel main bearing caps
Priority main oiling system Billet wet sump rear main cap can be converted to dry sump with plugs
Oil dipstick holes not drilled
CYLINDER BLOCK COMPONENTS

Learn More
---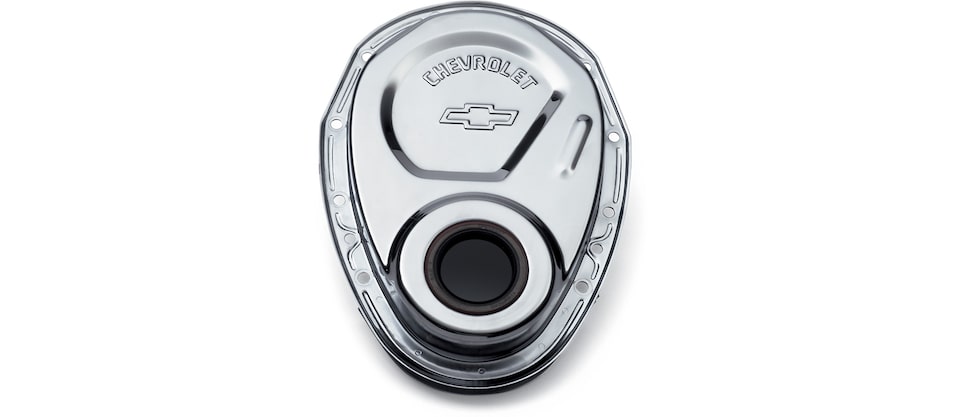 FRONT COVERS, TIMING POINTERS,
FUEL PUMP BLOCK OFF-PLATE

Learn More
CYLINDER BLOCK COMPONENTS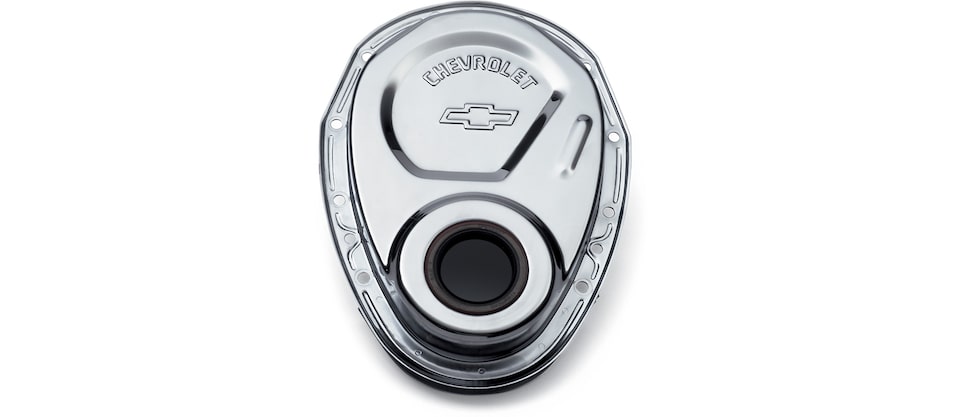 FRONT COVERS, TIMING POINTERS,
FUEL PUMP BLOCK OFF-PLATE